This rich and creamy Chicken Pasta With Bell Peppers is loaded with Parmesan cheese and as easy as it is delicious. You don't want to miss this one!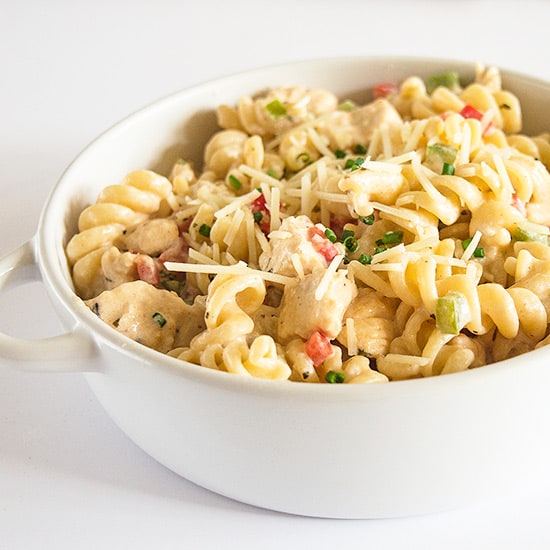 Well look at that. We've made it through healthy January. There were lots of salads, a couple sweet treats, and some healthy dinners and sides. And now to celebrate our month of clean eating, something completely different.
Is there anything better in the world than creamy pasta? I really don't think there is. If I found out I was to die tomorrow, I wouldn't waste my time spending those hours with the people I love. I would spend it shoveling as much cream-covered pasta into my face as possible. I kid, I kid. Mostly.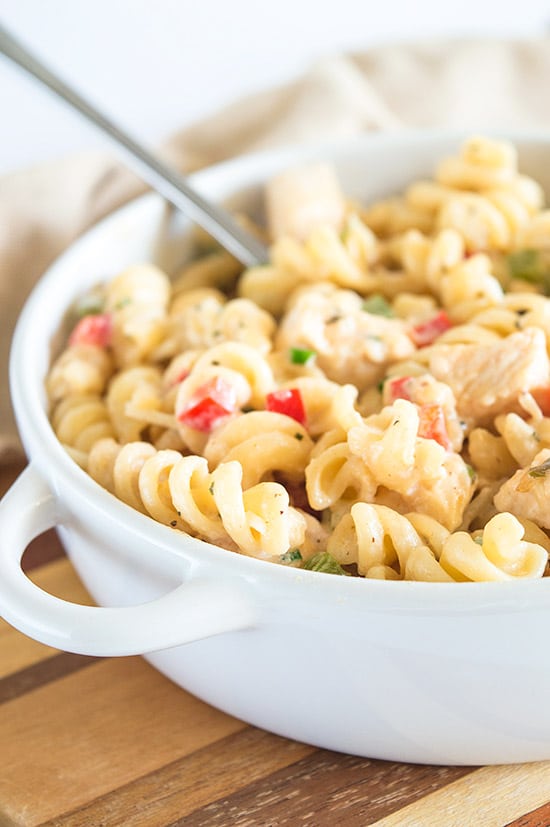 This Easy Creamy Chicken Pasta With Bell Peppers is one of my favorite weekend dinners. It's simple and wonderfully easy to make, but so rich and satisfying that you definitely feel like you're treating yourself.
I mean, you really can't go wrong with cream and Parmesan, but throw some diced bell peppers and chicken in there and you're taking your pasta game up about five notches. The creamy, cheesy sauce goes so perfectly with the gentle bitter sweet of the bell peppers and the rotini are the perfect noddles for soaking up all that delicious flavor and transporting it to your mouth.
And if you are a parent of picky eaters, this is also a great pasta for introducing kids to veggies they may be unwilling to try on their own. The peppers are cut small and end up quite soft, so their texture is inoffensive, and their taste mild.
Not going to lie, this may be the dish that taught me in my early 20's that bell peppers are kind of delicious…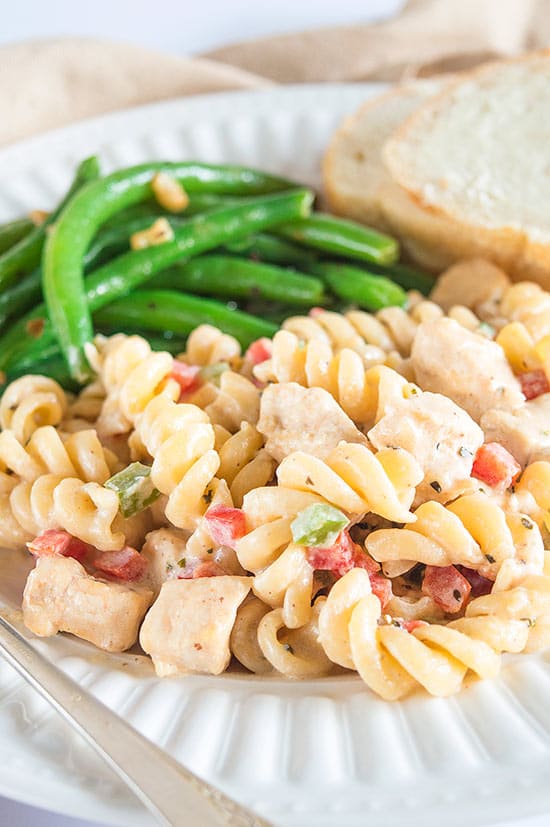 More Comfort Food Recipes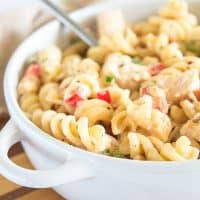 Easy Creamy Chicken Pasta With Bell Peppers
This rich and creamy chicken pasta with bell peppers is loaded with Parmesan cheese and as easy as it is delicious. You don't want to miss this one!
Print
Servings (Hover or Click to Change Yield):
6
Ingredients
12

oz

rotini pasta

1

pound

(

2

small) boneless skinless chicken breasts

cut into 1-inch cubes

1

small green bell pepper

diced small

1

small red bell pepper

diced small

2

cups

half and half*

1/2

cup

(

4

oz) butter

2/3

cup

shredded Parmesan cheese

plus more for topping

1

teaspoon

green onions

minced

1/2

teaspoon

dried oregano

1/2

teaspoon

dried basil

1/2

teaspoon

salt
Instructions
Pasta
In a large pot, boil water for pasta. Salt lightly and add rotini, cooking for recommended time. Drain and set aside.
Chicken & Peppers
While pasta cooks, grease a large pan with cooking spray, and over medium-high heat, cook chicken and peppers together until chicken is cooked through and peppers are tender. If you prefer crunchier peppers, add them to your chicken after 2-3 minutes. Transfer chicken and veggies to a plate and set aside.
Sauce
In the same pan, melt butter over medium heat and add the half and half. Bring to a simmer and allow to cook until it has reduced down and thickened slightly, about 5-8 min. Add cheese, chives, oregano, basil, and salt.
Combine
Add chicken back to the pan with the sauce, pour in the noodles, stir and serve. Top with more Parmesan if desired.
Notes
For optimal timing, put water on to boil and cut chicken and veggies and measure out the rest of your ingredients before adding pasta to the water. Begin cooking the chicken and peppers as soon as your noodles are going.
If you have everything cut and prepared in advance, the rotini and sauce should finish at almost the same time.
*You can substitute 2/3 cup heavy cream + 1 1/3 cup milk for the half and half.
Nutritional Information
Recipe adapted from: AllRecipes
Small-yield Instructions: No cooking or preparation changes needed to cut the recipe in half or quarters. This recipe halves cleanly. To avoid waste when halving, you can use a single bell pepper in either color. The green peppers have a slightly more bitter taste and the red, sweeter (I prefer the green peppers for this dish, but the taste difference is VERY small).
Make-ahead Instructions: Prepping in advance won't save you much time because you can do all of your cutting while the water boils for pasta, but chicken, bell peppers, and chives can be cut up to 2 days in advance.
Freezer Instructions: I'm not the biggest fan of freezing pasta, but if you have leftovers and don't mind the resulting slightly softer noodles, by all means, go ahead. Defrost in the refrigerator and reheat in the microwave with a splash of cream, half & half, or milk (about a tablespoon per serving), and a sprinkle of Parmesan. In my test batch, I found the texture of the sauce to be a little lumpy after freezing, but stirring in the extra liquid and cheese fixed that right up. This can be stored in the freezer for up to 4 months.