This creamy chicken pasta with bell peppers is rich, filling, and so easy to make. It's a quick dinner that everyone will love.
If you're craving a big cozy bowl of creamy pasta, this is the recipe you're looking for. It's simple and incredibly easy to make, but so rich and satisfying that you definitely feel like you're treating yourself.
You really can't go wrong with cream and parmesan, but throw some diced bell peppers and chicken in there and you're taking your pasta game up to a whole new level.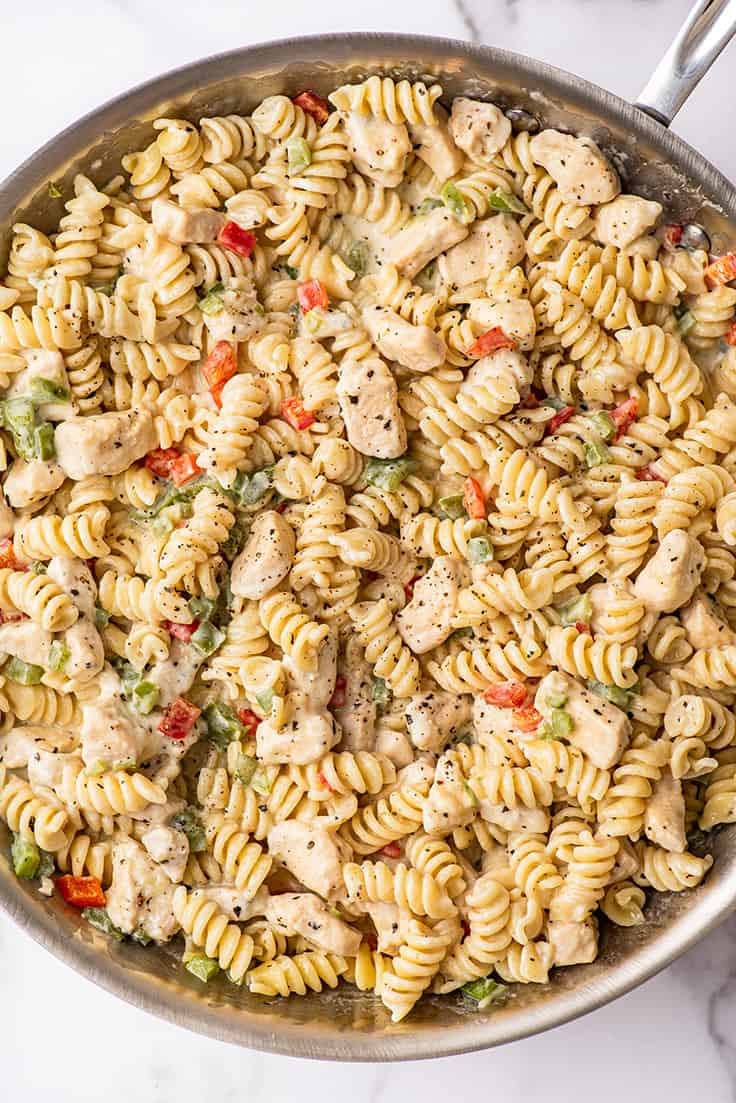 And just a side note to the parents out there. If your kids are picky eaters, this is a great pasta for introducing kids to veggies they may be unwilling to try on their own.
The peppers are cut small and end up quite soft, so their texture is inoffensive, and their taste mild.
Ingredient Notes
Rotini pasta: Rotini is my favorite pasta shape for this dish, but use whatever pasta you'd like. Penne, rigatoni, or even farfalle would also work well here.
Half and half: If you don't have half and half, you can make a quick half and half substitute by using about 2 parts milk to 1 part heavy cream (it doesn't need to be exactly accurate). If you have leftover half and half, check out my post What to Do With Leftover Half and Half for storage tips and recipe ideas to use up the leftovers. (I recommend using it to make an extra creamy cup of hot chocolate.)
Red and green bell peppers: The variety of colors is nice in this dish, but feel free to use whatever color/combination of colors of bell peppers you have on hand.
How to Make Creamy Chicken Pasta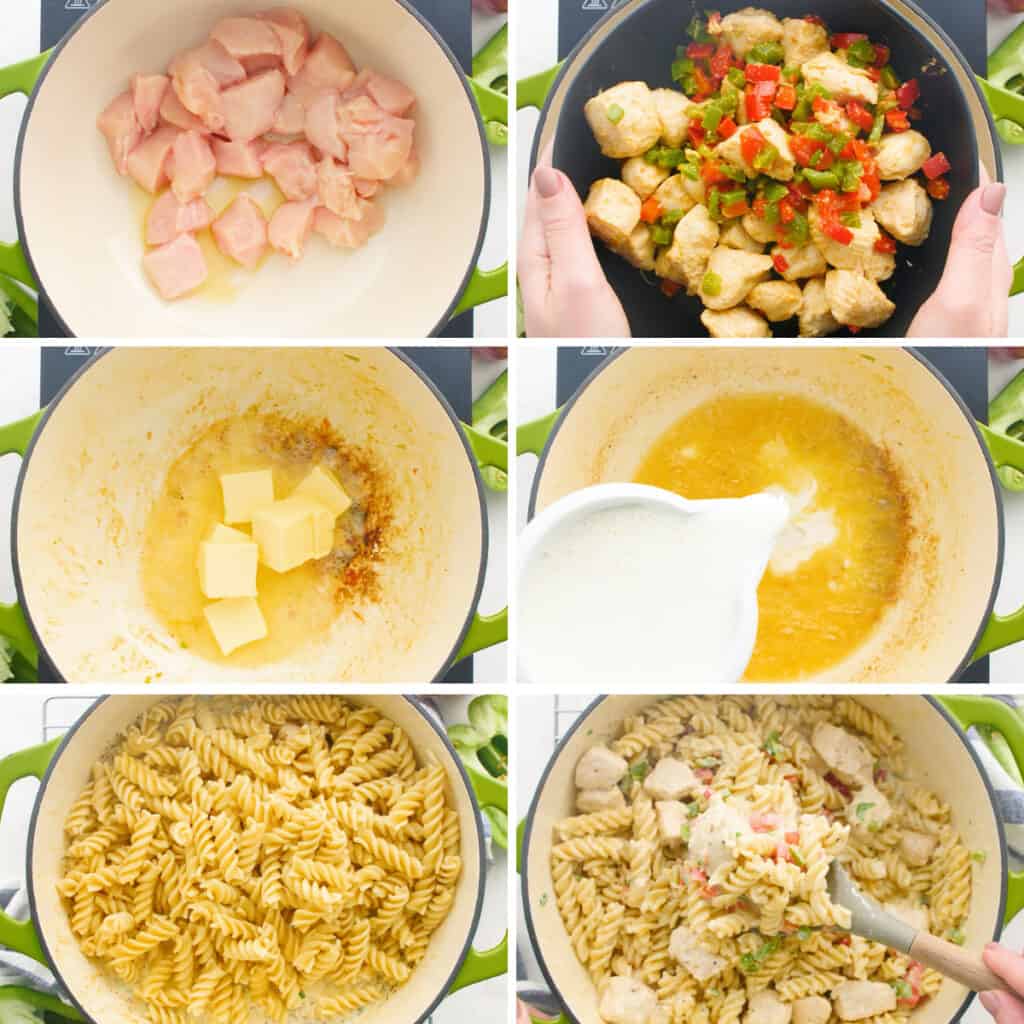 Cook chicken and peppers in a large skillet until chicken is cooked through and bell peppers are tender-crisp. Transfer chicken and peppers to a plate and set aside.
Melt butter in the empty pan and add half and half. Bring the mixture to a low simmer and cook for 5 to 8 minutes until just barely reduced.
Add cheese, spices, and salt to taste before stirring the cooked chicken and bell peppers back in.
Toss with pasta and serve!
FAQ
Can I make creamy chicken pasta in advance?
Creamy pastas are always best right after being cooked, but if you want to make this in advance, go ahead. You can reheat the pasta gently on the stove or in the microwave, but before doing so, add a generous splash of half and half or heavy cream since the pasta will have absorbed some of the liquid as it sat in the fridge.
Stir the pasta occasionally as it reheats and add more half and half/cream as needed to return it to its creamy consistency.

Can I make a smaller batch of this pasta?
Absolutely. No cooking or preparation changes are needed to cut the recipe in half or quarters. To avoid waste when halving, you can use a single bell pepper in any color. To change the recipe yield, hover over the serving size in the recipe card below or click if you're on mobile, and slide the slider.
Can you freeze creamy chicken pasta?
As I mentioned in my American Goulash recipe, I'm not the biggest fan of freezing pasta, but if you have leftovers and don't mind the resulting slightly mushy noodles, by all means, go ahead.
Defrost in the refrigerator and reheat in the microwave with a splash of cream, half & half, or milk (about a tablespoon per serving), and a sprinkle of Parmesan. In my test batch, I found the texture of the sauce to be a little lumpy after freezing, but stirring in the extra liquid and cheese fixed that right up. This can be stored in the freezer for up to 3 months.

What to serve with chicken pasta?
Serve this pasta with a slice of garlic bread and simple sides like Roasted Broccoli, Roasted Zucchini or Roasted Green Beans.
More Comfort Food Recipes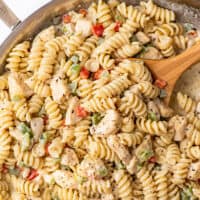 Easy Creamy Chicken Pasta With Bell Peppers
This creamy chicken pasta with bell peppers is rich, filling, and so easy to make. It's a quick dinner that everyone will love. 
Print
Pin
Servings (Hover or Click to Change Yield):
6
servings
Ingredients
12

ounces

rotini pasta

1

pound

(about

2

small) boneless skinless chicken breasts

cut into 1-inch cubes

1

small green bell pepper

diced small

1

small red bell pepper

diced small

2

cups

half and half*

1/2

cup

(

4

oz) butter

3/4

cup

(

3oz

) shredded Parmesan cheese

plus more for topping

1

teaspoon

chives or green onions

minced, optional

1/2

teaspoon

dried oregano

1/2

teaspoon

dried basil

1/2

teaspoon

salt
Instructions
Pasta
In a large pot, boil water for pasta. Salt lightly and add rotini. Cook according to package instructions. Drain and set aside.
Chicken & Peppers
While pasta cooks, grease a large pan with cooking spray or a drizzle of olive oil, and over medium heat, cook chicken and peppers together until chicken is cooked through and peppers are tender. If you prefer crunchier peppers, add them to your chicken after 2 to 3 minutes. Transfer chicken and veggies to a bowl and set aside.
Sauce
In the same pan, melt butter over medium heat and add the half and half. Bring to a low simmer and allow to cook until it has reduced down and thickened just slightly, about 5 to 8 min. Remove from heat and add Parmesan, chives or green onions, oregano, basil, and salt.
Combine
Add chicken back to the pan with the sauce, pour in the drained noodles, stir and serve. Top with more Parmesan if desired.
Notes
*You can substitute 2/3 cup heavy cream + 1 1/3 cup milk (any percentage) for the half and half.
For optimal timing, put water on to boil and cut chicken and veggies and measure out the rest of your ingredients. Begin cooking the chicken and peppers and then add your noodles to the boiling water after 2 or 3 minutes.
If you have everything cut and prepared in advance, the rotini and sauce should finish at almost the same time.
This post may contain affiliate links, which means I receive a small commission if you make a purchase using them. There is absolutely no additional cost to you.
Recipe adapted from: AllRecipes