Soft and fluffy baked pumpkin donuts tossed in crunchy cinnamon sugar are the perfect sweet way to celebrate fall mornings.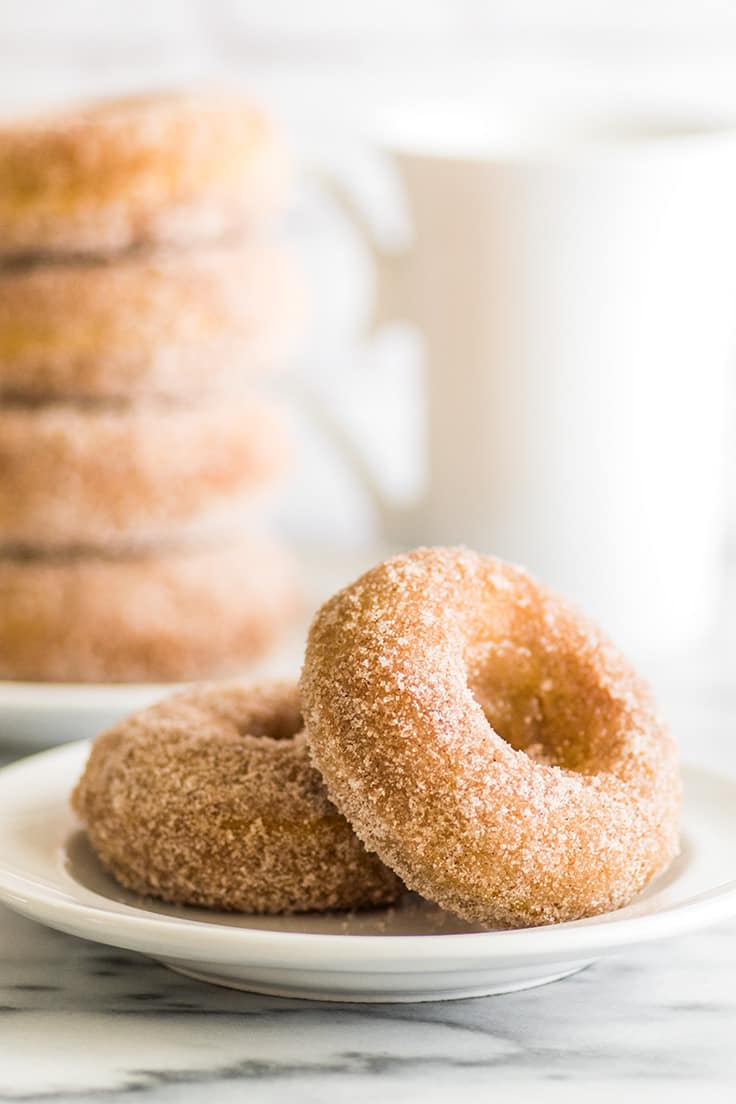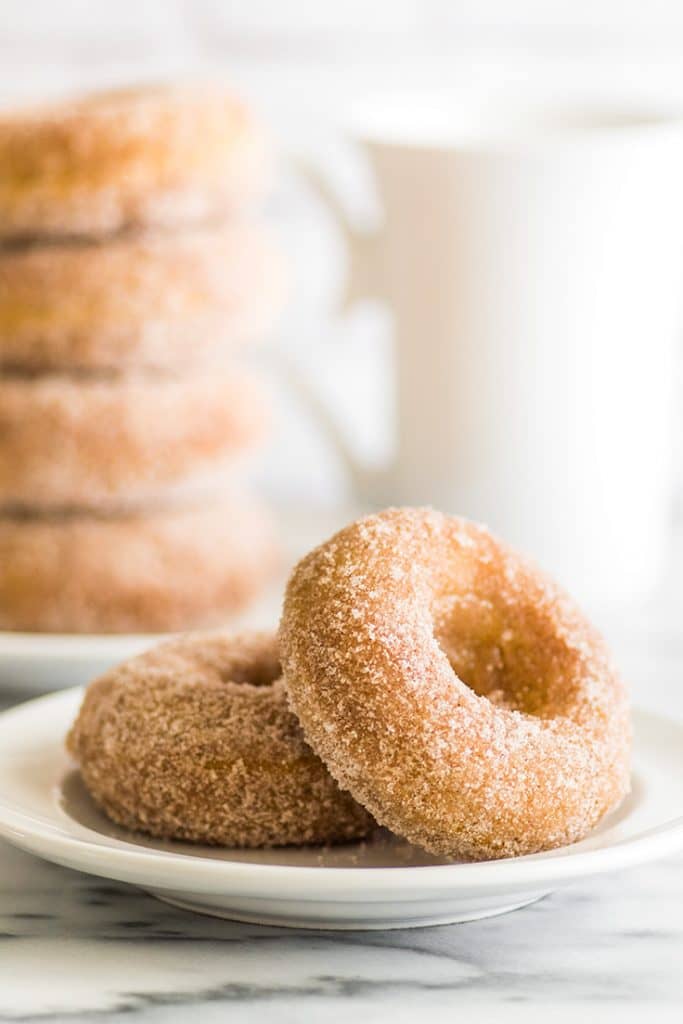 Happy hump day. If you're in the US, are you getting back in the swing of things after the three-day weekend?
I worked through the long weekend since I have a vacation scheduled for next month, and I'm trying to work ahead, but I still feel discombobulated. Like, the rest of the country had its Monday yesterday while I feel like I've been living a week of Mondays, and I don't even know what today is.
Oh well. Let's chat about donuts.
Last fall, I shared these Pumpkin Donuts With Maple Glaze. They were one of my favorite recipes I posted that season and ended up making the cut for my list of Top Baking Mischief Recipes of the Year.
I love them so much that I wanted to revisit them again this fall and try something a little different.
So this time around, the donut base is still the same fabulous moist and soft pumpkiny dream of a baked donut, but instead of topping them with maple frosting, they get coated in crunchy cinnamon sugar, and guys, yeeeeeeeeeeeeeeeeesssss!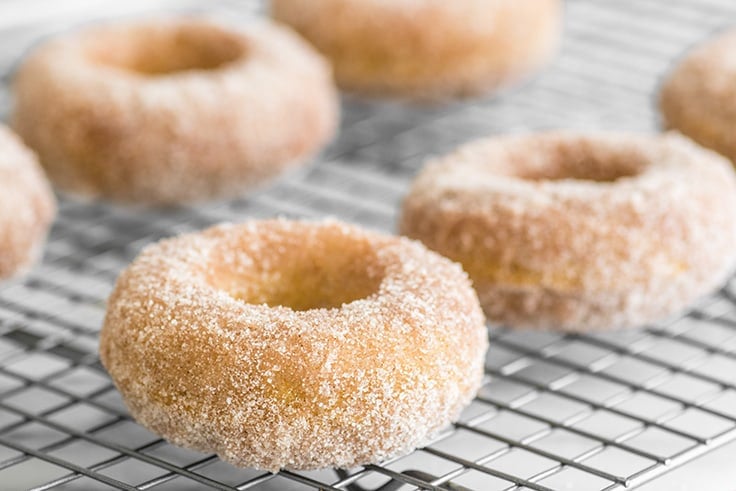 Cinnamon Sugar Baked Pumpkin Donuts forever and ever.
My mom was my donut taste tester last year, and she loved those. She took one bite of the updated version and was immediately like, these are my favorite donuts you have ever made.
And not to brag or anything, but I've made some pretty good donuts in the past.
The great/dangerous thing about these donuts is they are a little too easy to make. The base is super simple: flour, egg, melted butter, baking powder, fall spices, etc., and a good scoop of pumpkin puree.
Everything just gets mixed together and then squeezed into a donut pan. The batter makes exactly 6 donuts or about 24 very adorable donut holes in a mini muffin pan if you don't have own donut pan.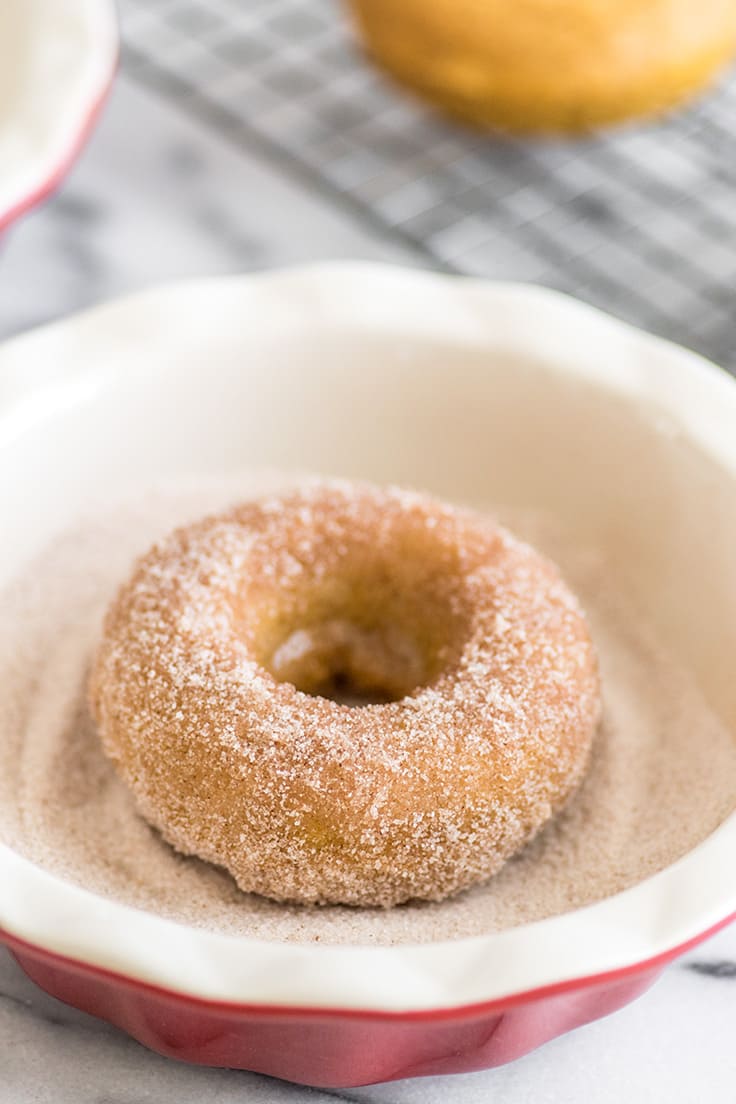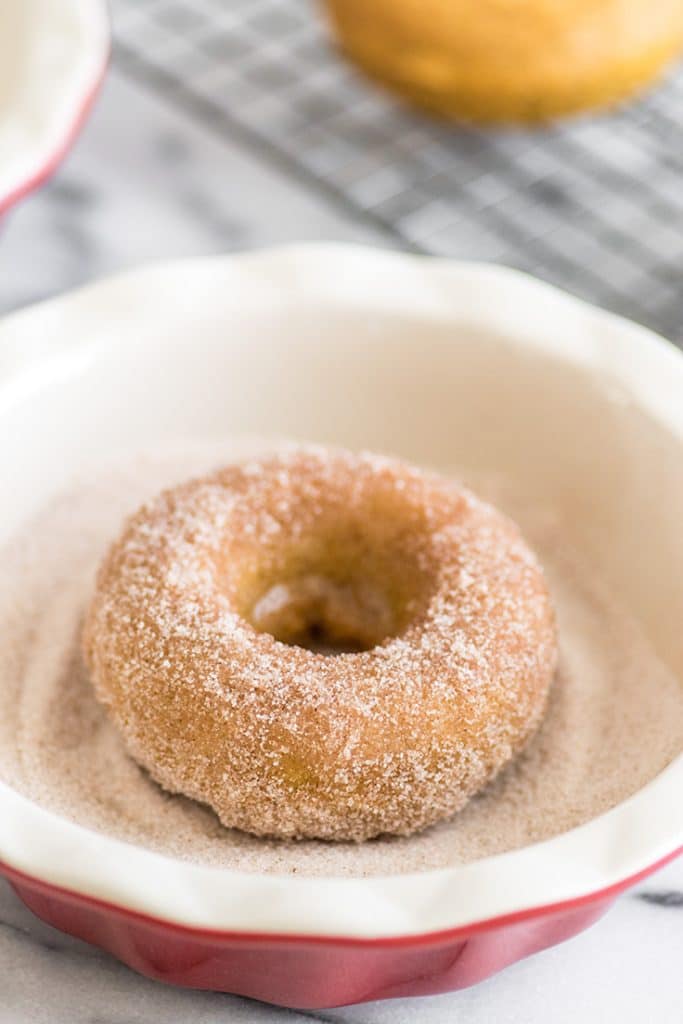 Once baked, to coat the donuts, they get a quick dip in butter, which, don't worry, does not make the donuts greasy or too buttery tasting since it's just enough to make the sugar stick.
And then you toss them in cinnamon sugar, pour yourself a cup of coffee and try not to shove them in your face all at once. 😉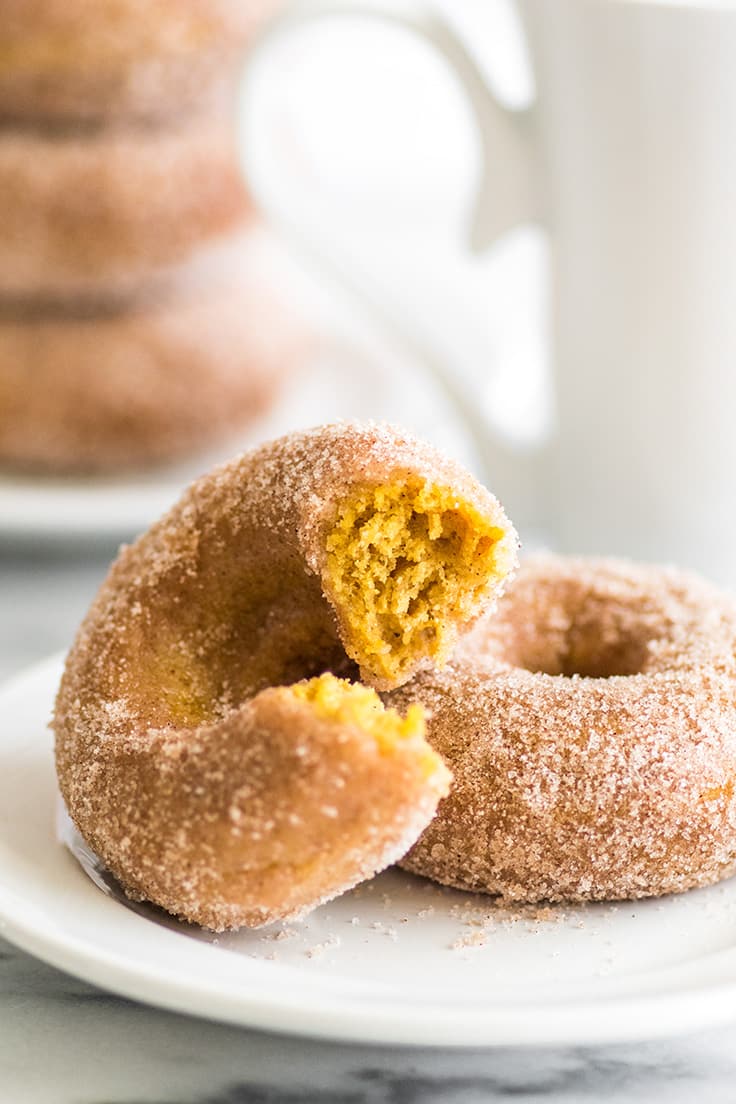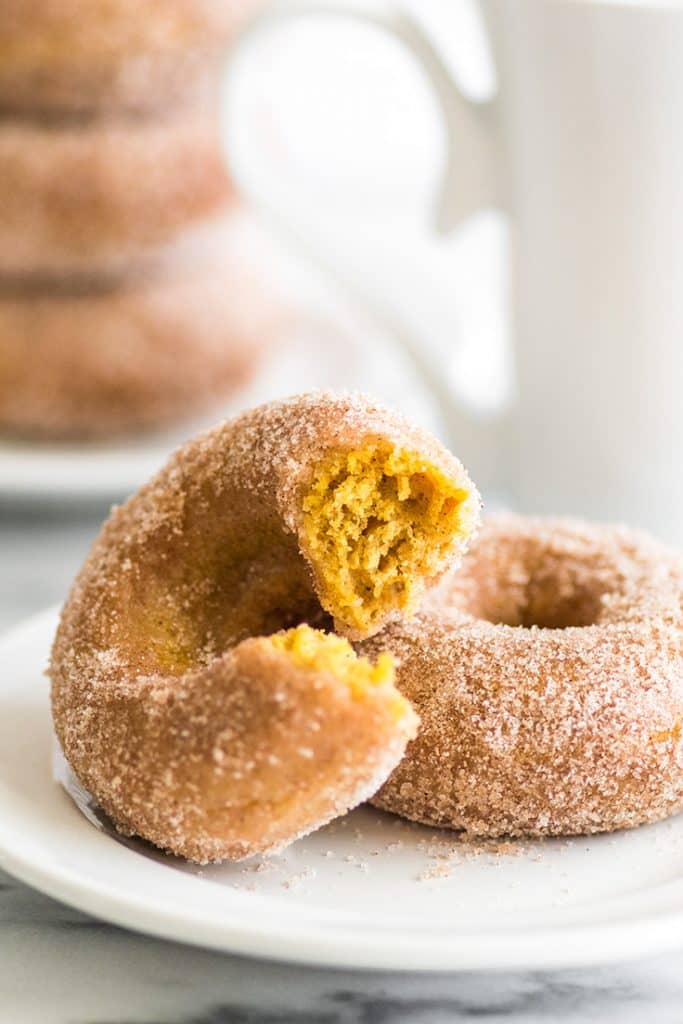 Cinnamon Sugar Baked Donut Recipe Notes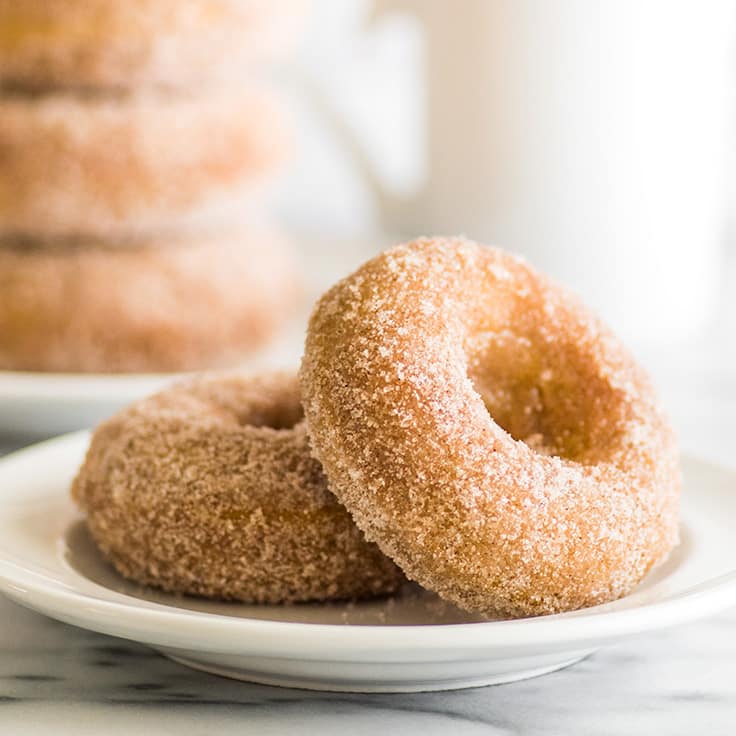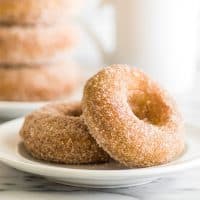 Cinnamon Sugar Baked Pumpkin Donuts
Soft and fluffy baked pumpkin donuts tossed in crunchy cinnamon sugar are the perfect sweet way to celebrate fall mornings.

Print
Ingredients
Pumpkin Donuts
1

cup

(

120g

) all-purpose flour

1

teaspoon

baking powder

1/2

teaspoon

cinnamon

*

1/8

teaspoon

ground ginger

1/8

teaspoon

ground nutmeg

Pinch

ground cloves

1/4

teaspoon

salt

1/3

cup

(

81g

) pumpkin puree

1/3

cup

(

66g

) brown sugar

1

large egg

1/4

cup

milk

any percentage

2

tablespoons

(

1oz

) unsalted butter

melted and cooled
Cinnamon Sugar Topping
1/4

cup

(

2oz

) unsalted butter

1/2

cup

(

100g

) granulated sugar

1/2

teaspoon

cinnamon
Instructions
Preheat your oven to 350°F and lightly grease your donut pan (or muffin tin).

In a small bowl, whisk together flour, baking powder, cinnamon, ginger, nutmeg, cloves, and salt.

In a medium bowl, combine pumpkin puree, brown sugar, egg, milk, and melted butter. Whisk together until smooth. Add flour mixture and stir until just combined.

Place a large disposable plastic bag over a cup and transfer batter to the bag. Snip off one of the corners and "pipe" the batter into your prepared donut pan, filling about 3/4 of the way full. This will make exactly 6 donuts.

Bake for 9 to 11 minutes, until the donut tops spring back when lightly pressed with your finger. When pan is cool enough to handle, turn donuts out on a cooling rack.
To Coat
Add melted butter to a small bowl large enough for dipping. In a second bowl of the same size, stir together sugar and cinnamon. Dip a donut first in the butter, letting any excess drip off and then dip in the cinnamon sugar, tossing to coat.

Repeat with remaining donuts and enjoy!
Notes
*If you have pumpkin pie spice, you can replace all the spices (not the salt) with 3/4 teaspoon of pumpkin pie spice.
Bake donut holes in a mini muffin tin for 7 to 10 minutes.
These donuts are best on the first day.
This recipe calls for about twice the amount of butter and cinnamon sugar that will actually end up on the donuts (to ensure you have enough for dipping). The approximate nutritional information reflects this.
Donuts Adapted From Live Well Bake Often
This post may contain affiliate links, which means I receive a small commission if you make a purchase using them. There is absolutely no additional cost to you.