This Mini Pumpkin Pie With Graham Cracker Crust is EASY to make and a treat to eat.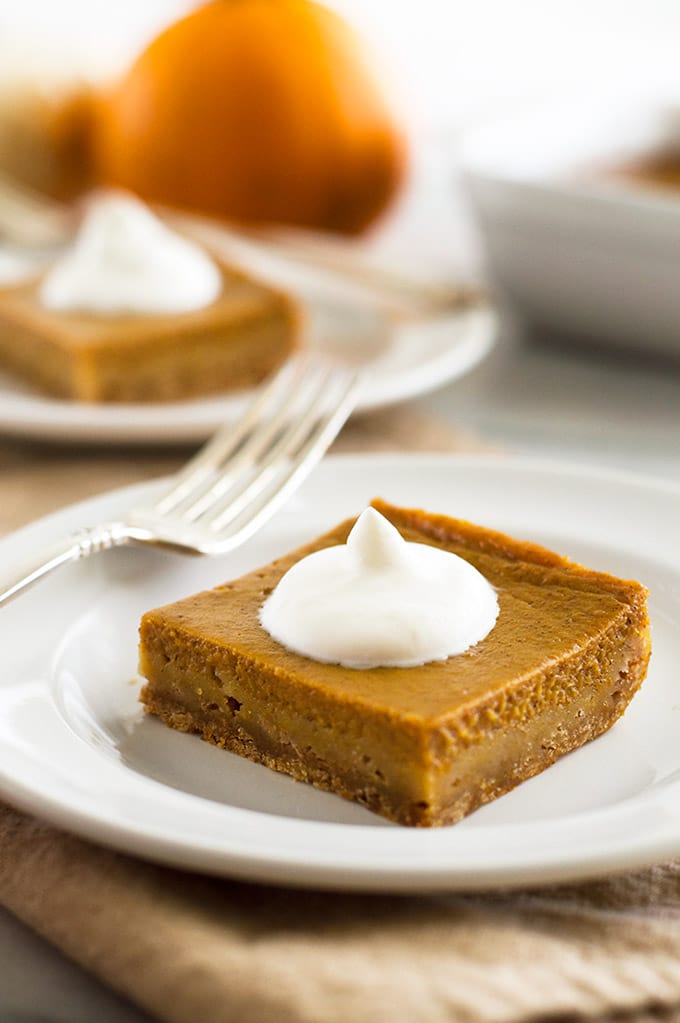 Today's recipe is for the pumpkin pie lovers out there who 1) are watching what they eat and 2) don't want to play with pie dough.
Now I love me a decadent dessert, and I LOVE playing with pie dough (you have seen my Game of Thrones Deep Dish Frey Pie and Dutch Apple Galette for Two haven't you?), but I also appreciate a lighter recipe that's easy to boot, so here's a lighter pumpkin pie.
In place of a traditional pie crust, I used a brown sugar graham cracker base. It's pretty much the same one I used in my S'mores Cupcakes, so you know it's going to be good. And instead of cutting and fussing and shaping pie dough, you just crush, mix, and spread this crust. Way easier, just as delicious.
On top of the graham cracker crust, you have a lighter pumpkin pie custard. Normal pumpkin pie usually uses evaporated milk, condensed milk, or cream in the custard part of the pie, but this pie is made with low-fat milk which slashes the calories, but is still so creamy and good and everything you love about pumpkin pie.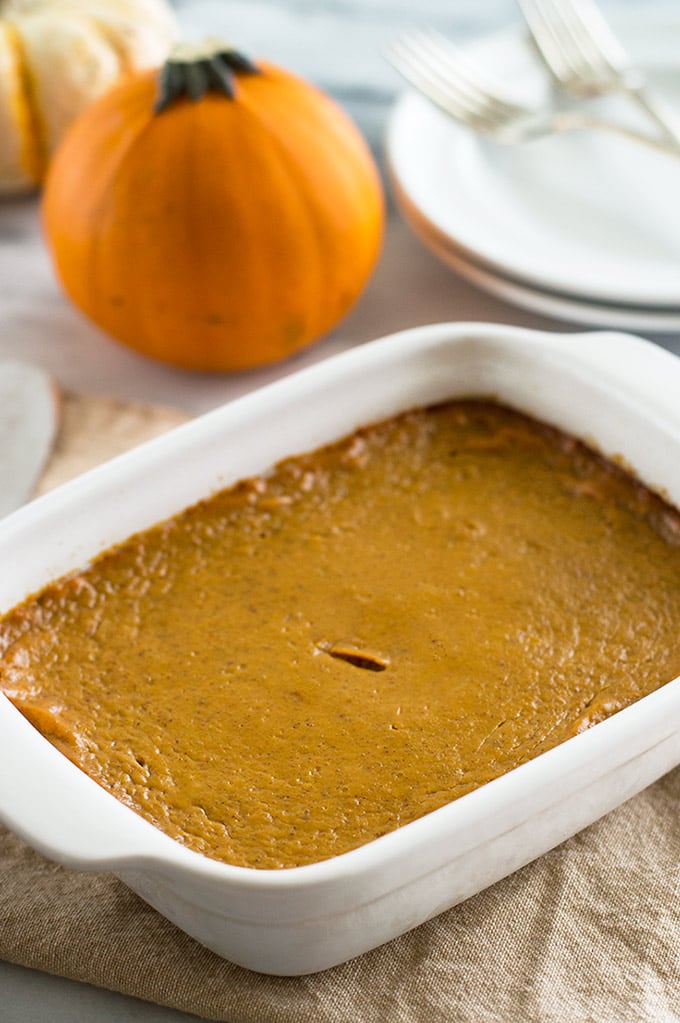 And just to keep things interesting, I added a dab of whiskey-infused whipped cream. You can use bourbon, Kahlua, whatever alcohol you like that would complement pumpkin pie. The boozy flavor isn't overpowering. It's just a little exciting and a lot delicious.
This perfect little pie will make 4 to 6 servings depending on how you slice it and comes in at around 200 calories a serving (about 150 without whipped cream). If you are having an intimate Thanksgiving gathering or just feel like pie and don't want to share with the world, definitely consider this one.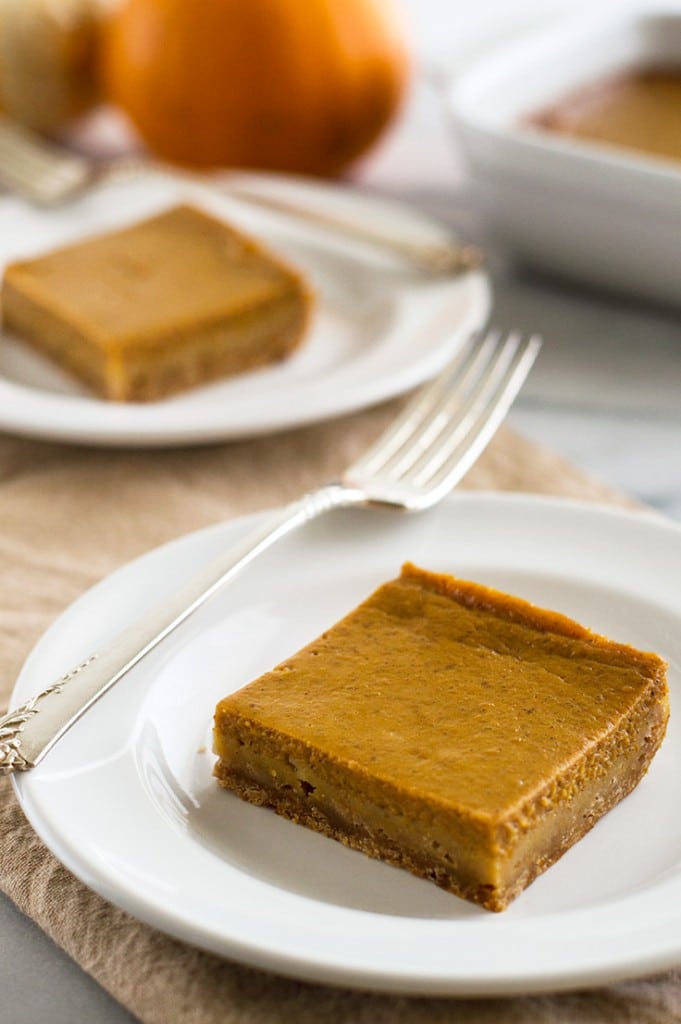 More Mini Desserts
Mini Pumpkin Pie Recipe Notes
You'll need a 7 x 5-inch baking dish for this pie. I used a ceramic one for the photos (because it's purdy), but I usually use Pyrex dishes* for small-batch baking since you can bake in them and then just throw on a lid for storage.
The normal pumpkin pie "jiggle test" doesn't work with this pie since the custard layer is not very deep. It will stop jiggling long before it's actually set. To test for doneness, insert a knife into the center of the pie. When it comes out clean, your pie is ready.
For convenience, if you stock pumpkin pie spice (homemade or store-bought*), you can replace the spices in the pie (not the salt) with 1 teaspoon of pre-mixed pumpkin pie spice.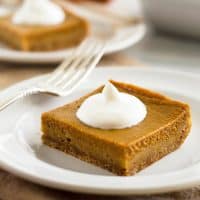 Mini Pumpkin Pie With Graham Cracker Crust
My Mini Pumpkin Pie With Graham Cracker Crust is EASY to make and a treat to eat.
Print
Pin
Servings (Hover or Click to Change Yield):
6
Ingredients
Graham Cracker Crust
1/4

cup

graham cracker crumbs

(

2 1/2

) graham crackers

1/4

cup

(

30

g) all-purpose flour

2

tablespoons

(

25

g) brown sugar

3

tablespoons

(

1.5

oz) melted butter
Pumpkin Pie
1/2

cup

low-fat milk

1/2

cup

(

122

g) canned pumpkin puree

1/4

cup

(

50

g) packed brown sugar

1

large egg yolk

1/2

teaspoon

ground cinnamon

1/4

teaspoon

salt

1/8

teaspoon

ground ginger

1/8

teaspoon

ground nutmeg

Pinch

ground cloves
Whipped Cream
1/4

cup

heavy whipping cream

1

teaspoon

sugar

1

teaspoon

cold whiskey or bourbon
Instructions
Graham Cracker Crust
Preheat your oven to 375°Lightly grease a 7x5-inch baking dish.

In a small bowl, whisk together graham cracker crumbs, flour, and sugar. Stir in melted butter until well-mixed.

Press crumbs firmly into your baking dish with your fingers or the bottom of a small drinking glass. Bake for 10 to 12 minutes, until crust is slightly darkened and looks set.

Turn the oven down to 350°. Place crust in the refrigerator while you mix your pumpkin pie ingredients.
Pumpkin Pie
In a medium bowl, whisk together all pie ingredients until smooth. Pour mixture into the slightly cooled crust and bake for 35 to 45 minutes until a knife inserted into the center of the pie comes out clean.

Cool on the counter for 20 minutes before refrigerating for at least 2 hours.
Whiskey Whipped Cream
Place a medium bowl and whisk in the freezer for 15 minutes.

Once the bowl is chilled, remove from the freezer and combine heavy cream, sugar, and whiskey.

Whisk vigorously until soft peaks form, 4 to 7 minutes (much less if using a hand-held electric mixer). Spoon over the chilled pie.

Serve and enjoy!
*Links marked with an asterisk are affiliate links, which means I receive small commission if you make a purchase using them. There is absolutely no additional cost to you.