Packed with pumpkin and warming spices, these fluffy and perfect Pumpkin Pancakes might just be your new favorite fall breakfast.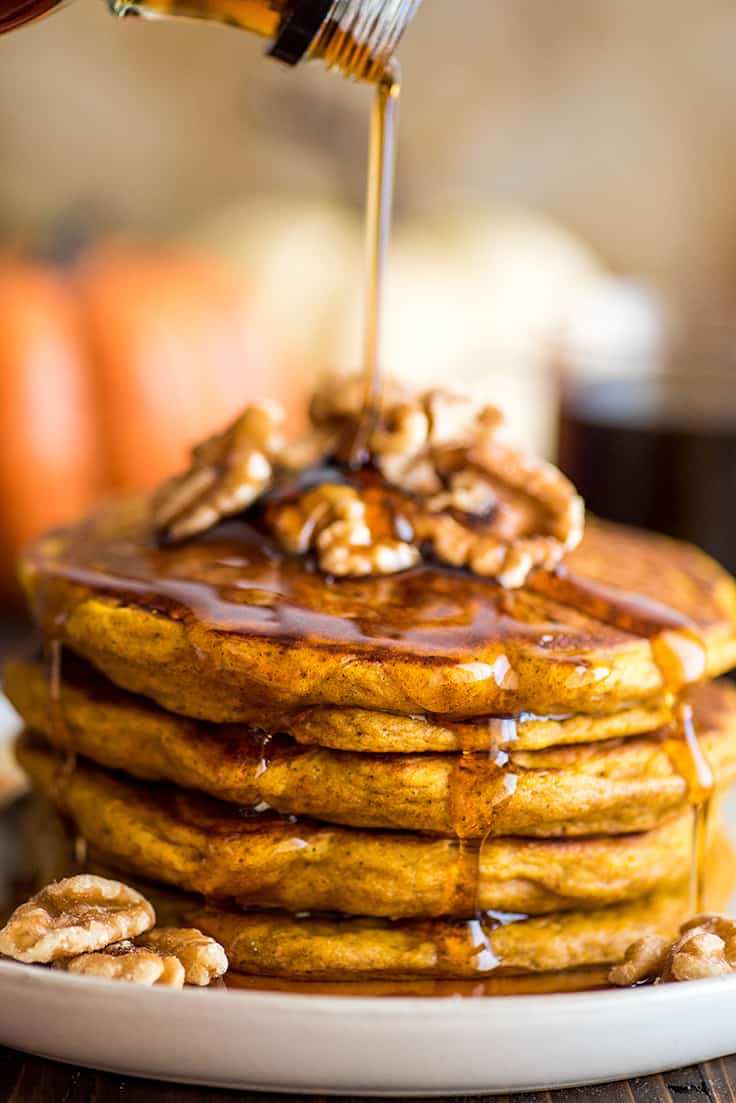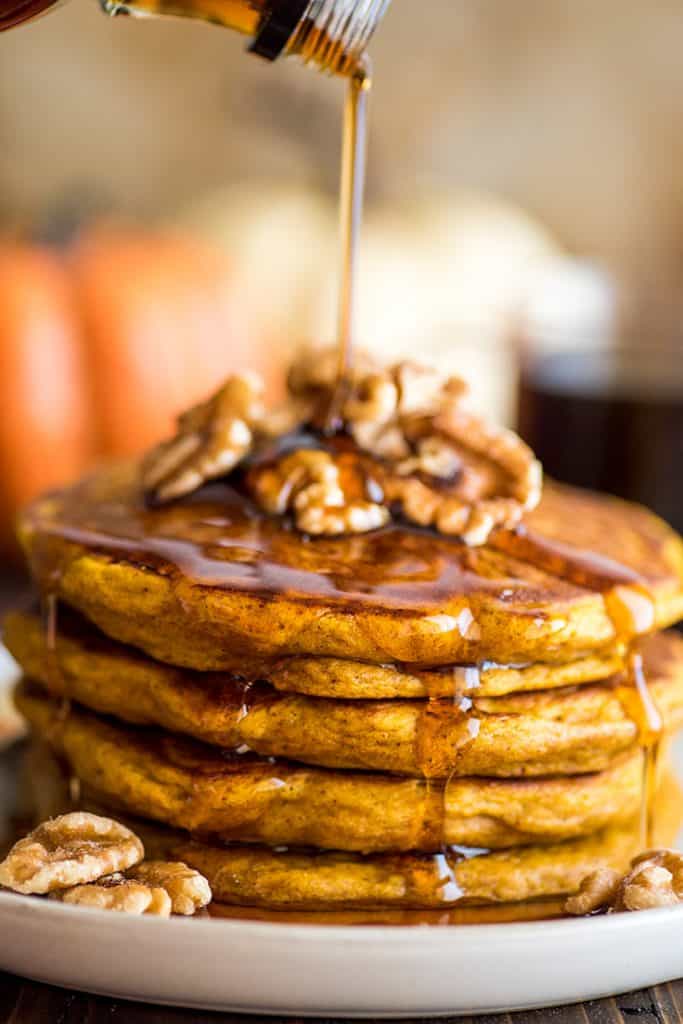 If you're subscribed to the Baking Mischief newsletter (and if not, join us, friend!), you might remember me talking about testing my first pumpkin recipe of the season back in August and feeling like fall had arrived early in my kitchen.
This is that recipe: fluffy, spicy, lovely Pumpkin Pancakes.
And I am so, so happy that it is no longer August so I can finally share them with you.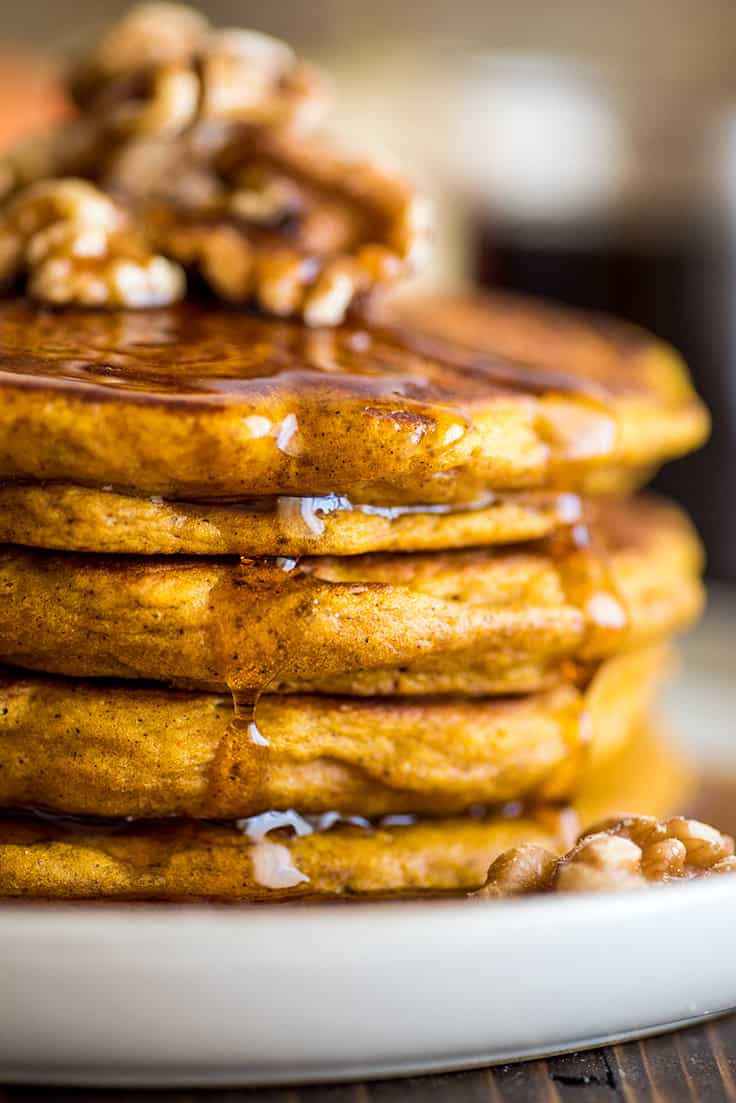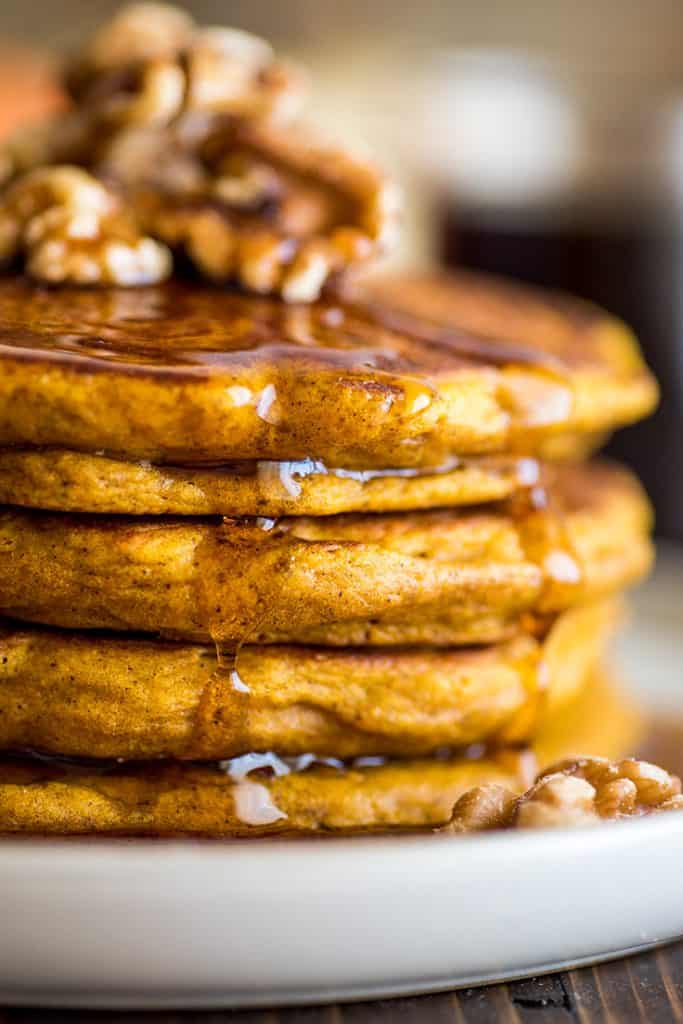 Say hello to your new favorite fall breakfast. These pancakes are everything good about fall: a brisk October morning, a worn-in slouchy sweater, a grande PSL, all served up in a beautiful heaping stack of carbs.
I'm not kidding when I say that you don't even have to take a bite of the finished product, just get one whiff of that pumpkin-spiced batter, and it will be fall in your heart.
Plus, they're completely delicious, perfectly fluffy, and really simple to make, so if you have a can of pumpkin puree in your pantry, you probably have the ingredients make them right now.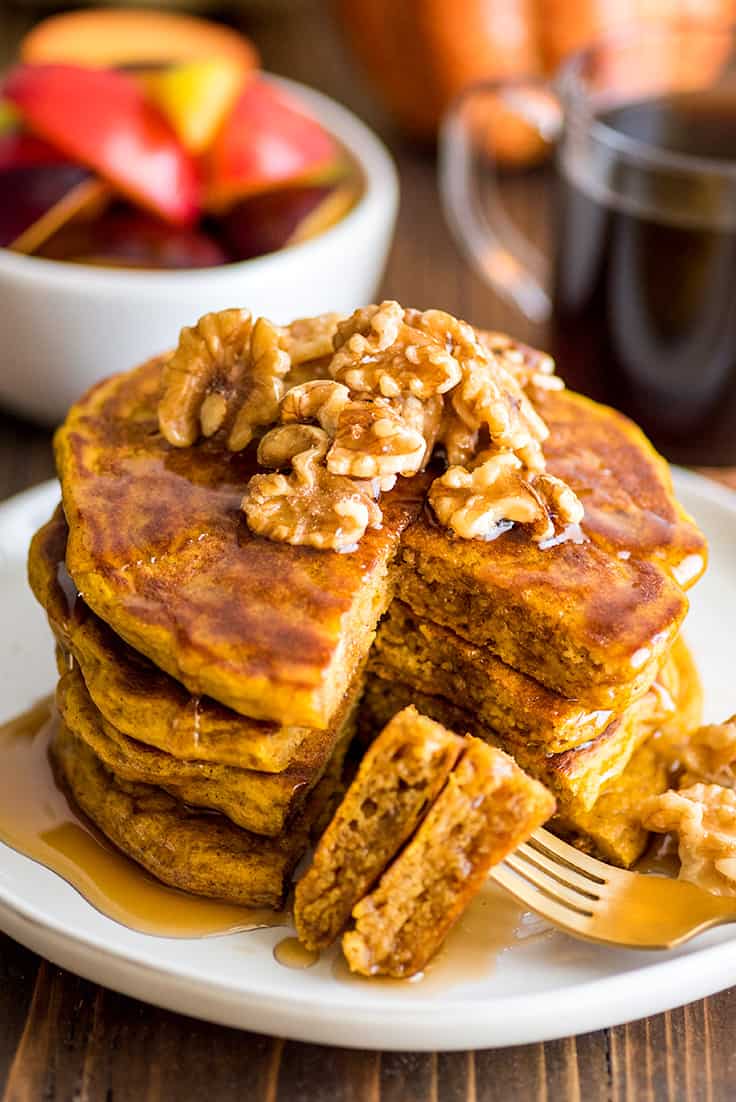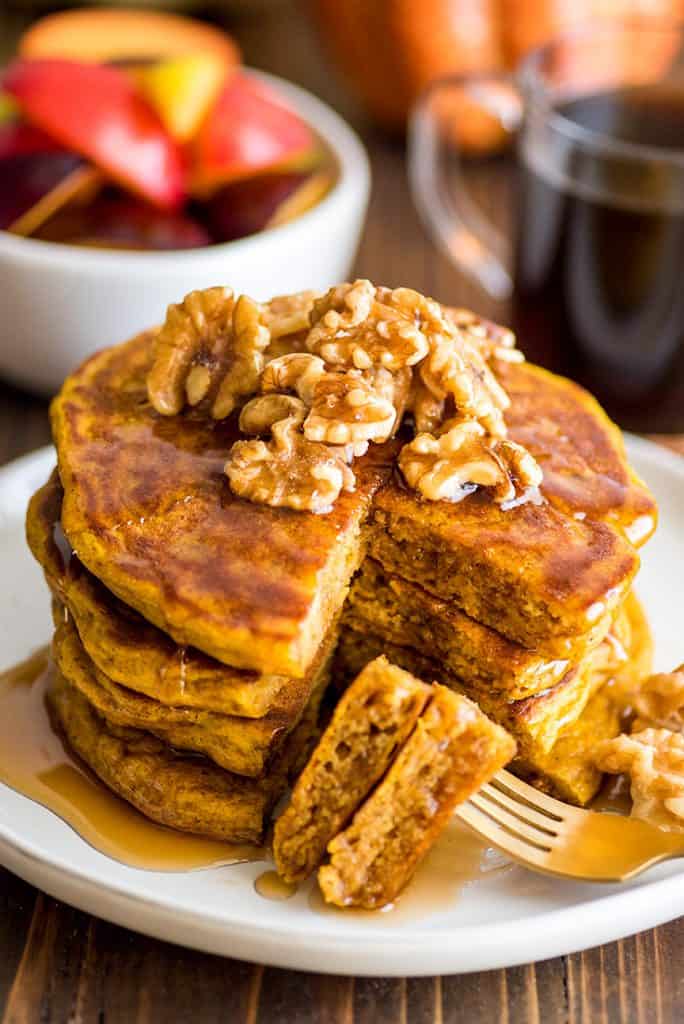 How to Make Pumpkin Pancakes
These pancakes use all your usual pancake ingredients, a quick buttermilk substitute, pumpkin puree, and fall spices. Then you just…
Mix a little vinegar and milk together and let it sit to make a faux buttermilk while you measure your other ingredients.
Mix together dry ingredients in one bowl, wet in another, and then stir wet into dry until just combined.
Drop heaping 1/3 cups of batter onto a greased griddle set to 350° or a skillet heated over medium heat.
Cook until pancakes are cooked through.
That's it. Totally easy and simple, right? Honestly, the most arduous part of making the pancakes is measuring out the separate spices, but if you happen to stock (or make your own) pumpkin pie spice, you can just use a little of that instead.
This recipe's designed to serve two, so it will make exactly four large and fluffy pancakes. But if you're serving the pancakes alongside a full breakfast or making them for kids/dainty eaters, you could definitely stretch the recipe to make six smaller pancakes and feed three.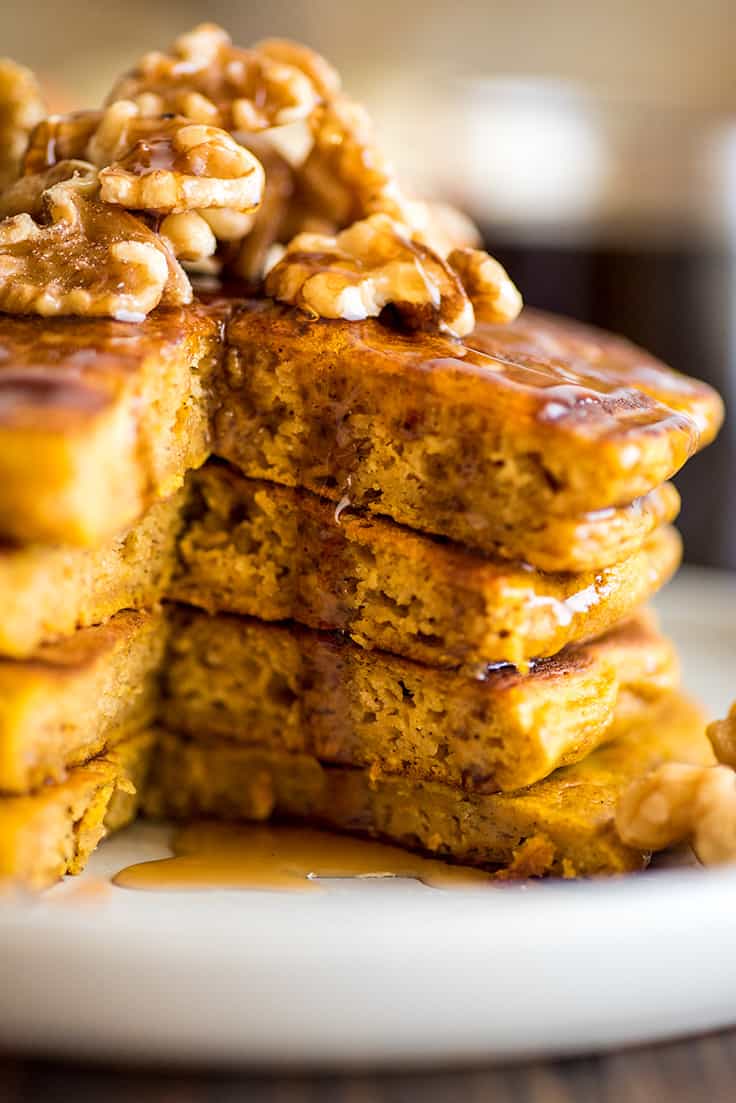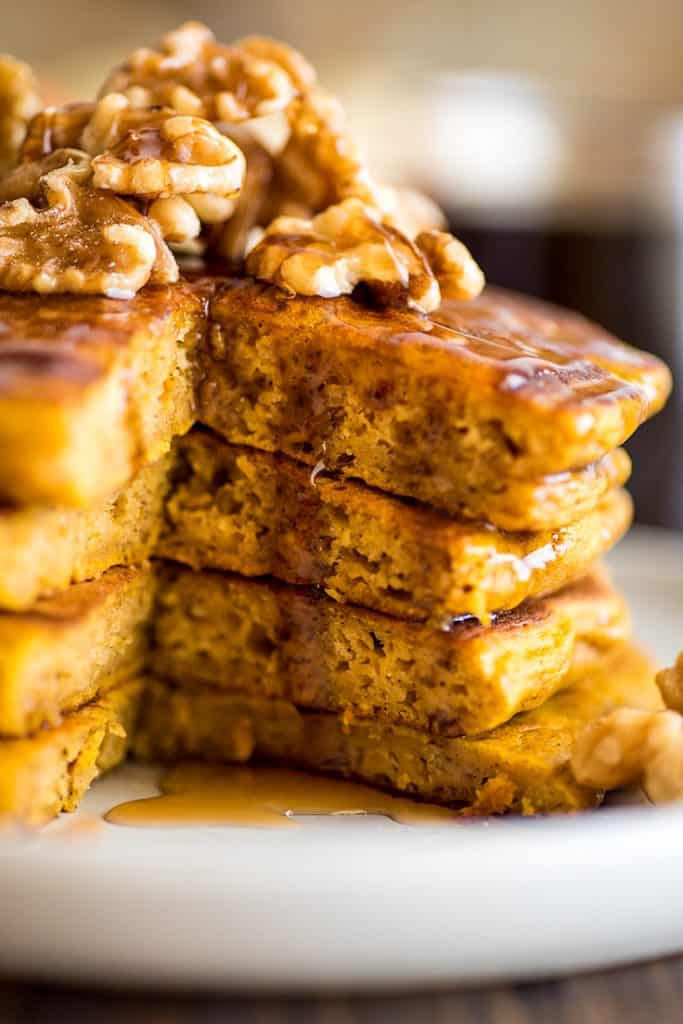 Pumpkin Pancake Recipe Notes
If making your pancakes in a skillet rather than a griddle, you will have to cook them two at a time. To keep your first batch of pancakes warm while the second cooks, set them on a plate inside your oven and turn your oven to warm or its lowest setting.
Because of the added moisture of the pumpkin, these pancakes take longer to cook than regular pancakes, so don't be worried if they seem to be taking a while. Just keep the heat at 350°F or medium (any higher and they might burn before they cook through), and check the centers by cutting into one before you remove them from heat.
This recipe won't use an entire can of pumpkin puree. For ideas on what to do with the leftovers, see this post: What to Do With Leftover Pumpkin Puree.
Looking for more pancake recipes? Try these Pancakes for Two and Banana Pancakes for Two.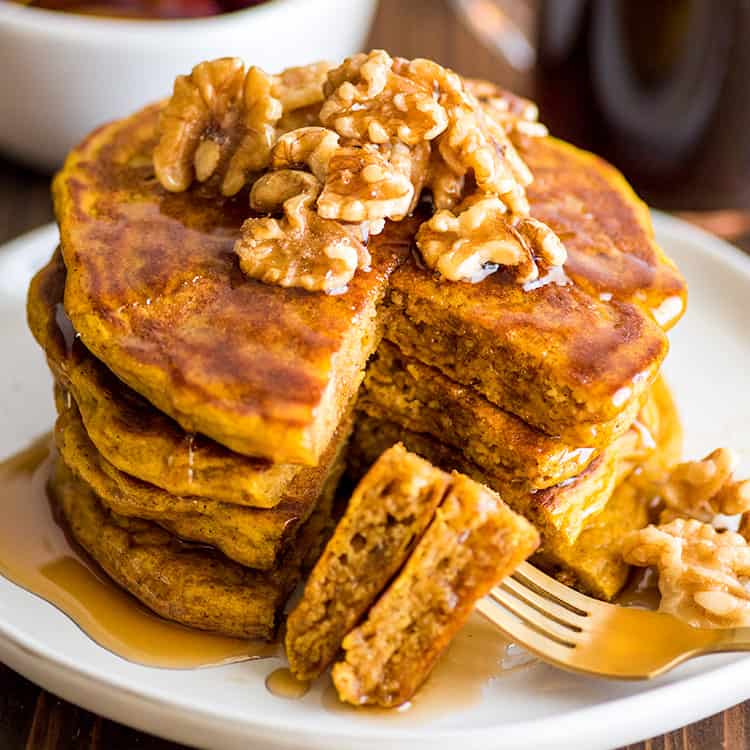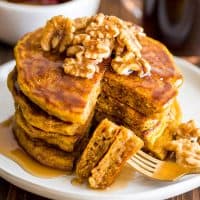 Amazing Pumpkin Pancakes for Two
Packed with pumpkin and warming spices, these fluffy and perfect Pumpkin Pancakes might just be your new favorite fall breakfast.
Ingredients
1

tablespoon

white vinegar

Scant

3/4

cup milk

1

cup

(

120g

) all-purpose flour

2

tablespoons

(

25g

) brown sugar

1

teaspoon

baking powder

1/2

teaspoon

baking soda

1/2

teaspoon

ground cinnamon

1/4

teaspoon

ground allspice

1/4

teaspoon

ground ginger

Generous pinch of nutmeg

1/4

teaspoon

salt

1/2

cup

(

122g

) pumpkin puree

1

large egg

1

tablespoon

vegetable oil
Instructions
Before you start measuring out any of your other ingredients, add

1

tablespoon vinegar to a

3/4

cup measuring cup and fill the rest of the way with milk. Set aside to sour.

In a medium bowl, combine flour, brown sugar, baking powder, baking soda, spices, and salt. Whisk until well-combined.

In a small bowl, whisk together soured milk, pumpkin puree, egg, and vegetable oil.

Pour liquid into the flour mixture and use a spoon to stir until just combined. Do not over mix.

Heat a griddle to 350°F or skillet over medium heat and rub a stick of butter over the surface or grease with cooking spray. Drop heaping 1/3 cups of batter to the surface. If making in a skillet, you will need to make the pancakes in two batches.

Cook until bubbles form on the top of the pancakes and flip, making sure to cook all the way through—these pancakes will take slightly longer to cook than regular pancakes because of the pumpkin.

Top with butter and maple syrup, and enjoy!
Recipe Notes
*Spices (not the salt) can be replaced by one slightly heaping teaspoon of pumpkin pie spice.