A look back at my June BBQ-themed posts plus a round up of five more fantastic menus. There is something here for everyone!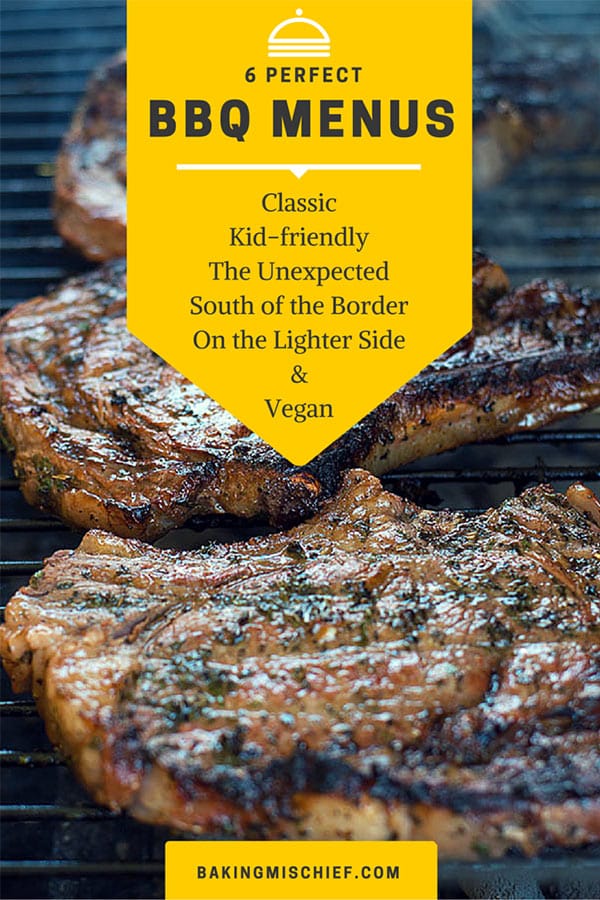 Our barbecue-themed month on Baking Mischief has come and gone. Did you do much June BBQing? I actually didn't do a ton, but summer has just begun. Who knows what July and August will bring! Since this month's theme was a barbecue menu, we cooked through an entire menu over the course of the month, starting with Strawberry Limeades and ending with gooey S'mores Cupcakes.
Drink: Strawberry Limeade Mix
Side: Loaded Baked Potato Salad with Yogurt
Main: Basil and Garlic Steak Marinade
Dessert: Gooey Chocolate S'mores Cupcakes
And as I do at the end of every monthly series, I rounded up some more recipes from some of my favorite bloggers. This time I assembled them into themed menus and I had so much fun putting them together!
There is a beverage, a side/appetizer, a main dish, and a dessert for each, and the themes range from kid-friendly to vegan, so there should be something here for everyone. Happy barbecuing!
Kid Friendly

Magical color-changing drinks, bacon-stuffed beans, a patriotic tart, and PIZZA! This is the BBQ of my inner child's dreams.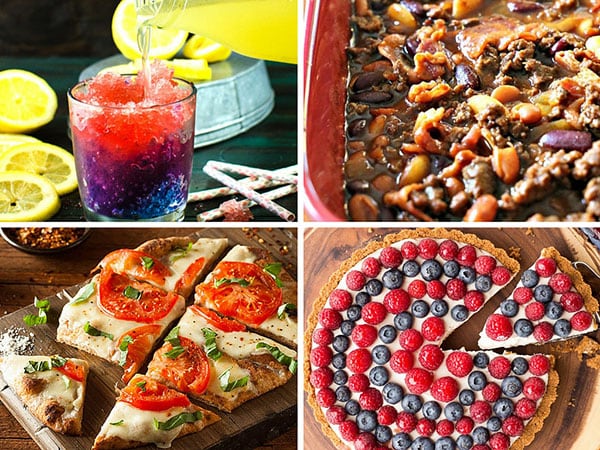 Drink: Color changing Purple and Pink Lemonade Slushies from The Flavor Bender
Side: BBQ Baked Beans from Southern Kissed
Main: Grilled Pizza Recipe from Melanie Cooks
Dessert: Red, White and Blueberry Tart from Fox and Briar
South of the Border
A little culinary trip south of the border is just what the doctor ordered…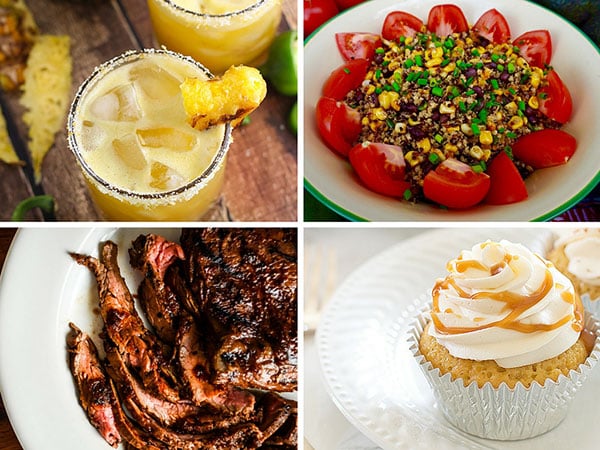 Drink: Grilled Pineapple Jalapeno Margarita from Platings & Pairings
Side: Roasted Corn, Black Bean and Ancient Grains Salad from Making Healthy Choices
Main: Carne Asada Borracha from Diversivore
Dessert: Kahlua Tres Leches Cupcakes
The Unexpected
Sometimes BBQ means steak and potatoes. Sometimes it's basil in your lemonade, beets in your eggs, and spicy cantaloupe.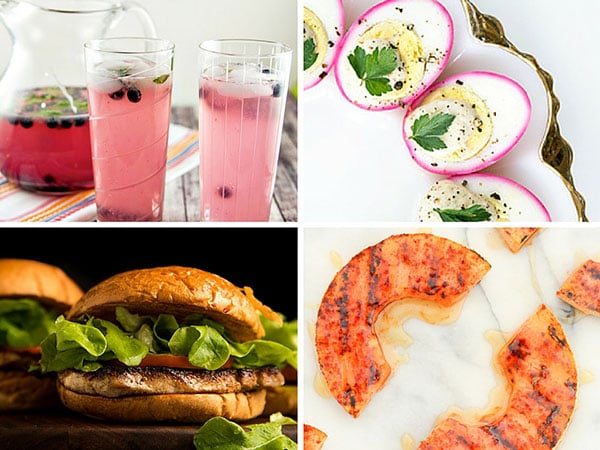 Drink: Blueberry Basil (Bourbon) Lemonade from Bunsen Burner Bakery
Side: Beet-Dyed Mustard Ranch Deviled Eggs from A Side of Sweet
Main: Macanese Pork Chop Bun (猪扒包) from Omnivore's Cookbook
Dessert: Sweet + Spicy Grilled Cantaloupe from Luci's Morsels
On the Lighter Side
Just because it's BBQ doesn't mean it has to be heavy and calorie-laden!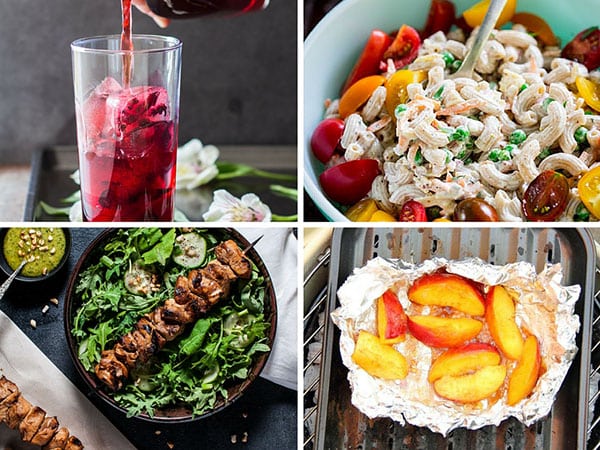 Drink: Agua de Jamaica from Green Healthy Cooking
Side: Garden Macaroni Salad from Healthy Seasonal Recipes
Main: Chicken Kabob Salad with Peanut Lime Dressing from Salt & Lavender
Dessert: Cinnamon Caramel Nectarines from The Tofu Diaries
Vegan
Who needs meat when you can make meatless look so good!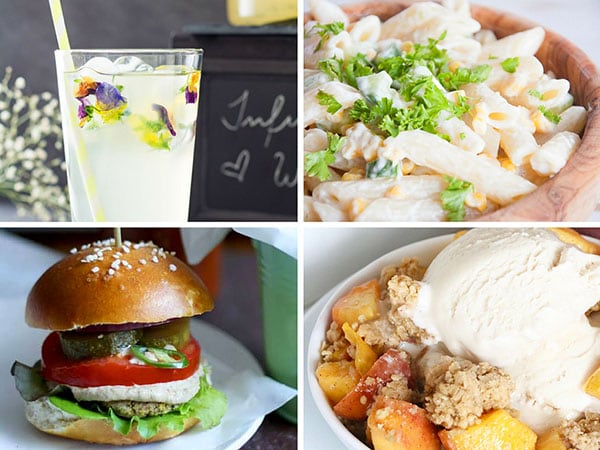 Drink: Lemon Infused Water from Green Healthy Cooking
Side: Vegan German Noodle Salad from Elephantastic Vegan
Main: Vegan Falafel Burger with Tahini Sauce from Sweet Potato Fries from Happy Kitchen.Rocks
Dessert: Easy Vegan & Gluten-Free Peach Crisp from Eating by Elaine