These scalloped potatoes for one are a shortcut version of one of my favorite comfort foods! Layers of bubbly cheddar cheese, ham, and pre-cooked potatoes in a perfect, quick-cooking, portion-controlled serving.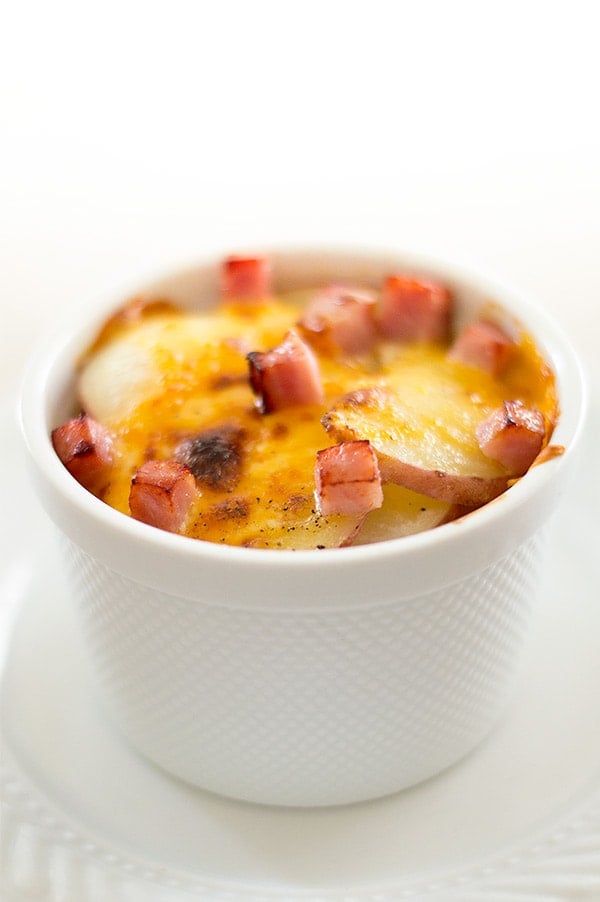 Looking for more Single-Serving Recipes? Scroll through the Recipes for One archive or check out my Quick Macaroni and Cheese for One, Chicken Noodle Soup for One, and Fettuccine Alfredo for One!
How was your holiday weekend? Did you take a vacation? Eat lots of good food? Spend time with family? Mine was fantastic. I celebrated my birthday, saw Finding Dory (like the grown up that I am), and did the whole family BBQ thing. It was great.
The start of a new month means it's time for a new monthly recipe theme, and since July is my birthday month, this month's theme is very loose and very dear to my heart: my favorite recipes!
Every Tuesday in July, I'll be posting the recipe for one of my very favorite dishes, and first up is a single-serving version of one of my childhood favorites, Shortcut Scalloped Potatoes for One!
The full-size version of this was much-loved in my house growing up and honestly, we didn't even have a recipe for it. It was just cut a ton of potatoes, shred a mountain of cheese, throw some ham and butter in there, and pour milk or cream over the entire thing.
It's literally the greatest comfort food known to man. And I haven't made it in two years.
It's so decadent and delicious that when I make it I always eat waaaaaaaaaay too much of it and want to die afterwards, so I limit my exposure. Today, in order to be able to eat one of my favorite meals more than a couple times a decade, I built in some portion control and shrunk it down.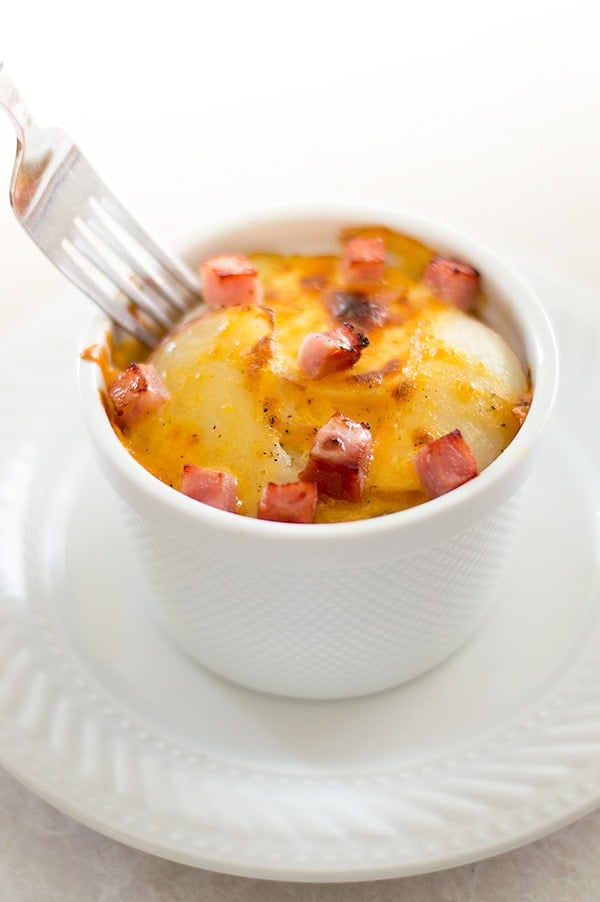 How cute is that!? This is a single-serving version of scalloped potatoes. It's quick and easy to make, and while still nowhere near healthy (all those beautiful layers of potatoes, ham, and cheese…), it confines your indulgence to a single meal, so you won't go back for seconds and thirds, and pick at it for the rest of the night, and eat if for breakfast the next morning…
But if you want to make this for a crowd, it scales up with no changes except the size of the cooking dishes.
What makes this dish a shortcut version is that where most scalloped potato recipes have you pop raw potatoes right in to the oven, for this recipe, you cook the potatoes almost completely before assembling and baking.
That means that you only need to bake it until your cheese is nice and melty. So you get to eat in about a quarter of the time.
My mom started making it that way when we were kids and involved in a million-and-one activities and expecting everyone to wait an hour for a casserole to bake was just unthinkable.
As an adult, I'm all for long, slow baking projects, but if it's just serving me, no thanks. I'll take the shortcut!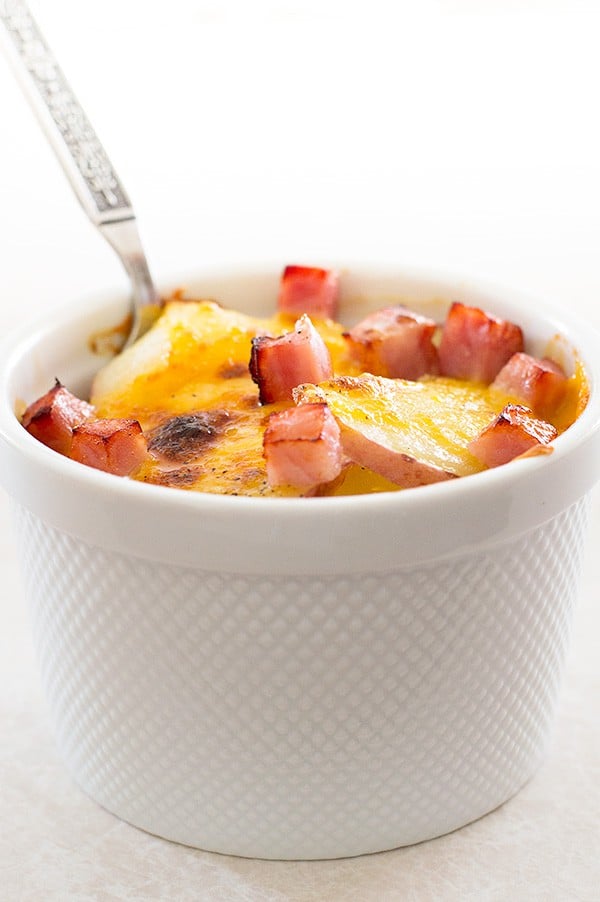 I made these scalloped potatoes for one in one of these super adorable 12-ounce stoneware ramekins (they come in a set of four, I just got them, I'm obsessed with how cute they are), but you could use a Pyrex container, an oven-safe bowl, or even an large oven-safe mug.
More Easy Potato Recipes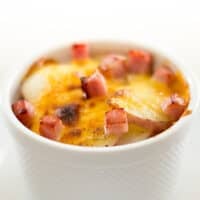 Shortcut Scalloped Potatoes for One
These scalloped potatoes for one are a shortcut version of one of my favorite comfort foods! Layers of bubbly cheddar cheese, ham, and pre-cooked potatoes in a perfect, quick-cooking, portion-controlled serving.
Print
Pin
Servings (Hover or Click to Change Yield):
1
Ingredients
Oven-safe 12-ounce (1 1/2 cup) dish
Scalloped Potatoes
1

medium red potato

sliced 1/8-inch*

1/4

cup

(

1

oz) sharp cheddar cheese

1/4

cup

(

1.5

oz) cooked ham

1/2

tablespoon

(

7

g) butter

diced

2

tablespoons

milk

half-and-half, or heavy cream

Salt and pepper to taste
Instructions
Preheat your oven to 350° F.

In a medium saucepan, cover potatoes with cold water and salt the water generously. Bring to a low boil and continue to boil for 3 to 5 minutes, until potatoes are just fork tender. (They won't get much more cooking after this, so pull them when the texture seems good to you. And if you accidentally overcook your potatoes, don't worry too much. They will be a little smushy, but will still taste delicious.)

Drain potatoes and layer potato slices, cheese, ham, and butter pieces in your baking dish, sprinkling a bit of salt and pepper over each set of layers, and finish with a final layer of cheese and ham. Pour milk or cream over the top.

Place dish on a cookie sheet in the oven to catch drips and bake for 10 minutes, until cheese is melted and bubbly.

Allow to cool for 5 minutes and enjoy!!
Notes
*You can use any type of potato you want (I would peel other types though). I just find red potatoes to be the perfect size so you don't have to waste half a potato.
This post may contain affiliate links, which means I receive a small commission if you make a purchase using them. There is absolutely no additional cost to you.