These Kahlua Tres Leches Cupcakes take classic tres leches cake and add a boozy Kahlua twist. An easy and delicious recipe that everyone (over the age of 21) will love!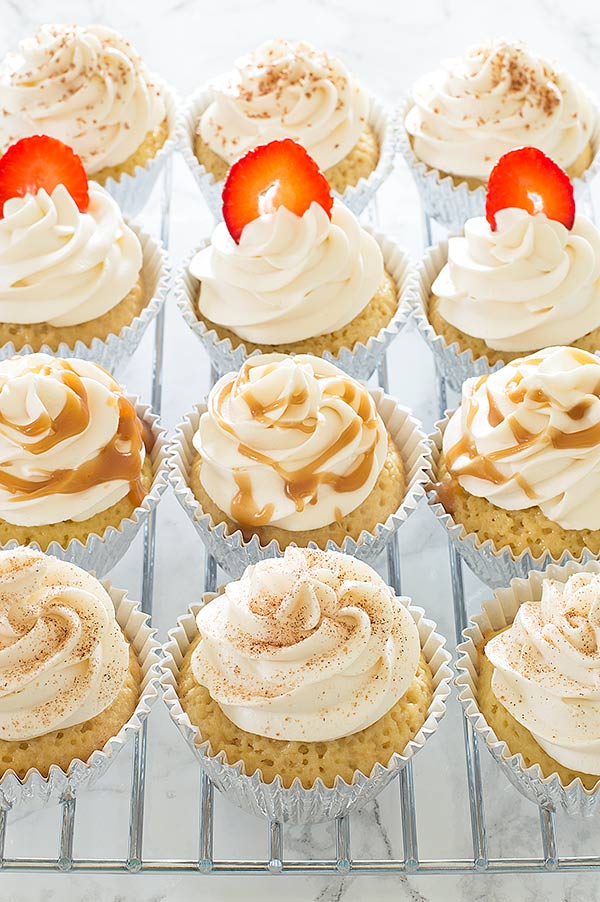 Last month, I bought a bottle of Kahlua for a recipe and as I was "taste testing" it, I was overcome with the sudden urge to add some Kahlua deliciousness to everything (like maybe some Mini Kahlua Cheesecakes…). So fair warning, there are a few Kahlua recipes coming up in the next couple months. Might want to stock up now.
To start, allow me to introduce Kahlua Tres Leches Cupcakes.
Growing up in Southern California, Tres Leches Cake is something you're going to run into frequently, but I'm not sure how well known it is in northern parts of the US.
If you're not familiar with it, Tres Leches Cake is a sponge cake that is dowsed in a sweet mixture of three different types of milk. It sits overnight soaking up the liquid, and what you get the next day is this fantastically moist cake with a texture that's really all its own.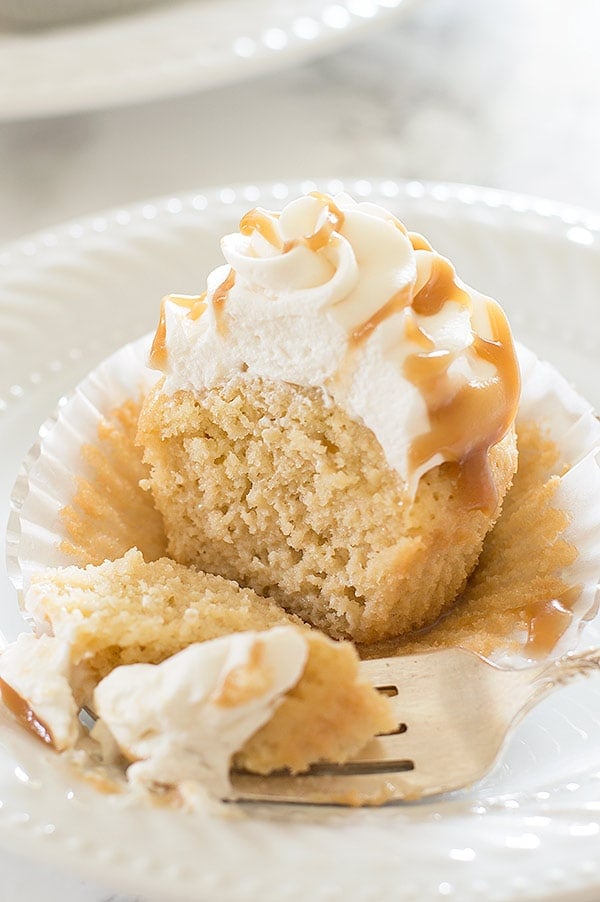 Add a little Kahlua to that mix and you're looking at my new favorite cupcake. The result is the same moist, tender cake, but with a kick of coffee and rum that just puts this cupcake over the top.
Top the Kahlua Tres Leches Cupcakes off with freshly whipped cream and maybe some chocolate shavings, a little cinnamon, dulce de leche, or even some homemade caramel or strawberries. It's going to be delicious not matter what!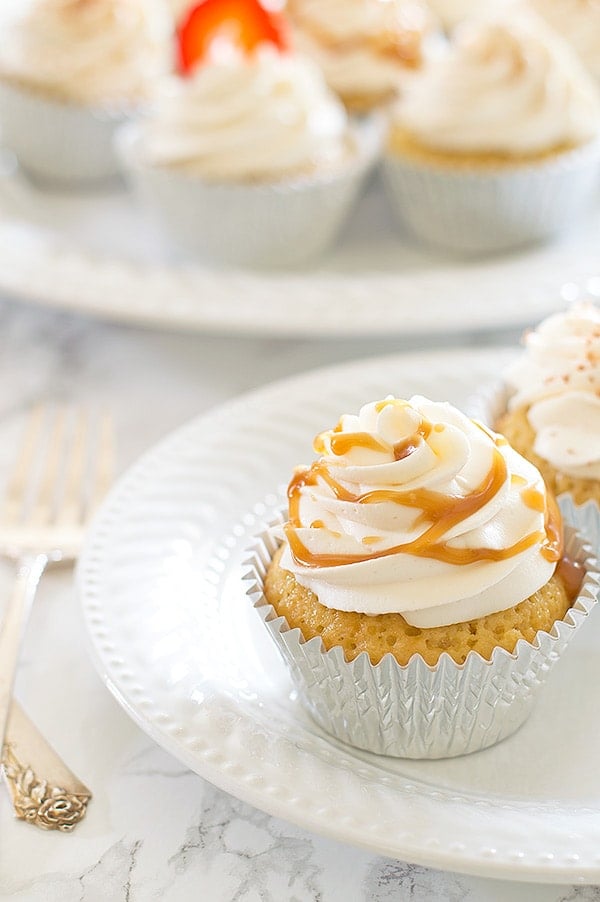 Kahlua Tres Leches Cupcakes Recipe Notes
These Kahlua Tres Leches Cupcakes must be refrigerated for at least 3-4 hours, preferably over night, so make sure you have enough fridge space for two cupcake trays to sit fairly level. You *can* transfer the cupcakes to a smaller container, but it's easier/less messy to keep them in the pans while they are still soaking up the milk.
Because these cupcakes are so wet, you want to make sure to use grease-proof/heavy duty liners so they don't fall apart on you. I like the cheap foil ones you can buy at the grocery store.
Finally, the alcohol in these does not get cooked off, so they are not really kid-friendly, but I've also included non-alcoholic instructions in the recipe notes and it's pretty simple to make half boozy/half not.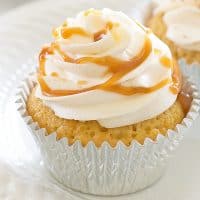 Kahlua Tres Leches Cupcakes
Classic Tres Leches Cupcakes with a boozy Kahlua twist. An easy and delicious recipe just in time for Cinco de Mayo.
Print
Servings (Hover or Click to Change Yield):
20
Ingredients
Additional Tools
Grease-proof cupcake liners

2

cupcake pans
Cupcakes
1 1/2

cup

(

190

g) cake flour

1

teaspoon

baking powder

1/4

teaspoon

salt

8

tablespoons

(

4

oz) unsalted butter

room temperature

1

cup

and

2

tablespoons (

225

g) granulated sugar

5

large eggs

1 1/2

teaspoons

vanilla extract
Tres Leches
1

(12-ounce) can evaporated milk

1

(14-ounce) can sweetened condensed milk

1/2

cup

half-and-half*

1/2

cup

Kahlua
Topping
3

to

4

cups whipped cream

*

Chocolate shavings

optional

Salted Caramel

optional

Cinnamon

optional

Strawberry slices

optional
Instructions
Preheat your oven to 350°F and line two cupcake pans with grease-proof liners.

In a medium bowl, whisk flour, baking powder, and salt together and set aside.

In the bowl of your stand mixer with the paddle attachment or using a handheld electric mixer, beat butter at medium speed until light and fluffy, about 2 minutes.

Add sugar and beat until well-combined, another minute or so.

Scrape bottom and sides of bowl and add the eggs one at a time, mixing well after each.

Add vanilla extract and mix.

Turn mixer on low and add flour mixture a little at a time. Mix until just combined.

Fill cupcake cups just half full. We want them to bake up slightly below the wrapper, to make adding the milk easier later. You should have at least 20 cupcakes. Bake on the center rack for 15-17 minutes until lightly golden and a toothpick inserted into the center comes out clean.

Allow cupcakes to cool in the pans.

Once cool, poke each of the cupcakes all over with a fork 10-15 times.

Combine evaporated milk, condensed milk, half-and-half and Kahlua in a large liquid measuring cup and stir. Pour as much of the liquid over each of the cupcakes as the cupcake will hold without overflowing.

Wait a couple minutes for the cupcakes to absorb the liquid and then repeat. You may have to make a third pass, but the cupcakes should soak up all or very nearly all the liquid.

Place cupcakes in the refrigerator and allow to soak up the liquid overnight--they do not need to be covered.

Pipe on whipped cream with a large open star tip just before serving and top with toppings of choice.
Notes
To omit the alcohol, simply replace the 1/2 cup of Kahlua with another 1/2 cup of half-and-half.
*1/4 cup + 1 tablespoon of milk and 2 tablespoons of heavy cream may be substituted for half-and-half.
If you don't want to make your own whipped cream, according to CooksInfo.com, 1 7-oz can of aerosol whipped cream equals 3 cups.
Small-batch Instructions: This recipe is a bit of a pain to cut down because evaporated and sweetened condensed milks are usually sold in these sizes, but the rest of the recipe halves cleanly except for the eggs. The easiest way to halve an egg is to whisk the whole egg in a very small bowl and use half of it (about 1 tablespoon and 1 teaspoon or 1 ounce/28 grams by weight). Extra evaporated and condensed milk (mixed or separate) makes great coffee creamer and will keep in an air-tight container in the fridge for up to 5 days.
Nutritional Information
Recipe Adapted From: Alton Brown
This post may contain affiliate links, which means I receive a small commission if you make a purchase using them. There is absolutely no additional cost to you.