These melt-in-your-mouth cream scones are incredible and incredibly easy to make. They're made with just six ingredients and can be on your breakfast table in under twenty minutes.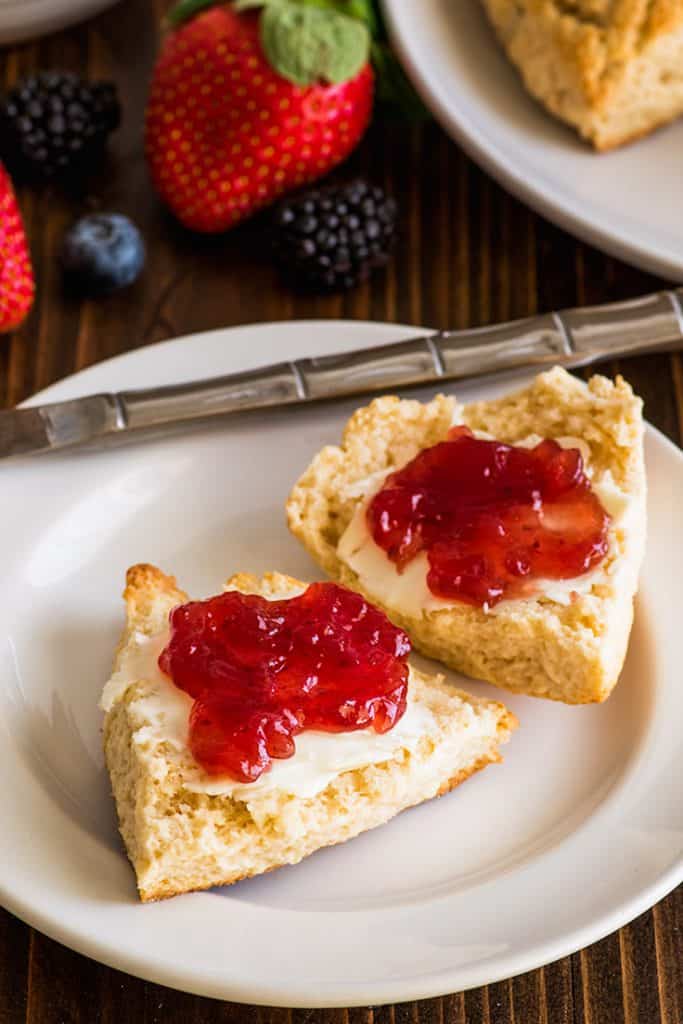 Let's set the scene here: you, a lazy weekend morning, there's coffee brewing on the counter and half a carton of heavy cream in the refrigerator from last night's dinner that you need to use up. What are your going to do?
You're going to make cream scones.
You're going to take five minutes to throw together 5 ingredients and that leftover cream to make some dough, 14 minutes to have a kitchen dance party while it bakes, and then you're going to spend the most charming morning sitting at the counter in your sun-drenched kitchen spreading butter and jam over freshly baked, warm-out-of-the-oven scones while you sip coffee and finish organizing your Pinterest boards.
At some point, you'll smile to yourself and whisper yeah, we can have it all.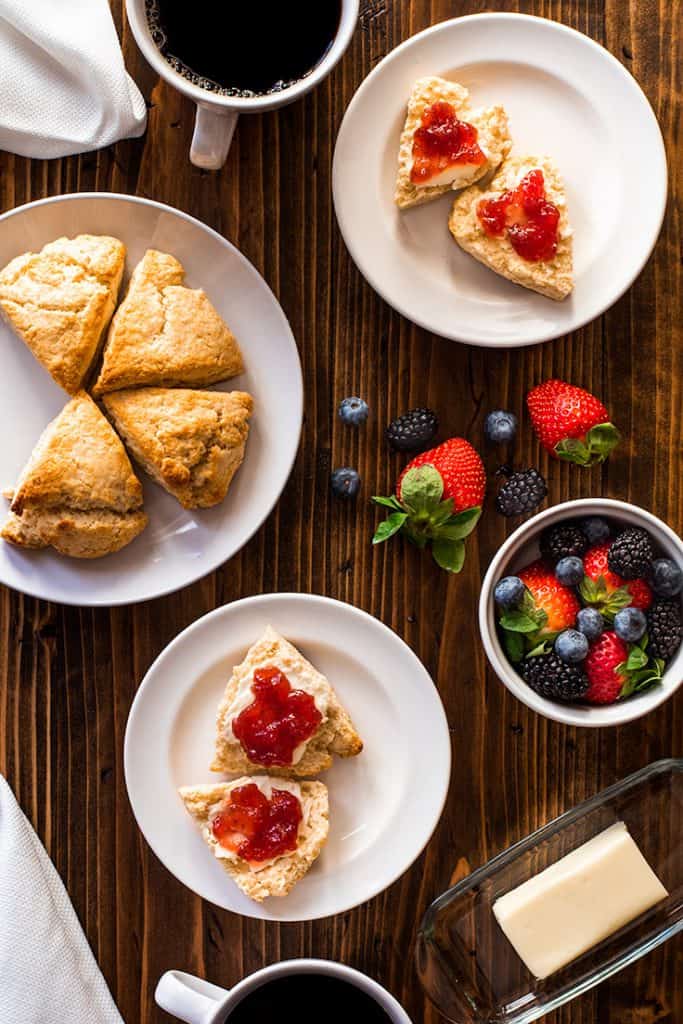 Okay, maybe not really. Maybe that scenario ends with you in yoga pants and a t-shirt from high school with a hole in the armpit, crying over a scone as you scroll through Twitter (even though you know nothing good ever comes starting your day with Twitter).
But you know what, a morning crying over Twitter with a freshly baked scone is still going to be better than a morning crying over Twitter without a scone.
Scones aren't going to cure the world's ills, but they'll brighten your morning just a bit.
And fortunately, whenever your morning needs a bit of brightening, this small batch of cream scones is one of the easiest and quickest things to bake. It'll go from bowl to 6 cute little scones in less than 20 minutes, and you can start eating them as soon as they've cooled enough that you're not scalding off taste buds.
Pull one open, enjoy that little curl of steam that puffs out, and spread butter and jam over the inside or give it a drizzle of honey. The outside will be a little crunchy, the inside soft, and the whole thing kind of just melts in your mouth when you bite into it.
The entire process, from making to shaping to eating is utterly satisfying and really does make you feel like you accomplished something with your morning, even if that thing was just making some excellent baked goods.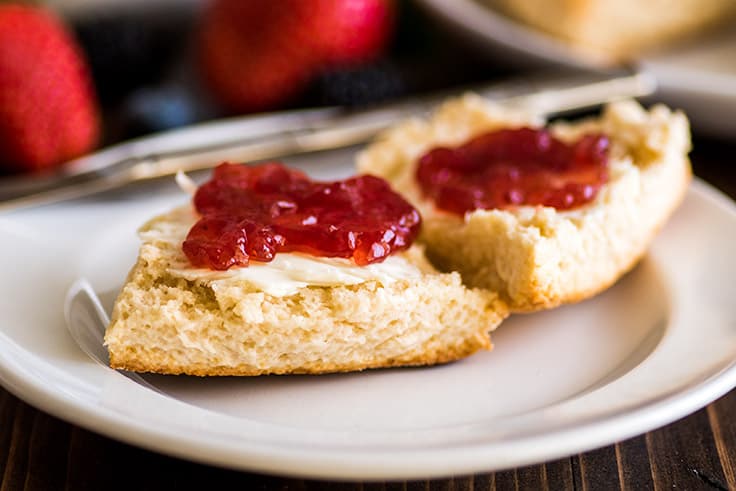 Small-batch Cream Scones Recipe Tips
Proper flour measurement is very important in this recipe. Too much flour and you might have trouble getting your dough to come together. Make sure to follow the measuring instructions in the recipe.
If it feels like a maple morning, I made a version of these scones (The Good Place themed!) with maple glaze, Small-batch Maple Scones.
Have leftover heavy cream? Here are some ideas to use up the leftover cream.
Looking for more small-batch breakfasts? Try these Cinnamon Rolls for Two, Small-batch Chocolate Cinnamon Rolls, and Fluffy Buttermilk Pancakes for Two.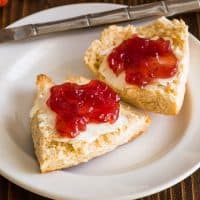 Small-batch Cream Scones
These melt-in-your-mouth cream scones are incredible and incredibly easy to make. They're made with just six ingredients and can be on your breakfast table in under twenty minutes.
Print
Pin
Servings (Hover or Click to Change Yield):
6
scones
Ingredients
Cream Scones
1 1/2

cup

(

180g

) all-purpose flour

measured by weight or using the spoon and sweep method*

3

tablespoons

(

37g

) granulated sugar

1 1/2

teaspoon

baking powder

1/2

teaspoon

salt

3/4

cup

heavy cream

plus more for brushing on scones*

1/2

teaspoon

vanilla extract
Instructions
Preheat your oven to 425°F and line a baking sheet with parchment paper or a silicone baking mat.

In a medium bowl, whisk together flour, sugar, baking powder, and salt.

In a bowl or liquid measuring cup, combine heavy cream and vanilla. Drizzle cream over flour mixture and stir, using just enough cream so that a shaggy dough forms with no loose flour at the bottom of your bowl (you may not need all of the cream).*

Use your hands to shape the dough into a ball and place on a lightly floured work surface. Press the dough into a disk about 5 1/2-inches across or 3/4-inch thick.

Use a knife or your dough scraper to cut the circle into six wedges. Transfer scones to your prepared baking sheet, placing them in a circle, 1-inch apart.

Brush scones with a little more cream to help with browning and bake for 14 to 16 minutes, until baked through and lightly golden.

Allow to sit for 5 minutes and serve warm. Enjoy!
Notes
*Correct flour measurement is very important in this recipe. For best results, measure by weight or the Spoon and Sweep Method (stir the flour in your container to fluff it up and then spoon it into your measuring cup, swipe excess off with the flat of a knife).
*If you don't have heavy cream, you can substitute by using half butter and half milk. In a small pot, combine 6 tablespoons butter and 6 tablespoons (1/4 cup + 2 tablespoons) milk. Heat just until butter is melted and use in place of cream. If using salted butter, cut salt in the recipe to 1/4 teaspoon.
*If dough still seems too dry to come together, you can add just a bit more cream, but not too much. Your dough should not be sticky!
Store leftovers in an airtight container on the counter and rewarm in the microwave for a couple seconds before eating.
Recipe Adapted From King Arthur Flour