These easy chicken enchiladas are stuffed with creamy chicken filling and topped with melty cheese and a tangy homemade enchilada sauce that you'll want to eat with a spoon.
I shared a carnitas version of these enchiladas a couple of years ago, and since then, I keep getting requests for a chicken version, so today let's make chicken enchiladas.
These enchiladas are so easy to make and incredibly satisfying. The recipe makes a full dish of 10 enchiladas, so it will serve a 5 to 6 or freeze the enchiladas in batches and stock your freezer for later.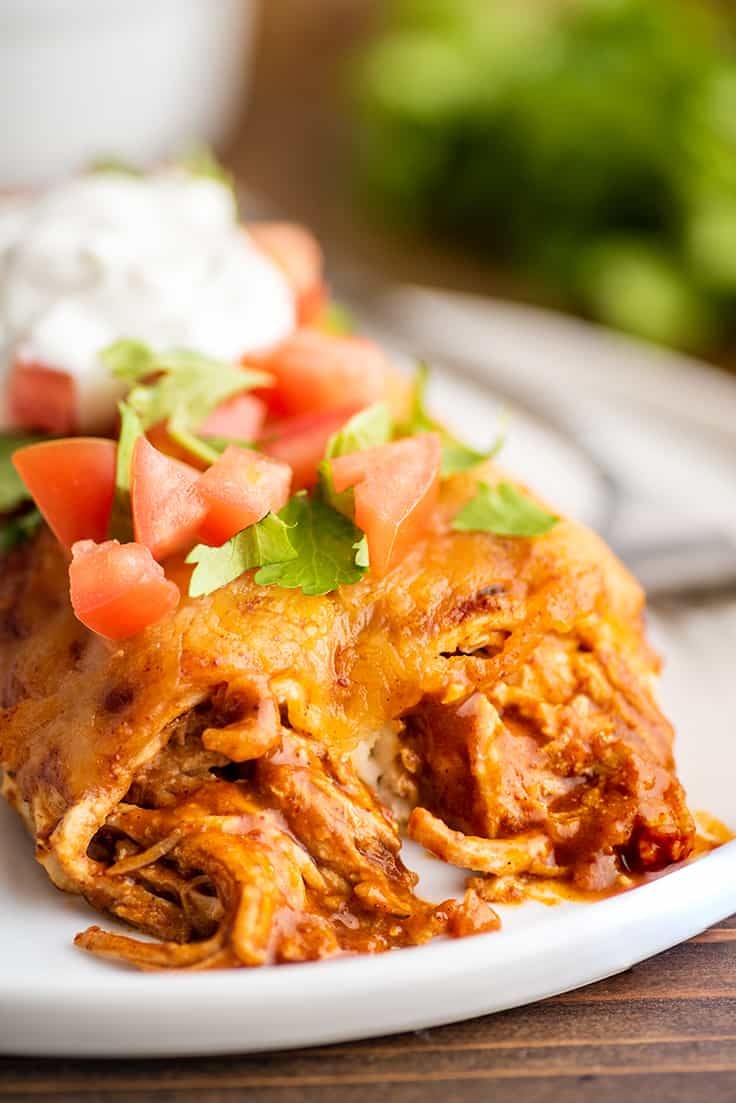 Ingredients
Chicken filling: For the chicken filling, we'll use boneless skinless chicken breasts seasoned with taco seasoning and mixed with cooked onions and sour cream. The sour cream helps add a bit of fat and richness to the meat, which I find you sometimes miss with chicken enchiladas compared to beef/pork enchiladas.
Enchilada sauce: If you're in a hurry and want to use store-bought sauce or have your own favorite sauce recipe, you'll need 3 cups of sauce for these enchiladas. The homemade sauce recipe I've included is my very favorite enchilada sauce that comes out smooth and tangy with just a bit of heat and not too bitter.
Tortillas: Traditional enchiladas are made with corn tortillas, but you can use corn or flour tortillas here depending on your preference.
Toppings: The enchiladas are finished with whatever melty cheese you prefer. I like a good Mexican cheese blend, but cheddar or Monterey Jack would be delicious too. After baking, you can load the enchiladas up with sour cream, cilantro, and pico de gallo or chopped tomatoes.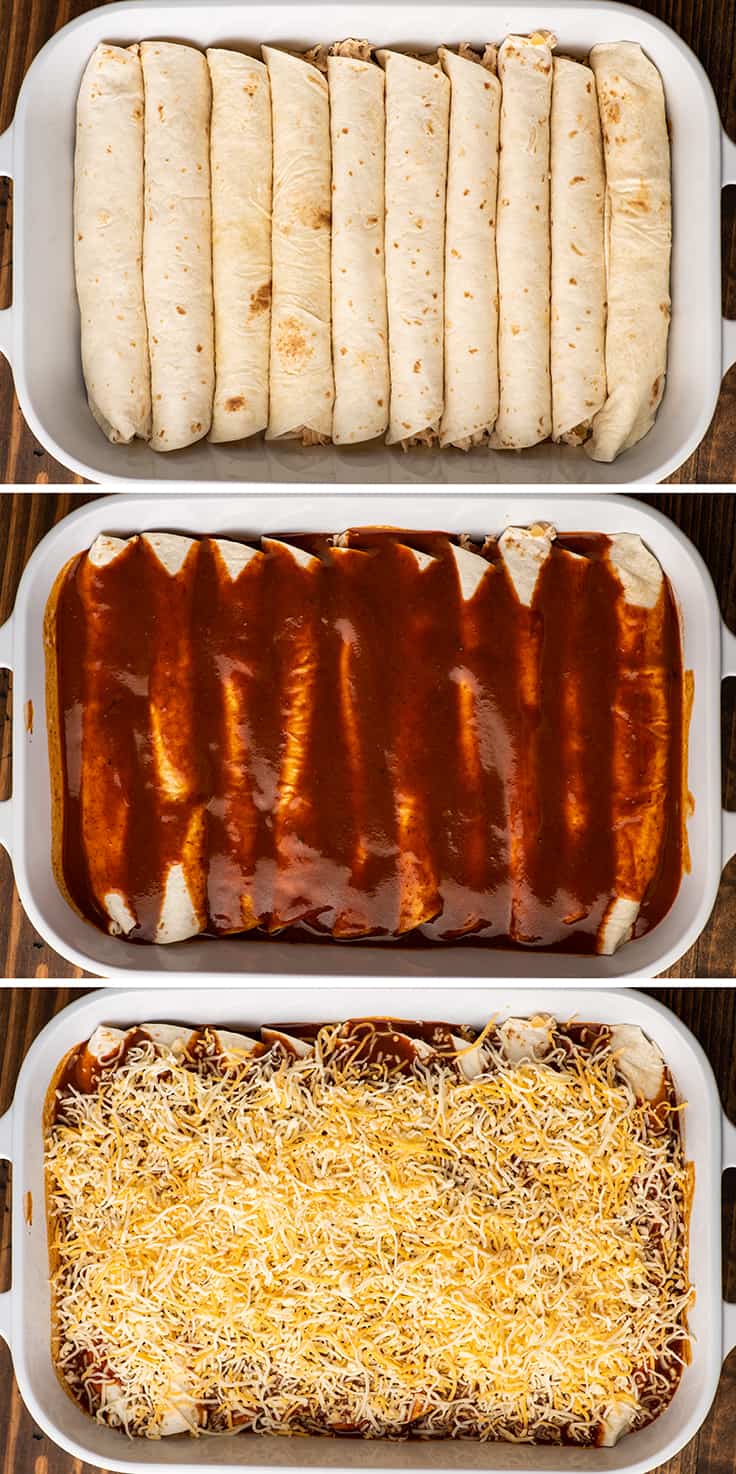 How to Make Chicken Enchiladas
To make the filling, you'll start by coating chicken breasts with taco seasoning and then cooking them on the stove using my favorite method for cooking shredded chicken, which is a mix of pan frying and poaching. Once the chicken is cooked, you'll cook the onions for a couple minutes to take the bite out of them, and then shred the chicken and mix it with sour cream.
After everything is mixed, taste and add salt as needed. Depending on the brand of taco seasoning you used, you may need quite a lot or just a bit.
To make the sauce, you'll want to make sure to measure out all your ingredients before you start. The sauce comes together quickly at the beginning, and you won't have time to hunt down spices and measuring spoons while it's cooking.
Make a roux of olive oil, flour, and your spices and cook them for 30 seconds to a minute to help cook the raw taste out of the flour and bloom the spices. Then you'll whisk in the tomato paste followed by chicken or vegetable broth and let that simmer until thickened. At the very end, you'll stir in a little vinegar, which brightens up the sauce and makes it tangy and delicious. Finally, add salt and pepper to taste.
To assemble the enchiladas, you'll add just a little sauce to the bottom of your baking dish and then fill each tortilla with about 1/3 cup of chicken filling. Roll the tortillas tightly and fit them seam-side down into the baking dish. Pour the remaining enchilada sauce over the top and then sprinkle with cheese.
Bake for 25 to 30 minutes, until cheese is bubbly, and then serve and enjoy!
FAQ
How do you freeze chicken enchiladas?
Unbaked enchiladas freeze quite well. You can freeze them in two 8×8 pans of five enchiladas each or three 5×7 pans of three or four.
To freeze, line baking dish (disposable or reusable) with parchment paper. Assemble enchiladas completely. If using a disposable baking dish, wrap tightly with foil and store in a freezer bag.
If using a regular baking dish, place in the freezer and freeze until solid, about 4 hours. Use the parchment paper to lift enchiladas out of the pan and wrap tightly in foil (leave the parchment paper on the enchiladas). Store in a plastic freezer bag.
To reheat, preheat oven to 400°F. Remove foil. (If not using a disposable container, place frozen enchiladas, parchment paper included, into a baking dish.)
Grease a piece of foil and loosely cover the top of your enchiladas, greased side down. This will keep your cheese and tortillas from burning and won't stick as the cheese melts.
Bake until heated through or an instant-read thermometer reads 160°F, this will take at least 30 minutes, up to over an hour for a full pan of enchiladas. When the enchiladas seem very nearly heated through, remove foil so the top of the enchiladas can brown.
What to Serve with Chicken Enchiladas
Serve your enchiladas with cilantro lime rice and a simple veggie side like butter and garlic green beans or roasted broccoli.
A Note on Serving Size
If feeding to guests or large eaters, plan on 2 enchiladas per person. Personally I find that the perfect serving size is 1 1/2 enchiladas, though kids and smaller eaters might only eat 1.

You Might Also Enjoy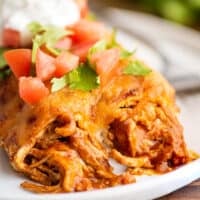 Easy Chicken Enchiladas
These easy chicken enchiladas are stuffed with creamy chicken filling and topped with melty cheese and a tangy homemade enchilada sauce that you'll want to eat with a spoon.
Print
Pin
Servings (Hover or Click to Change Yield):
5
to 6 servings
Ingredients
Chicken Filling
2

pounds

boneless skinless chicken breasts

about

3 to 4

medium breasts

1

tablespoon

taco seasoning

*

Cooking spray or olive oil

1/2

small onion

diced

1/4

teaspoon

salt

1

cup

(

240g

) sour cream
Enchilada Sauce
3

tablespoons

olive oil

3

tablespoons

(

23g

) all-purpose flour

2

tablespoons

chili powder

1 1/2

teaspoons

ground cumin

3/4

teaspoon

garlic powder

1/4

heaping teaspoon dried oregano

1/4

heaping teaspoon salt

3

tablespoons

(

50g

) tomato paste

3

cups

chicken or vegetable broth

1 1/2

teaspoons

apple cider vinegar or distilled white vinegar

Pepper
Enchiladas
10

8-inch tortillas

corn or flour are fine

1 1/2

cup

(

6oz

) shredded Mexican cheese blend

or your favorite melting cheese
Instructions
Shredded Chicken
Preheat oven to 350°F and lightly grease a 9x13-inch baking dish. Set aside.

Coat both sides of the chicken breasts in taco seasoning. If using taco seasoning that does not include salt, generously sprinkle both sides with salt as well.

Heat a large skillet with a lid over medium-high heat. Grease with cooking spray or a drizzle of olive oil. Add chicken breasts to the pan and cook until browned, 2 to 3 minutes. Flip and repeat with the second side. Add enough water to the pan to come up about 1/2-inch.

Bring to a simmer, cover the pan and cook for 6 to 10 minutes (longer with very large chicken breasts), until an instant-read thermometer inserted into the thickest part of the meat reads 165°F. If at any time the water level gets low, add a bit more water to the pan.

Transfer chicken to a cutting board to rest and discard any juices from the pan. Return the pan to the stove and grease with cooking spray or a little olive oil and heat over medium heat. Add onions and

1/4

teaspoon salt and cook 5 to 7 minutes, until onions begin to turn translucent around the edges. If at any time they begin to brown, turn down the heat.

Use two forks to shred the chicken breasts, and combine shredded chicken, onions, and sour cream in a large bowl. Mix well and add salt and pepper to taste. Set aside.
Enchilada Sauce
Pre-measure all of your sauce ingredients (flour, spices, and salt will be added together so they can all go in the same small bowl) and place them next to the stove.

In a medium pot, heat oil over medium heat. Add flour, spices, and salt and whisk until a thick paste forms and begins to bubble, 30 seconds to 1 minute.

Whisk in tomato paste and stir until mostly combined. Slowly pour in broth, whisking out any lumps as they form and whisk until completely smooth. Bring to a simmer and cook, whisking often, until sauce has thickened, 6 to 12 minutes.

Remove from heat, stir in vinegar, and add salt and pepper to taste. Set aside to cool slightly.
Assemble Enchiladas
To your prepared baking dish, add 1/4 cup of the enchilada sauce, spreading it so that it mostly coats the bottom in a thin layer.

Fill each tortilla with about 1/3 cup of meat and sour cream mixture and roll tightly. Place in the baking dish, seam-side down.

Pour remaining sauce over the enchiladas and sprinkle the cheese over the top.
Bake
Bake for 25 to 30 minutes, until cheese is melted and the edges of the tortillas are just slightly crispy and browned.

Cool for 10 minutes before serving. Top with sour cream, cilantro, and pico de gallo if desired. Enjoy!
Notes
*If you don't have taco seasoning, stir together 2 teaspoons chili powder, 1/2 teaspoon cumin, 1/4 teaspoon salt, and 1/4 teaspoon pepper to use in its place.
*Approximate nutritional information is for a serving of 1 1/2 enchiladas and does not include any optional toppings. 
This post may contain affiliate links, which means I receive a small commission if you make a purchase using them. There is absolutely no additional cost to you.