This easy Creamy Chicken and Asparagus Pasta is quick and simple to make and perfect for nights when you need a cheesy pasta fix!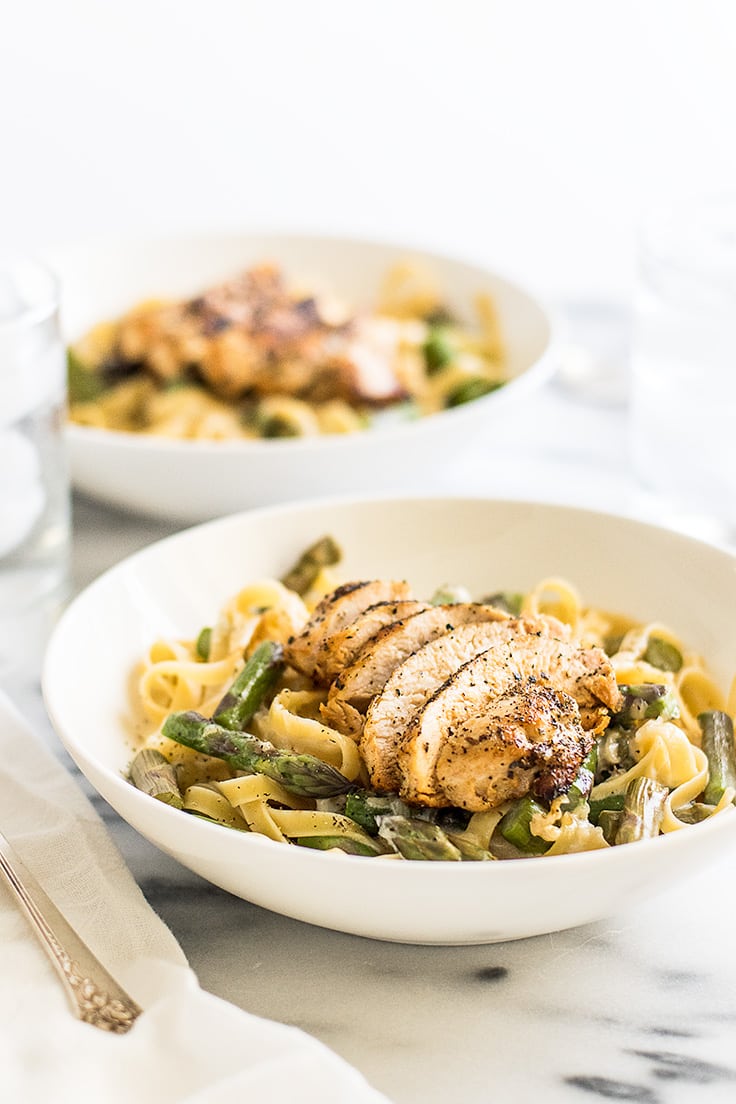 While we were in college at opposite ends of California, my sister and I used brainstorm cheap and easy meals together and send each other recipes that we were thinking about trying. Early on, she sent me a recipe that she was considering, a creamy chicken and asparagus pasta where the asparagus was boiled right in with the pasta, and I completely talked her out of it. How weird was that?, I remember telling her. Who wants to eat boiled asparagus with their pasta?
Fast forward a year, and I'm chatting with her on the phone, telling her about the fabulous super easy pasta I made the night before–it's like Broccoli Fettuccine Alfredo, but with asparagus instead, and she almost hung up on me. I had completely forgotten that I'd rejected that exact same recipe the year before (and apparently become more adventurous in the kitchen in the year since).
Fast forward another few years, add a few recipe modifications, and that Creamy Chicken and Asparagus Pasta has become a spring favorite for everyone in my family–I actually just made it for Mother's day at my mom's request. I make it a ton every spring because it's easy, seasonal, and just so darn good.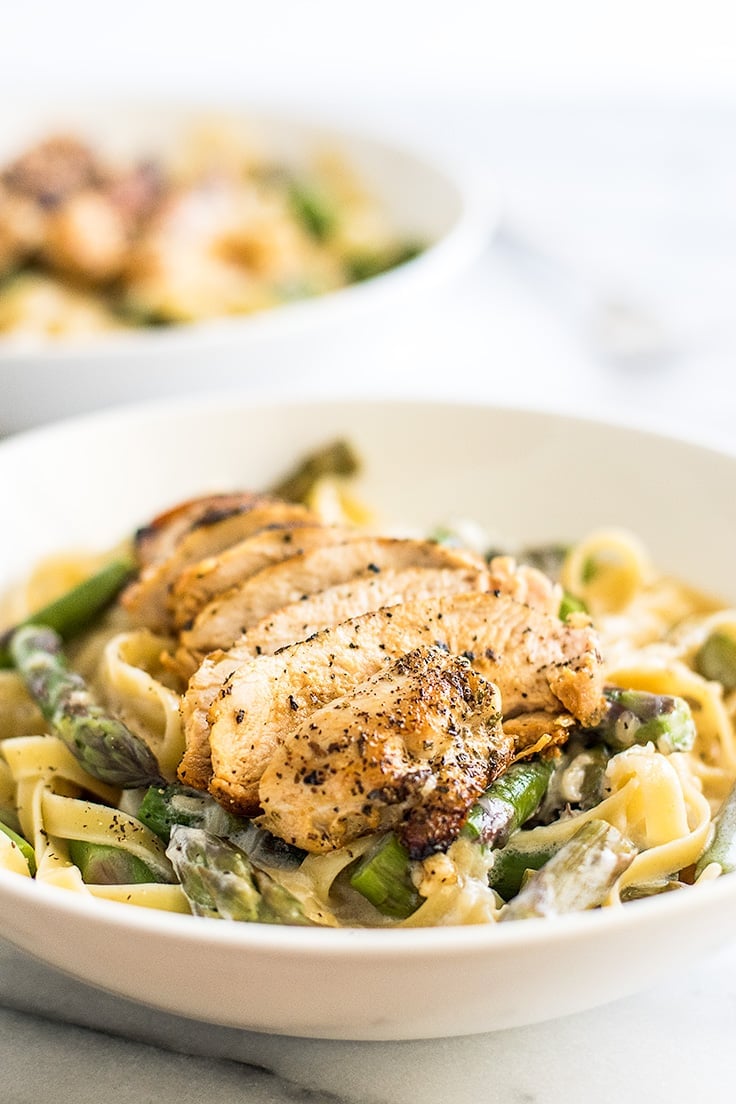 There's a vegetarian version of this recipe on the site already that uses broccoli, my Easy Fettuccine Alfredo With Broccoli, and is perfect for Meatless Mondays, but this chicken version is my favorite way to eat creamy, cheesy fettuccine noodles, with fresh asparagus and lean chicken breast.
See Also: Asparagus-stuffed Chicken
Not only is the recipe simple to make, but it cooks up relatively quick. If you feel comfortable having three burners going at once, it can be on your table in fewer than 25 minutes. (If you don't like manning that many things on the stove, you can cook your chicken first and tent it with foil to keep warm while you prepare your pasta and sauce.)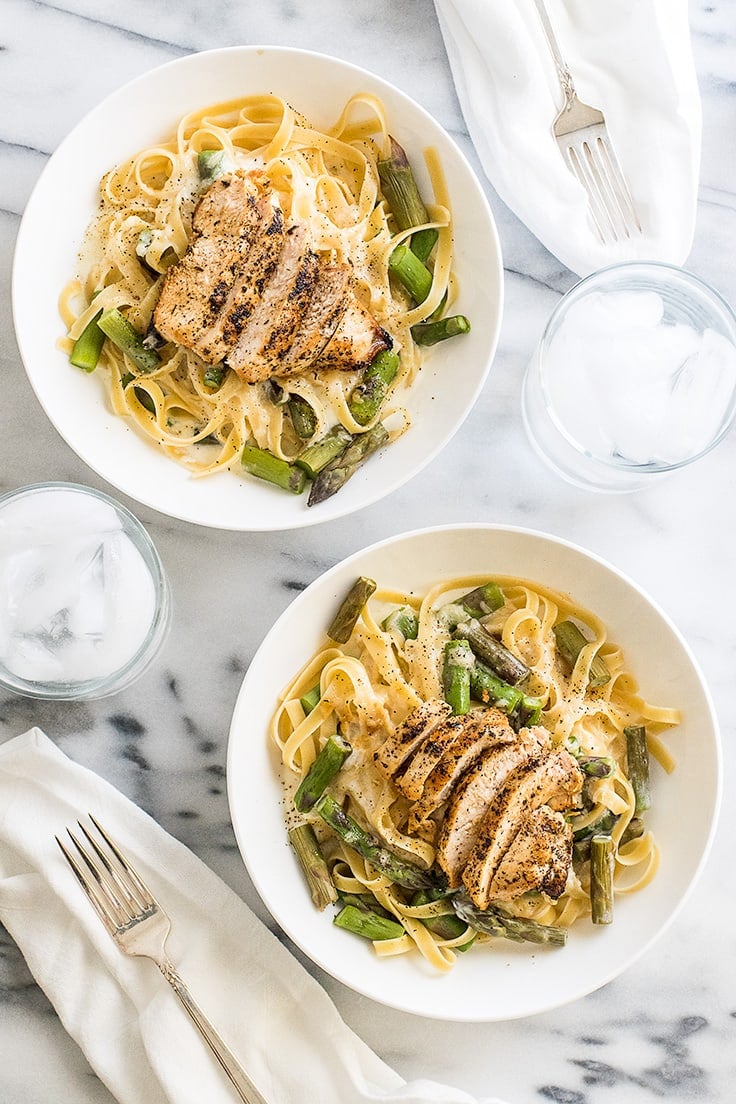 You start with a boneless, skinless chicken breast, pound it thin so it cooks quickly and evenly and stays nice and moist, and then grill or pan fry it.
While you cook your chicken, you boil your noodles, and in the last couple minutes of cooking time throw in some chopped asparagus.
And while your noodles cook, you make your sauce. Like the Alfredo sauce in my Fettuccine Alfredo for One, this is a classic Alfredo sauce–there's no roux–and it's made with half and half, so it's lighter (and I think, way tastier) than the store-bought stuff.
When everything's done, slice up your chicken, toss everything together, and you have a fabulous creamy chicken pasta perfect for spring!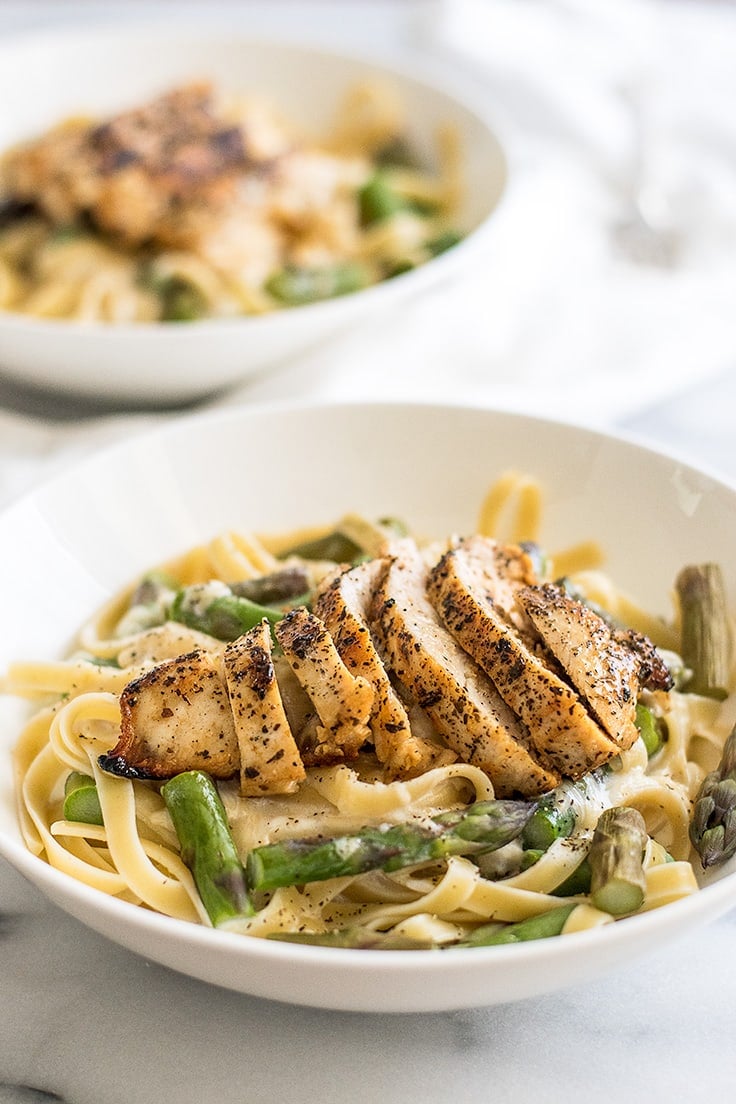 More Quick Dinner Recipes
Recipe Notes
This recipe calls for half and half. Check out What to Do With Leftover Half and Half for freezing instructions and ideas on what to do with the leftovers.
As written, this Chicken and Asparagus Pasta recipe serves 2 to 3. To change the recipe yield, hover over the number of servings (or click if you are on mobile) and slide the slider–no preparation changes are necessary for doubling.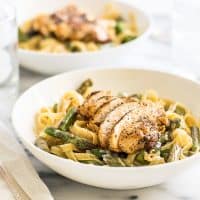 Creamy Chicken and Asparagus Pasta Dinner for Two
This easy Creamy Chicken and Asparagus Pasta is quick and simple to make and perfect for nights when you need a cheesy pasta fix!

Print
Servings (Hover or Click to Change Yield):
2
to 3 servings
Ingredients
Chicken and Pasta
1

small (8oz) boneless skinless chicken breast

pounded to an even thickness

Salt and pepper

6

oz

fettuccine

1

cup

chopped asparagus (1-inch pieces)

woody ends trimmed
Alfredo Sauce
1/4

cup

(

2oz

) butter

1

cup

half and half*

1/4

teaspoon

garlic powder

1/4

teaspoon

salt

1/4

teaspoon

pepper

1/8

teaspoon

cayenne pepper

1/2

cup

(

2oz

) shredded Parmesan cheese

plus more for topping
Instructions
Sprinkle both sides of your chicken breast with salt, pepper, and a little Italian seasoning. Heat a medium skillet over medium-high heat. Grease with cooking spray or a drizzle of your favorite cooking oil and place chicken in the pan. Cook each side for 4 to 8 minutes, until an instant-read thermometer reads 160°F. Transfer your chicken to a plate and tent with foil to keep warm.

While your chicken breast is cooking, place a medium pot of lightly salted water on to boil. Cook pasta according to package instructions. In the last 3 to 5 minutes of cooking time, add asparagus to the water. Drain and set aside.

While your pasta cooks, in a medium saucepan, over medium heat, melt butter. Add half and half, garlic powder, salt, pepper, and cayenne. Bring to a simmer and cook for 5 to 8 minutes, until sauce is reduced and slightly thickened. Do not allow to come to a full boil. Stir in Parmesan until melted and pour over noodles and asparagus. Transfer pasta mixture to bowls.

Immediately chop or slice chicken breast--if it has cooled significantly, you can stir it into the hot pasta and sauce, otherwise, serve over the top of your pasta.

Top with more Parmesan if desired and enjoy!
Notes
*If you don't have Italian seasoning, you can use a little basil and oregano.
*To substitute for half and half, combine 1/3 cup heavy cream and 2/3 cup milk. For a richer, heavier sauce, you can use all heavy cream.
Approximate nutritional information is for 3 servings.
Recipe Adapted From AllRecipes.com
This post may contain affiliate links, which means I receive a small commission if you make a purchase using them. There is absolutely no additional cost to you.