This irresistible creamy sausage pasta comes together in less than 30 minutes with just a handful of ingredients and zero cutting or chopping required.
I've had a few emails lately asking for more quick and simple dinner recipes, so today I bring you my current favorite easy, speedy weeknight dinner: creamy sausage pasta.
Friend, you're going to love this pasta so much. The sauce is bright and creamy and so, so good served over a big bowl of pasta. Best of all, it's practically zero effort to make.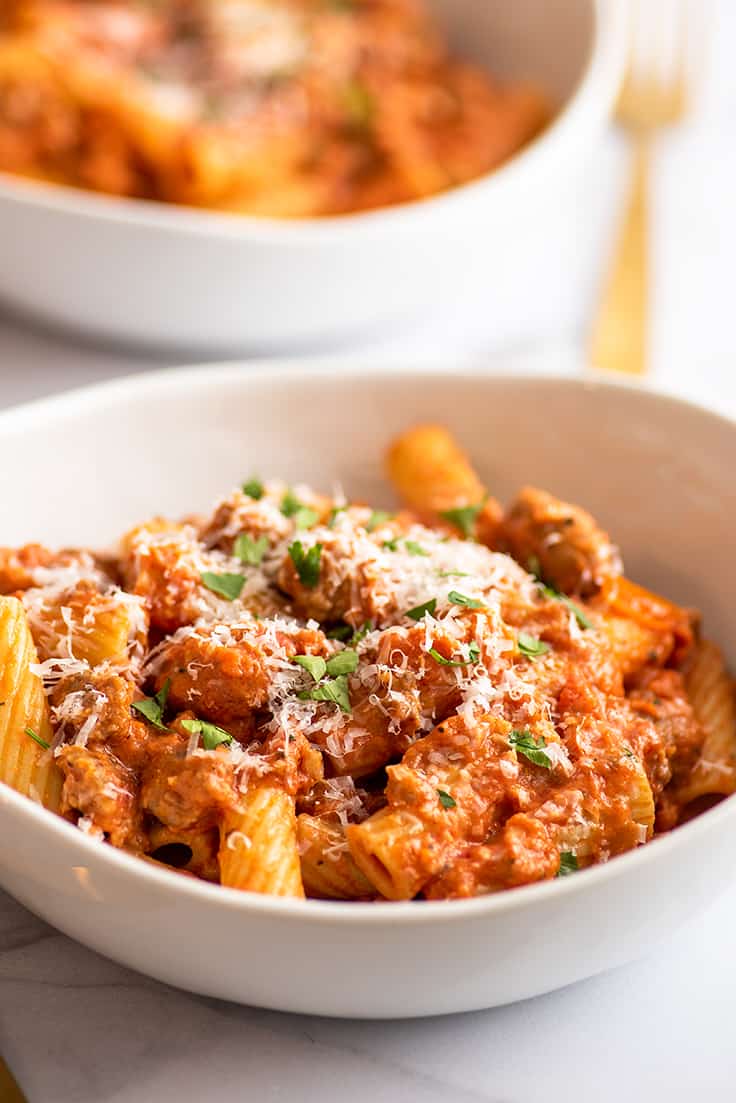 Ingredients
Your favorite pasta: I like rigatoni here, but use whatever you've got.
Italian sausage: Mild, hot, and sweet Italian sausage will all work.
Garlic and red pepper flakes: Garlic and red pepper flakes add just a bit of heat and spice. If you want to make a spicy sausage pasta, double the pepper flakes.
Canned crushed tomatoes: Crushed tomatoes are my go-to for this sauce (I really like San Marzano brand), but you can use canned diced tomatoes if you don't mind a chunkier sauce. If all you have are canned whole tomatoes, they'll work too, just pulse them in your food processor or blender a few times before using.
Basil, salt and pepper: This sauce packs so much flavor, it doesn't need a ton added to it. Just a bit of basil and salt and pepper to taste. Salt content varies wildly in canned tomatoes, so I don't give salt measurements in this recipe. Just add a bit while cooking and then add more to taste when the sauce is finished.
Heavy cream: Heavy cream paired with the sausage makes this sauce so luscious and rich and creamy. It won't use up an entire carton. For ideas on what to do with the leftovers, check out this post What to Do With Leftover Whipping Cream.
A Note on Italian Sausage
If you don't usually cook with/buy Italian sausage, you can typically find packages of it near the hamburger in the butcher department.
If the sausage is being sold in links, you'll need to remove the casings before cooking. To do so, you can make a shallow slice down the sausage lengthwise and peel it off, or just squeeze the sausage until it bursts out the top or bottom and squeeze the meat into a bowl.

How to Make Sausage Pasta
Cook your pasta until it's al dente. Drain and set aside. The pasta sauce cooks quick, so put the pasta water on to boil and then start the sauce. They should finish cooking around the same time.
Brown the sausage in a little olive oil, breaking it up into smaller pieces as it browns. If you find the sausage releases a lot of grease while it cooks, once it has finished browning, you can turn off the heat and use a folded paper towel to absorb some of the excess oil. (I usually don't bother with this step.)
Add garlic and red pepper flakes and cook until the garlic begins to smell delicious.
Add tomatoes, basil, and a bit of salt and pepper and simmer covered for 15 minutes, stirring occasionally. This simmering time helps the flavors meld, finishes cooking the sausage, and cooks the raw flavor out of your tomatoes.
Stir in the heavy cream and add the drained pasta to the pan. Stir until well coated and then serve and enjoy!
FAQ
Can you freeze sausage pasta?
Yes and no. Don't try and freeze the sausage AND pasta, but the pasta sauce on its own freezes beautifully. If you like to keep a stocked freezer full of quick meals you can grab and reheat, I highly recommend doubling the sauce recipe and freezing half of it to use later.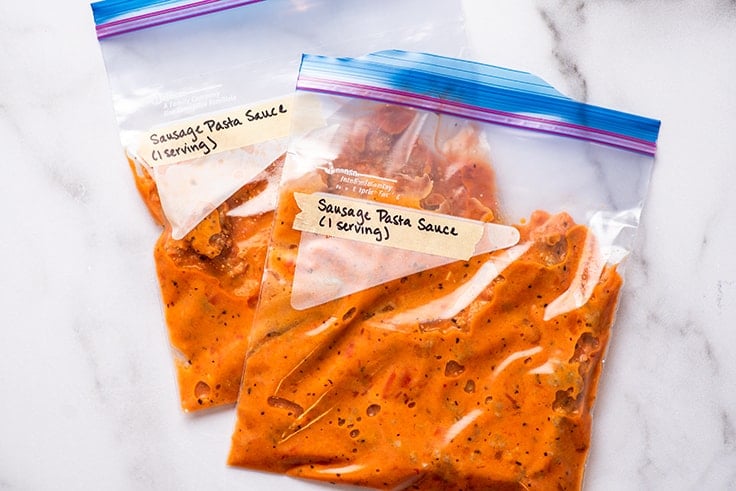 To freeze the sauce, simply freeze it all together or in 1-cup portions for single servings (the entire recipe will make about 4 cups of sauce) in freezer bags or airtight containers, and they'll keep in your freezer for 2 to 3 months.
To defrost the sauce, put frozen sauce in the fridge in the morning, and it will be defrosted and ready to heat up by dinner time.
Single servings of the sauce can also be defrosted in a bowl of warm water (make sure there are no holes in your bag first!!), changing the water as necessary, and it will thaw in about 10 minutes.
To serve, cook 12 ounces of your favorite pasta (or 2-3 ounces for a single serving), heat the sauce up in the microwave or on the stove and toss the pasta and sauce together to coat.
What to serve with creamy sausage pasta?
This is a rich dish, so go with something not-too-heavy as a side like crusty bread and roasted broccoli or roasted asparagus.

More Easy Pasta Recipes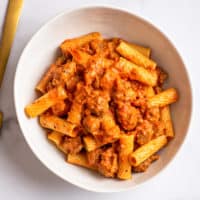 Quick Creamy Sausage Pasta
This irresistible Creamy Sausage Pasta comes together super quickly, with just a handful of ingredients and zero cutting or chopping required.
Print
Pin
Servings (Hover or Click to Change Yield):
4
to 6 servings
Ingredients
12

ounces

(

about 4 1/2 cups

) rigatoni

or your favorite pasta

2

teaspoons

olive oil

1

pound

Italian sausage

mild or hot, casings removed

4

cloves

garlic

pressed or minced

1/4

teaspoon

red pepper flakes

2

14-ounce cans crushed tomatoes

*

1

teaspoon

dried basil

Salt and pepper

1/3

cup

heavy cream

Shredded Parmesan

optional for topping
Instructions
Bring a medium pot of salted water to a boil and cook pasta according to package instructions until al dente. Drain and set aside.

While your water boils and pasta cooks, in a large pot with a lid, heat oil over medium heat. Brown sausage, breaking it into crumbles as it cooks. If there is a lot of grease in the pan, drain sausage or use a paper towel to absorb some of the grease.

Stir in garlic and red pepper flakes and cook for 30 seconds to 1 minute, until garlic begins to turn golden and fragrant. Add tomatoes, basil, and a sprinkle of salt and pepper. Turn heat up to medium-high and bring to a simmer. Once simmering, reduce heat to medium-low and cover. Simmer, covered, for 15 minutes, stirring occasionally.

Stir in heavy cream. Taste and add more salt and pepper as is necessary.

Stir in cooked and drained pasta. Serve and top with parmesan cheese if desired and enjoy!
Notes
*Diced tomatoes can be used for a chunkier sauce.
Approximate nutritional information is for 6 servings.
This post may contain affiliate links, which means I receive a small commission if you make a purchase using them. There is absolutely no additional cost to you.