Buttered noodles are the ultimate fast and easy comfort food. All you need are 15 minutes, and you can have a big bowl of buttery, lightly cheesy pasta ready to go.
When it comes to fast, simple meals, it really doesn't get easier than buttered noodles. This is a staple of so many people's childhoods, but if it's been a while, I'm here today to say you should totally start eating them again as an adult.
They're quick, cheap, and the perfect uncomplicated lunch or dinner (or snack) when you're craving some carbs and don't feel like doing much cooking.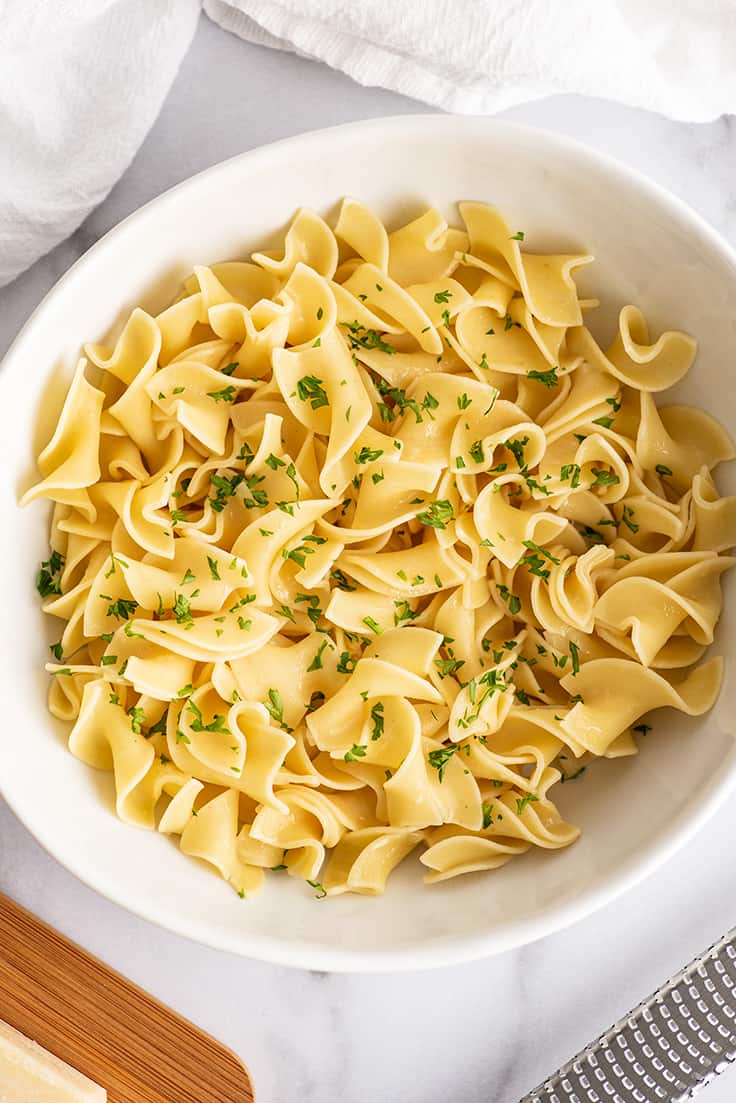 Ingredients
Pasta: Egg noodles are the classic buttered noodle pasta, but you don't have to use egg noodles. Spaghetti, fettuccine, and farfalle are all good options.
Butter: Salted or unsalted butter will work just fine here.
Salt and pepper: Classic buttered noodles use only salt and pepper, but feel free to sprinkle on whatever spices sound good.
Parmesan cheese: If you have a block of parmesan, freshly grated parmesan works best as is will melt beautifully into the butter and pasta. But the shredded, bagged stuff will work too, it just might be a little clumpy. Canned parmesan will give the noodles a slightly different texture from fresh, but you can use that as well.
How to Make Buttered Noodles
Cook pasta in lightly salted water according to package instructions. Use a slotted spoon to transfer the pasta to a bowl, but reserve a couple tablespoons of the pasta water. The starchy water will be added back to the pasta in a moment to help the butter and parmesan become a cohesive coating for the pasta.
Add butter to the hot pasta immediately and stir until the heat from the pasta melts the butter. Add parmesan and hot water and stir until creamy and melted.
Salt and pepper to taste. Make sure not to add salt until you've added the rest of the ingredients because the salty pasta water and parmesan may be salty enough that you need to add very little.

FAQ
How to spice up buttered noodles?
If you want to make your noodles a little more exciting, try adding one of the following:
Cooked meat: Add a bit of protein by topping the finished pasta with warmed, cooked meat. Leftover Roasted Chicken works great and chopped ham or sausage (or hot dog) that has been browned in a skillet with a little olive oil is *so good.* If you want to cook chicken breast to add to your pasta, check out my How to Cook Chicken for Recipes post for my favorite chicken-cooking method.
Garlic and red pepper flakes: To add garlic and a little spice to your pasta, instead of adding butter directly to the pasta, melt it in a medium skillet. Add one large crushed or minced garlic clove and a couple pinches of red pepper flakes to the melted butter. Cook until the garlic turns golden and aromatic, 30 seconds to a minute, and then remove the pan from heat and toss the pasta and rest of the buttered noodle ingredients together in the hot pan.
Vegetables: If you have cooked veggies like Roasted Broccoli or Roasted Zucchini, you can just stir them into the finished noodles. If starting with uncooked veggies like broccoli or asparagus, you can chop them into bite-size pieces and cook them along with the pasta. Just add them into the hot pasta water for the last 3 to 4 minutes of cooking time. *This will slightly change the flavor of your pasta water, so if you don't want your finished pasta to have extra veggie flavor, you can boil the veggies separately or cook them in the microwave.
What goes with buttered noodles?
Serve buttered noodles with a side of crusty bread and your favorite simple veggie side (Roasted Green Beans or Parmesan Zucchini are great options).
Buttered noodles also make a fantastic easy side dish for meaty mains. This recipe makes enough to serve two as a side dish. Serve alongside Marinated Steak, Country-style Pork Ribs, or Roasted Tri-tip.

How to make buttered noodles without parmesan?
If you don't have any parmesan at all, you can omit it. The flavor will be slightly less complex, but plain buttered noodles are still a good time.
More Single-serve Meals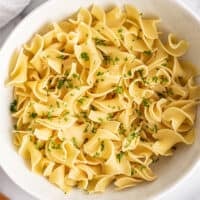 Buttered Noodles for One
Buttered noodles are the ultimate fast and easy comfort food. All you need are 15 minutes, and you can have a big bowl of buttery, lightly cheesy pasta ready to go.
Print
Pin
Servings (Hover or Click to Change Yield):
1
serving
Ingredients
3

ounces

(

about 1 3/4 cup*

) egg noodles

or noodles of choice

1

tablespoon

(

14g

) butter

salted or unsalted is fine

Salt and pepper

1

tablespoon

freshly grated parmesan

bagged and canned will also work

Parsley

chopped, optional
Instructions
In a small pot of lightly salted water, cook noodles according to package instructions. Drain, but reserve a couple tablespoons of the pasta water.

In a bowl, combine hot pasta, butter, parmesan cheese, and 1 tablespoon of the pasta water. Stir until butter and cheese are melted and pasta is coated. Add more water/salt/pepper to taste. Stir in parsley if desired.
Notes
*If using a pasta other than egg noodles, be sure to measure it by weight and not volume. Different pasta shapes will have different cup measurements for 3 ounces, so 1 and 3/4 cup is not universal for all pasta shapes. 
This post may contain affiliate links, which means I receive a small commission if you make a purchase using them. There is absolutely no additional cost to you.