This Quick and Easy Fettuccine Alfredo for One can be made in less than twenty minutes and makes a fabulously cheesy lunch or dinner.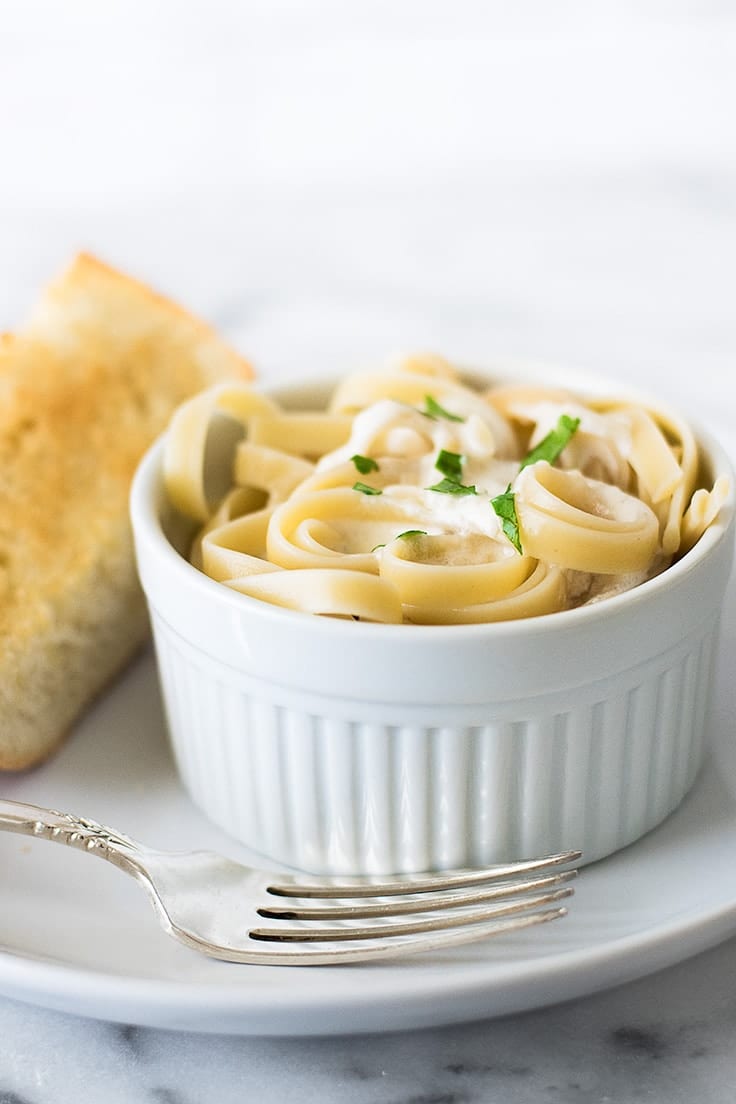 Hey, you know what's great? Fettuccine Alfredo.
You know what's not great? Fettuccine Alfredo leftovers. Don't get me wrong. I'll eat them (oh I'll eat them), but the sauce always gets a little funny looking on day two, and the noodles end up too hot or too cold or too soft after microwaving. So given the choice, I'd rather not make more than can be eaten immediately.
That's where today's recipe, Fettuccine Alfredo for One comes in handy.
When I feel like making pasta just for myself, this is my go-to cheesy pasta recipe (well, this and my Mac and Cheese for One). It makes just one 2-ounce serving of pasta (yay portion control!) AND takes only as long to make as it takes to bring some water to boil and cook some fettuccine noodles.
See Also: Short Rib Mac & Cheese
The sauce is a classic Alfredo sauce, which means no roux. It's just butter, some cream or milk, a little Parmesan, and a sprinkling of spices, so it comes together quick. You simmer everything together for just a couple of minutes while your pasta cooks and in 11-13 minutes (or whatever cooking time your pasta package says) you have a bowl of creamy, cheesy pasta perfection.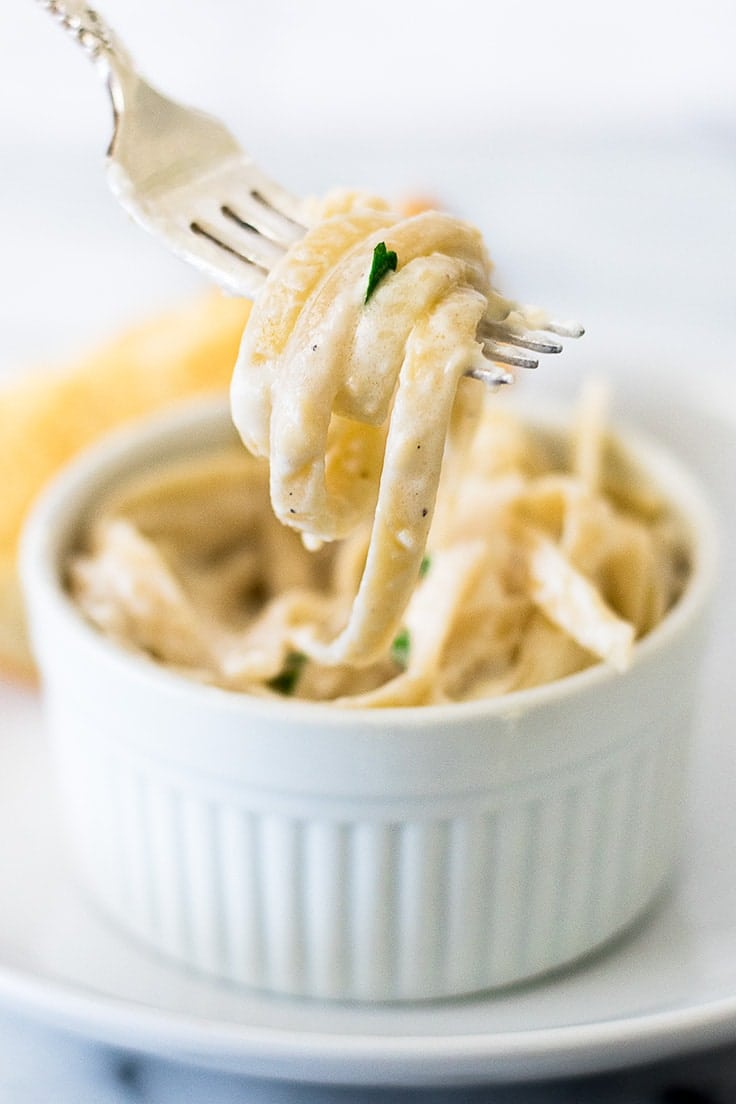 Can't you just see yourself working from home one day or on a day off whipping up this little beauty for lunch or on a cozy night in? It's so good, rich and cheesy without being too overwhelmingly rich.
It scales up with just a little more cooking time if you are interested in sharing. And it's super customizable if you feel like putting in a little more time.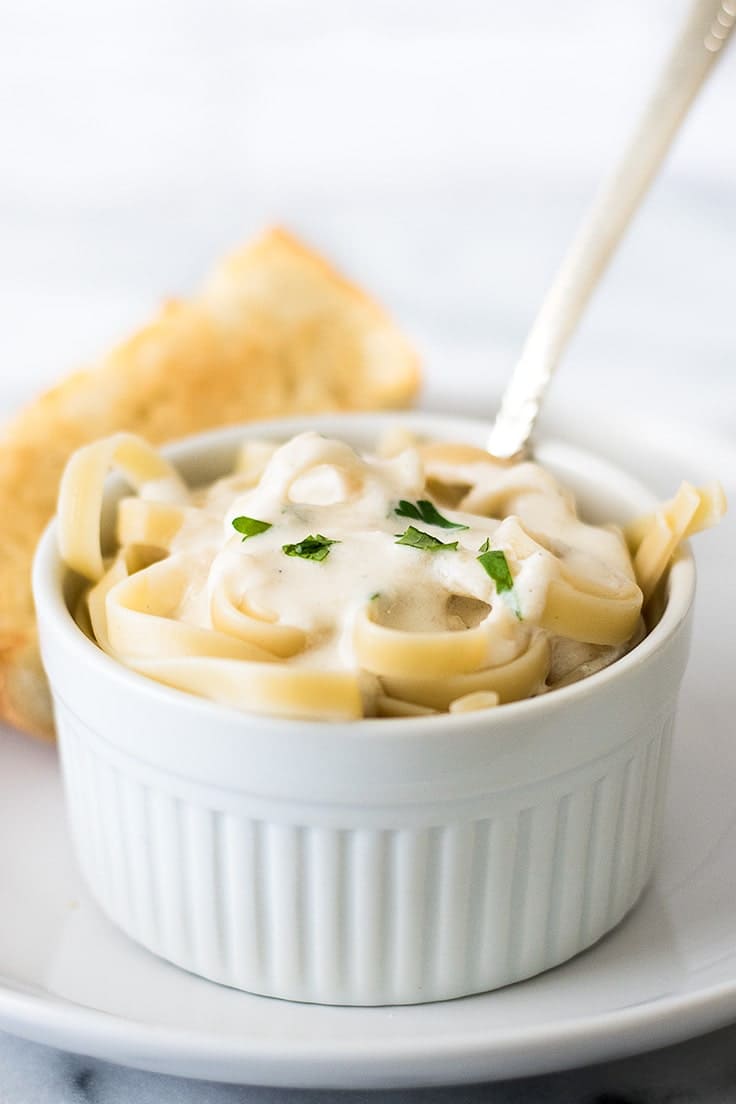 Fettuccine Alfredo for One Variations
Garlic Alfredo – Before adding the cream, add 1/2 teaspoon of minced garlic in the melted butter and cook until browned, about 30 seconds. Omit the garlic powder.
Broccoli Alfredo – In the last 3-4 minutes of cooking time, toss a handful of broccoli florets in with the fettuccine noodles and cook until tender.
Chicken Alfredo – Add 3 ounces/ 3/4 cup of chopped warm cooked chicken (I like to use this method from my post How to Cook Chicken Breasts for Salads and Sandwiches) to the sauce just before pouring over the pasta.
Please note, this makes one 2-ounce serving (the recommended serving size) of pasta. If you want a big restaurant-size portion or are feeding a big eater, double the recipe. To change the recipe yield, hover over the number of servings (or click if you are on mobile) and slide the slider.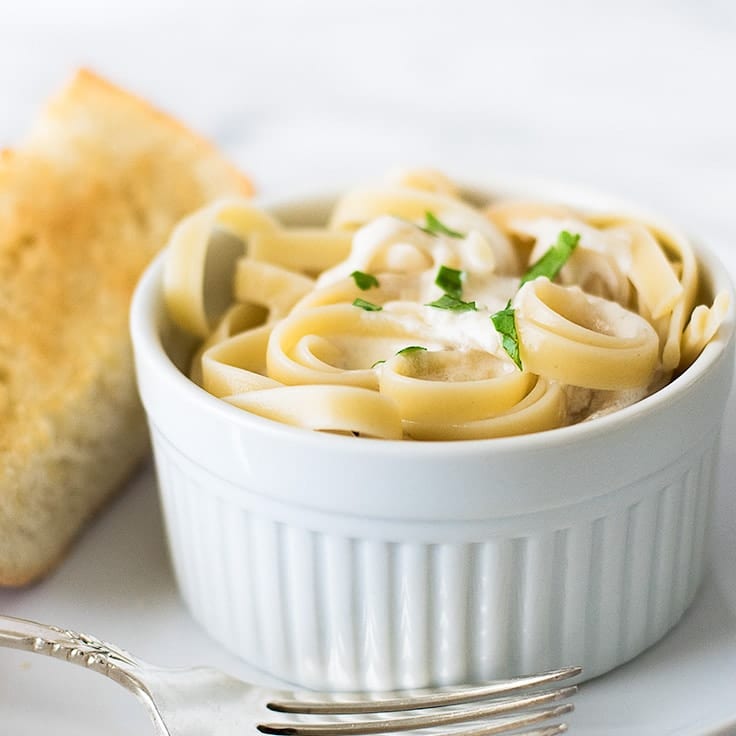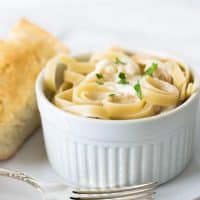 Quick and Easy Fettuccine Alfredo for One
This Quick and Easy Fettuccine Alfredo for One can be made in less than twenty minutes and makes a fabulously cheesy lunch or dinner.
Print
Servings (Hover or Click to Change Yield):
1
Ingredients
2

ounces

fettuccine noodles

1

tablespoon

(

14g

) butter

1/3

cup

half and half, milk, or heavy cream

*

1/8

teaspoon

garlic powder

Pinch of dried parsley

(optional)

Pinch of salt

Pinch of pepper

Pinch of cayenne pepper

(optional)

2

tablespoons

shredded Parmesan cheese

for the smoothest sauce use freshly grated Parmesan
Instructions
Bring a medium pot of salted water to a boil and cook fettuccine according to package instructions. Drain and set aside.

While your pasta cooks, in a small pot, melt butter. Add half and half, garlic powder, parsley, salt, pepper, and cayenne. Bring to a low simmer and cook for 3 to 4 minutes until mixture is slightly reduced (if your sauce begins to boil rapidly, turn heat down!). Stir in Parmesan and simmer for another 30 seconds until cheese is melted and sauce thickened. Pour sauce over fettuccine and toss.

Garnish with fresh parsley if desired and enjoy!
Notes
*Half and half is my preferred choice here, but any percentage milk or heavy cream will work. 
To make half and half, combine approximately 2 parts milk to one part cream (it doesn't have to be exact).
When doubling, add a minute or two to the initial simmering time for the sauce.
This post may contain affiliate links, which means I receive a small commission if you make a purchase using them. There is absolutely no additional cost to you.