A recipe for four perfect and adorable small-batch chocolate cupcakes with peppermint buttercream from my new cookbook, Baking for Two.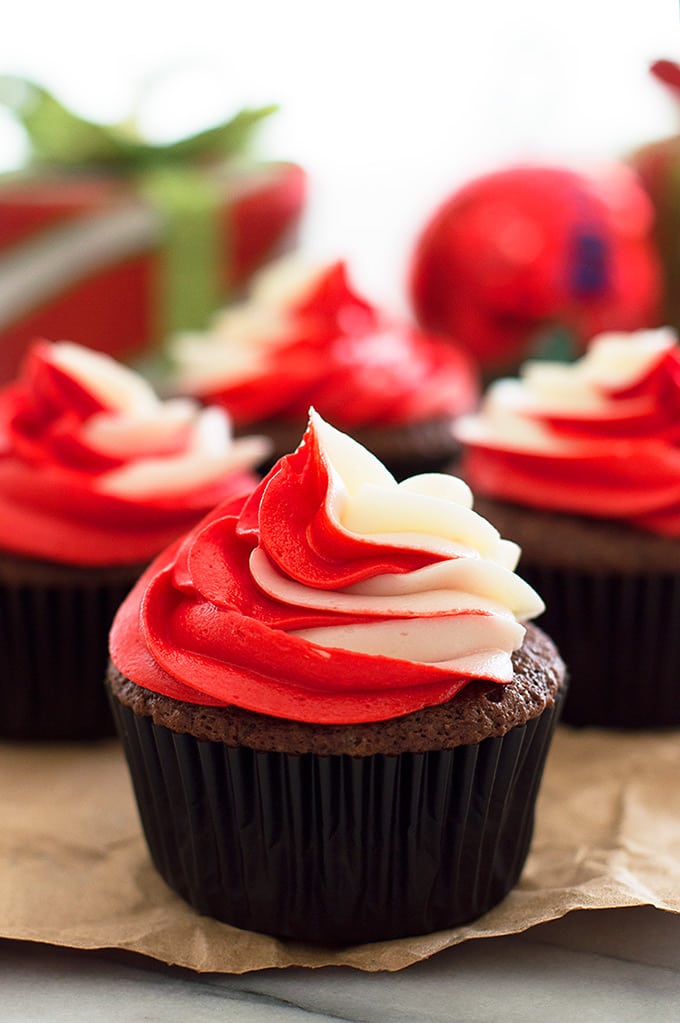 This will be the last Baking Mischief post before Thanksgiving, so to all my American brothers and sisters, happy Thanksgiving. I wish you safe, speedy travel, perfectly cooked turkeys, and patience and empathy to deal with the trying conversations I'm sure are going to come up over dinner.
We'll get through this.
If you've been following along with the blog for a little while, you'll know that my first cookbook, Baking for Two is out this month. The e-book was released on the 10th, and the day before that release, I shared my Small-batch Bacon Scones With Maple Glaze recipe from the book.
Physical copies of Baking for Two are shipping tomorrow, so today I'm sharing another preview recipe!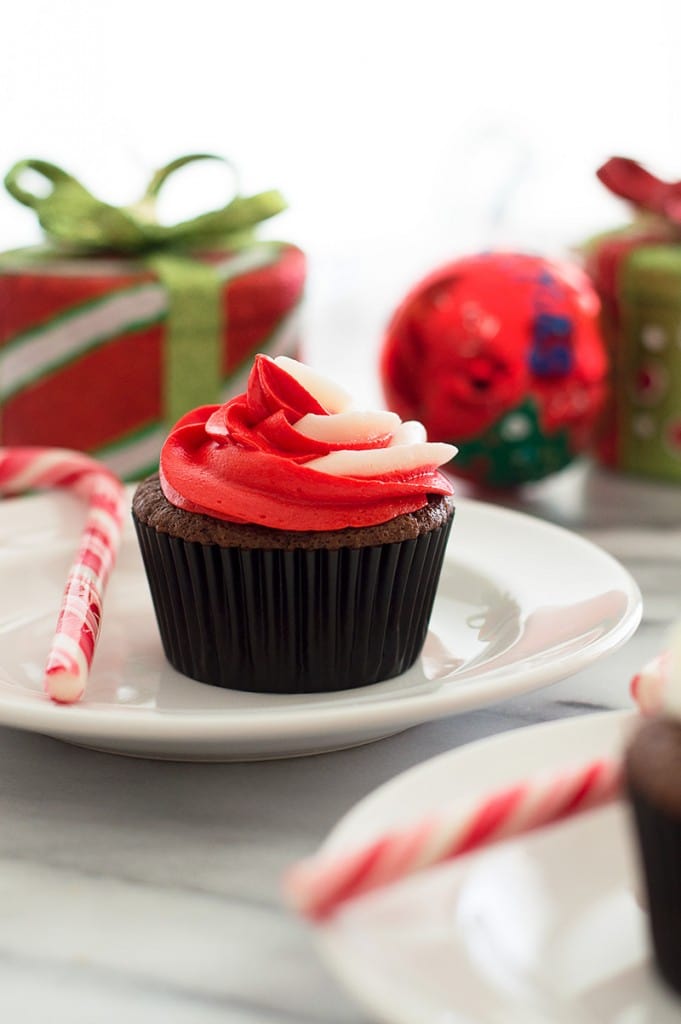 You know I love making cupcakes, and I think you like them too, because my S'mores Cupcakes, Brooklyn Blackout Cupcakes, and BB-8 Cupcakes are some of the most popular recipes on the site.
So it's no surprise that one of my favorite chapters in Baking for Two (to write and to eat from) is my Cakes and Cupcakes chapter. There are 12 small-batch recipes in there ranging from the adorably small and tall Strawberry Buttercream Layer Cake to the decadent and delicious Death by Chocolate Sheet Cake.
I included a few seasonal recipes in most of the chapters, and since we are fast approaching Christmas, now is a perfect time to share my Chocolate Cupcakes with Candy Cane Buttercream, which makes just four perfect and adorable cupcakes.
Obviously, I'm a big fan of all the recipes in my book, but these were particular favorites among my taste testers. The cupcakes are moist and rich, and the buttercream has a wonderful peppermint bite to it, perfect for the holidays. The candy cane swirl can be done without any special equipment, you just need three plastic bags for billowy swirls, or three piping bags and a large star tip for a more sculpted look like the ones in the photos.

Chocolate Cupcakes With Peppermint Buttercream Tips
Peppermint extract is what gives these cupcakes their peppermint flavor. It can be found near the vanilla in the baking aisle at most grocery stores or ordered from Amazon*. If you don't like the flavor or don't have any, you can replace it with 1/4 teaspoon vanilla extract.
You can use liquid or gel food coloring, but you'll get the most vivid red with gel food coloring*. If using water-based, be careful not to add too much or you may be able to taste the red dye.
These cupcakes use a small amount of coffee in the batter. It helps to enhance to chocolate flavor and does not give the cupcakes a coffee flavor, but if you don't like coffee, you can replace it with the same amount of hot water.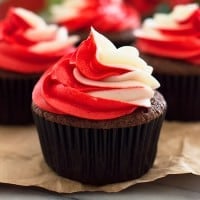 Small-batch Chocolate Cupcakes With Peppermint Buttercream
A recipe for four perfect and adorable small-batch chocolate cupcakes with peppermint buttercream from my new cookbook, Baking for Two.
Print
Servings (Hover or Click to Change Yield):
4
Ingredients
Chocolate Cupcakes
2

tablespoons

(

1

oz) unsalted butter

2

tablespoons

(

21

g) chopped semi-sweet chocolate

1 1/2

teaspoons

vegetable oil

1/4

cup

(

30

g) all-purpose flour

2

tablespoons

(

11

g) cocoa powder

sifted

1/2

teaspoon

baking powder

1/8

teaspoon

salt

1/4

cup

(

50

g) granulated sugar

1

large egg yolk

room temperature

1/4

teaspoon

vanilla extract

2

tablespoons

milk

2

tablespoons

hot coffee
Peppermint Buttercream
4

tablespoons

(

2

oz) unsalted butter

room temperature

1

cup

(

120

g) powdered sugar

1/8

teaspoon

peppermint extract

Red food coloring

Milk or cream

optional
Instructions
Chocolate Cupcakes
Preheat the oven to 350°Line your cupcake pan with 4 cupcake liners.

In a small, microwave-safe bowl, microwave the butter until it's mostly melted. Add the semi-sweet chocolate and vegetable oil and microwave in 15-second bursts, stirring after each, until the chocolate is completely melted. Stir and set aside to cool.

In a small bowl, whisk together the flour, cocoa powder, baking powder, and salt.

In a medium bowl, whisk together the granulated sugar, egg yolk, and vanilla. Whisk in the cooled chocolate (if it is not cooled it will scramble the egg), until well combined.

Stir in the flour mixture, mixing just until combined.

Whisk in the milk and coffee until smooth. The batter will be thin. Pour the batter into the prepared tin, filling just under three-fourths full. If you have leftover batter, discard it.

Bake for 16 to 19 minutes until a toothpick inserted into the cupcake center comes out clean.

Cool the cupcakes in the tin for 10 minutes before transferring them to a cooling rack. Cool completely, for about 15 minutes, before making the buttercream.
Peppermint Buttercream
Whisk together softened butter, powdered sugar, and peppermint extract. If needed, whisk in 1 teaspoon of cream or milk at a time until frosting reaches desired consistency.

Divide the frosting in half and add red food coloring to half of the frosting, mixing until color is uniform.

Drape 2 piping bags or disposable plastic bags open over 2 cups and fill one bag with white frosting and one with red.

If using piping bags: Fit the third piping bag with the piping tip. Squeeze the frosting-filled bags together and slip them into the third bag. Remove them, snip the tips off both bags of frosting, and place them back into the third bag, lining them up so they sit evenly at the bottom.

If using plastic bags:Place both frosting-filled plastic bags into a third and position them so the bags sit together in one corner. Squeeze the frosting down so it is gathered down at the point of the bags and snip the edges off all three at once.

Starting on the outside edge of the cooled cupcakes, pipe swirls of frosting onto each and enjoy!
*Links marked with an asterisk are affiliate links, which means I receive a small commission if you make a purchase using them. There is absolutely no additional cost to you.