Creamed Turkey (or creamed chicken) is a simple weeknight dinner that can be made with leftover turkey or chicken. It's pure comfort food and completely delicious.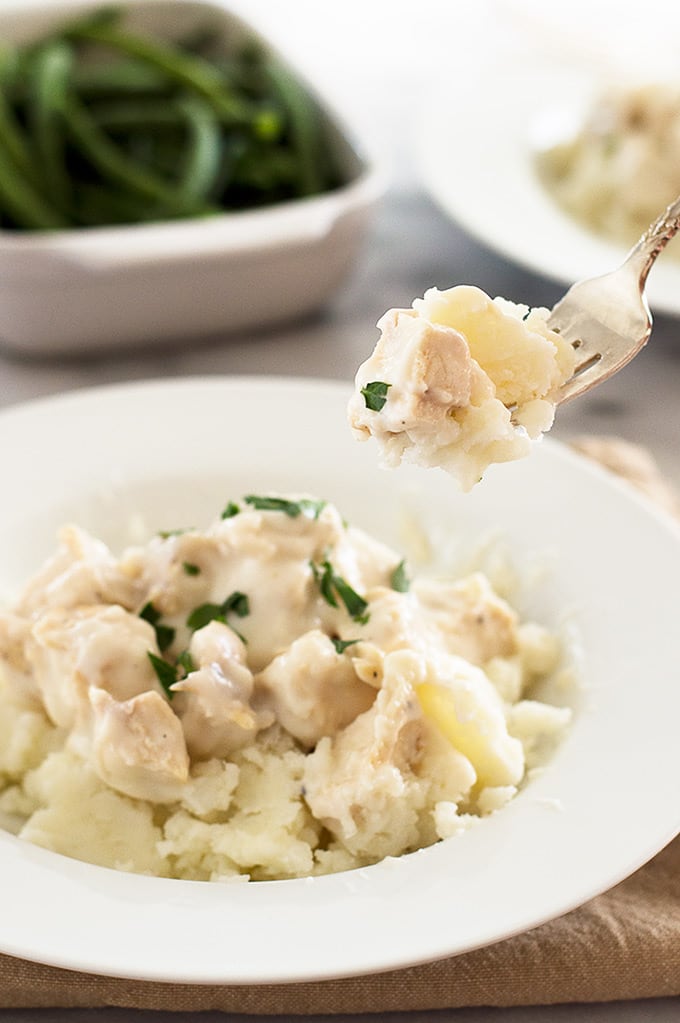 So, true story: up until about a week and a half ago, I was dead certain that today was the day after Thanksgiving. At the end of September, I wrote Thanksgiving into my editorial calendar as the 17th (because as everyone knows, Thanksgiving is always the 3rd Thursday of November) and just went on living my life, planning posts, doing whatever it is I do.
This was obviously not even a little correct, as I learned while trying to coordinate Thanksgiving plans with family, so what I'm basically saying is this recipe was supposed to come out the day after Thanksgiving, not a week before it. My stellar calendar and editorial planning skills strike again…
Properly timed or not, today's recipe is pretty special to me because it's not just one of my personal childhood favorites, it's the childhood favorite of basically every other child who had the good fortune to attend my elementary school, it's Creamed Turkey.
They served this in the cafeteria about once a month while I was there, and I really cannot overstate how big of a deal this lunch was. On Creamed Turkey Day (capitalized), almost nobody brought their lunches from home and teachers gave up their lunch hour to let us eat in the classroom, mostly because they were already staying on school grounds to eat creamed turkey too.
I've been told that it's still served at the school but is no longer made from scratch in the kitchens, so who knows if current generations are still developing a taste for it with the same fanatical zeal, but I for one will always have a place in my heart (and on my plate) for creamed turkey.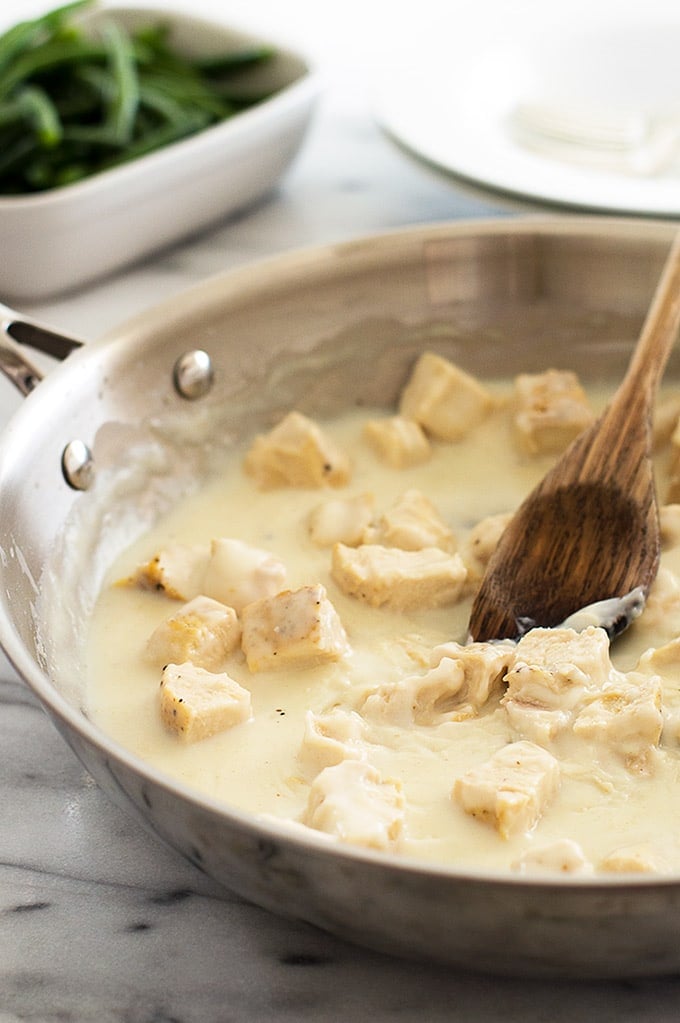 So obviously I had to recreate it on the blog. And fortunately, I still have an in at the school and was able to get the basic recipe breakdown from one of the school's longtime lunch ladies.
Turns out creamed turkey is suuuuuuuuuuuuuuuper easy to make. It's basically cubed, cooked poultry + a roux + a little salt, pepper, and garlic. If you have leftover chicken or, I don't know, turkey from any holidays we might have coming up, you can make this in about 8 minutes.
We were always served Creamed Turkey over mashed potatoes (if you don't have a mashed potato recipe you love, give my No-recipe Homemade Mashed Potatoes a try). The internet tells me you can also serve creamed turkey over toast, which sure. If that sounds good to you, you do that. 😉
Creamed Turkey is really just pure comfort food, warm and filling. It's rich, creamy, and just makes you feel good from the inside out, the way a bowl of chicken soup does on a cold day. Serve with a side of Butter and Garlic Green Beans or Panko Parmesan Broccoli, and your inner child will love it.
More Easy Comfort Food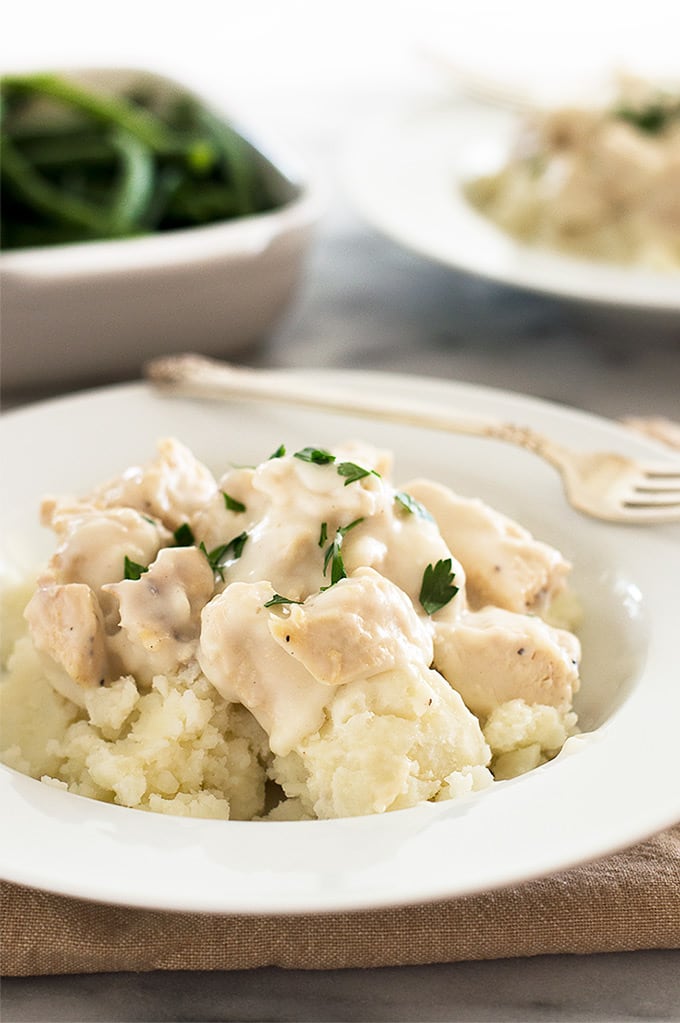 Recipe Notes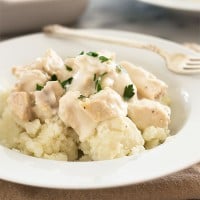 Creamed Turkey for Two
Creamed turkey (or creamed chicken) is a simple weeknight dinner that can be made with leftover turkey or chicken. It's pure comfort food and completely delicious.
Print
Pin
Servings (Hover or Click to Change Yield):
2
servings
Ingredients
2

tablespoons

(

1

oz) butter

2

tablespoons

(

15

g) all-purpose flour

1

cup

milk

any percentage

1/4

cup

chicken broth

1/8

teaspoon

garlic powder

Salt and white pepper to taste

2

cups

(

8

oz) cubed, cooked chicken or turkey

(warm)
Instructions
In a medium skillet over medium heat, melt butter. Whisk in flour and cook for about 30 seconds until golden.

Whisk in milk and broth. Continue to cook, stirring constantly, until mixture begins to bubble and thickens to the consistency of thick gravy, 3 to 6 minutes.

Remove from heat and whisk in garlic, salt, and pepper. Stir in chicken and allow to sit over very low heat until chicken is warmed through, about 5 minutes.

Serve over mashed potatoes or toast.
This post may contain affiliate links, which means I receive a small commission if you make a purchase using them. There is absolutely no additional cost to you.