This easy Dulce de Leche Ice Cream recipe is a fantastic way to use up leftover heavy cream and the perfect place to start if you've always wanted to make ice cream at home, no ice cream maker required.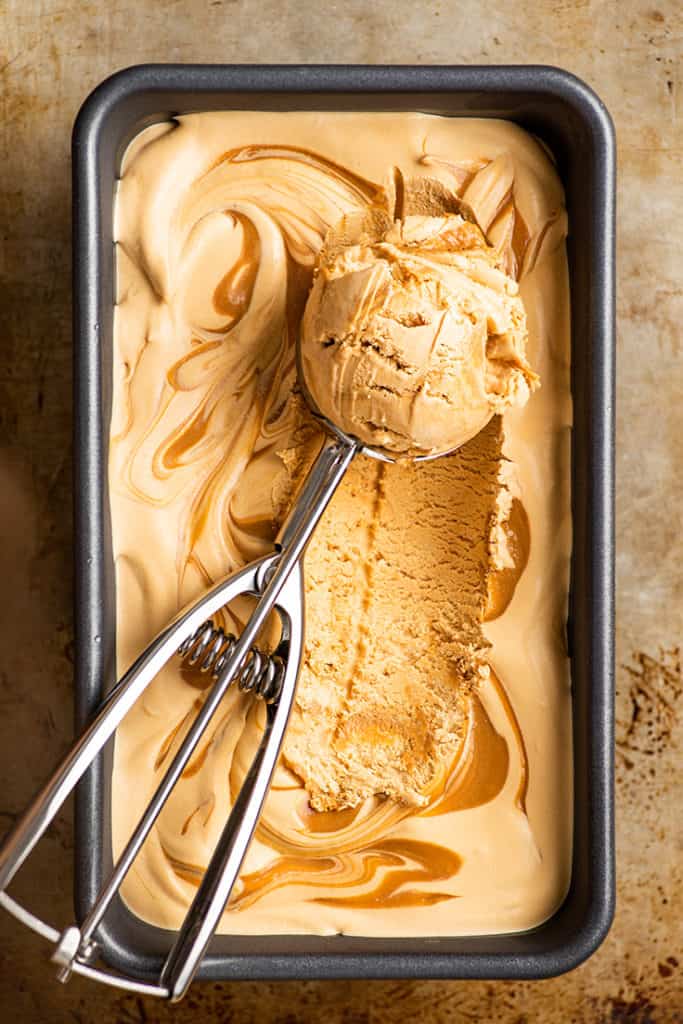 Hey, friends, remember last year when I got a little too obsessed with homemade dulce de leche and started adding it to everything? Well guess who's back on her dulce de leche beat. Let's make some Dulce de Leche Ice Cream!
Three-ingredient Dulce de Leche Ice Cream Recipe
This dulce de leche ice cream is an incredibly easy and fun way to make ice cream at home. You just need three ingredients and less than ten minutes of active hands-on time to mix everything together.
After an overnight freeze, you end up with an ice cream that is smooth, super creamy, and so, so good.
Dulce de Leche Ice Cream Ingredients
Heavy/Whipping Cream: The base for this ice cream is a pint of cream that you're going to whip into fluffy, billowy peaks. Note: while either whipping cream or heavy/heavy whipping cream is fine, half-and-half and milk CANNOT be substituted here, as they won't whip up.
Dulce de Leche: All the sweetness in the ice cream comes from a single can of dulce de leche folded into the whipped cream, no additional sugar needed. You can use store-bought or homemade dulce de leche.
Vanilla Extract: Just a little extract in the ice cream adds a hint of vanilla, which pairs *fantastically* with the dulce de leche flavor.
Recipe Ingredient Tip: If you're having trouble finding dulce de leche at the store, it should be in the baking aisle or near the coffee and teas. It's typically sold in cans alongside sweetened condensed milk and evaporated milk (double check your can and make sure you're coming home with the correct thing!).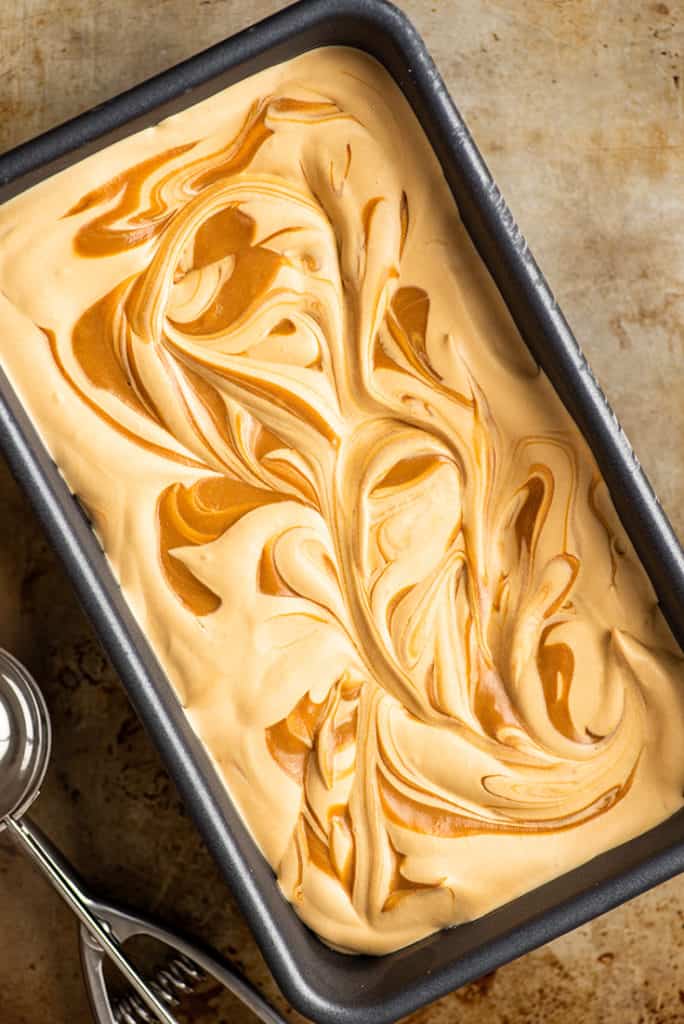 How To Make Dulce de Leche Ice Cream
To make dulce de leche ice cream, you'll beat a little cream into your dulce de leche to lighten it up and make it easier to incorporate into the cream. Then just whip your heavy cream and vanilla extract into stiff peaks and fold in 3/4 of the dulce de leche until uniform in color. Finally, you'll swirl in the remaining dulce de leche so you get those pretty ribbons of it throughout and freeze until firm, preferably overnight. It's that easy!
A Note on Texture
No-churn ice creams made with a heavy cream base have a higher fat content than traditional store-bought ice creams. This means they have a slightly richer and smoother texture and mouthfeel than custard-based ice creams.
This isn't a bad thing, (it's actually really yummy) but it can be a little surprising when you take your first bite, so I want you to go in prepared. 😉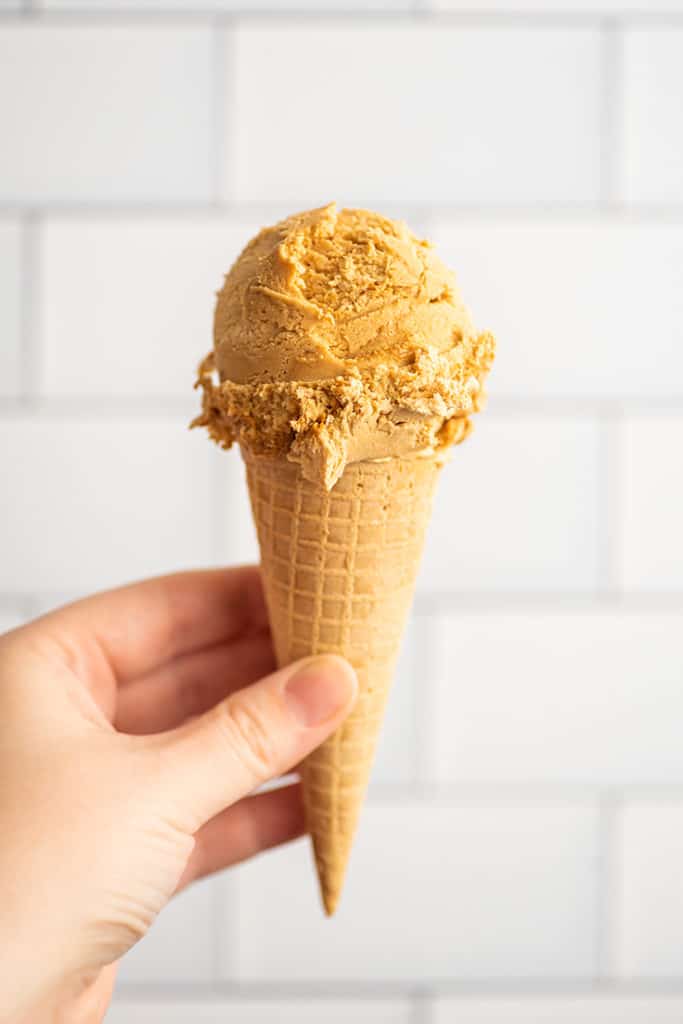 More Dulce de Leche Recipes
Recipe Notes
If you want to make this ice cream with leftover cream, and don't have 2 full cups, the recipe is really easy to scale down. Just use a ratio of 2 parts cream : 1 part dulce de leche. (So if you have 1 cup of cream, use 1/2 cup dulce de leche.) Stir just enough of the cream into the dulce de leche to thin it out a to a pudding-like consistency, and follow the rest of the recipe as written.
If you don't have dulce de leche on hand but do have a can of sweetened condensed milk, go check out my recipe on The Quicker Way to Make Dulce de Leche. It's super easy and all you need is that can of condensed milk and a couple of hours.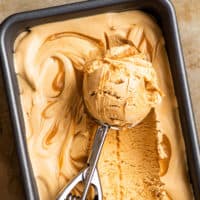 Easy Dulce de Leche Ice Cream
This easy Dulce de Leche Ice Cream recipe is a fabulous way to use up leftover heavy cream and the perfect place to start if you've always wanted to make ice cream at home, no ice cream maker required.
Print
Pin
Servings (Hover or Click to Change Yield):
10
servings
Ingredients
1

13.4-ounce can (about

1 heaping cup

) dulce de leche

chilled or room temperature*

2

cups

cold heavy whipping cream

divided*

1

teaspoon

vanilla extract
Instructions
In a medium bowl, combine dulce de leche and

1/4

cup of the heavy cream and beat until smooth.

In a large bowl, combine remaining heavy cream and vanilla extract. Using a handheld electric mixer, beat cream, starting on low, working up to high, until stiff peaks form (when you lift the beaters out, the peaks of cream should stand straight up without flopping over).

Use a rubber spatula to fold in about 3/4 of the dulce de leche (reserve 1/4 to swirl in at the end), being careful not to deflate the whipped cream too much.

Scoop half of the whipped cream mixture into a loaf pan or freezer container. Spoon half of the reserved dulce de leche over the top and use a knife to swirl the mixture into the cream.

Add remaining whipped cream and repeat with remaining dulce de leche. Cover pan with cling wrap or lid and freeze until solid, at least 6 hours, preferably overnight.
Notes
*Make sure your dulce de leche is chilled or cool room-temperature. Do not use warm freshly made dulce de leche in your ice cream. 
*Canned and homemade dulce de leche consistencies can vary. If starting with room-temperature dulce de leche that is already thin enough to easily scoop and spoon (pudding-consistency or will drizzle off a spoon) skip beating in heavy cream and just whip all of the heavy cream with the vanilla. 
This recipe makes 4 to 5 cups of ice cream. Store in an airtight container in your freezer for up to 2 weeks. 
Approximate nutritional information assumes 10 1/2 cup servings. 
This post may contain affiliate links, which means I receive a small commission if you make a purchase using them. There is absolutely no additional cost to you.