This easy Beef Stroganoff recipe is made with tender top sirloin, onions, garlic, and mushrooms simmered in a rich sour cream sauce and served over egg noodles. It's quick to make, delicious, and the ultimate comfort food.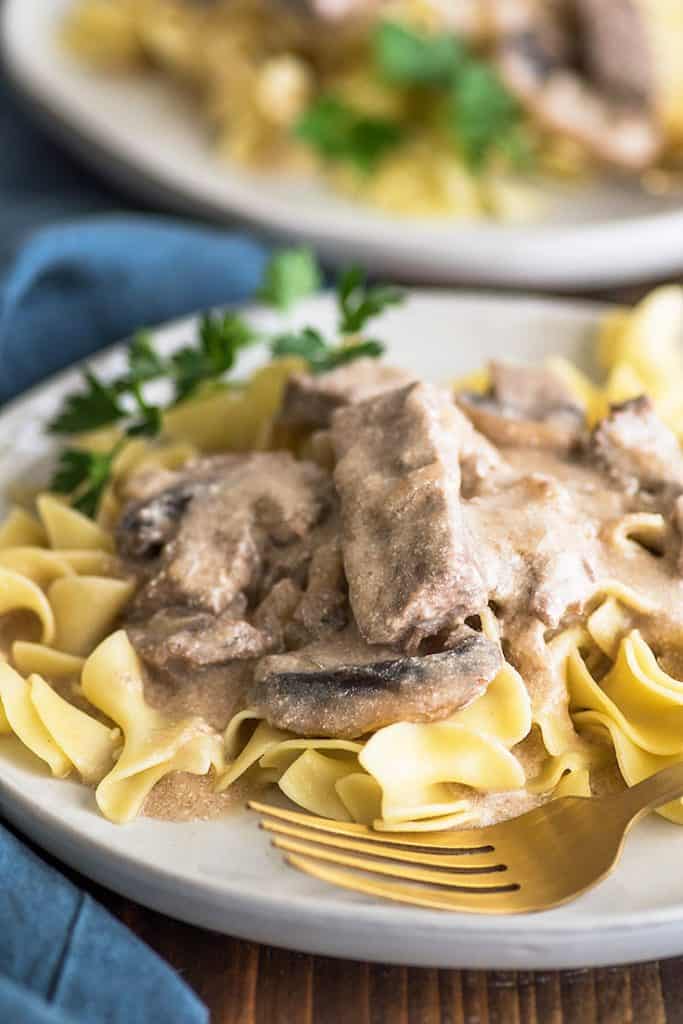 Every year, Google compiles a list of their most popular searches in different categories, including recipes. Do you know what the most searched for recipe was in the United States for 2017? My very favorite food in all the world, Beef Stroganoff.
And I had an *insane* reaction when I heard that:
How does everyone know what Stroganoff is? I haven't shared it with them yet.
That's right, my first reaction upon hearing that millions of people had searched for Stroganoff recipes last year was disbelief because I hadn't personally introduced each and every one of them to the recipe first.
Like I said, insane.
But in my defense, while Beef Stroganoff may be incredibly popular around the US, it really wasn't where I'm from. Growing up, my mom was the only person I knew who made it, and all of my friends tried Stroganoff for the first time at our house. When I grew up and moved away, I made Stroganoff for friends all the time and none of them had ever eaten it before. Most of them had never even heard of it.
So when I started this blog, I always assumed that I'd post it here someday and get to introduce this obscure little Russian dish to a wider audience. LOL, okay so clearly not the case. Beef Stroganoff doesn't need my help, and the rest of the internet got there first. Turns out that there are about a trillion other Stroganoff recipes out there, but that's okay, because those recipes are not my mom's recipe, and my mom's recipe is the best. (Fight me 😉 )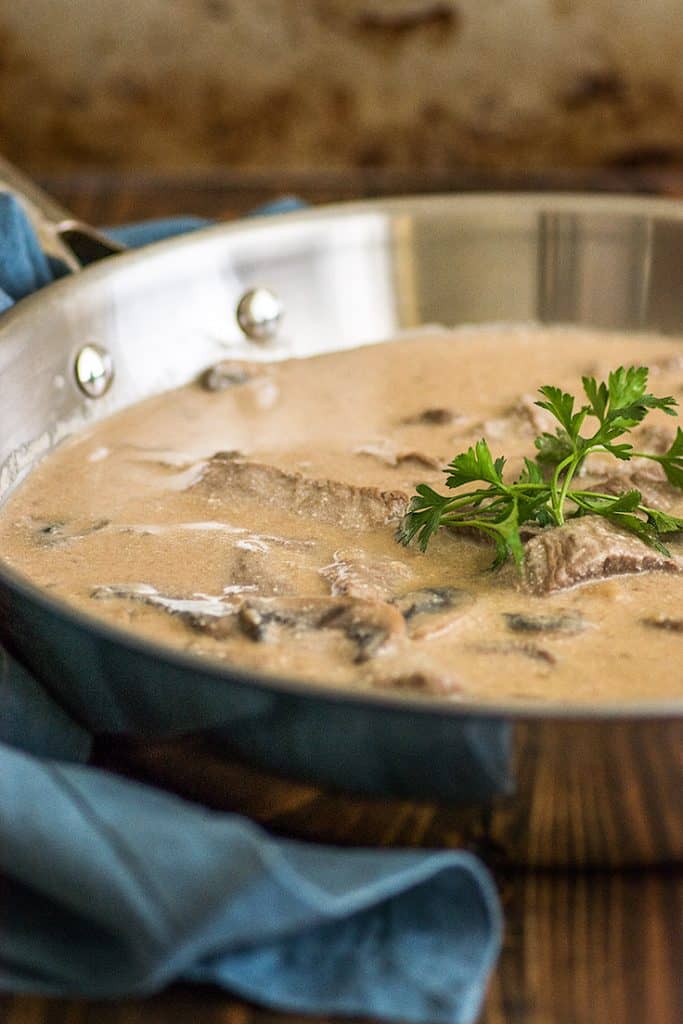 What is Beef Stroganoff
If you weren't one of the millions of people searching for Stroganoff recipes last year, and are reading this going what the heck is Stroganoff, friend, you're in for such a treat, because Stroganoff is only the best food known to man. It's is tender slices of beef, mushrooms, onions, plenty of garlic and a splash of wine (we'll be using sherry) in a rich, creamy, tangy sour cream sauce. It's served over egg noodles, and I love it so much.
It's rich, delicious comfort food, and your life will never be the same after you've tried it.
What is the best cut of meat for Beef Stroganoff?
People use lots of different cuts of meat for Stroganoff: beef tenderloin, chuck, ground beef. My personal favorite is top sirloin. It has a great beefy flavor, it's lean (so, easy to cut), and it cooks up nice and tender.
The one thing to watch out for is that top sirloin tends to fluctuate hugely in price (at least here in Southern California) from quite cheap to insultingly pricey, so if you're planning on making Stroganoff in the near future, keep an eye on the prices and buy and freeze the top sirloin when you see it at a reasonable one.
How to make Beef Stroganoff
Stroganoff is one of the first dishes I learned to cook for myself as a kid. It's incredibly easy and surprisingly fast to make. You start by cooking mushrooms, onions, and garlic in a large pan until tender. Then you brown your top sirloin, stir in the rest of your ingredients minus the sour cream, and then the whole thing just simmers for 15 minutes. During that time, you cook some egg noodles, and then when everything's done, you stir in sour cream, drain the egg noodles, and serve.
If you're efficient with your prep, you can be eating within about 40 minutes.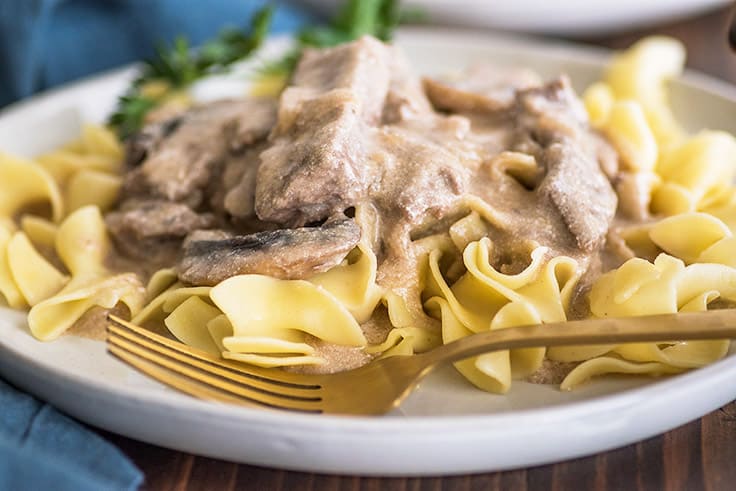 Beef Stroganoff Recipe Tips
I always get asked what to serve with Stroganoff. Stroganoff is incredibly rich comfort food and served over noodles, so I recommend steering clear of more carbs (you don't need bread with this dish) and sticking with a really simple side salad or something like Butter and Garlic Green Beans.
This recipe calls for beef consommé. Beef consommé is clarified beef broth, a little richer and more gelatinous than straight broth. You can usually find it in the canned soup aisle.
For the most tender beef, slice your top sirloin against the grain. Here's how to do that.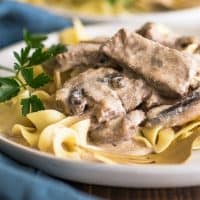 Easy Beef Stroganoff
This easy Beef Stroganoff recipe is made with tender top sirloin, onions, garlic, and mushrooms simmered in a rich sour cream sauce and served over egg noodles. It's quick to make, delicious, and the ultimate comfort food.
Print
Pin
Servings (Hover or Click to Change Yield):
4
servings
Ingredients
2

tablespoons

(

1oz

) butter

8

ounces

button mushrooms

sliced

1/4

cup

diced onions

2

cloves

garlic

crushed

1

pound

top sirloin

sliced across the grain into 3 x 1/4-inch strips

2

tablespoons

(

15g

) all-purpose flour

1

10.5-ounce can beef consommé

3

tablespoons

dry sherry

1

tablespoon

lemon juice

1/4

teaspoon

pepper

Salt

8

ounces

(

4

cups) egg noodles

1

cup

(

8oz

) sour cream
Instructions
Start Stroganoff
In a large skillet, melt butter over medium heat. Add mushrooms, onions, and garlic, and cook until tender, about 5 to 7 minutes.

Turn heat up to medium-high and add sliced sirloin. Cook until browned. Stir in flour, followed by consommé, sherry, lemon juice, and pepper, and stir until well-combined.

Bring to a boil and then reduce heat. Simmer for 15 minutes, stirring occasionally.
Start Egg Noodles
While your sauce simmers, bring a lightly salted pot of water to a boil and cook egg noodles according to package instructions. Drain and set aside.
Finish Stroganoff
Stir sour cream into your beef mixture and heat over medium heat until warmed through. Do not boil or your sour cream may curdle. Salt to taste.

Serve over egg noodles and ENJOY!
This post may contain affiliate links, which means I receive a small commission if you make a purchase using them. There is absolutely no additional cost to you.
Recipe from Southern Living Five-Star Recipe Collection (appears to be out of print) via my mom