This Easy Pork Ragu is incredibly meaty red sauce that's tangy, a little garlicky, and just a tiny bit sweet. Spoon it over a big pile of noodles, and it's the perfect comfort food.
Hey friends, we're halfway into November, and if I had my way, it would be all comfort food all the time for dinner around here. I have a ton of comfort food recipes on the site, Ham and Potato Soup, Beef Stroganoff, Classic Roasted Chicken, and today I'm sharing one of my newest comfort food favorites, Pork Ragu.
This is one of those dishes that is perfect for lazy, overcast Sundays. It's easy to make, but has just enough steps and requires a long enough braising time, that you feel like you accomplished something great when it's done (even though you mostly just left it alone in the oven). 😉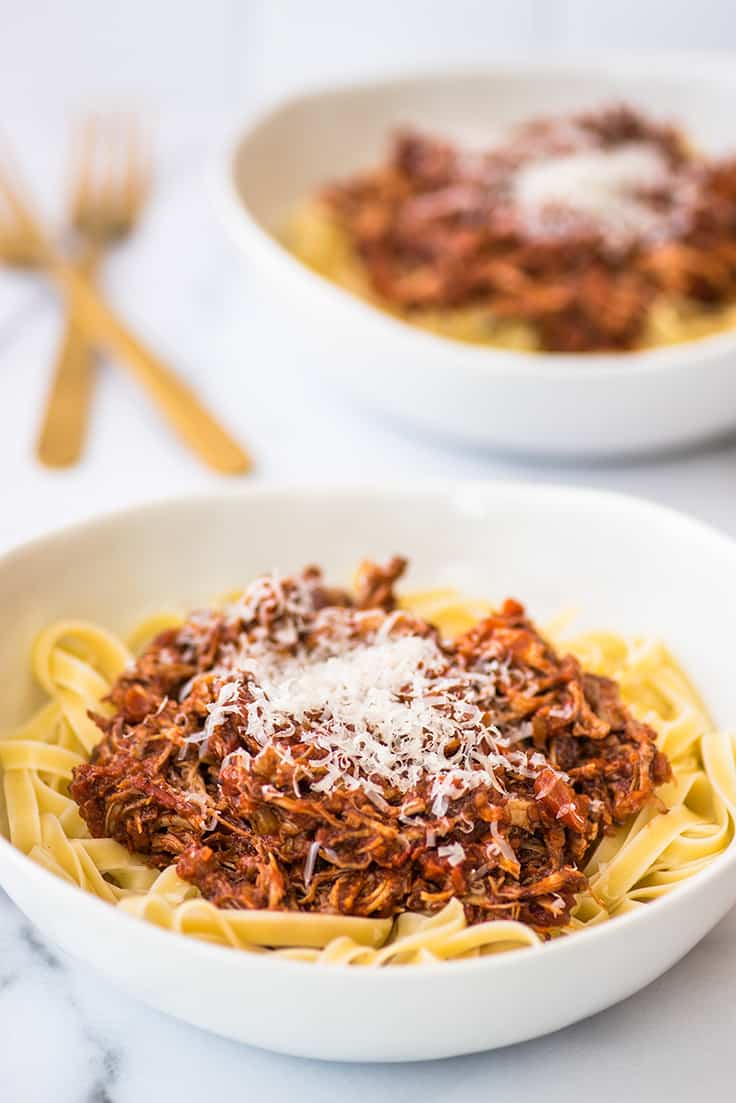 Ingredient Notes
Pork shoulder: Not only is pork shoulder a fantastic cut of meat for braising, but it's also quite inexpensive. Keep an eye on deals at your local store, and you can often find it for 1.99/pound.
Carrots, celery, onion: Finely diced carrots, celery, and onions help make the flavor base for the sauce.
Dry red wine: I like to use Cabernet Sauvignon here, but Merlot and Pinot Noir are also good options.
Crushed tomatoes: If you only have diced or whole tomatoes, you can use them. Just pulse them in their juices with an immersion blender, food processor, or countertop blender a few times until they resemble chunky salsa.
A Note on Pork Shoulder for Ragu
This recipe calls for a pork shoulder roast, sometimes called Boston butt or pork butt roast. It's the cut of meat you use for carnitas and country-style pork ribs and is a perfect cut for braising because it becomes fall-apart tender when given a long, slow cooking time.
Best of all, pork shoulder is usually pretty cheap, so if you're looking for a dinner-to-impress that won't break the bank, this is a great option.
Boneless vs bone-in shoulder roast: I called for a boneless roast here, because bone-in pork shoulder has a y-shaped bone that is annoying to remove, but if bone-in is all you can find, it will work just fine. Use a sharp knife to slice around the bone to remove it, and don't stress too much if you leave a bit of meat on the bone when cutting it out.
How to Make Pork Ragu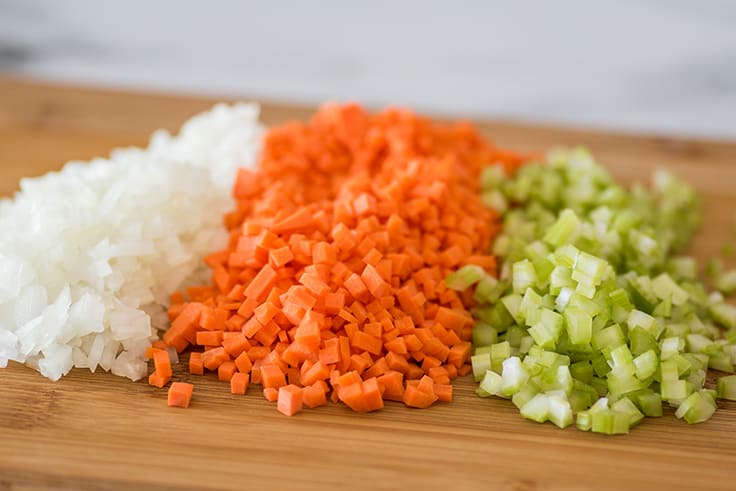 1. This recipe starts with a soffritto, a combination of celery, carrot, and onion, finely diced. After the long, slow cooking time, the vegetables practically melt into the sauce, so you won't really see them in the finished dish, but they add a ton of base flavor to the ragu.
Make sure to cut your veggies and measure out the rest of your ingredients before you begin cooking because there won't be a ton of time to do it once you start.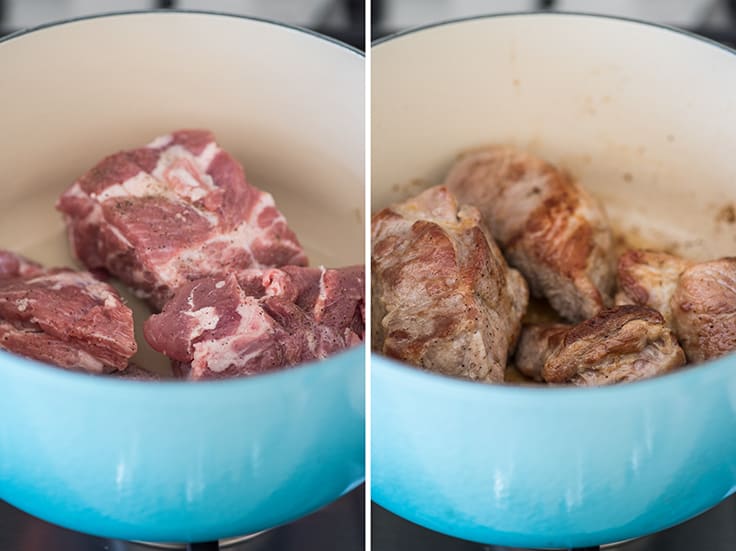 2. Once your ingredients are prepped, you'll trim your roast of any huge pieces of fat and cut it into (about) four evenly sized pieces. Don't worry if there is still some fat in your pieces. You can pick it out while shredding the meat at the end.
Generously salt and pepper all sides of your pork chunks, and then brown them in a Dutch oven or large oven-safe pot. Browning your meat will help to enhance and deepen the flavor of your sauce, so don't skip this step.
Once the meat is browned, use tongs to transfer it to a plate. If the pork rendered a lot of fat into the pan, spoon off all but about 2 tablespoons.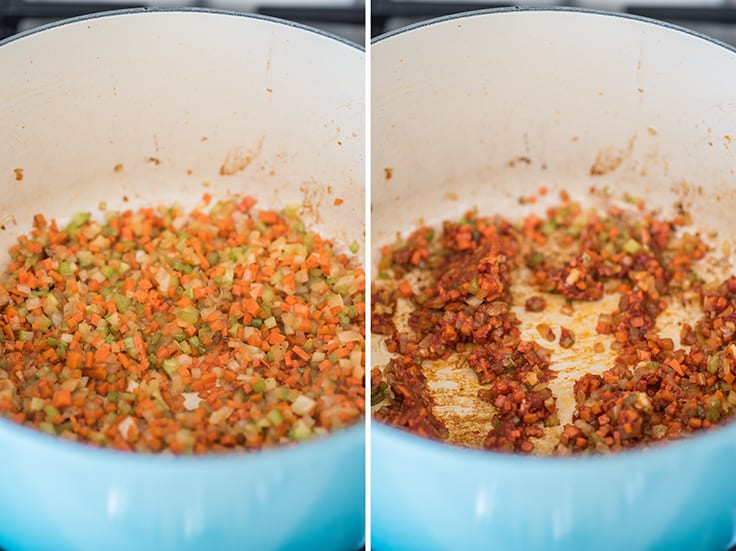 3. Turn heat down to medium-low, and add your veggies. These get cooked down until they begin to soften, and then add the garlic, followed by your tomato paste.
Like the meat, you want to give the tomato paste a chance to really cook so you fully develop that flavor.
Let it cook until it begins to caramelize on the bottom of the pot (it will begin to stick and look like it wants to burn). Once it reaches that point, add the red wine and scrape the bottom of the pan to remove anything that's stuck.
Kitchen Tip: Freeze leftover tomato paste in 1-tablespoon servings and store in an airtight container or bag in the freezer for later.
You'll bring the wine to a simmer and cook until it reduces by half. If you feel like you're bad at eyeballing this, dip the top of a wooden spoon into the sauce to see where you started, and then check against that line occasionally.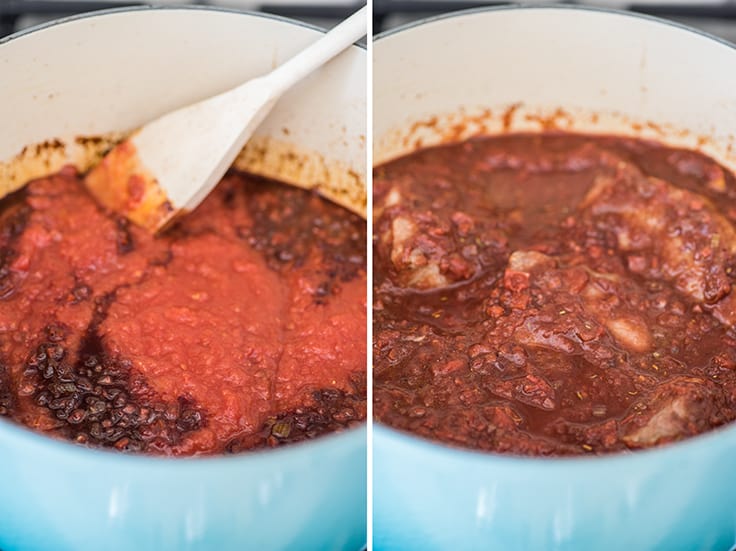 4. Add in your crushed tomatoes and spices and then the pork and any juices that have accumulated on the plate. Nestle the pieces so that they are submerged, and bring the mixture back to a simmer, cover and transfer it to your oven.
Cook for about 2 1/2 to 3 hours, until the pork is fall-apart tender. Once the pork is done, transfer the meat to a cutting board and shred it, picking out any pieces of fat or silver skin as you go.
Add half of the shredded meat back to the pot and stir. Continue to add meat to the pot until it reaches your preferred meat to sauce ratio. Any leftover shredded pork can be frozen and used for pulled-pork sandwiches or on pizza.
And your sauce is done! Time to spoon over pasta and enjoy.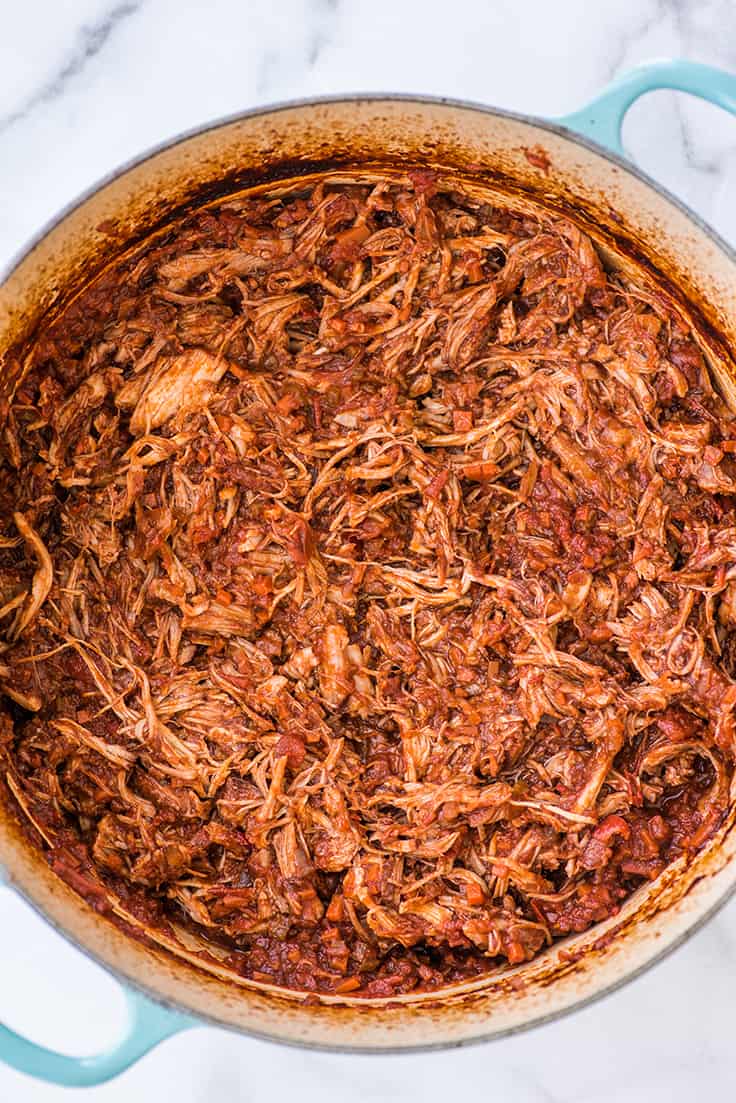 FAQ
What pasta to use for pork ragu?
Wide pasta ribbons that are really going to pick up the sauce are best, but other pasta variations including rigatoni and even egg noodles will work just fine.
Pappardelle is my favorite pasta to use here, but I rarely see it in stores, so you might need to plan ahead and order it. Tagliatelle is what I used for these photos (because I didn't plan ahead 😉 ).
Can I use pork loin roast instead of pork shoulder?
Unfortunately no. Pork loin is a much leaner roast which won't cook as well using this low and slow method.
What to serve with pork ragu?
This is a dish that is pretty rich, so it's best served with simple sides. Some garlic bread and a simple salad or butter and garlic green beans are my go-to.
Can I make this in advance?
Yes! This sauce can be made up to 2 days in advance. When ready to serve, simply reheat the sauce, make the pasta, and you're good to go.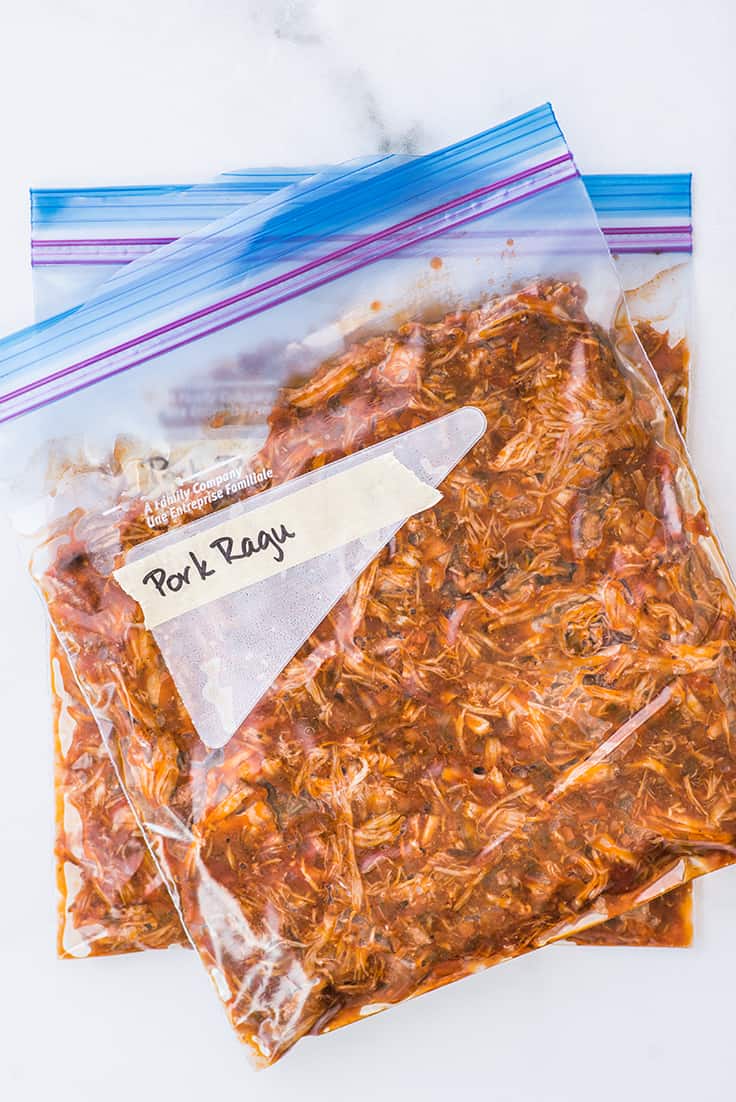 Can I freeze pork ragu?
Absolutely. Braised pork ragu is *fabulous* for freezing. It tastes just as good after being frozen as it does fresh, and it's always comforting knowing you have some good meals stashed in the freezer for busy weeknights.
Freeze portions in airtight containers or freezer bags, and they'll last up to 3 months in the freezer. Defrost the sauce overnight in the fridge and then heat in the microwave or on the stove. Cook 2 to 3 ounces of pasta per serving, top with warmed ragu, and enjoy.
More Low and Slow Dishes
Recipe Notes
If you purchase a roast larger than 2-3 pounds, you can cook the entire thing in the sauce and then use the extra cooked pork in other things like sandwiches, nachos, or burritos.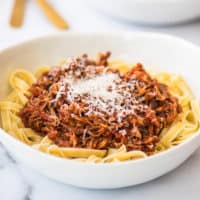 Easy Pork Ragu
This Easy Pork Ragu is incredibly meaty red sauce that's tangy, a little garlicky, and just a tiny bit sweet. Spoon it over a big pile of noodles, and it's the perfect comfort food.
Print
Pin
Servings (Hover or Click to Change Yield):
4
to 5 servings
Ingredients
Special Equipment
Dutch oven or large oven-safe pot with a lid

*
Pork Ragu
2 to 3

pound

boneless pork shoulder roast

Salt and pepper

2

tablespoons

vegetable oil

1

large carrot

peeled and finely diced

1

celery rib

finely diced

1/2

small onion

finely diced

4

cloves

garlic

pressed or diced

2

tablespoons

(

33g

) tomato paste

1

cup

dry red wine

*

1

28-ounce can crushed tomatoes

1

teaspoon

dried oregano

1/2

teaspoon

crushed rosemary

1/4

teaspoon

ground thyme

2

bay leaves

8 to 10

ounces

pappardelle, tagliatelle, or other wide pasta

Parmesan for topping
Instructions
Adjust your oven racks so that your Dutch oven will fit inside. Preheat oven to 325°F.

Trim any large pieces of fat from roast and cut it into 4 evenly sized pieces. Generously salt and pepper all sides.

In a Dutch oven or large oven-safe pot with a lid, heat oil over medium-high heat. Brown pork on all sides and transfer to a plate.

If pork has rendered a lot of fat in the pot, spoon off all but

2

tablespoons and turn heat to medium-low. Add carrot, celery, and onion, and cook for 5 minutes.

Add garlic and cook until garlic begins to turn golden, 30 seconds to 1 minute.

Turn heat up to medium and add tomato paste. Cook until sugars in the paste begin to caramelize on the bottom of the pot, about 3 minutes.

Add red wine, and use a wooden spoon to scrape the bottom of the pot, removing anything stuck. Bring to a simmer, and cook until reduced by half, 3 to 5 minutes.

Stir in tomatoes, oregano, rosemary, thyme, and bay leaves. Return pork and any juices on the plate to the sauce and submerge. Bring to a simmer, cover and cook in the oven for 2 1/2 to 3 hours, until meat is pull-apart tender.

Put a pot of generously salted water on the stove to boil for pasta. Cook pasta according to package instructions.

While your pasta cooks, transfer meat to a plate or cutting board, and use two forks to shred, removing any fat or silver skin as you go.

Add half of the meat back to the sauce, and stir. Continue to add meat into the sauce until it reaches your desired sauce to meat ratio. If there is any shredded pork remaining, save it and use it for pulled pork sandwiches or topping pizza.

Taste sauce, and add salt if necessary.

Serve sauce over pasta, top with freshly grated parmesan, and enjoy!
Notes
*If you don't own a Dutch oven or oven-safe pot, you can cook this dish on the stove. Keep it at just barely a simmer, checking occasionally and adjusting the temperature as needed.
*I typically use Cabernet Sauvignon.
Approximate nutritional information is for 5 servings without parmesan topping.
Recipe Adapted from Andy Ward & Jenny Rosenstrach's Pork Shoulder Ragu on Food52
This post may contain affiliate links, which means I receive a small commission if you make a purchase using them. There is absolutely no additional cost to you.