Horse and Dog Gingerbread Treats are a simple and easy way to show your pets you care this Christmas!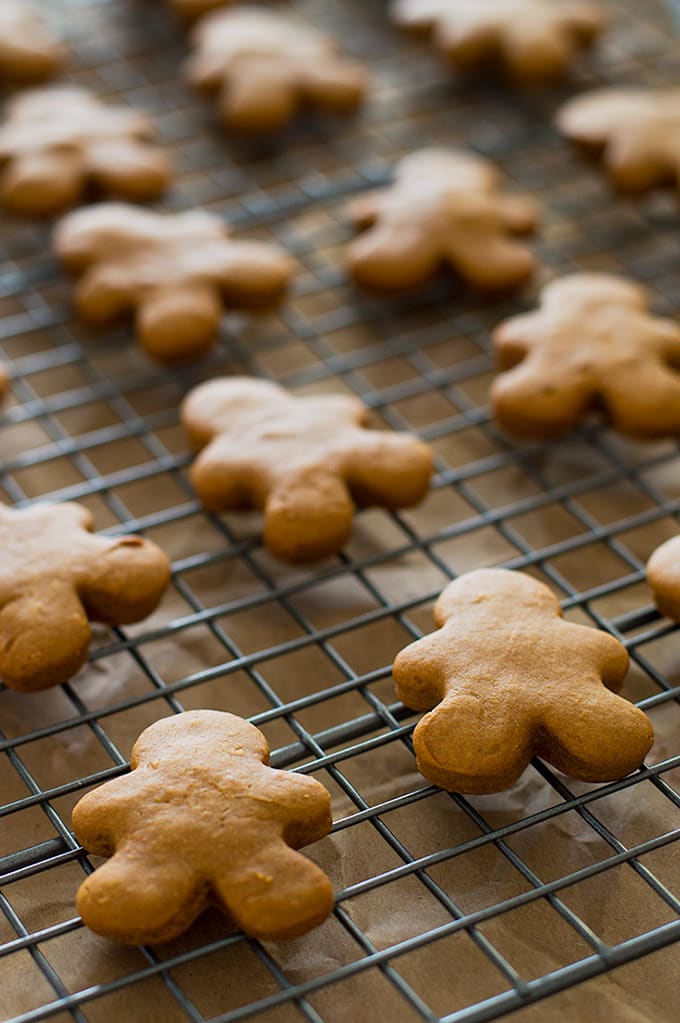 Hey, Tracy, I'm sure you're asking, why are you posting another gingerbread cookie recipe? Didn't you just post a small-batch of gingerbread cookies on Friday?
The answer is yes. Yes, I did. And those cookies are great. You should totally make some for yourself (and maybe some Chai Sugar Cookies with Eggnog Glaze and Mini Hot Chocolate Cookies too 😉 ). But today's cookies are not for you. They're for your pets!! Specifically, gingerbread for dogs and gingerbread for horses.
I mentioned in my Carrot Oat Applesauce Treats post, that I have a bad habit of feeding Daff (Arabian) and Ella (Lab mix) people food. This goes double around the holidays because I feel like I'm enjoying all these sweet treats, why shouldn't they?
But I know that's not the greatest thing for them, so this year, I made Daff and Ella some of their own gingerbread cookies! There's no granulated sugar, just molasses, and then flour, some ginger and other spices, and a little bit of oil. Ginger's even a great digestive aid for dogs, so these are some cookies you can feel good about sharing.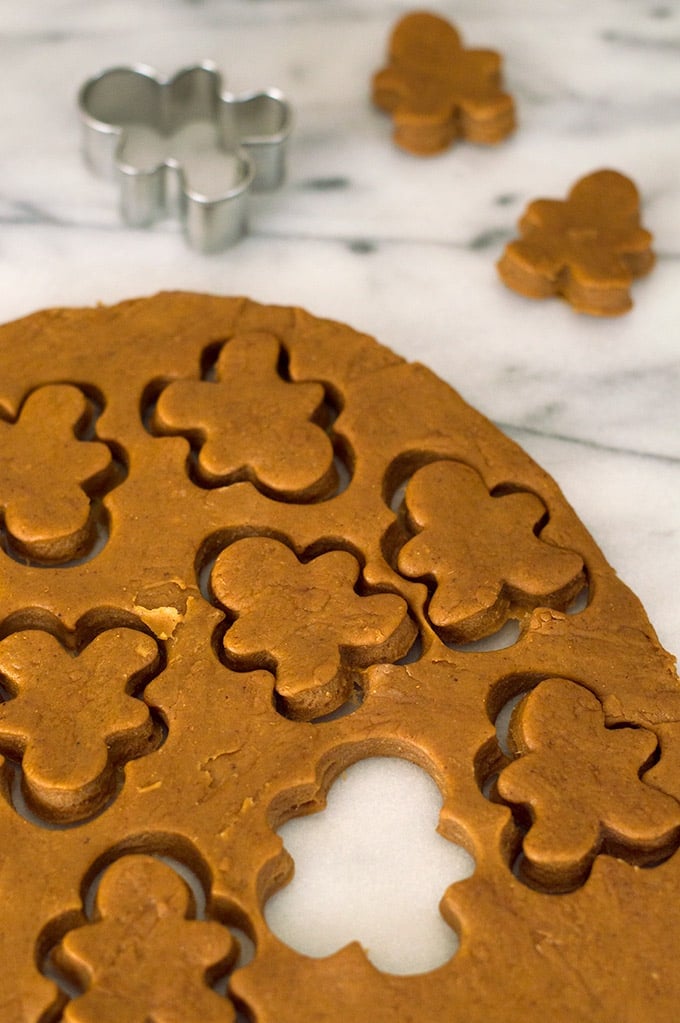 Easy Gingerbread Treats for Dogs (and Horses)
I love this recipe. It's super simple to throw together. The dough is easy to work with, and Ella and Daff love them. Plus, the treats are indistinguishable (to the eye) from regular gingerbread cookies, so if you make human and dog gingerbread cookies at the same time, have fun with hungry friends and family refusing to tell them which is which. 😉
My original plan was to fill this post with adorable photos of Daff and Ella enjoying these treats, but Daff looks like a shaggy grey winter monster right now and in all the still photos I took of Ella, she's either drooling or staring at the treats so longingly, it looks like her heart is broken. So here's a GIF of her licking her chops over one instead.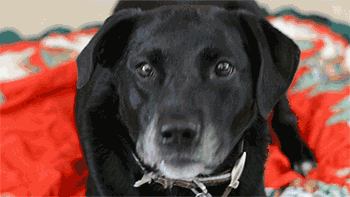 I should note, gingerbread is often on the list of foods not to feed to pets. This is because many gingerbread recipes contain nutmeg, which is toxic to dogs in large quantities.
This recipe contains no nutmeg and only dog and horse safe ingredients, but as always, please consult your vet if you have any questions or concerns about what you are feeding your pet!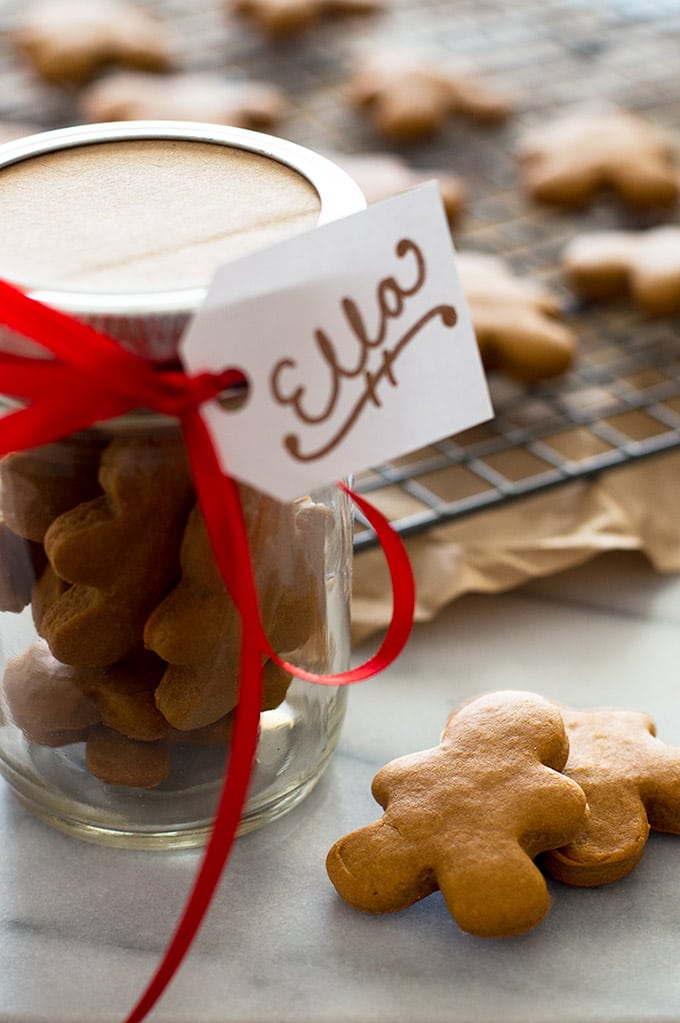 Easy Horse and Dog Gingerbread Treats Recipe Notes
These treats are super easy to make, but be sure to measure your flour by weight or the spoon and sweep method (spoon flour into your measuring cup, swipe excess off with the flat of a knife). Too much flour and you will end up with streaks in your dough.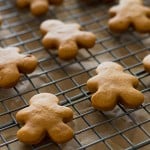 Print
Easy Horse and Dog Gingerbread Treats
Horse and Dog Gingerbread Treats are a simple and easy way to show your pets you care this Christmas!
Ingredients
1 1/2

cups

(

180

g) all-purpose flour

measured by weight or using the spoon and sweep method*

1

tablespoon

ground ginger

1/2

teaspoon

ground cinnamon

1/4

 teaspoon

 ground cloves

1/4

 cup

molasses

 1/4 

cup

water

2

tablespoons

vegetable oil
Instructions
Preheat your oven to 325°F and line a baking sheet with parchment paper or silicone baking mat.




In a medium bowl, whisk together dry ingredients.

In a small bowl, whisk together molasses, water, and oil. Using a wooden spoon, slowly mix liquid ingredients into the flour mixture, stirring until well-combined and uniform in color (some times I work the dough a little by hand to make sure all streaks of flour are mixed in--see recipe notes on dough texture).

On an a clean, smooth surface, roll or pat dough to 1/4-inch thick and cut out shapes, gathering dough and re-rolling as necessary. Bake for 20 minutes and allow cookies to cool on the baking sheet.
Notes
*Correct flour measurement is very important in this recipe. For best results, measure by weight or the Spoon and Sweep Method (stir the flour in your container to fluff it up and then spoon it into your measuring cup, sweep excess off with the flat of a knife).
Dough should feel similar to play-doh, soft and not sticky, but slightly tacky and easy to work with. If dough is dry and crumbly, add water by the 1/2 teaspoon until it comes together. If dough is too wet or soft, work in flour, about 1 tablespoon at a time until it's easy to work with. 
Store treats in an airtight container at room temperature or in the freezer for up to 3 months. 
Nutrition
Recipe Slightly Adapted From Dog Treat Kitchen