Snowball Cookies are perfect Christmas cookies. They have a cute festive name, they're super easy to make, and they're a crowd-pleaser, so everyone's happy when they show up on a cookie plate.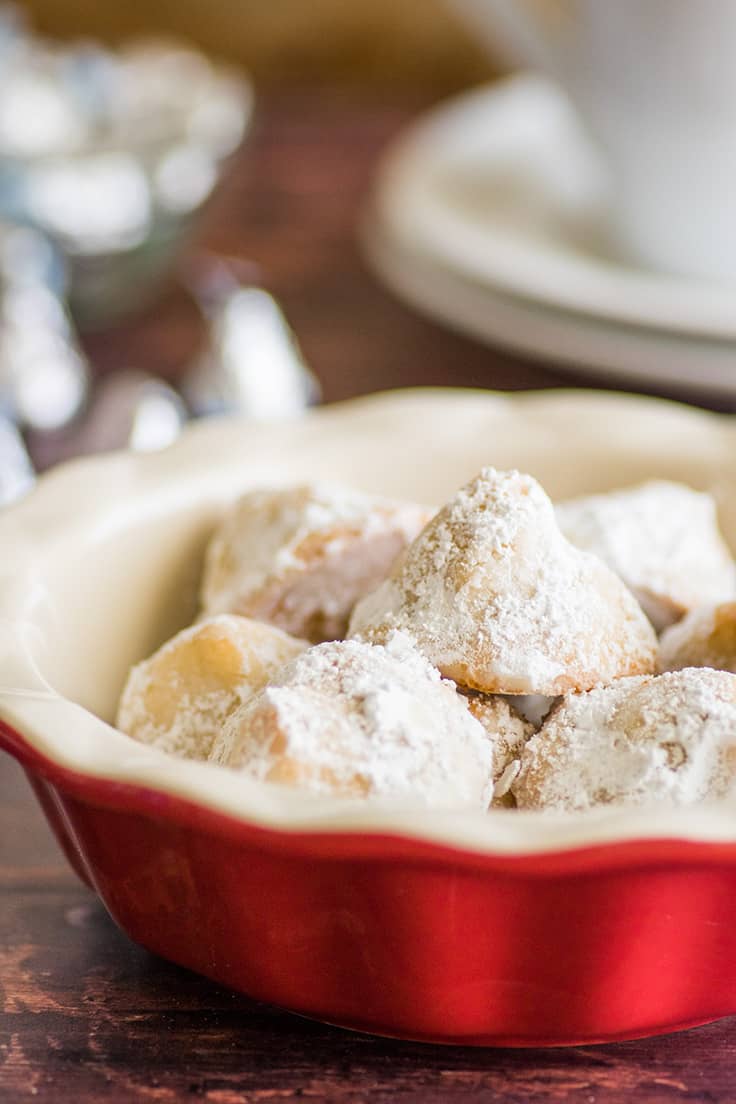 Good Monday morning to you. How was your weekend? Mine was work-filled. The ladies of my family took Thursday and Friday last week to go see Hamilton in LA and finally visit The Wizarding World of Harry Potter at Universal Studios. The trip was a ton of fun, but it meant that I spent the weekend making up lost time. The result? My No-fail Butter and Garlic Green Beans and Ham and Potato Soup now have recipe videos! Those are two of the most-loved and easiest recipes on the site, so if you haven't tried them yet, go watch the new videos and then make them. They are both equally the best. 🙂
And speaking of delicious things, as Thanksgiving hurtles towards us (3 days!! ARE YOU READY!?), it's almost time to start thinking about what comes after the turkey and the gravy and the mashed potatoes and the green bean casserole and the pumpkin pie.
And the food coma…
Christmas cookies. Christmas cookies are what come after Turkey Day, and you might not be quite ready for them just yet in this pre-Thanksgiving world, but come back on Friday, because you need these cute little snowball cookies in your life.
Snowball Cookies are perfect Christmas cookies. They have a cute, festive name, they're super easy to make, and they are a crowd-pleaser, so everyone's happy when they show up on a cookie plate.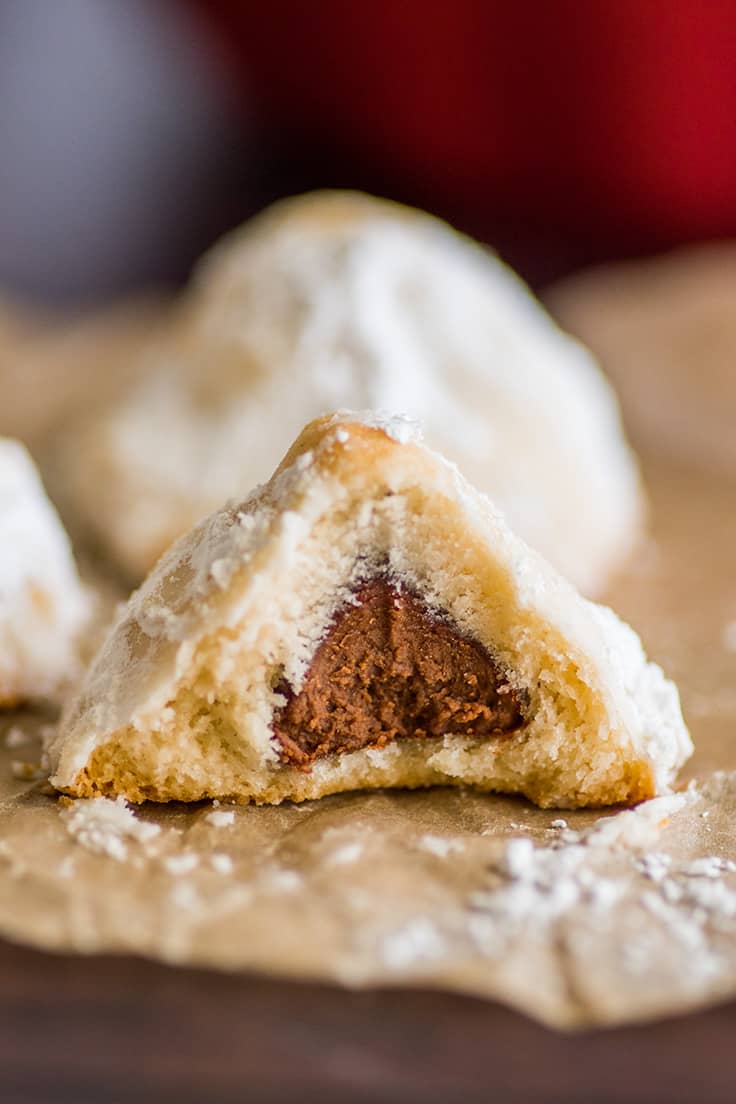 There are a lot of versions of snowball cookies out there. Most of them involve nuts, some of them pie crust, but this is what a snowball cookie was to me when I was younger: crunchy, crumbly, buttery shortbread wrapped around a Hershey's kiss and dredged in powdered sugar. So. Much. Powdered sugar.
I love them. I make them every year when my whole family is together for the holidays, and I always stash a couple at the back of the cupboard just for myself because even set out among total winners like my Snickerdoodle Sandwich Cookies, Chai Sugar Cookies, and Gingerbread Men, they are always one of the first cookies to disappear.
Generally, I make a big batch of them for the holidays because the family loves them, and I like to include them in cookie trays for friends and neighbors, but I'm sharing a small batch today that makes about 10 cookies for those quiet December evenings when you're not feeding a house or a neighborhood full of people.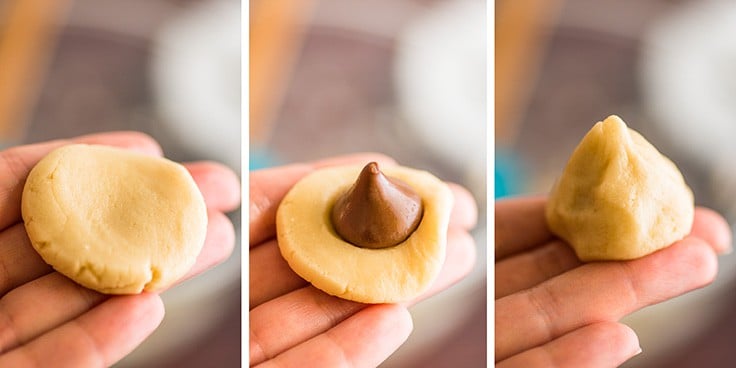 As much as I like these cookies for gatherings and gifting, they work great as a personal treat during the crazy busy holidays because they're simple to make and come together quickly.
The shortbread starts with softened butter beaten with flour, powdered sugar, and a dash of vanilla, and then you wrap balls of the dough around a chocolate Kiss, no chilling required. The cookies bake, take a dip in powdered sugar,  and then are ready to be devoured. The whole process takes less than half an hour.
The best part about making these for yourself and enjoying them at home is that you can eat them hot. I love these cookies at room temperature; their crumbly shortbread texture works so well with the hard bite of chocolate inside.
BUT, you can also eat them right out of the oven while they're still warm, and it is amaaaazing. Eaten hot, the shortbread is still a little crumbly, but also just a bit soft and the chocolate inside is molten, so when you bite into it, the cookie is gooey, chocolatey, buttery perfection.
Ugh, my mouth is watering now just talking about it so I'm ending this post here.
Go make these cookies, or pin them and come back and make them before the holidays are over. Your Christmas will be all the sweeter for it.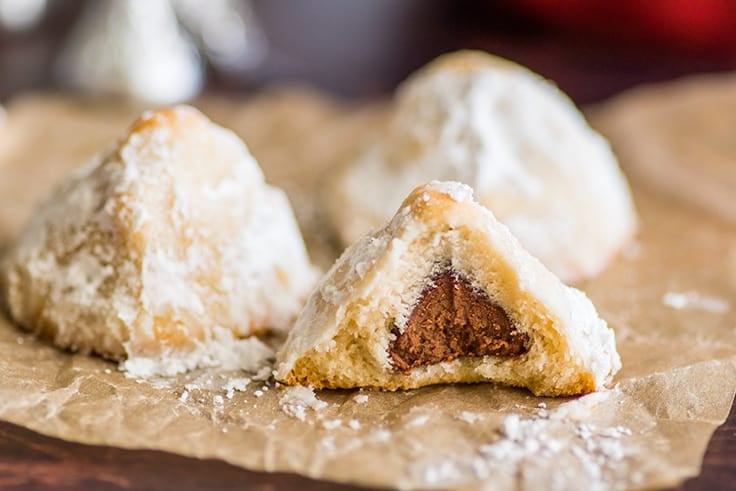 Snowball Cookies Recipe Notes
If you don't want an entire big bag of kisses around your house, you can usually find mini bags of them in the candy aisle at the grocery store and most convenience stores.
And if you want to make these a part of your larger Christmas festivities, you can change the recipe yield by clicking on the number of servings in the recipe and sliding the slider. No preparation changes are needed for a giant batch and neighbors and extended family will thank you.
Looking for more Small-batch Cookie Recipes? Try my Small-batch Chocolate Chip Cookies, Small-batch Shortbread, and Small-batch M&M Cookies!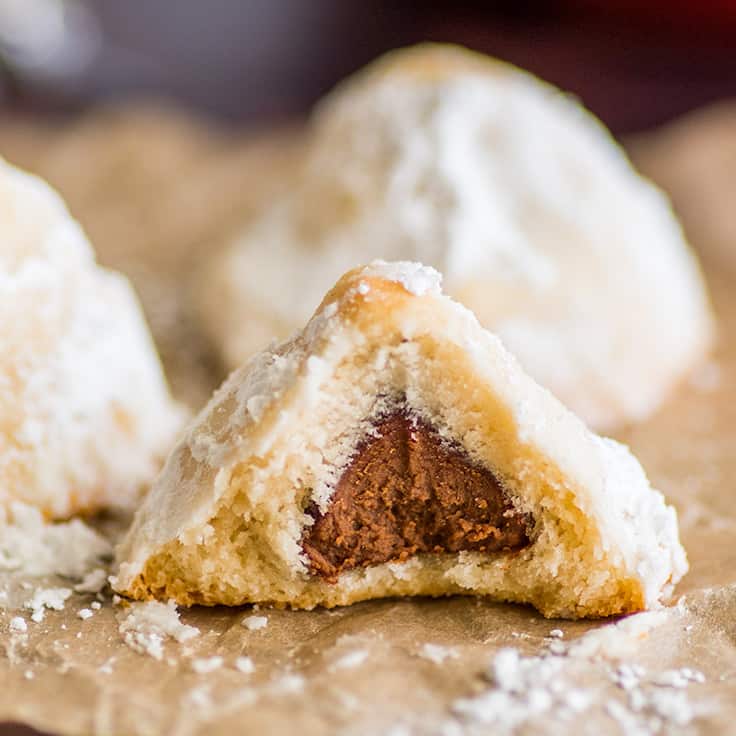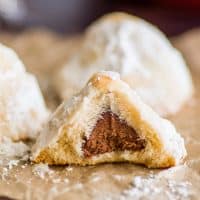 Small-batch Snowball Cookies with Kisses
Snowball Cookies are perfect Christmas cookies. They have a cute festive name, they're super easy to make, and they're a crowd-pleaser, so everyone's happy when they show up on a cookie plate.
Print
Servings (Hover or Click to Change Yield):
10
cookies
Ingredients
10

Hershey's Kisses

1/4

cup

(

2oz

) salted butter

softened

2

tablespoons

(

15g

) powdered sugar

1

teaspoon

vanilla extract

1/2

cup

+

1

tablespoon (

67g

) all-purpose flour
Topping
1/2

cup

(

60g

) powdered sugar
Instructions
Preheat your oven to 400°F and line a baking sheet with parchment paper or silicone baking mat. Unwrap

10

Kisses and set aside.

In a medium bowl, combine softened butter, powdered sugar, and vanilla. Beat until well combined and fluffy, about 1 minute. Add flour and beat, starting on low, working up to high until mixture clumps and forms a dough. Scrape bottom and sides so no streaks of flour remain.

Scoop a half-ounce spoonful of dough and roll into a ball. Flatten the dough between your palms and set a Kiss in the center. Wrap the edges of the dough around so all the chocolate is covered. Place on prepared baking sheet and repeat with the rest of the dough and candies.

Bake for 9 to 11 minutes, until the edges of the dough are lightly browned. Cool on the baking tray.

Pour powdered sugar into a bowl and roll cooled* cookies in the sugar until coated. Enjoy!
Notes
*If eating the cookies warm, you can roll them in powdered sugar as soon as they are cool enough to handle.