This Small Batch of Cut-out Sugar Cookies recipe makes just 8 to 12 perfect sugar cookies and is quick and easy, with no dough-chilling time required!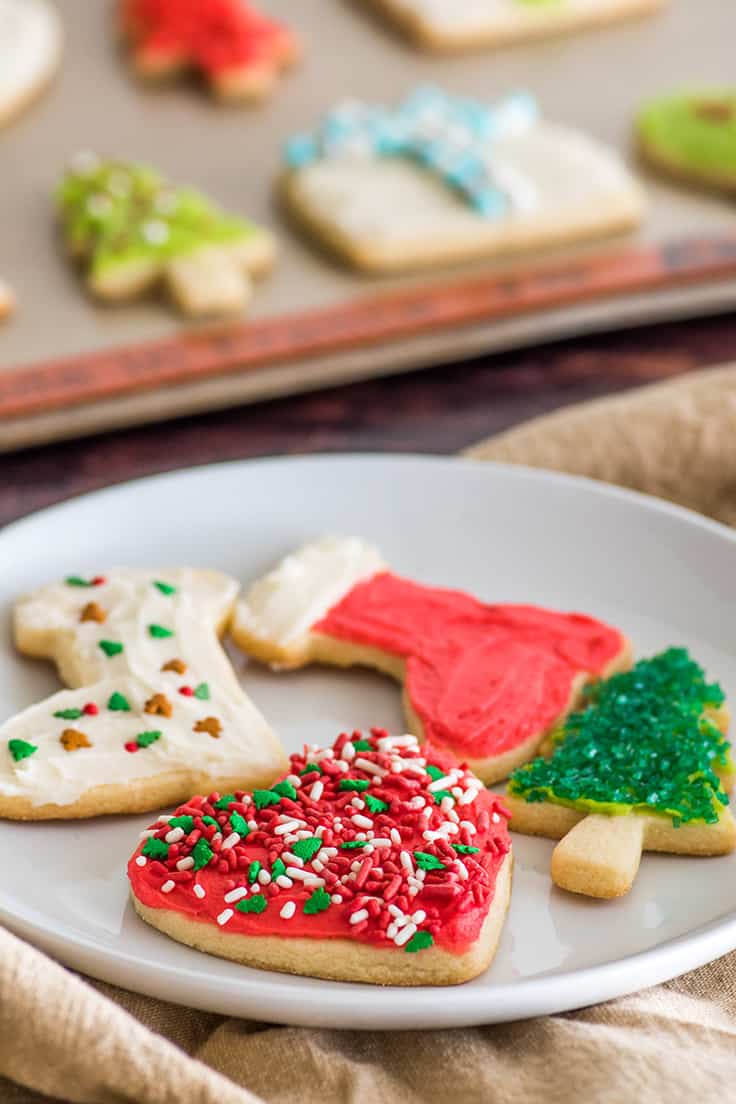 Happy happy Saturday! How is your first official week of the Christmas season treating you? Is your tree up? Have you started playing Christmas carols? I'll be honest, right after Thanksgiving, I wasn't quite in the Christmas spirit, but then I made today's cookie recipe and blasted some Christmas tunes while I decorated and took photos of them, and by the time I was finished and sharing one with Ella, it had started to feel like Christmas.
Today's recipe is this sweet little batch of cut-out sugar cookies. It will make about a tray-and-a-half of sugar cookies, that's 8 to 12-ish normal sized cookies depending on how you cut them out, and it's the perfect recipe if you love decorating cookies at Christmas but you don't have a lot of people around to feed them to.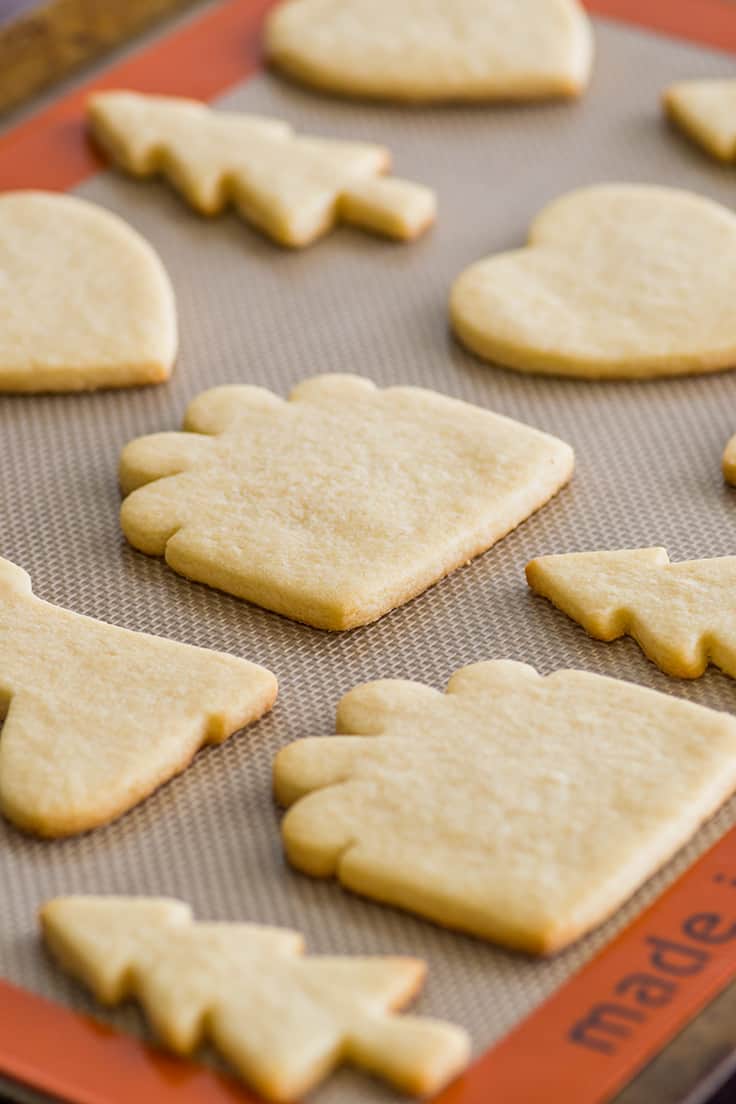 With this recipe, you still get your cookie decorating fix (maybe with a couple of friends over, some spiked hot chocolate, and a fire going in the background to keep you all cozy while you work), but you don't have to find homes for (or accidentally eat) a mountain of cookies when you're done.
The cookies are easy to make (though please read the recipe notes on flour measurement before starting), with a dough that is great to work with. Best of all, the cookies don't need to be chilled, so between making, baking, and cooling time, you can be decorating them in about an hour.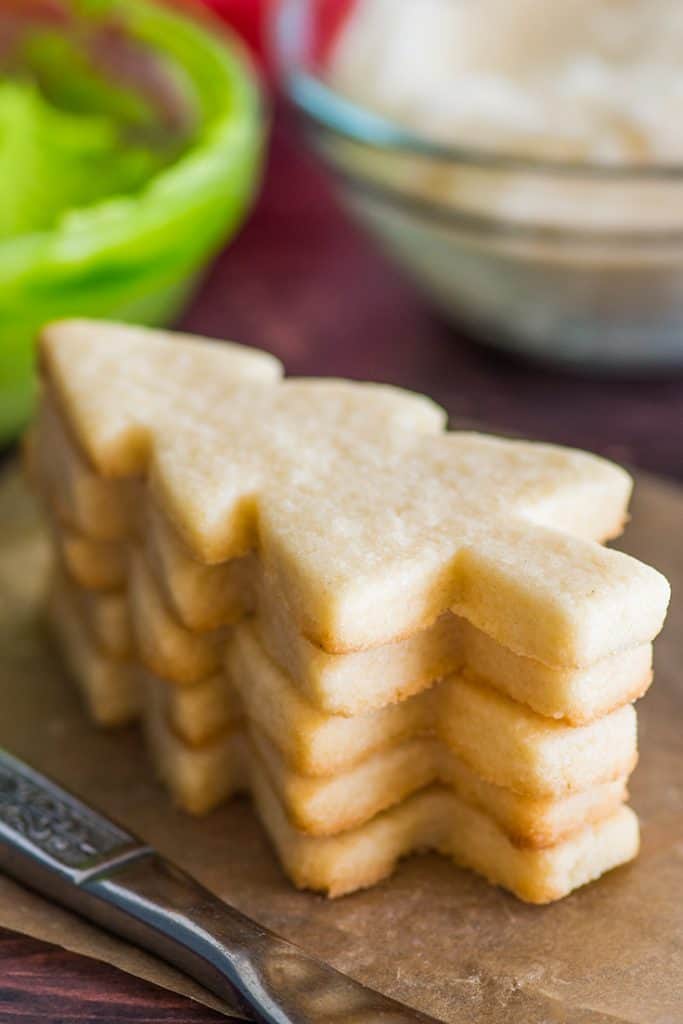 And did I mention that they are also just plain yummy? Cut-out sugar cookies are not usually my cookie of choice, but these are really good. They're just the right level of not-too-sweet, with crunchy edges and slightly chewy centers.
I didn't even bother to frost my test batches, just froze them plain, and I've been happily eating them right out of the freezer for weeks. Cover them with a bit of buttercream frosting and some sprinkles though, and they're the ideal Christmas cookie.
You should definitely go make a batch right now. ❤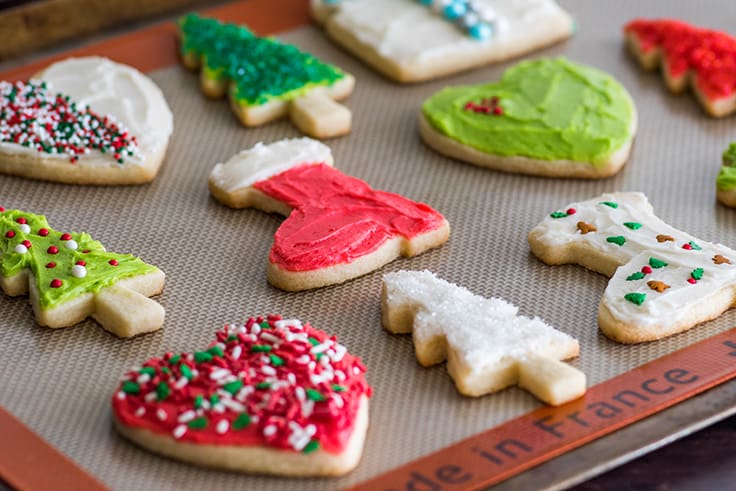 This post may contain affiliate links, which means I receive a small commission if you make a purchase using them. There is absolutely no additional cost to you.
Cut-out Sugar Cookie Recipe Tips
This dough is very easy to work with, but because it's not chilled, the cut-out cookies can be difficult to pick up if your work surface doesn't have enough flour. I like to use a metal spatula to lift up the cookies to easily transfer them from work surface to baking pan.
When baking, for evenly cooked cookies, bake similar sizes and shapes together. Things with lots of edges like stars, trees, and reindeer will cook much faster than things like stockings and presents, etc..
Flour measurement is very important in this recipe. Too much flour can cause your dough not to come together. Please see the recipe notes below the recipe for more information.
These cookies are great with royal icing or a simple buttercream. I've included my Small-batch Vanilla Frosting recipe below the cookie recipe, but if you want to change things up, try one of my other Small-batch Frosting Recipes.
Looking for more Small-batch Cookies? Try these (Soft) Small-batch Frosted Sugar Cookies, Small-batch Shortbread Cookies, Small-batch Snowballs, and Small-batch Oreo and Andes Chocolate Cookies!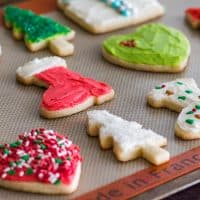 Small Batch of Cut-out Sugar Cookies (No-chill)
This Small Batch of Cut-out Sugar Cookies recipe makes just 8 to 12 perfect sugar cookies and is quick and easy, with no dough chilling time required!

Print
Servings (Hover or Click to Change Yield):
12
cookies
Ingredients
Special Equipment
Rolling pin

Cookie cutters

Metal spatula
Small Batch of Cut-out Sugar Cookies
1

cup

(

120g

) all-purpose flour

measured by weight or using the spoon and sweep method* plus more for rolling

1/4

teaspoon

baking powder

1/4

teaspoon

salt

1/3

cup

(

76g

) unsalted butter

softened

1/3

cup

(

66g

) granulated sugar

1

large egg yolk

1/2

teaspoon

vanilla extract
Instructions
Preheat the oven to 375°F and line two baking sheets with parchment paper or silicone baking mats.

In a small bowl, whisk together flour, baking powder, and salt. Set aside.

In a medium bowl, combine softened butter and sugar. With a handheld electric mixer on medium, cream together until light and fluffy, about 1 minute. Add egg yolk and vanilla and mix until well-combined.

Add 1/3 of the flour mixture, and mix on medium until mostly combined. Add half of the remaining flour and repeat. Pour in the rest of the flour and continue to mix until the dough begins to clump (this may take a little while) and you can form it into a ball with your hands.

Lightly flour your workspace and rolling pin and roll dough out to just under 1/4-inch thick. Dip cookie cutters in flour and cut out your cookies, placing them at least an inch apart on the trays. Use a metal spatula to pick up the cookies if they stick to your work surface at all. Continue to cut out cookies, gathering dough and re-rolling as necessary until all the dough is shaped.

Bake cookie sheets, one tray at a time, for 6 to 9 minutes, until the edges of the cookies just start to turn golden. Cool completely before frosting. And enjoy!
Notes
*Correct flour measurement is very important in this recipe. For best results, measure by weight or the Spoon and Sweep Method (stir the flour in your container to fluff it up and then spoon it into your measuring cup, sweep excess off with the flat of a knife).
If you don't own a handheld electric mixer, you can make these cookies by hand, but to get the dough to come together, you may need to wet your hands with water and knead the dough into a ball at the end.
Adapted from Food.com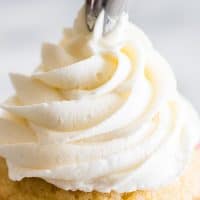 Small-batch Vanilla Frosting
This is the perfect Small-batch Vanilla Frosting recipe. It's rich, delicious, and so easy to make.
Print
Servings (Hover or Click to Change Yield):
8
Ingredients
4

tablespoons

(

2oz

) unsalted butter

softened

1

cup

(

120g

) powdered sugar

sifted

1

teaspoon

to

1

tablespoon milk or cream

1/4

teaspoon

vanilla extract

Pinch

of salt
Instructions
In a medium bowl, beat softened butter until light and fluffy, 30 seconds to 1 minute. Add powdered sugar,

1

teaspoon of milk or cream, vanilla extract, and salt.

Beat until smooth. Add up to

2

additional teaspoons of milk until frosting reaches your desired consistency.
Notes
To substitute vanilla bean for extract, use 1/2 to 1 inch of vanilla bean, to taste. For paste, follow the substitution guidelines on the jar, as it varies from product to product.