The cutest mini pizza tarts baked in a delicious buttermilk pie crust tart shell.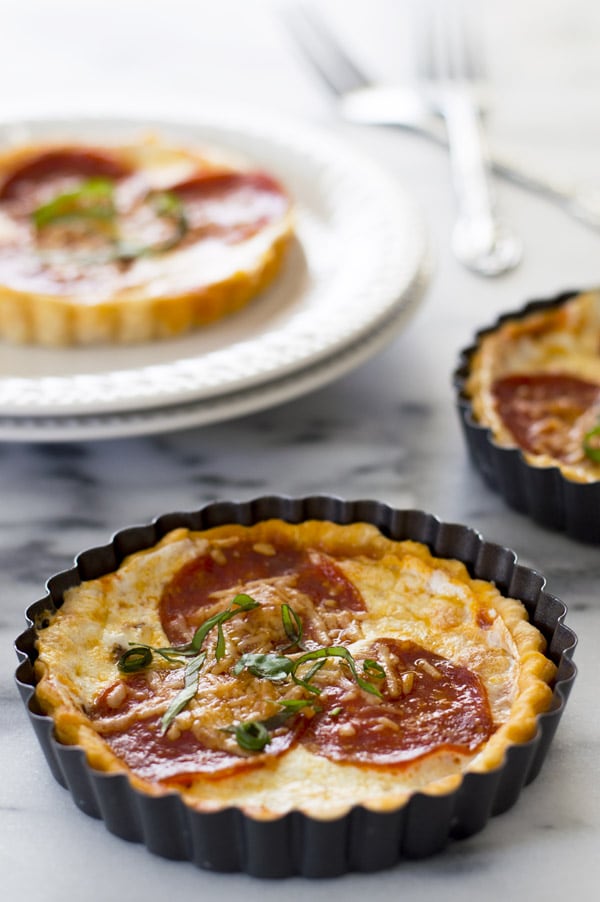 Last weekend my parents were in LA for a concert, so I asked them to drop by Crate and Barrel to pick me up a pastry slab while they were there. I may have underestimated the terribleness of LA parking, because my poor wonderful, lovely parents, and my sister, with whom they were staying, ended up having to carry the solid marble board through the streets of LA back to where they'd left their car.
So I just want to say publicly to them, thank you for that. Um, my bad.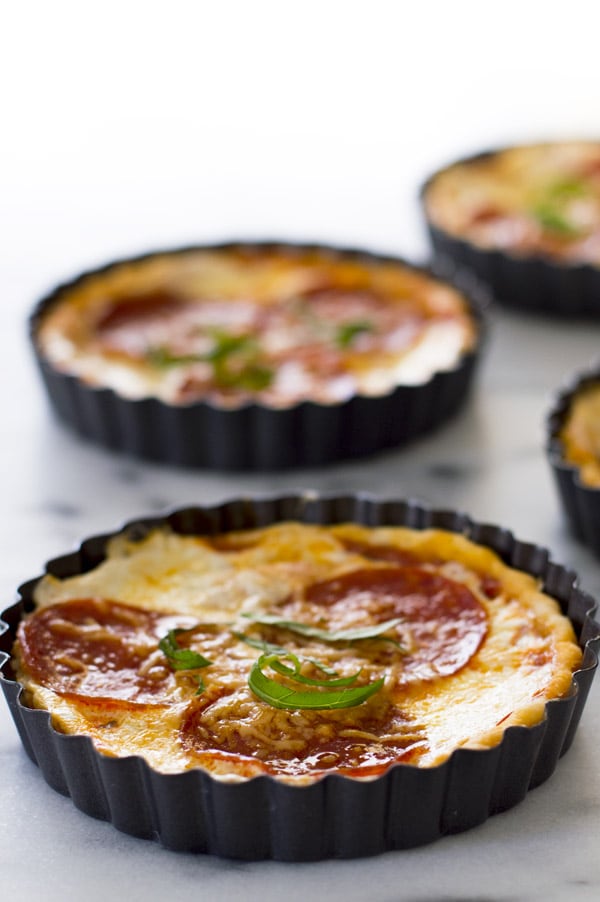 Totally worth it though (she says, not having carted the piece of rock through a busy city), because this slab is great and is the entire reason today's recipe exists. Obviously, with the new pastry slab, I had to break it in and make a pastry, but it's a little (A LOT) hot for pie here in SoCal, so I made Pizza Tarts!!
These are my new favorite things. For the tart shell, I went back to my old friend, My Favorite Buttermilk Pie Crust. Turns out that not only is it an amazing (and amazingly easy to make) pie dough, it also makes for a killer tart base.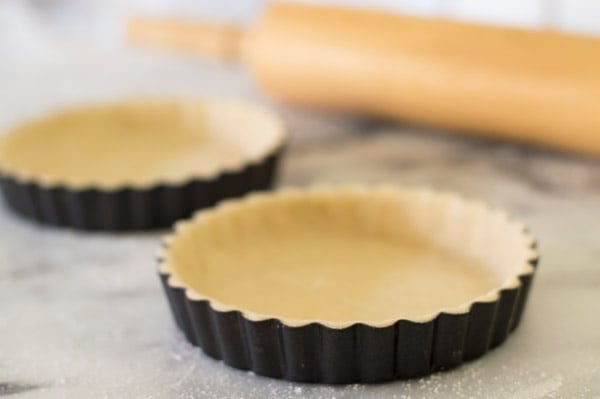 Then I filled that tart base with all the makings for pizza, homemade pizza sauce (it doesn't have to be homemade, but that sauce is amazing), mozzarella, pepperoni, and a bit of Parmesan. You're never really going to go wrong with those ingredients, but put them in a flaky buttermilk shell and it's basically magic.
When they came out of the oven with the cheese all gooey and bubbling, it was all I could do not to take a bite before taking pictures!
As for how to serve them, they would make a fun and unique dinner for two (serve with a side salad), or they would be the cutest appetizers. Quartered, they are two-to-three-bite treats and would look like perfect mini slices of pizza!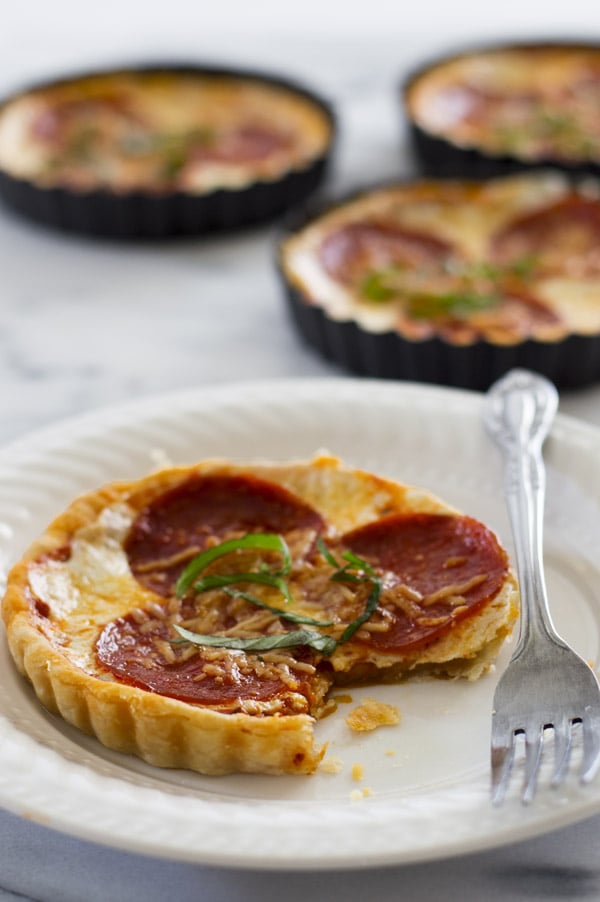 If you don't already own a set, these are the mini tart pans* I own. I've been making a lot of tarts lately and the pans are fantastic. But you could also make these pizza tarts in a cupcake pan, with a slightly shorter cooking time.
And one more note, you don't have to blind bake the shells–I didn't for the ones I photographed, but I've included instructions in the recipe for it, and think I will in the future for extra crispy bottoms and sides. It's up to you!
More Pizza Recipes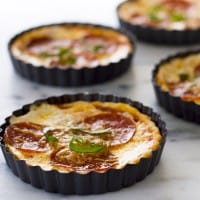 Pie Crust Pizza Tarts
The cutest mini pizza tarts baked in a delicious buttermilk pie crust tart shell.
Print
Pin
Servings (Hover or Click to Change Yield):
4
Ingredients
Special Equipment
1/2

batch

My Favorite Buttermilk Pie Crust

4

tablespoons

pizza sauce

homemade or store-bought

1/2

cup

(

2

oz) shredded mozzarella

12

slices

good-quality pepperoni

2

tablespoons

Shredded Parmesan cheese

4

small basil leaves

thinly sliced
Instructions
Prepare Tart Crust
Preheat oven to 400°F.

Divide dough into

4

even pieces. If it's warm in your kitchen, place all but one of the pieces in the refrigerator while you make your first tart. On a well-floured surface, roll dough out thinly enough that your tart pan can sit on top of it and have at least 1-inch of space all the way around the sides.

If your tart pan has a removable bottom, place dough over the bottom disk and fold dough up so that none of it hangs over the sides. Drop tart bottom and dough back into the rest of the pan and unfold the dough. (If your tart bottom is not removable, just drape the dough over the entire pan.

Press the dough gently into the sides of the pan and then run your rolling pin lightly over the rim to pinch off the excess dough.

Repeat with the rest of the dough.
Blind Bake (optional for a crispier bottom and sides)
Place tart pans on a baking sheet and cut four pieces of parchment paper so they cover the tops of the tarts. Fill tarts with pie weights, dry beans, or uncooked rice and bake for 10 minutes. Remove weights and paper and place back in the oven for 2 to 3 minutes, just until the bottom of the tart looks dry and the edges are very slightly golden. Remove from the oven and if the bottom has puffed up at all, gently pat it down.
Assemble
Spread each tart with 1 tablespoon pizza sauce, 2 tablespoons mozzarella, 3 slices pepperoni, and sprinkle with Parmesan cheese.

Place tart pans on a cookie sheet and bake for 15 to 20 minutes, until cheese is bubbly and crust is golden.

Cool for at least 5 minutes before serving or cutting. Sprinkle with fresh basil if desired.
This post contains affiliate links, which means I receive small commission if you make a purchase using one of the links. There is absolutely no additional cost to you.