Naan Pizza is the perfect no-fuss meal for busy weeknights. It's reliable, easy, and so good.
If you need a quick and easy midweek meal, it really doesn't get better than Naan Pizzas. They feel like a total treat, prep and cook in about 20 minutes, and you can grab all the ingredients pre-made, pre-shredded and ready to go on your way home from work.
This recipe will make four naan pizzas. If that's a couple pizzas too many for you, I highly recommend freezing the leftovers (or double the recipe and make extras for freezing) because naan pizzas freeze extremely well.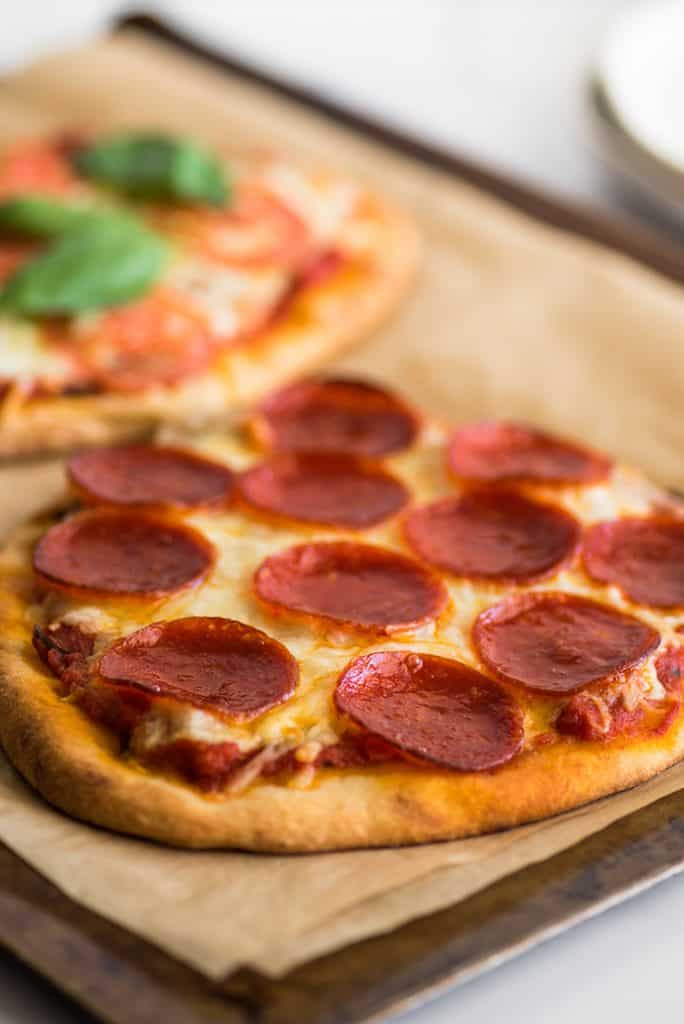 Once reheated in the oven, you can't tell that they were ever frozen, and it's always nice knowing you have a couple of these ready to go in your freezer for busy weeknights or evenings when you just don't feel like cooking.
Why Use Naan for Pizza?
Naan makes a great pizza crust alternative because it's nicely portioned to make individual pizzas and when baked, has the texture of a good, medium-crust pizza.
It's not too crunchy, not too doughy, but perfectly bendy with slightly crispy edges. It's the Goldilocks of pizza crusts.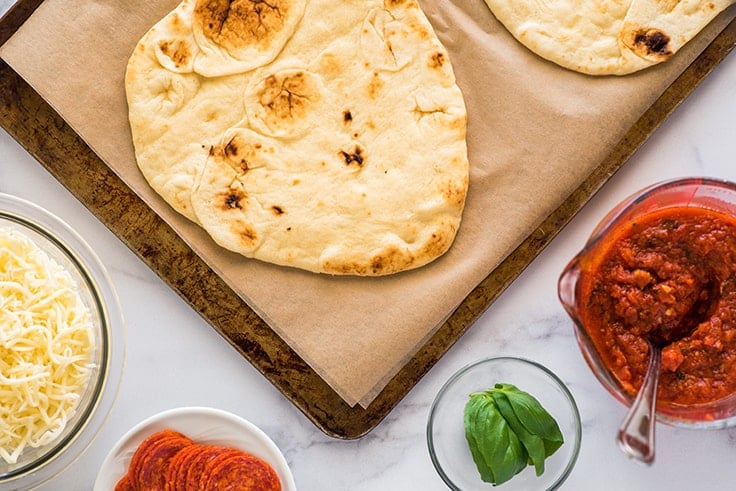 Ingredients
Naan: You should be able to find naan at your local grocery store in the bakery section or bread aisle. Some stores like Trader Joe's sell it frozen. Homemade/leftover naan from a restaurant will also work, but it might be smaller/thinner than the packaged, store-bought stuff, so keep an eye on it in the oven as it will cook more quickly.
Pizza Sauce: You can use store-bought sauce if you're short on time, but I've also included the recipe for my very favorite homemade pizza sauce. It will add an extra 25-ish minutes to your dinner prep, but it's so bright and tangy and delicious, I think it's worth the extra time if you've got it.
Cheese: Classic mozzarella is my go-to, but you can really use whatever combo of melty cheeses you want depending on what you're in the mood for.
Toppings: Pick your favorite toppings and load the pizza up with them. You can never go wrong with pepperoni, or if you're feeling healthy, pile it high with veggies.
How to Make Naan Pizza
Make the pizza sauce by simmering tomatoes, olive oil, garlic, basil, and a bit of sugar together until thick and delicious. Or pop open a jar of store-bought sauce.
Assemble the pizzas and bake until the edges are toasty and cheese is melty.
Slice and enjoy.
More Naan Pizza Ideas
In the recipe card below, I've included instructions/ingredients for Pepperoni, Margherita, and Veggie Naan Pizzas, but you might also enjoy:

How to Freeze Naan Pizzas
To freeze, first freeze assembled, uncooked pizzas on a tray or plate until frozen solid, about 30-45 minutes. If your freezer is a little chaotic and these pizzas are going to get shifted around in there, wrap them individually in cling wrap to help keep the toppings in place. Then transfer frozen pizzas to a freezer bag. Pizzas will stay fresh in the freezer for up to about 2 months.
When you're ready to eat them, place frozen pizzas on a greased or parchment paper-lined baking sheet and bake in a preheated oven at 400°F for 13-18 minutes. Pizzas are done when cheese is melted and the center is completely warmed through.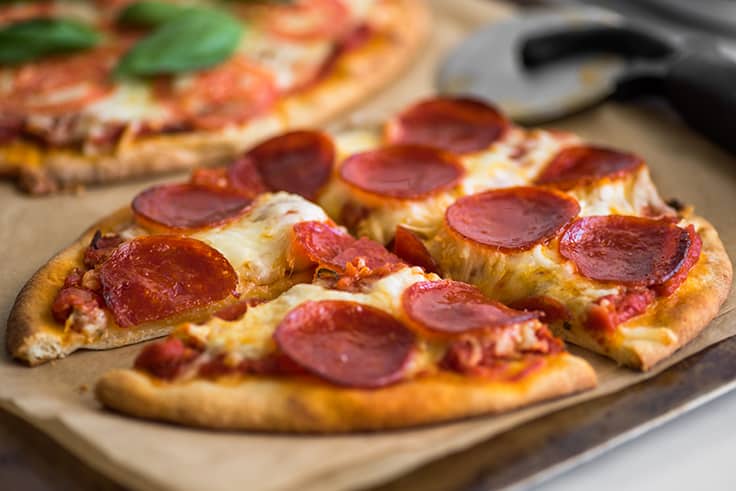 FAQ
My store doesn't sell naan. What can I use instead?
If you can't find naan, any flatbread or pita bread will work in its place. Just adjust the cooking time as necessary if the bread is particularly thin or thick.
More Easy Dinner Recipes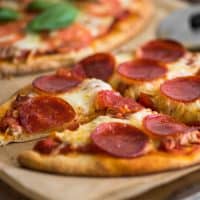 Easy Naan Pizza With Make-ahead Freezer Instructions
Naan Pizza is the perfect no-fuss meal for busy weeknights. It's reliable, easy, and so good.
Print
Pin
Servings (Hover or Click to Change Yield):
4
pizzas
Ingredients
Special Equipment
Immersion blender or food processor

if using whole or diced tomatoes

Mesh splatter screen

optional but nice to have
Pizza Sauce
1

28-ounce can crushed tomatoes

(whole or diced will also work)

1/4

cup

extra-virgin olive oil

4

large garlic cloves

pressed or minced

8

fresh basil leaves, thinly sliced

OR

1 1/2

teaspoons dried basil

1/2

teaspoon

(

2g

) granulated sugar

Salt

*
Pizzas
4

naan loaves

2

cups

(

8oz

) shredded mozzarella
Pepperoni
6-7

ounces

good-quality pepperoni
Margherita Pizza
1

large tomato

sliced

Fresh basil leaves
Vegetable Pizza
1

small

bell pepper (any color)

thinly sliced

1/2

red onion

thinly sliced
Instructions
Preheat your oven to 400°F.
Pizza Sauce
If using diced or whole tomatoes, use an immersion blender or food processor to process your tomatoes until they are the consistency of salsa.

In a large pot, over medium heat, heat oil. Add garlic and cook until lightly golden, 30 seconds to a minute. Carefully add tomatoes—oil will sizzle and pop as you do. Stir in sugar and basil. Bring mixture to a simmer.

Turn heat down as needed to keep at a good simmer and cover with a splatter screen if you have one. Simmer for 20 to 30 minutes, stirring occasionally, until sauce has thickened and reduced to about

1 1/2

cups. If you don't own a splatter screen and the sauce is popping too aggressively, turn it down and extend the simmer time as necessary.
Pizzas
Place naan loaves on baking sheets. Cover each with about 1/3 heaping cup of sauce. Top with 1/2 cup of cheese each and desired toppings.

Bake for 12 to 14 minutes, until cheese is melted and naan is golden. If baking all 4 pizzas at once, swap top and bottom trays once halfway through and keep an eye on the bottom tray to make sure the crust is not burning.

Cool on the baking sheet for 5 minutes before slicing, and enjoy!
Notes
*The salt content varies wildly between canned tomato brands, so you may need to add very little or quite a lot of salt depending on the brand you use.
This post may contain affiliate links, which means I receive a small commission if you make a purchase using them. There is absolutely no additional cost to you.