This is the best homemade pizza sauce. It's bright and tangy and so easy to make with just 5 ingredients!
Today I'm sharing my favorite homemade pizza sauce, AKA The Best Homemade Pizza Sauce.
I almost never use the phrase "the best" in my recipe titles because how do you decide which version of a recipe is best? Is it the perfectly delicious recipe you use all the time, or is it the slightly better-tasting version that has so many extra steps that you made it once and never again, or is it the version you grab pre-made at the store that gives you a night off cooking?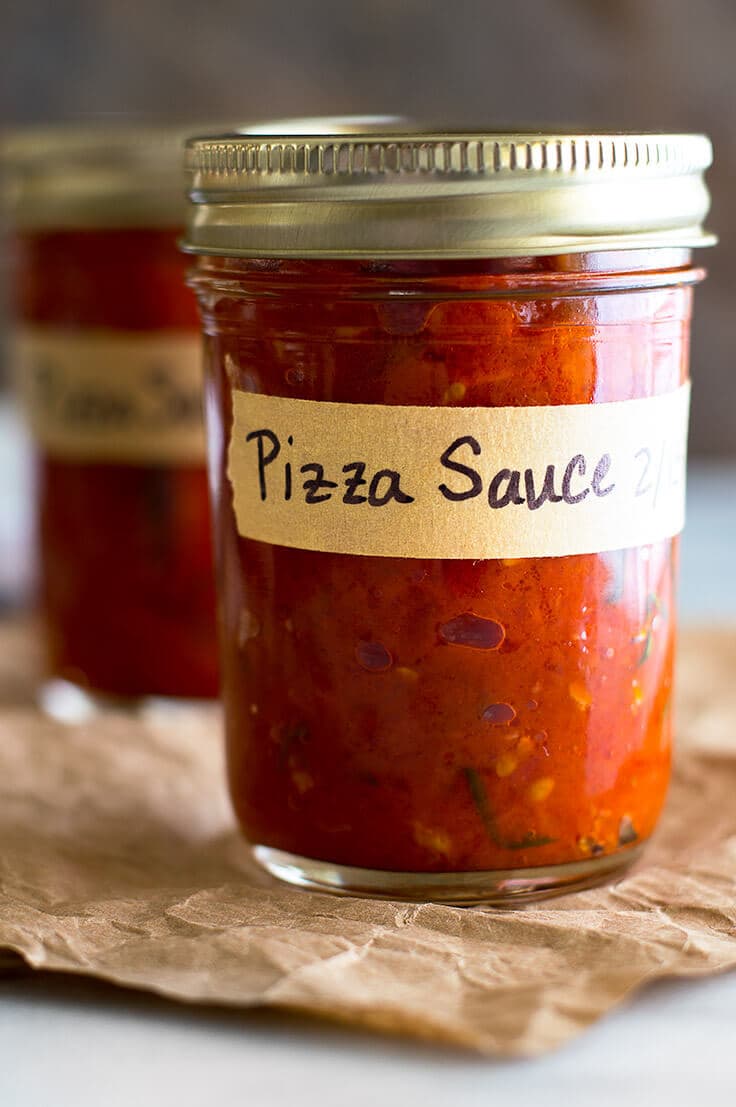 BUT, this sauce is the only homemade pizza sauce I use in my kitchen because it's easy, is my favorite tasting pizza sauce in all the world, and it freezes, so nights I don't feel like cooking, I can grab a bag of it out of the freezer, defrost it in some warm water, spread it on a bagel, top with cheese, and have a quick and easy pizza dinner.
So I'm breaking my no "the best" recipe titles rule because this sauce really is the best.
What does this sauce taste like?
It's SO tangy and just a tiny bit sweet and garlicky and perfect. It packs a ton of flavor, so when you use it on pizza or in calzone it doesn't get lost under all that cheese or dough.
And I guarantee you, once the sauce is done, you will want to eat it with a spoon.
Ingredient Notes
28-ounce can crushed tomatoes: I like to use crushed tomatoes in the recipe (this is my preferred brand), but diced or whole will also work. To use diced or whole tomatoes, pulse them with an immersion blender or in a blender or food processor until the tomatoes are the texture of chunky salsa.
Olive oil: The olive oil in this recipe adds a luscious richness to the sauce that really sets it apart from other pizza sauces.
Fresh basil: Fresh basil is truly excellent in this sauce, but if you don't have any, you can substitute dried basil without any problems.
Pinch of sugar: A little sugar in the sauce really brings out the flavor of the tomatoes and cuts their acidic tang just a little.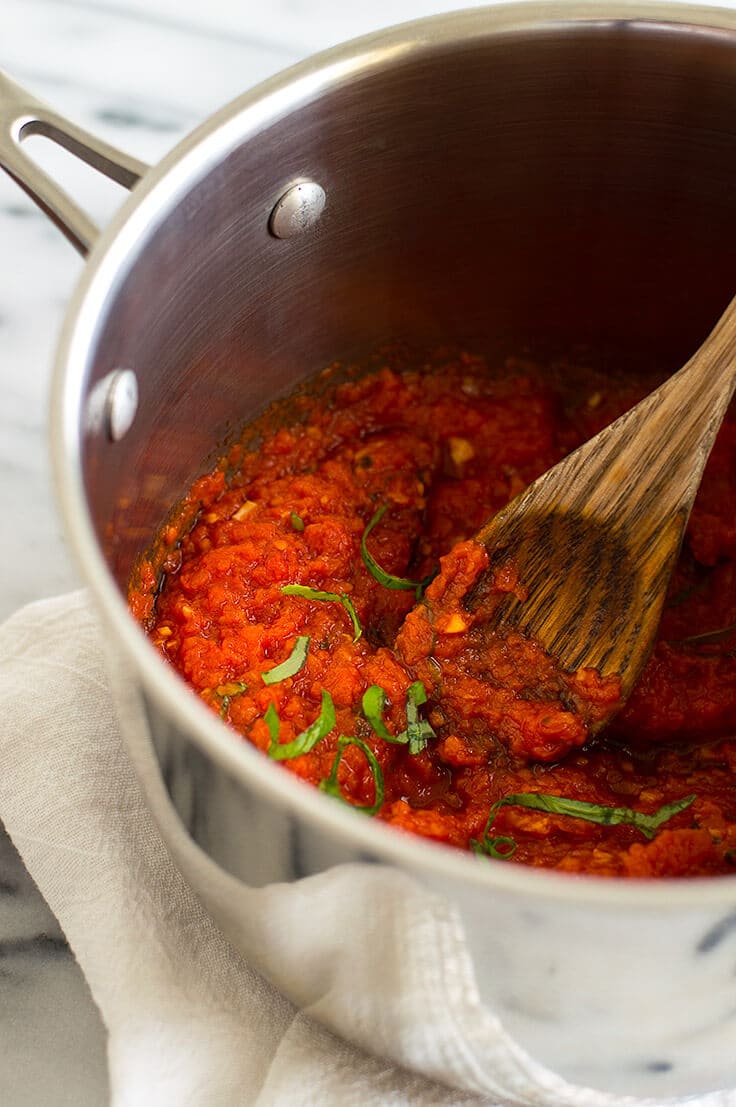 How to Make the Best Pizza Sauce
Heat oil in a large pot (a large pot will reduce sauce splatters and allow the sauce to cook more quickly). Add garlic and cook until garlic is golden.
Carefully add the remaining ingredients (the sauce will pop and sizzle when the tomatoes hit the hot oil) and stir until mixed.
Simmer for 20 to 30 minutes, until sauce is thickened. And that's it. Your sauce is ready to use!
FAQ
My sauce is making a mess while it cooks. What can I do?
Tomato sauce does love to pop and make a mess. If things are getting out of control, turn the heat on the stove down a little so the sauce is simmering less aggressively. A splatter screen is helpful if you have one, and if you don't, consider buying one for future batches. They don't take up much storage space and are very handy for keeping your stove clean.
How much pizza sauce will this make?
This sauce makes about 1 ½ cups of pizza sauce. That will cover:
2 medium homemade pizzas
1 French bread pizza (loaf sliced into two halves)
8 to 10 bagel pizzas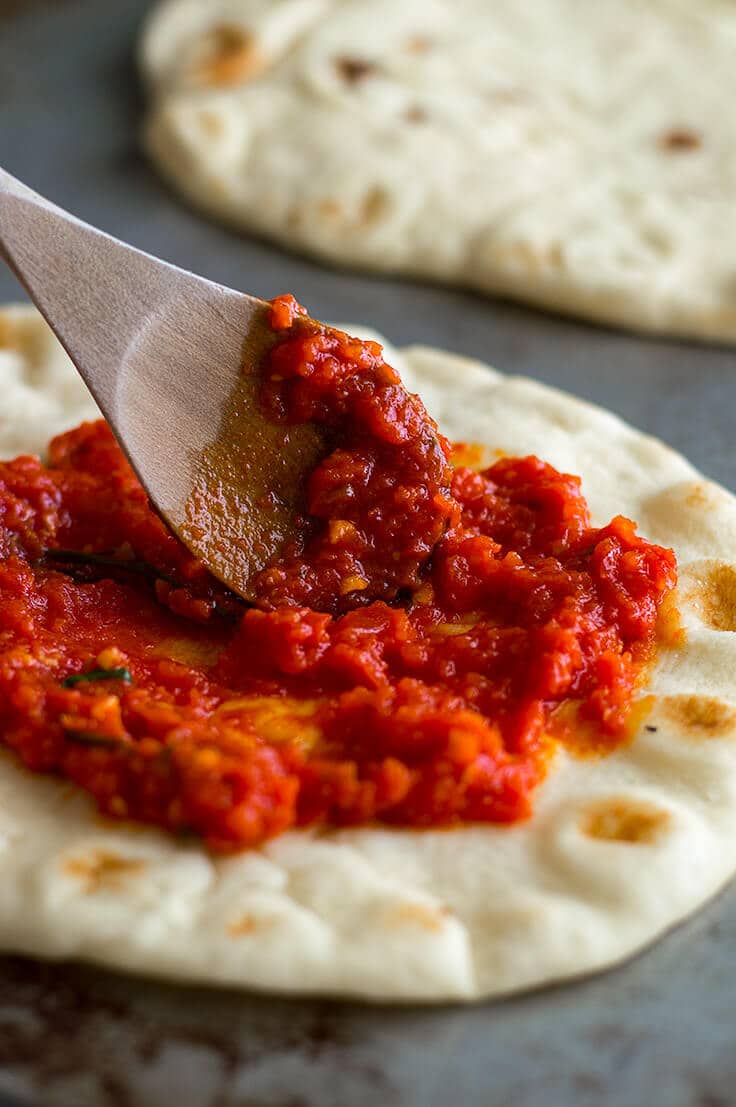 Can I freeze pizza sauce?
Yes! Pizza sauce freezes really well. Store it in freezer bags in the freezer for 2 to 3 months. Defrost in the refrigerator or in a bowl of warm water if you're in a hurry (make sure there aren't any holes in the bag first!!).
Can I double the recipe?
Absolutely. Just be sure you're using a large enough pot so you don't get sauce splatter all over. To change the recipe yield, hover over the serving size in the recipe card below or click if you're on mobile, and slide the slider. No other cooking changes are needed.
Recipes Using this Sauce
You Might Also Enjoy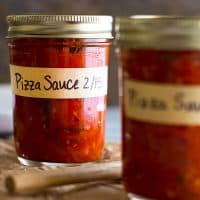 The Best Homemade Pizza Sauce
This is the best homemade pizza sauce. It's bright and tangy and so easy to make with just 5 ingredients!
Print
Pin
Servings (Hover or Click to Change Yield):
8
Ingredients
Pizza Sauce
¼

cup

olive oil

4

cloves

garlic

pressed or minced

1

28-ounce* can crushed tomatoes

*

8

fresh basil leaves

thinly sliced OR 1 ½ teaspoons dried basil

½

teaspoon

(

2g

) sugar
Instructions
Heat oil in a large pot over medium heat (the pot is going to seem much too big, but this sauce likes to splatter and the larger pot will cut down on cooking time). Add garlic and cook until browned and fragrant, about 30 seconds to 1 minute.

Add crushed tomatoes (the oil will sizzle and splash when you add them, so do so carefully), sugar, and basil. Stir and bring to a simmer.

Simmer uncovered* for 20-30 minutes (your cooking time can vary greatly depending on the size of your pot), stirring occasionally, until sauce is thickened and has reduced down to about 1 1/2 cups.
Notes
*Or two 14-ounce cans.
*If you'd like to use diced or whole tomatoes, pulse them in your food processor or with an immersion blender until they're

mostly pureed with some small pieces of tomato still intact, like a not-too-chunky salsa

. 
*If your sauce is making a mess, you can turn the heat down slightly and add a couple minutes to the cooking time, or if you have one, use a mesh splatter screen to keep your stove clean.
Slightly adapted from Epicurious
This post may contain affiliate links, which means I receive a small commission if you make a purchase using them. There is absolutely no additional cost to you.
This post was originally published on 2/22/17. It was updated on 10/25/20 with additional information and tips.