How to quickly ripen bananas to be used in baking recipes.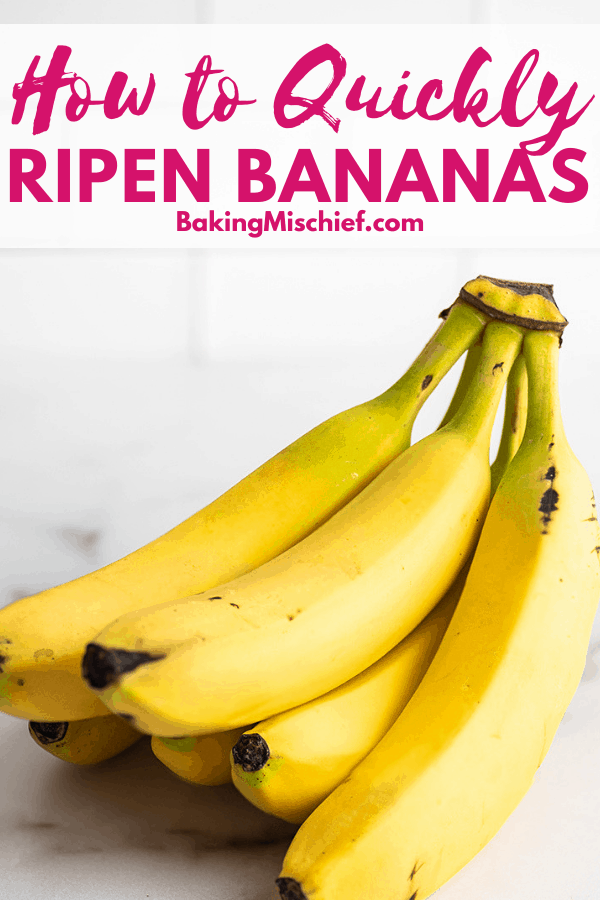 I've written quite a few posts on what to do with that brown banana that's been sitting on your counter all week, but today we're going to chat about the opposite situtation, what to do when you really need an overripe banana for baking and all you have is a bunch of perfectly unblemished yellow bananas.
The Fastest Way to Ripen Bananas (For Baking)
The quickest way to ripen bananas for baking is to just bake them. Pop as many bananas as you need in the oven, and when they come out you have perfectly soft and sweet bananas ready to go.
It's that simple.
This was one of my favorite kitchen hacks I ever learned because it means that you can make a perfect loaf of banana bread whenever you want, not when those bananas on the counter decide they're ready for it.
How to Ripen Bananas in the Oven
To ripen bananas in the oven, bake them at 300°F for 30 to 40 minutes, until deeply blacked and soft to the touch.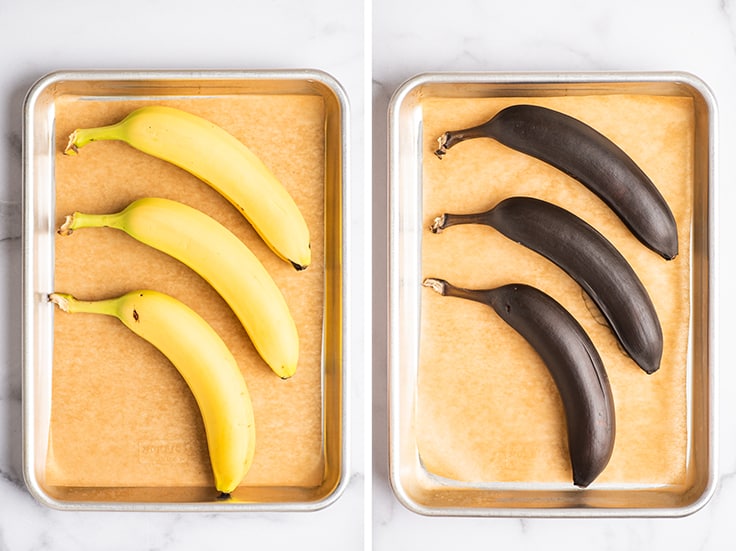 Baking Tip: I recommend baking bananas on parchment paper or foil as the bananas will often split and begin to leak, and the sugars in the juice can burn on your tray.
Once browned, the bananas will need to cool before you use them in any baking recipes. You can speed up that process by peeling and mashing them so heat escapes more quickly.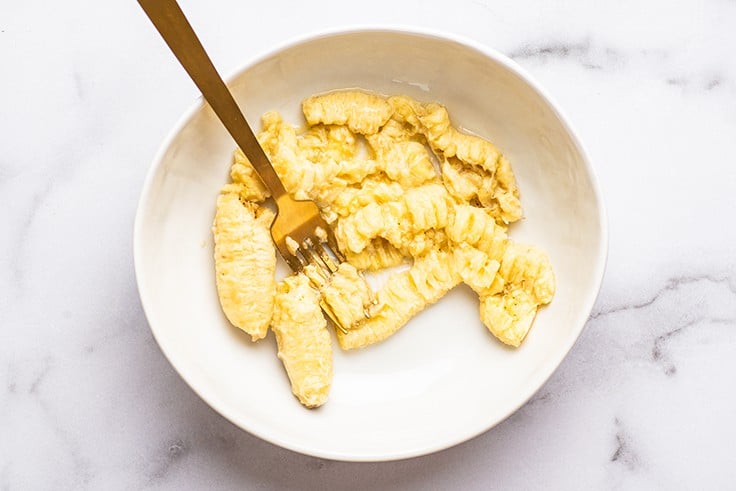 How to Store Ripened Bananas
If you ripen more bananas than you need, the extras can be stored (unpeeled or peeled) in an airtight container or freezer bag in the freezer. When you're ready to use them, simply defrost completely (overnight in the fridge will do the trick), peel if needed and mash.
Recipes to Make with Ripened Bananas
Recipe Notes
This recipe in NOT for ripening bananas to eat them raw. Unless you like banana mush, you will not enjoy the texture of the bananas ripened this way.
I don't recommend attempting this with completely green, unripe bananas. They won't have developed enough sugars and flavor be useful in baked goods, even after baking.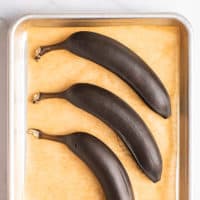 How to Quickly Ripen Bananas
How to quickly ripen bananas to be used in baking recipes.
Print
Pin
Servings (Hover or Click to Change Yield):
1
serving
Ingredients
Equipment
Baking sheet

Parchment paper or foil

optional
Instructions
Preheat your oven to 300°F and line a baking sheet with parchment paper or foil for easy cleanup.

Bake banana(s) for 30 to 40 minutes, until blackened and soft to the touch.

Cool on the baking sheet until cool enough to handle. Peel and transfer banana to a bowl and mash so that it cools more quickly. Cool completely before using in recipes.
Notes
*Do not use completely green bananas.
This post may contain affiliate links, which means I receive a small commission if you make a purchase using them. There is absolutely no additional cost to you.