This Sheet Pan Sausage and Veggies recipe makes an incredibly simple and easy dinner that packs a ton of flavor.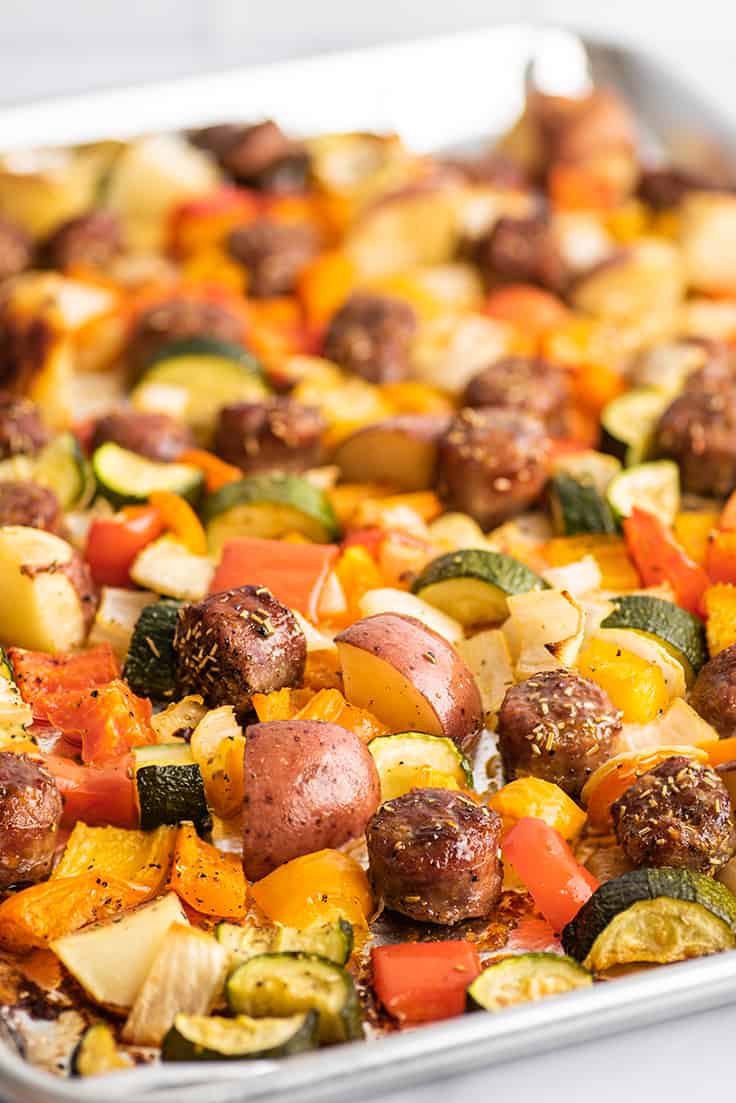 Hey, friend, if you need a dinner that comes together and cooks up with no fuss and basically zero hands-on cooking time, today's recipe's got your back. Let's make Sheet-pan Sausage and Veggies.
An Incredibly Easy Dinner Recipe
When it comes to easy dinners, it doesn't get much simpler than drizzling a bunch of veggies and sausage in olive oil, tossing them on a tray, and letting them hang out in the oven to roast while you go about your evening.
It's a fabulous way to get a ton of veggies on your plate all at once, and is SO good.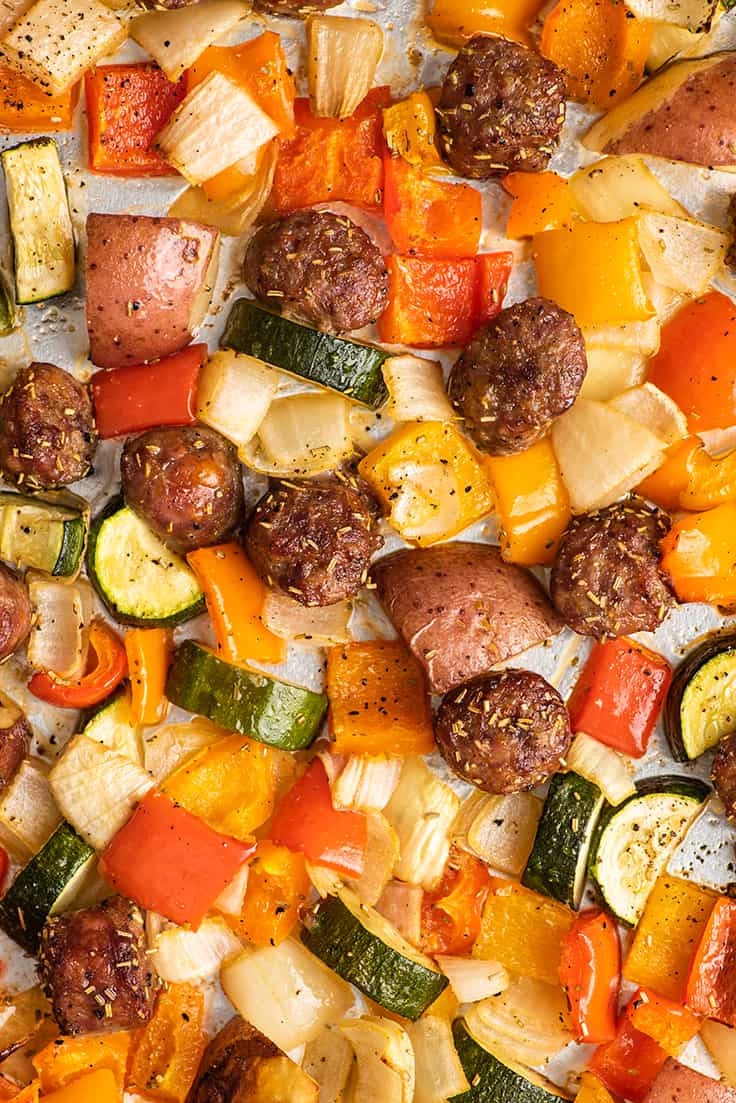 A Good Make Ahead Option…
While this dish is incredibly easy to make, it does involve quite a lot of chopping. I like to zen out to an audiobook or podcast while I cut the veggies, but if you plan on making this on a weeknight, you might want to prep some of the vegetables in advance.
The onion and bell peppers can be cut and stored together (in the refrigerator) up to 2 days ahead of time with zero loss in quality.
Prep and cut the zucchini, potatoes, and sausage right before cooking. They're quick to cut, so you should be able to do it by the time your oven has finished pre-heating.
What to Serve With Sausage and Vegetables
You can serve your sausage and veggies over a bowl of rice or cauliflower rice. It's also quite good with a side of Parmesan Orzo and Steamed Broccoli or Corn.
Bonus Tip: If you have leftovers, heat them up and serve them with scrambled eggs (and maybe a little cheddar cheese) in the morning.
Meal-Prep Sausage and Veggies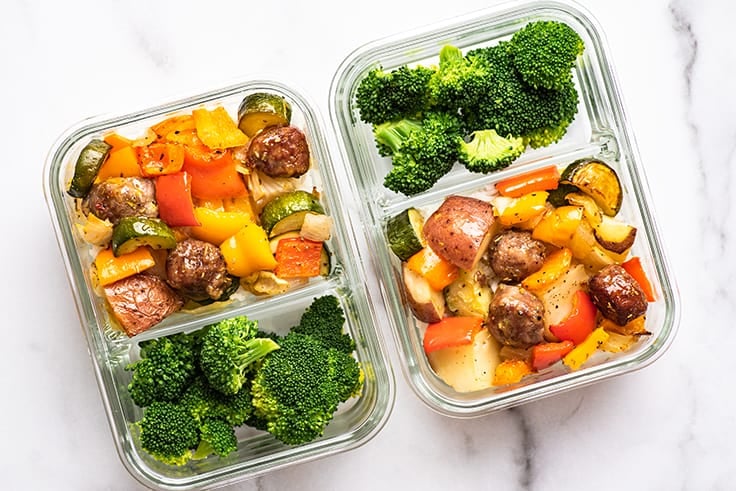 The flavors in this dish really only get better with time, so this recipe's a great option for meal-prep lunches or dinners.
It also makes extremely generous servings, so while I'd say it serves 5 to 6 for dinner, you could probably get 8 lunch-size servings out of it when served over rice, which is perfect if both you and a partner need lunches for the week.
Recipe Notes
If you don't usually cook with/buy Italian sausage, you can generally find packages of it near the hamburger in the butcher department.
Don't remove the sausage casings when cutting. They will help hold the sausage pieces together while they cook.
For more sausage recipes, try my Quick Creamy Sausage Pasta, Baked Ziti, and Homemade Spaghettios.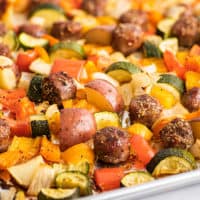 Sheet Pan Sausage and Veggies
This Sheet Pan Sausage and Veggies recipe makes an incredibly simple and easy dinner that packs a ton of flavor.
Print
Pin
Servings (Hover or Click to Change Yield):
5
to 6
Ingredients
2

tablespoons

fresh minced rosemary

OR

2

teaspoons dried crushed rosemary

1/2

teaspoon

garlic powder

1/2

teaspoon

salt

1/4

teaspoon

pepper

1

pound

Italian sausage

sliced 1/2-inch thick (do not remove casings) mild, hot, or sweet is fine

1 1/2

pounds

red potatoes

scrubbed and cut into bite-sized pieces

2

medium to large zucchini

halved and sliced 1/2-inch thick

1

large yellow or white onion

chopped 1/2-inch squares

1

orange bell pepper

chopped 1-inch squares

1

yellow bell pepper

chopped 1-inch squares

1

red bell pepper

chopped 1-inch squares

2

tablespoons

olive oil
Instructions
Arrange oven racks so that both racks are somewhere near the center of the oven (you don't want the bottom rack right above the heating element).

Preheat your oven to 425°F. Lightly grease two baking sheets with cooking spray.

In a small bowl, stir together rosemary, garlic powder, salt, and pepper.

In a large bowl, combine sausage, potatoes, and zucchini. In a second large bowl combine chopped onion and bell peppers.*

Drizzle the contents of both bowls with half of the the olive oil and half of the spice mixture each, and then use clean hands to mix each bowl so that everything is well coated.

Pour half of the contents of each bowl onto both trays, and then mix well so you have an even mixture of sausage and veggies on each tray. Spread everything out so it covers the entire tray in a (mostly) single layer.

Bake both trays at once for 40 to 50 minutes, swapping the trays once halfway through. Dinner is ready when veggies are fork-tender and sausage is cooked through.

Serve and enjoy!
Notes
*If you have a bowl large enough to fit all the ingredients, you can combine everything in one.
This post may contain affiliate links, which means I receive a small commission if you make a purchase using them. There is absolutely no additional cost to you.