A ridiculously delicious snickerdoodle milkshake topped with salted caramel and whipped cream.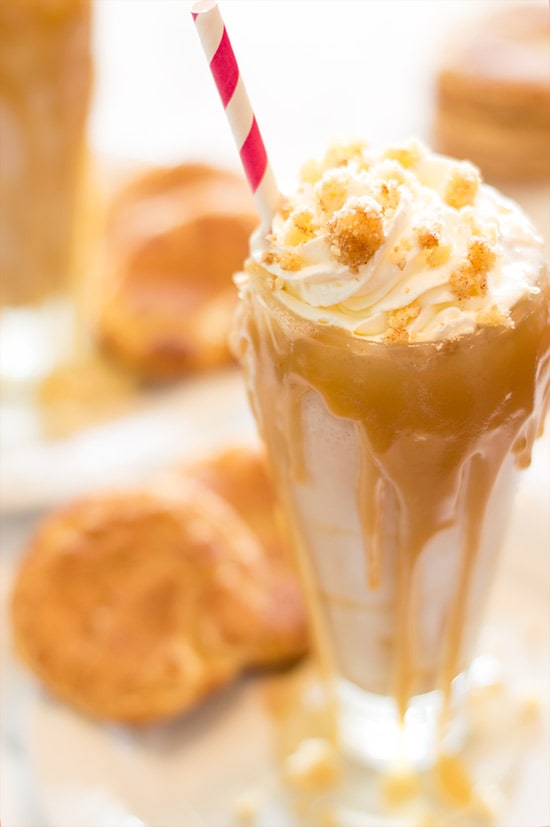 Happy April Fools' Day! Have you been fooled yet? Or have you been the fooler? I'm not usually much of a prankster on April 1st, but since I have Baking Mischief now, I thought I should do something.
I had this whole silly post planned where I was going to write a straight-faced recipe for making toast, but THEN I thought instead of playing a joke on you, lovely readers, what if we all played a terrible, horrible, amazing, delicious joke on our bodies instead and ingested something terriblicious.
Enter, this monster of a milkshake.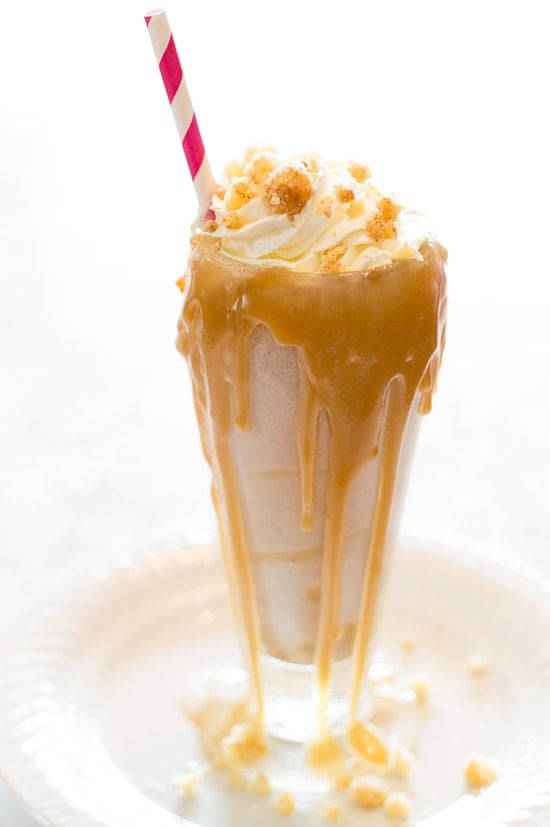 I'm sure you all saw those crazy-pants milkshakes from down under on Instagram last summer. They are the type of thing you see and your brain instantly goes, "NOPE!" And your heart sighs, "Someday."
Well, someday has come. (And in the interest that this not be your last someday, please don't drink this entire thing on your own. Share it with somebody–or 5 somebodies–you love.)
Hello, Salted Caramel Snickerdoodle Milkshake.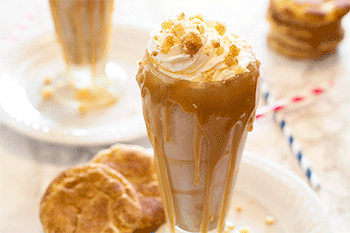 You've got snickerdoodles. You've got cinnamon. You've got vanilla ice cream. You've got all those things mixed together and then whipped cream piled on top. Then, since that clearly isn't enough, we douse the glass, inside and out, with salted caramel and put some cookie crumbs on top. Whaaaaaaaaaaaaaat!?
I previewed a little snapshot of this recipe a couple of weeks ago, because I was just too excited not to. It's not often I get to leave sanity behind and create something purely ridiculous and delicious.
And just in case you're wondering, hey, Tracy, do cinnamon cookies and salted caramel really go together? The answer is, yes. Yes, they do.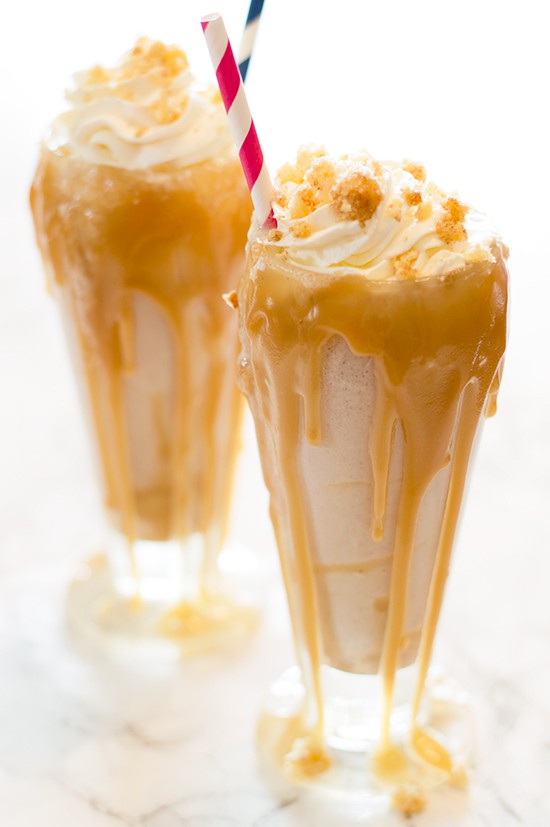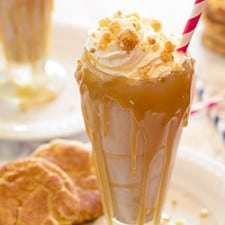 Salted Caramel Snickerdoodle Milkshake
A ridiculously delicious snickerdoodle milkshake topped with salted caramel and whipped cream.
Print
Servings (Hover or Click to Change Yield):
2
Instructions
Milkshakes
Combine ice cream,

1/2

cup milk, cinnamon, and

3

of the snickerdoodles, broken into smaller pieces, in your blender. Blend until cookies are incorporated. Add up to

1/2

cup more milk and blend until milkshake reaches your desired consistency.
Assemble
Take a heaping spoonful of caramel and drizzle it around the inside of your 16-ounce glasses. Divide milkshake evenly between them.

Things get messy from here, so if you are going to line the rims of your cups with caramel, make sure the cups are on a plate to catch the drips and are where you plan on drinking them! Use a spoon to drizzle caramel around the edges, letting some of it fall into the cup as well.

Top with whipped cream.

Crumble the remaining cookie and sprinkle over the top.

Add a cute straw, drink responsibly, and enjoy!
Notes
In the ingredients, I linked to my favorite
snickerdoodle cookie recipe
, but those cookies are half-sized, so double the number of cookies in the shake. Or save yourself some time and buy them. It's up to you!
This post may contain affiliate links, which means I receive a small commission if you make a purchase using them. There is absolutely no additional cost to you.