A slightly spicy chicken salad packed with black beans, corn, red onions, and cheese and topped with a chipotle cilantro sour cream dressing.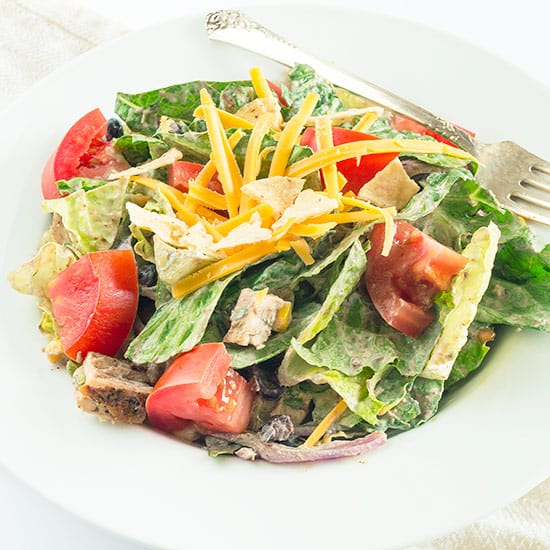 As sad as it is, all good things must come to an end, and we find ourselves today reaching the end of our January salad series. We've been all over the map with these salads. There was the hearty Cobb Salad, the delightfully sweet and fruity Asian Chicken Salad, a BLT in a bowl with the Light and Healthy BLT Salad, and for our last salad, we are going south of the border with a Slightly Spicy Chipolte Chicken Salad!
I should say, I call it slightly spicy because that's how I like it, but with a couple minor tweaks, this could be burn-your-taste-buds-off spicy. It's up to you. Whatever your preferred spice level, this salad is the antithesis of the boring greens that come to mind when you think of healthy salads. There are beans, corn, red onions, chicken, and cheese, all topped with a chipotle cilantro sour cream dressing. Oh yeah, and there's lettuce too.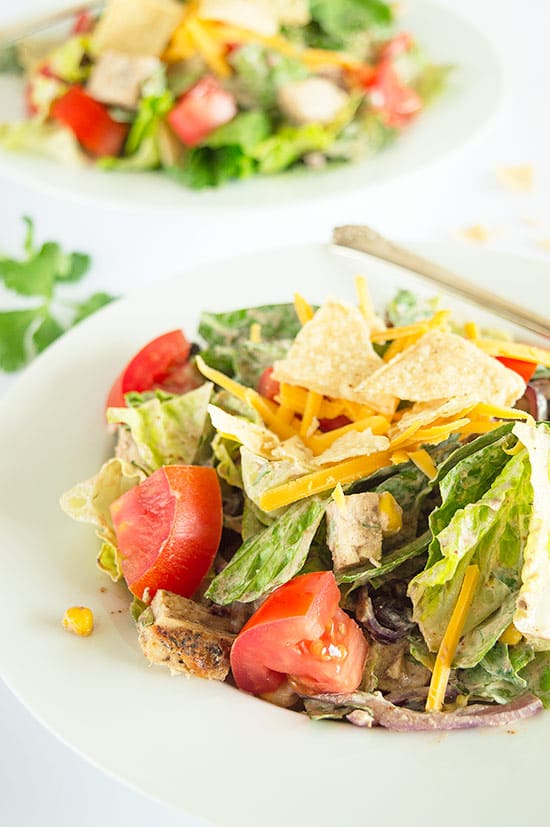 You definitely won't feel like you are eating something healthy when you taste this one. It's perfect for those nights when a giant pile of nachos is just screaming your name. Seriously, give it a try and for a third of the calories, you more than get your cheesy, Mexican food fix.
And as though this salad needed more to recommend it, it's one of my favorite make-ahead dinners. You can do all the prep work in advance and when you are ready to eat, you just throw everything in a pan to heat and then serve over a bed of cool, crisp greens. It doesn't get better than that.
I really wish pictures could do this salad justice. Processing these images after taking them, I described this salad to someone as the ugliest, most delicious f-ing salad in the world. That amazing spicy chipotle gives the dressing a slightly red tinge, which over the lettuce makes everything just this side of purple. And purple's not a good look in food photography. Let's just say, much cursing was done trying to make this salad look as out-of-the-world tasty as it actually is. But that's okay, because the photo shoot may have been a disaster, but I still got to eat this salad when I was done.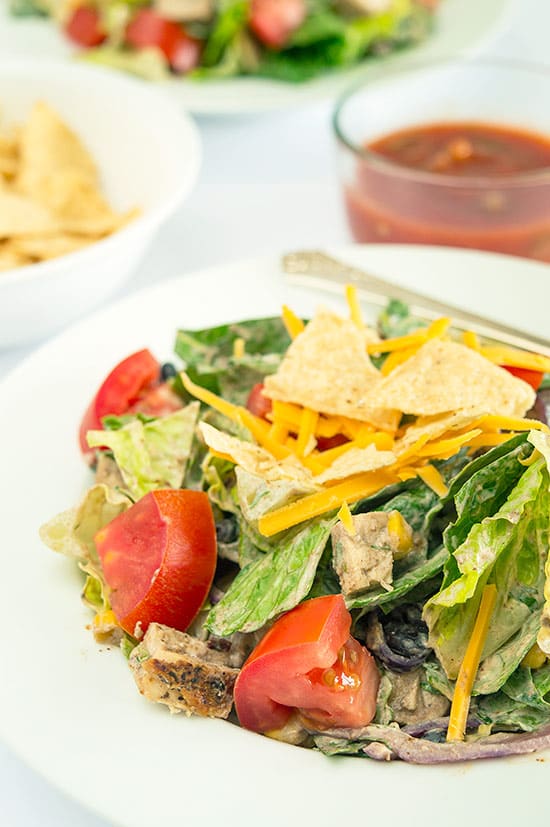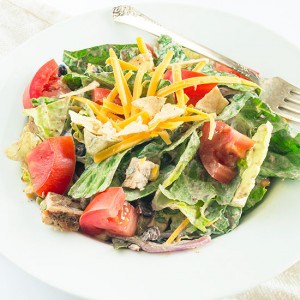 Slightly Spicy Chipotle Chicken Salad
A slightly spicy chicken salad packed with black beans, corn, red onions, and cheese and topped with a chipotle cilantro sour cream dressing.
Print
Servings (Hover or Click to Change Yield):
5
servings
Ingredients
Special Equipment
Dressing
2/3

cup

(

160g

) sour cream

1/3

cup

fresh cilantro

minced (loosely packed)

1

canned chipotle chili in adobo sauce

seeds removed, and minced*

1

teaspoon

lime juice

1

teaspoon

ground cumin

1

teaspoon

chili powder

1/4

teaspoon

salt
Salad
1

large head romaine lettuce

chopped

1

pound

(about

2

small) boneless skinless chicken breasts

pounded thin

Salt and pepper

Taco seasoning

or a little cumin and chili powder

2

tablespoons

chicken broth or water

to deglaze pan

1/2

small red onion

cut root to tip and sliced thin vertically

1

15-ounce can black beans

rinsed and drained

1

can whole-kernel corn

drained

1-2

tomatoes

chopped

1

cup

sharp cheddar cheese

Crushed tortilla chips for topping

optional
Instructions
Dressing
Combine dressing ingredients in a small bowl and mix. Set aside.
Chicken
Salt and pepper chicken and sprinkle with taco seasoning (or a little cumin and chili powder). Grease a pan with cooking spray and

cook the chicken over medium-high heat

, 5-8 minutes per side, until an instant-read thermometer inserted into the center of the breasts reads 160°F. Set aside on a plate.

Deglaze the pan with a little chicken broth or water, scraping the cooked brown bits off the bottom and pour over chicken. Let rest for 5 minutes, dice, and set aside.
Vegetables & Beans
Spray the pan with a little more cooking spray and add onions (if you like crunchy onions in your salad, you can skip this step), cooking until they are cooked just shy of your preferred level of doneness. Add beans and corn and cook until heated through. Put chicken back in the pan and mix well.
Assemble
In a large bowl, combine lettuce, chicken mixture, dressing, and tomatoes. Toss well so that everything is coated in the dressing and serve. Top with cheese and a few crushed tortilla chips if desired. Enjoy!
Notes
*To remove the seeds from the chipotle pepper, cut the pepper open and gently scrape them away with your knife. If there are a few left over, that's fine. If you prefer a spicier salad, leave the seeds and add a teaspoon or more of adobo sauce to the dressing. Keep adding until it reaches your desired level of heat.
Extra peppers can be frozen with sauce in a cling wrap-lined ice cube tray or without the sauce on a sheet of parchment paper and then stored together in a plastic bag in the freezer.
Small-yield Instructions: No cooking or preparation changes needed to cut the recipe in half or quarters. If halving, use 2 heaping tablespoons loosely packed cilantro.
Make-ahead Information: Up to 2 days in advance: Cook and dice chicken, storing with drippings (to help keep it moist) in an air-tight container. Make the dressing. Cut the lettuce and onions. When you are ready to eat, follow the recipe starting from step 4, but add the chicken to the pan when you add the corn and beans.
Freezer Instructions: The cooked chicken mixture can be stored in an air-tight container in the freezer for up to four months. To eat, defrost in the refrigerator (beans defrosted in the microwave may end up mushy) and reheat in the microwave, stirring every 30 seconds.
Nutritional Information
Adapted from: MyRecipes
This post may contain affiliate links, which means I receive a small commission if you make a purchase using them. There is absolutely no additional cost to you.