This Light and Healthy BLT Salad is a delicious twist on a favorite diner classic.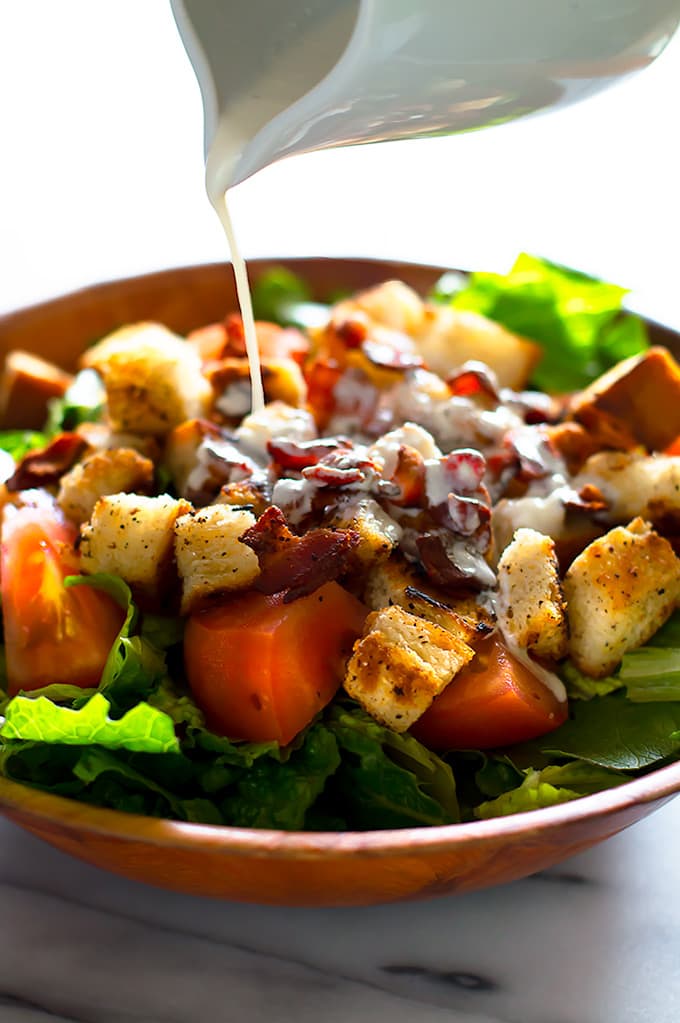 We're officially halfway through January. Are your resolutions holding up? I hope yours are going better than mine! I'm finding it pretty difficult to limit the sugar right now, because while it may be healthy January, I'm eyeballs deep in Valentine's Day recipe testing (spoiler: I've got some really good ones coming up for you).
Let's just say there have been indiscretions with cinnamon rolls that if you follow me on Twitter, you are probably already privy to… And it's a fact of life that it's a lot harder to find people to pawn sweets off on in January than it is in December! Anyways, enough my sugar intake, on to the salad.
We're in week three of our salad series. We've had a Garlic Chicken Cobb Salad, a Simply Delicious Asian Chicken Salad, and now you're getting a healthy BLT Salad! Guys, this salad is so good AND you can make it 100% in advance, so it's so convenient for nights you know are going to be crazy busy or as a delicious brown bag lunch.
See Also: Carne Asada Salad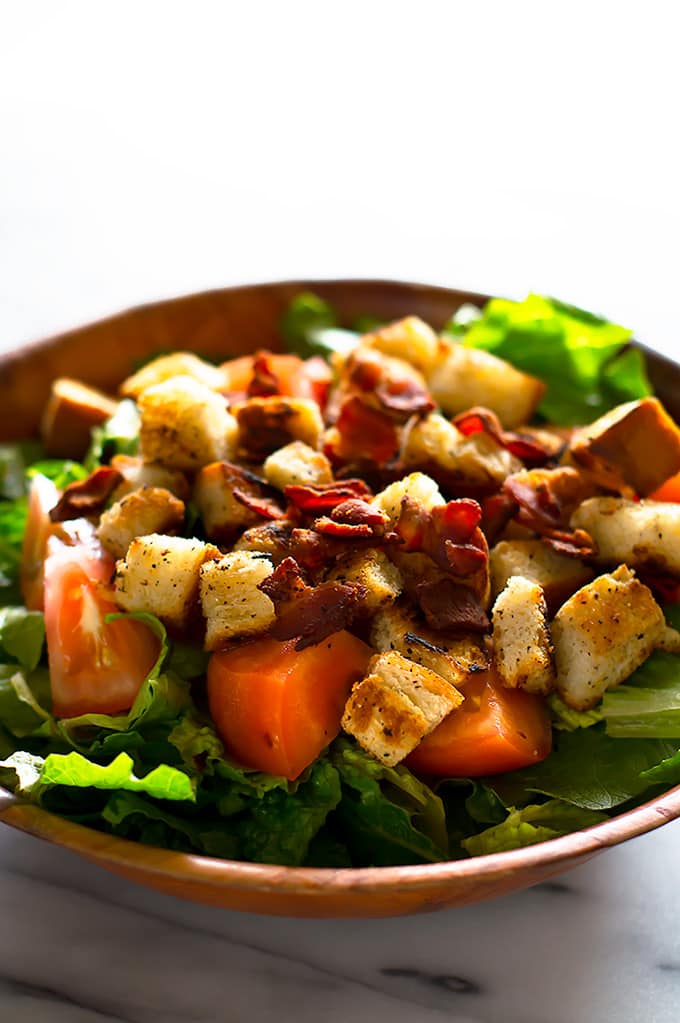 It's basically a deconstructed BLT sandwich. You have your B-bacon, crumbled throughout. The L-it's a salad, so that's obvious. T-tomatoes, you can use whatever kind you like and jam this thing full of them. And the BEST part, is you turn the bread into homemade croutons cooked in bacon grease.
Yes, you heard me. You toast those babies up in the leftover bacon grease and they are as amazing as it sounds. Top the whole thing off with a light mayo dressing (all the deliciousness, a fraction of the calories) and you've got yourself an American diner classic, minus the diner and the guilt!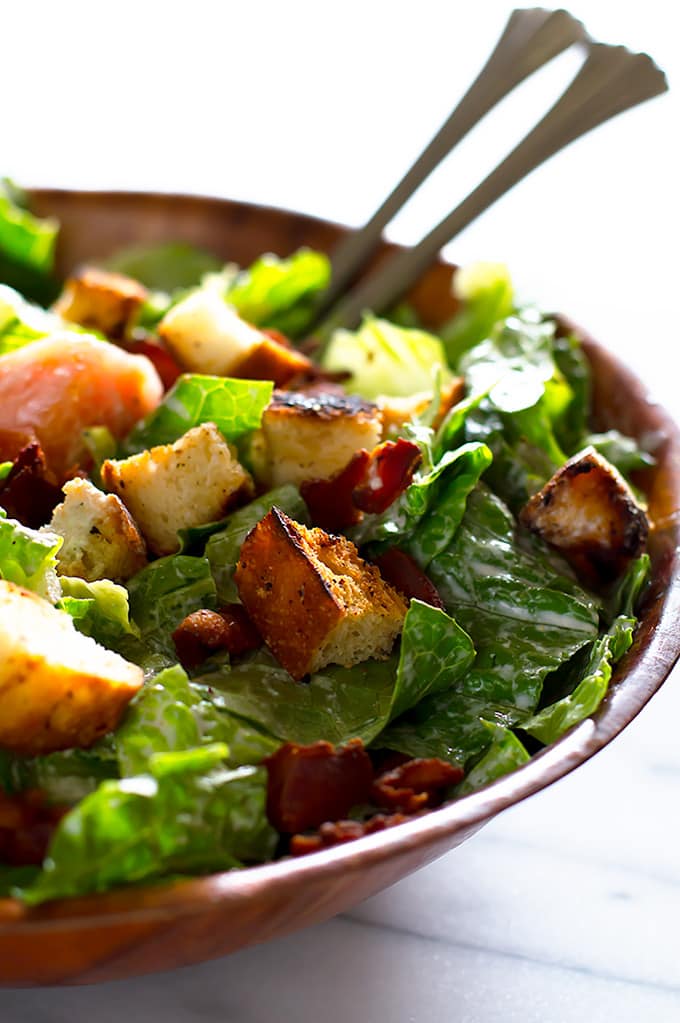 Have you read my post The Fastest, Easiest Way to Cut Romaine for Salads? It's my very favorite kitchen hack ever!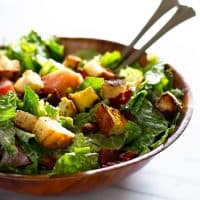 Light and Healthy BLT Salad
This Light and Healthy BLT Salad is a delicious twist on on a favorite diner classic.
Print
Servings (Hover or Click to Change Yield):
4
Ingredients
Salad
4

strips of bacon

cut into 1-inch pieces

4

slices

french or sourdough bread

cut into 1/2-inch cubes

1

large head romaine lettuce

chopped

2-3

tomatoes

chopped

Kosher salt to taste
Dressing
2

tablespoons

mayonnaise

2

tablespoons

milk

1

tablespoon

white vinegar

1/8

teaspoon

black pepper
Instructions
Bacon & Croutons
In a large skillet, over medium to medium-high heat, cook bacon until crispy. Remove from pan with a slotted spoon, leaving the grease.

If there is too much grease in the pan for you, you can pour some of it off. You only need about

2

tablespoons to toast your croutons, but the bread will soak it up whatever's there, so you can leave as much as you want. Add bread and cook on medium heat until brown and toasted. Stir frequently, making sure not to let your croutons burn. Remove from heat.
Dressing
In a small bowl or mason jar, stir together mayonnaise, milk, vinegar, and pepper.
Assemble
Just before serving, combine lettuce, tomatoes, cooked bacon, croutons, and dressing in a large bowl and toss until everything is coated in the dressing. Divide and serve with a sprinkle of salt over the top. Enjoy!
Notes
If you are the type of person who likes a lot of dressing, double the dressing recipe.
Small Yield Instructions: Recipe cuts cleanly in half. 1/2 tablespoon equals 1 and 1/2 teaspoons. If making a single serving, just use scant 1 teaspoon of vinegar.
Make-ahead Instructions: Dressing, bacon, and croutons may be prepared a couple of days in advance. Store separately, in air-tight containers or plastic bags. You can stir bacon on a hot pan or cook in the microwave for 15 seconds to refresh it before putting it on the salad if you like. Romaine can be cut 2 days in advance, but loses some of its crispness. Ideally, tomatoes should be cut right before going on the salad, but can be cut and stored in the refrigerator in an air-tight container, with a folded paper towel to absorb excess moisture, for up to 24 hours.
Nutritional Information
Adapted from: The Splendid Table