Crispy and tender, with tons of flavor, these easy Slow Cooker Carnitas will knock your socks off.
Hey you, yes you. Have you ever made carnitas at home?
If yes, good job. Gold star for you. Never stop.
If no, you should definitely start today. Right now. Drop everything.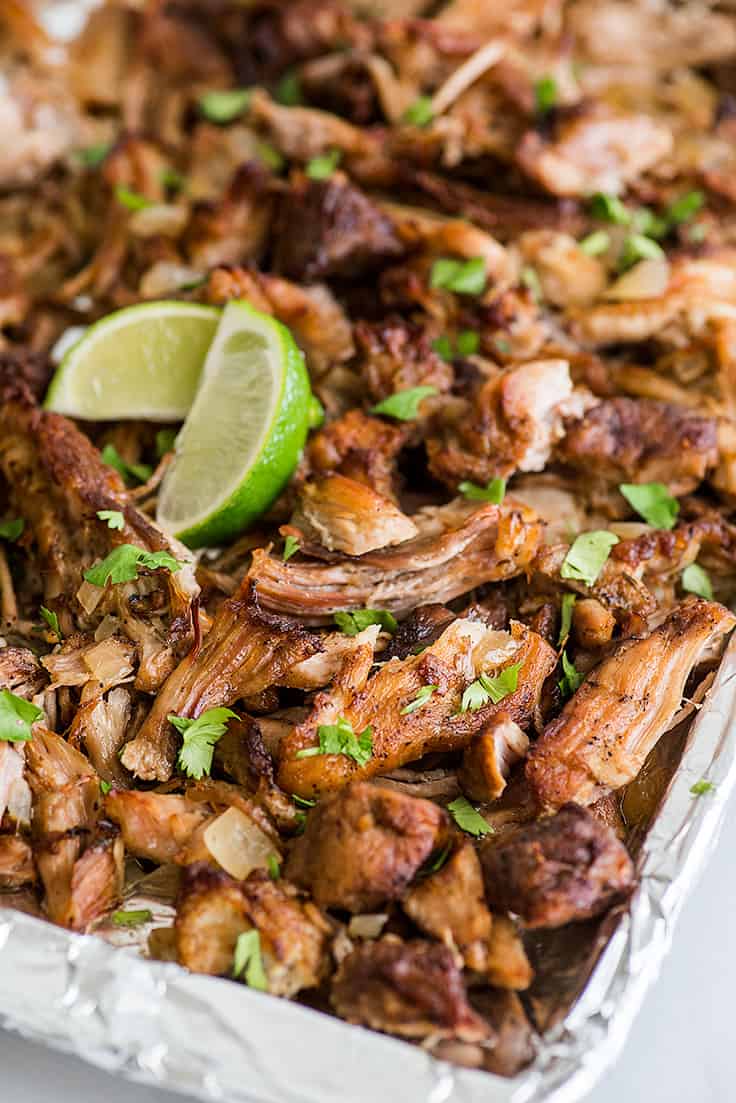 Why should you be making carnitas this very second?
Because they are SO GOOD, and you deserve good things.
Crispy AND tender, with tons of flavor, they'll knock your socks off.
Because maybe you're having some friends over, and they're the ultimate party food since they look and taste like a million bucks but are impossible to screw up. Everyone will be SO impressed.
Best of all, carnitas are made with pork shoulder roast which is super inexpensive, so you get a ton of really excellent food CHEAP.
If you're not convinced by all that, there's no hope left for you. Go eat some dry toast and be sad. ❤️
Slow Cooker Carnitas
I actually already have an excellent, easy recipe on the site for carnitas, but they're cooked on the stove and require a bit of a time commitment that I know not everyone is willing or able to make.
So I took that recipe and modified it to work in a slow cooker so you don't have to babysit them for three hours, turning carnitas from a weekend project to an everyday sort of meal.
And truly, once you try this recipe, you'll be wanting to make it *every day.*
Ingredient Notes
Pork shoulder roast: The best cut of meat for carnitas is pork shoulder AKA pork butt AKA Boston butt because it is well-marbled with fat and cooks up incredibly tender with a long braise.
Large onion: A yellow, white, or red onion all work here.
Lime juice: Fresh or bottled lime juice works just fine.
Chicken broth: You can use homemade chicken broth if you have it, but this will be just as good with the canned stuff.
How to Make Carnitas in a Slow Cooker
Prep the meat: Take a 4-to-6-pound pork shoulder roast, bone-in or boneless, debone if necessary, remove any huge chunks of fat and silver skin (the silvery blue membrane that sticks tightly to the meat) and cut it into large chunks, about the size of a fist.
Sear: Then you sear the meat on the stove. If you are in a hurry, you *can* skip this step, but it adds a lot of flavor to the meat, so if you have the time, do it.
Transfer to the Crockpot: Add browned pork and any juices from the pan to your slow cooker, and return the pan to the stove. Deglaze it with a bit of chicken broth, scraping the bottom of the pan clean, and pour that liquid into your slow cooker as well. (This makes sure you get all those super flavorful browned bits in with your meat AND makes your pan way easier to wash. Win win.)
Assemble and cook: Then just add the rest of your ingredients, set your slow cooker to low, and forget about it for 7 to 8 hours. The meat's done when you can easily shred it with a fork.
Shred and crisp: Once the meat's shredded, it's time to make it crispy.

How to Make Crispy Pork
You have a couple of options for crisping up your pork. You can do it under the broiler or turn your oven temp way up and bake the shredded meat for about 30 minutes. Both ways have pros and cons, so the method you choose is really going to depend on how clean you want to keep your oven, how much of a hurry you're in, and how crispy you want your meat.
Carnitas Broiler vs Oven
Broiler Pros: Broiling is way faster. Your carnitas will get crispy in less than 10 minutes, and it gets the edges and tops of the meat extra crispy with almost burnt bits that everyone will want to eat first.
Cons: Broiling carnitas can be messy. Remaining fat in the meat pops quite a bit, and during one test batch, I opened the oven and had fat dripping from the oven ceiling. Also, under the broiler, only the tops and edges of the meat get crispy.
Oven Pros: Less messy (though I still don't recommend cleaning your oven right before making these). Pork will get much crispier all over.
Cons: Takes three times as long and you won't get those really crispy burnt edges like you would from the broiler.
I use both methods depending what mood I'm in, sometimes I even combine them when I want extra crispy carnitas, so just experiment and see what works best for you.
What to Make with Carnitas
4 pounds of (deboned and trimmed of fat) meat will make a little less than 10 cups of cooked carnitas. That's a lot of meat to make into a lot of good things.
My favorite way to eat carnitas is picked hot off the tray, but they are absolutely stellar used in:
Also, if you're low-carb or keto, a bowl of carnitas, some Pico de Gallo, cheese, sour cream, and a little hot sauce is a real good time. 😉
What cut of meat is best for carnitas?
The best cut of meat for carnitas is pork shoulder. It's well-marbled with fat and cooks up rich and tender after a long, slow cooking time. You'll find bone-in and boneless pork shoulder roasts at the grocery store, and both will work great for carnitas, but if you have the option, go with a boneless roast.
The bone in the bone-in shoulder roast is Y-shaped and a little irritating to cut around, so if you can avoid it, all the better.
How long should you cook pork in a slow cooker?
Cook the pork for 3 to 4 hours on high or 7 to 8 hours on low. You'll know the carnitas are ready when you can easily pull the meat apart with a couple of forks.
Can you freeze slow cooker carnitas?
Absolutely. Because the cut of meat you need for carnitas comes as a pretty large roast, even if you're part of a small household, I still recommend making the full-size carnitas recipe rather than trying to cut it down because carnitas freeze really well.
To Freeze: Freeze meal-sized batches with a few spoonfuls of the cooking liquid in freezer-safe storage bags for up to 3 months.
To Reheat: When you're ready for more carnitas, defrost in the refrigerator. Microwave until warm or spread on a baking sheet and bake, loosely covered with foil at 350°F until heated through (usually 10-15 minutes). Remove the foil and broil on high for just a minute or two until the edges are crisp.
You Might Also Enjoy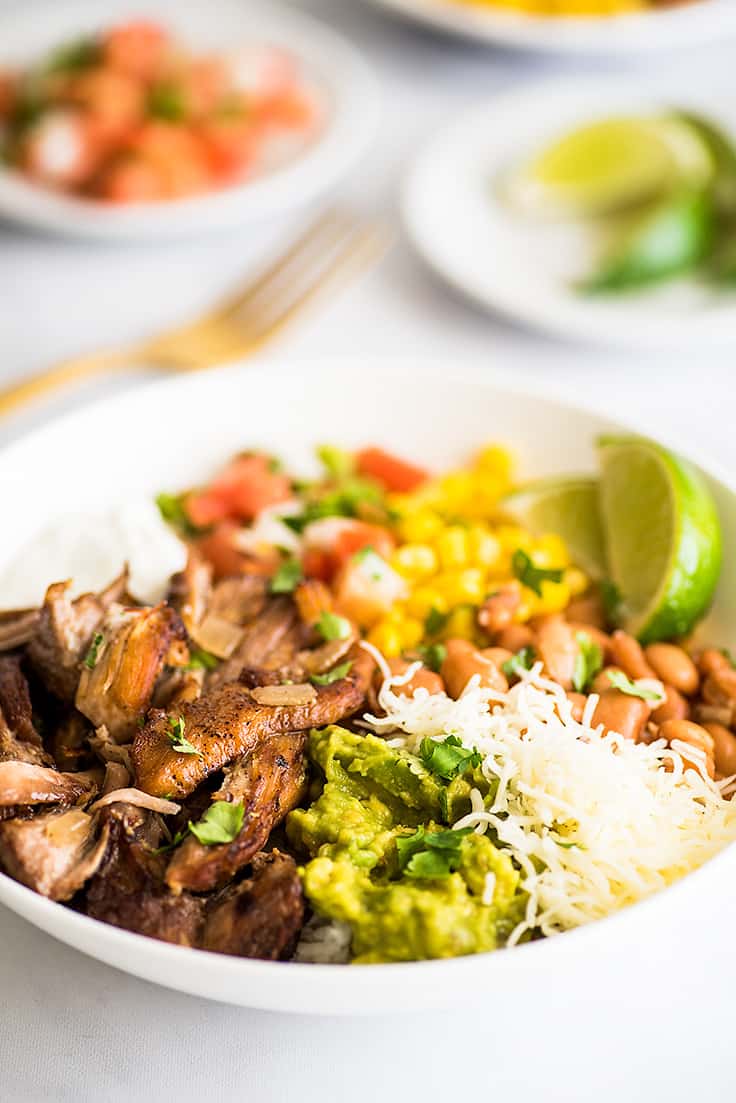 Recipe Tips
If you know your morning is going to be rushed, measure your spices and cut your meat the night before (especially if you have a bone-in roast as cutting can take a little while), so everything is ready to go in the morning.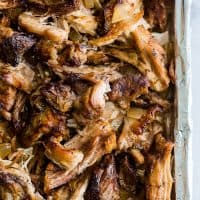 Crispy Slow Cooker Carnitas
Crispy and tender, with tons of flavor, these EASY Slow Cooker Carnitas will knock your socks off.

Print
Pin
Servings (Hover or Click to Change Yield):
10
cups
Ingredients
For Slow Cooker Carnitas
4-6

pound

pork shoulder roast

boneless or bone-in, trimmed of fat cap and cut into fist-sized chunks

Salt and pepper

¼

cup

vegetable oil

6-8

cups

(

3-4

) 14.5 ounce cans chicken broth

*

1

large onion

diced

1

clove

garlic

crushed

3

tablespoons

lime juice

1

tablespoon

chili powder

½

teaspoon

dried oregano

½

teaspoon

ground cumin
For Carnitas Tacos
Tortillas

flour or corn

Cilantro

chopped

White onion

finely diced

Limes

quartered
Instructions
Slow Cooker Carnitas
Generously salt and pepper chunks of meat on all sides.

In a large dutch oven, heat oil over medium-high heat. Once hot, add meat to the pan and brown on all sides. You may need to do this in batches, and it will take 10 to 15 minutes.

Transfer meat and any juices to your slow cooker and return pan to the stove. Add a splash of the chicken broth and deglaze the pan over medium-high heat, using a wooden spoon or spatula to scrape all the crispy browned bits off the bottom of the pan. Pour everything over the top of the meat in the slow cooker.

To the slow cooker, add onions, garlic, lime juice, spices, and enough chicken broth to just cover the top of the meat. Cook on high for 3 to 4 hours or low for 7 to 8. The meat is ready when it can be easily shredded with a fork.

Preheat the oven to 400°F. Transfer the meat, a few pieces at a time, to a plate and shred. Place shredded meat on a baking sheet and sprinkle with salt. If you had a large roast, you may need to split the meat between two baking sheets. Pour ¼ cup of the cooking liquid over the top of the meat. Bake until crispy, about 30 minutes, checking every 10 minutes and adding more cooking liquid if meat seems to be drying out.

Or broil meat on high for 5 to 10 minutes until crispy, checking on frequently. DO NOT leave broiling meat unattended as it can burn very quickly.
Carnitas Tacos
After carnitas are done, pop tortillas into the still-hot oven (or cover with a damp paper towel and microwave) until warmed.

Top each tortilla with carnitas, chopped cilantro, onion, and a squeeze of lime juice. Serve and enjoy!
Notes
*If you have a small slow cooker and it takes less broth than this to cover your meat, that's fine!
Approximate nutritional information is for carnitas only: 1/2 cup meat and assumes 25% cooking liquid consumption.
This post may contain affiliate links, which means I receive a small commission if you make a purchase using them. There is absolutely no additional cost to you.