This small chocolate cake with silky smooth chocolate cream cheese frosting makes a decadent but surprisingly easy dessert.
For quite a while, a small chocolate cake has been the number-one most requested Baking Mischief recipe.
Well, friends, it's finally here, and I think this soft and moist, intensely chocolatey little layer cake was totally worth the wait.
The Best Small Chocolate Cake
This cake is adapted from the famous Hershey's Chocolate Cake Recipe, a personal favorite of mine. And it's everything great about the original, but mini. It's quick, easy, and so, so good.
It makes an incredibly soft and luxurious cake that practically melts in your mouth. And to make things even more decadent, we're using a luscious chocolate cream cheese frosting over the top.
Ingredients of Note
Baking staples: This cake and the frosting use your standard baking staples, sugar, flour, unsweetened cocoa powder, baking soda and baking powder, an egg, milk, vegetable oil, butter, and vanilla.
Hot water or hot coffee: The hot liquid in this recipe helps "bloom" the cocoa powder, which means it helps to release as much flavor as possible and to dissolve any cocoa powder lumps that remain after mixing. Water will work just fine here, but coffee will help give your cake a deeper, more intense chocolate flavor without making your cake taste like coffee.
Cream cheese: Using cream cheese in the frosting instead of making a standard butter-and-powdered-sugar American chocolate buttercream makes the frosting extra creamy and smooth and gives it an added cream cheese tang that is such a flavor boost.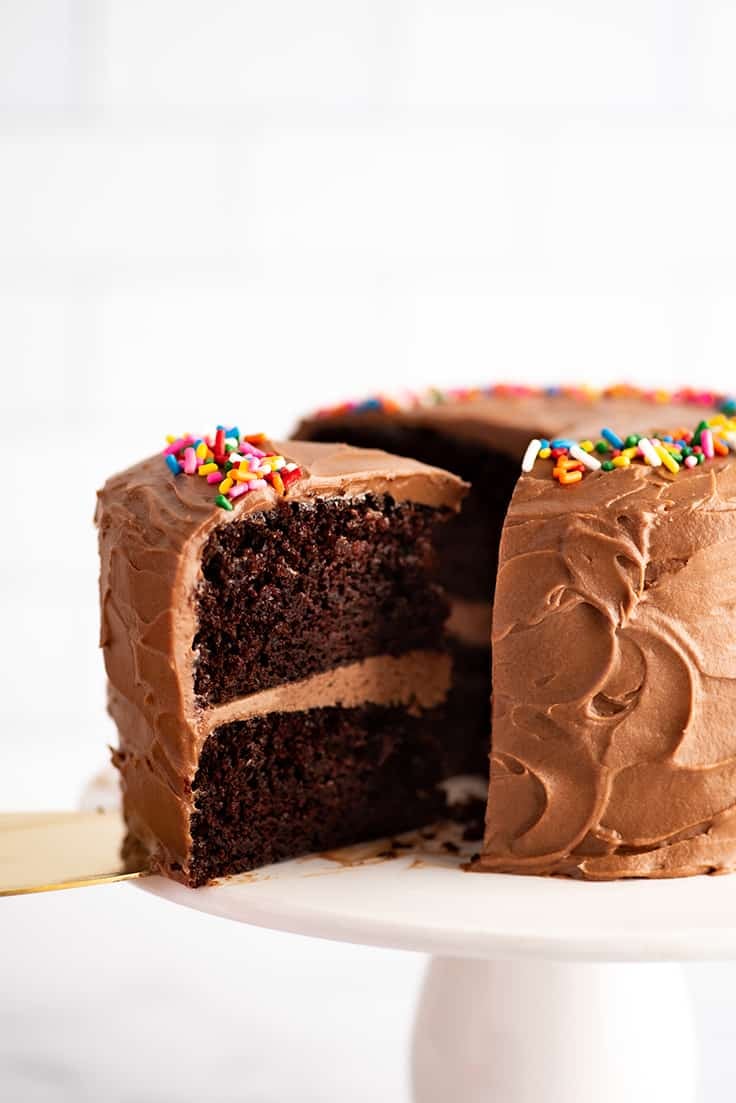 How to Make a Small Chocolate Cake
In a large bowl, whisk together all your dry ingredients. And then add all the wet ingredients except the water. You'll beat it all together for 2 minutes to make sure everything is well-mixed.
Add the boiling water or coffee and mix until completely incorporated. The batter will look very thin at this point, but don't worry. It's supposed to look like that.
Divide batter between greased and floured cake pans and tap the pans on the counter once or twice so that any air bubbles in the batter come to the surface and release. Bake the cakes on the center rack of your oven. You'll know your cakes are getting close to being ready when your kitchen begins to smell like chocolate.
Cool cakes for 10 minutes before very, very carefully removing cakes from pans and finish cooling on a cooling rack. These cakes are so soft that they are easy to break, so work slowly and be gentle with them.
Cool cakes completely before frosting. If you try to frost a warm cake, the frosting will literally melt off the sides, and no one wants that.
How to Prepare Cake Pans
Because this cake is so delicate, you want to make extra sure it's not going to stick to your pans. So we're going to grease and flour AND line the bottom of the pans with parchment paper.
To grease and "flour" your cake pans: Take a stick of butter and rub it around the interior of both of your cake pans so the entire surface has a light coating of butter.
Since this is a chocolate cake, we're going to use cocoa powder to "flour" the pan, so add a couple of tablespoons of cocoa powder, and shake them around the bottom of the pan until it's coated. Rotate the pan so the cocoa powder falls to the sides of the pan, and continue to rotate and shake the pan until the sides are completely covered. Dump the excess cocoa powder into the second cake pan and repeat. Discard the cocoa powder when done.
To line the pans: Simply trace the bottom of the pans on parchment paper and cut the circles out inside the line (so there are no pencil marks remaining). Place parchment paper in the pans with the curling edges facing down.
And your pans are ready to go!
A Note on Cake Pans
Make sure you're using 6-inch cake pans that are at least 2-inches tall. This cake rises quite a lot, so if using shorter cake pans, fill them no more than half full so they don't overflow in your oven.
These are the cake pans I own (affiliate link) and use for all of my six-inch cakes.
Chocolate Cake FAQ
How many will a 6-inch layer cake serve?
This cake will serve 4-6 people pretty generously. If you really want to stretch it, you can serve 8 smaller slices.
I don't have six-inch cake pans. What else can I use?
If you don't have six-inch cake pans, you can also make:
A single-layer 9-inch round or 8-inch square cake (extend the baking time to about 30 minutes)
About 15 cupcakes (shorten the baking time to around 22 minutes)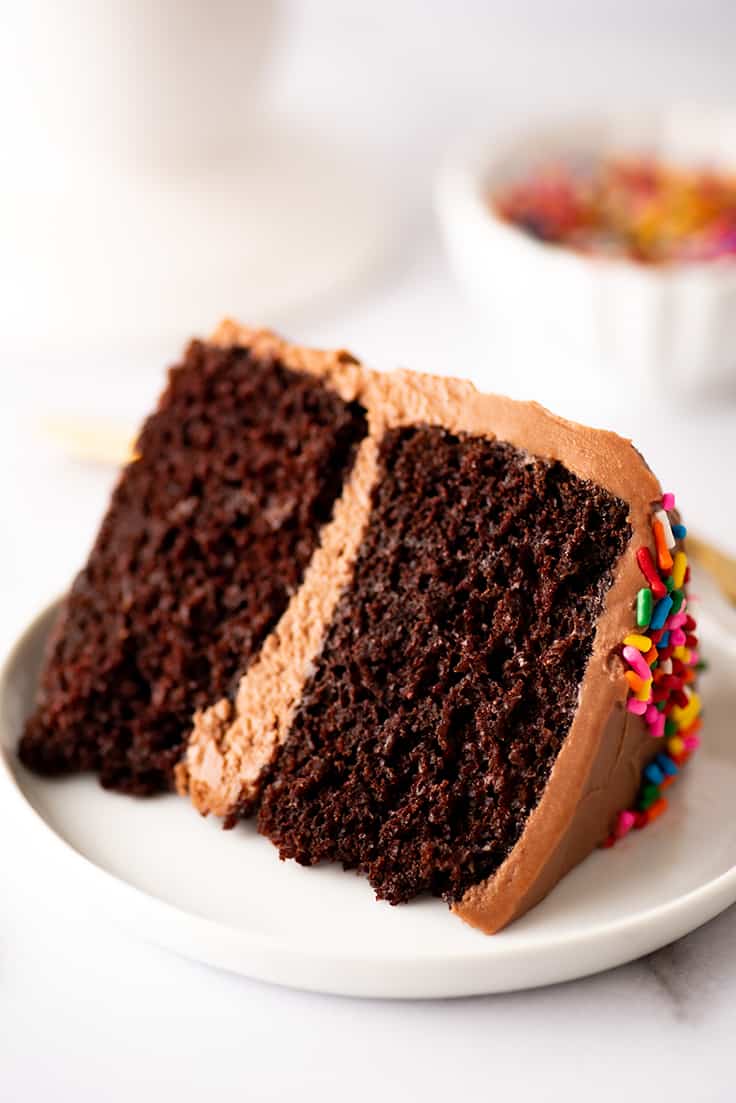 How to Store Chocolate Cake
Since this cake has a cream cheese frosting, store it covered in the refrigerator.
What other frostings can I use?
If you want to try a different frosting, use any of my other small-batch frosting recipes, but you'll need to 2.5 or 3x the recipe so you have plenty of frosting.
Can I freeze this cake?
Yes! If a small chocolate cake is still a little too big, this cake freezes fantastically. To freeze slices, place them on a parchment paper-lined baking sheet or cutting board that will fit in your freezer. Freeze until solid, 20 minutes to half an hour, and then wrap each piece individually in plastic wrap and store all together in a freezer bag.
More Small Cake Recipes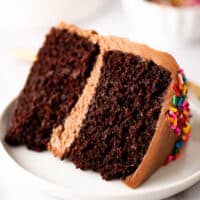 Small Chocolate Cake
This small chocolate cake with silky smooth chocolate cream cheese frosting makes a decadent and surprisingly easy dessert.
Print
Pin
Servings (Hover or Click to Change Yield):
6
slices
Ingredients
Chocolate Cake
1

cup

(

120g

) all-purpose flour

3/4

cup

+

2

tablespoons (

175g

) granulated sugar

1/4

cup

+

2

tablespoons (

30g

) natural unsweetened cocoa powder

1/2

teaspoon

baking soda

1/2

teaspoon

baking powder

1/2

teaspoon

salt

1

large egg

1/2

cup

milk

any percentage

1/4

cup

vegetable oil

1/2

teaspoon

vanilla extract

1/3

cup

very hot water or coffee
Chocolate Cream Cheese Frosting
4

ounces

cream cheese

softened

1/2

cup

(

114g

) salted butter*

softened

1

teaspoon

vanilla extract

2 1/2

cups

(

300g

) powdered sugar

sifted

1/4

cup

(

20g

) unsweetened cocoa powder

sifted

1

tablespoon

milk

as needed
Instructions
Chocolate Cake
Preheat your oven to 350°F. Grease and "flour" your cake pans with cocoa powder and line bottom with parchment paper.

In a large bowl, stir together flour, sugar, cocoa powder, baking soda, baking powder, and salt.

Add egg, milk, vegetable oil, and vanilla and beat for 2 minutes. Add hot water and stir until well-combined.

Divide batter between prepared cake pans. Tap pans on the counter once to remove any air bubbles in the batter. Bake on the center rack for 22 to 27 minutes, until a toothpick inserted into the center of the cakes comes out clean or with just a few dry crumbs.

Cool for 10 to 15 minutes before running a knife around the edge of the cakes and carefully removing them from their pans. Transfer cakes to a wire rack and cool completely before frosting.
Chocolate Cream Cheese Frosting
In a medium bowl, combine cream cheese and butter. Beat together until well-combined and there are no individual streaks of cream cheese or butter remaining.

Add vanilla and mix well.

Add sifted powdered sugar and cocoa powder and beat, starting on low, working up to medium-high, until frosting is smooth and creamy. If necessary, add milk by the half teaspoon until frosting reaches your desired consistency.
Frosting the Cake
Anchor cake to cake stand or plate with a dollop of frosting. Spread about 1/4 of the frosting over the bottom cake layer. Place second layer over the frosting and use the rest of the frosting over the top and body of the cake, starting at the top and spreading the frosting down the sides.  

Add sprinkles if desired. Serve and enjoy!
Notes
*If using unsalted butter, add a generous pinch of salt to the frosting. 
Approximate nutritional information is for 6 slices. 
This post may contain affiliate links, which means I receive a small commission if you make a purchase using them. There is absolutely no additional cost to you.