Saturday Morning Snapshot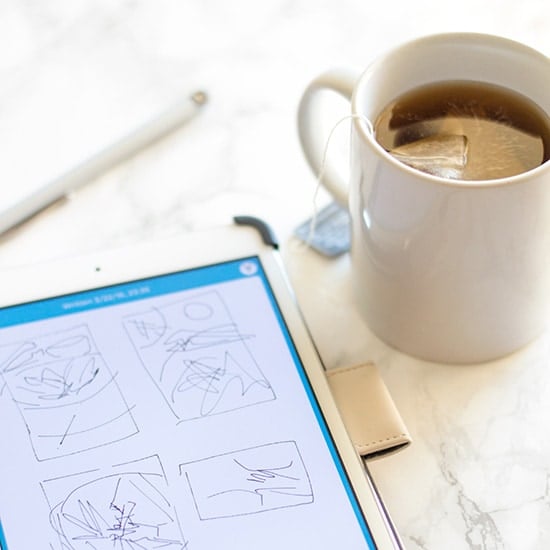 If someone could explain my own 2AM photo shoot planning sketches to me, that'd be suuuuuper helpful because they are incomprehensible by the light of day.

State of the Blog
Happy Easter, everyone! How are you celebrating the day? I have barn duty all weekend, so I'll be spending it shoveling manure and covered in horse hair. Basically the best.
Baking Mischief had a couple of recipes featured in BuzzFeed posts this week. My Slow Cooker Baked Potatoes With Broccoli and Cheese Sauce in 31 Utterly Divine Ways To Eat A Potato and my Samoa Cupcakes in 13 Game-Changing Ways To Eat Girl Scout Cookies. If you are looking for dinner or a sweet treat, check some of those other recipes on there out. They are awesome!
This week on the blog I posted my favorite pizza recipe, a round up of beautiful desserts to make this spring, and the last post in my Girl Scout Cookies Cupcake series. I'm so glad to finally have those all out. I marathon baked and then photographed all of those cupcakes in one weekend more than a month ago and it's been killing me sitting on them all this time!
Next week we'll have my last recipe in our March Meatless Monday series, another round up, and, not to over-hype it or anything, the most ridiculous recipe I've ever made. Stay tuned!
Recipes/posts released this week were:
Homemade Margherita Pizza – Simple but impressive homemade margherita pizza with dough and sauce from scratch!
21 Bright and Beautiful Desserts to Make This Spring – A round up of 21 gorgeous desserts perfect for bright and sunny spring days.
Thin Mint Cupcakes – Moist chocolate and peppermint cake covered with a smooth chocolate coating. A delicious cupcake version of the most popular Girl Scout cookie.
Pop-culture Corner
Bat V Supes is out this weekend, and man, I enjoy schadenfreude as much as the next person but I'm actually starting to feel bad for everyone involved. Didn't stop me from reading all the reviews though, from the delightfully rage-filled "I've Never Hated Anything The Way I Hate 'Batman v Superman: Dawn of Justice'" to this truly thoughtful piece from Film Freak Central. Even if the film's not good, there's been some great writing about it this week.
Oh, and this Sad Affleck meme is not to be missed.
Speaking of poorly received Henry Cavill movies, I rewatched The Man from U.N.C.L.E. this week and I'm so bummed more people didn't take to that film because it's very slight, but completely charming. I would have shelled out money for a sequel in a heartbeat. Did you catch it this summer?
Did you know there was a Bridget Jones 3 in development? I had completely forgotten until the trailer dropped this week. I don't know how I feel about this movie existing, but Emma Thompson's growl of displeasure toward the end of that trailer is my everything.
Finally, if anyone's looking for me this weekend, I'll be right here, watching this video on a continuous loop until May 6th arrives…
Meal Planning
Saturday: Mom's Sunday Beef Stew
Sunday: TBD
Monday: TBD
Tuesday: TBD
Wednesday: TBD
Thursday: TBD
Friday: TBD