Small-batch Oreo Cupcakes, moist chocolate cupcakes with an Oreo baked right into them and the best Oreo frosting on top!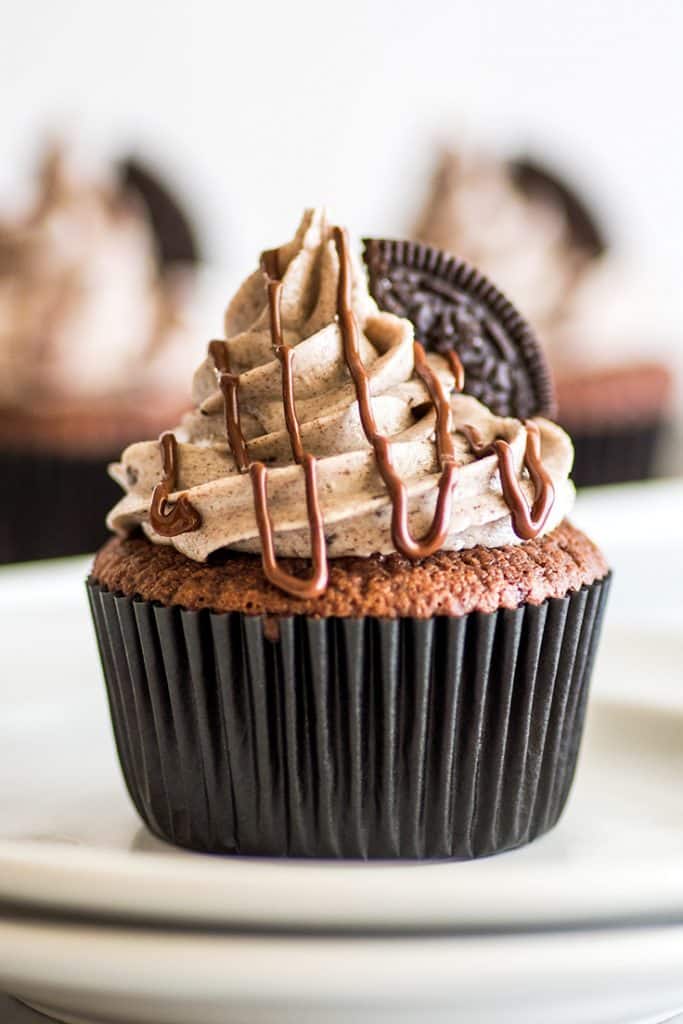 Looking for more Small-batch Cupcakes? Try these Small-batch Vanilla Cupcakes, Small-batch Hostess Cupcakes, and Small-batch Pumpkin Cupcakes!
Hey, friends. How was your week? Did you ever recover from having Monday off? Like I said in Wednesday's post (Cinnamon Sugar Baked Pumpkin Donuts go make them now!!), I worked through the long weekend trying to get ahead on the blog. I shot an entire month's worth of recipes last week and then burned out hard by the middle of this one. I ended up taking Wednesday afternoon for a little me time and to go to the movies by myself (Wind River–if you like quiet thrillers, would recommend). And I have to say after the break, I feel much more enthusiastic about food again and ready to tackle another month of recipes. 😉
Plus it doesn't hurt that today I get to talk about one of my favorite ingredients, Oreos!
I'm not much of a snacker, so I almost never eat Oreos on their own, but I always have a container of them in my cupboard because they are one of my absolute favorite baking ingredients. They're perfect. You can use them in a crust, in ice cream, put them in cookies. There's not much you can't do with them, and that includes baking them into cupcakes!
Who feels like an Oreo cupcake?
These Small-batch Oreo Cupcakes start with an Oreo pressed into the bottom of the cupcake pan, which gets topped with my favorite Small-batch Chocolate Cupcake batter. And it is *so good* When you bake Oreos, their texture changes so they almost melt in your mouth when you bite into them, and it's absolutely one of the major selling points of these cupcakes.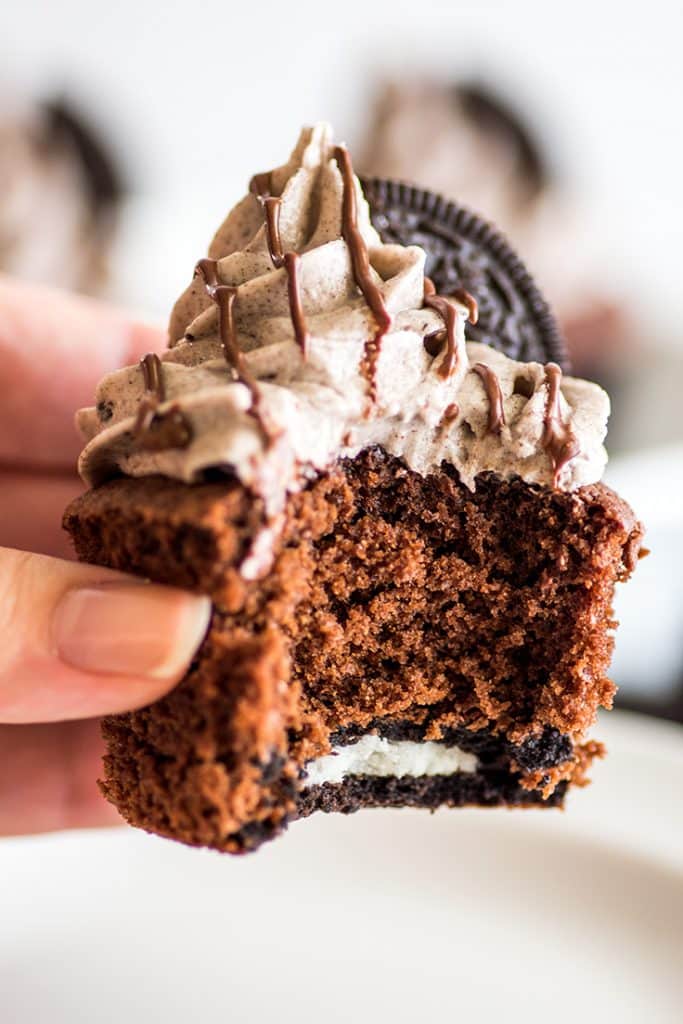 Well that, and the Oreo Frosting on top. I posted a standalone recipe for this frosting a couple of weeks ago. It's an American buttercream with just a little cream cheese mixed in and Oreo crumbs, and it's to die for. It tastes like a more decadent version of the creamy center of an Oreo, and I dare you not to lick the bowl when you make it. Then, just to make these Oreo Cupcakes extra cute, I drizzled chocolate over the top and garnished them with another Oreo piece.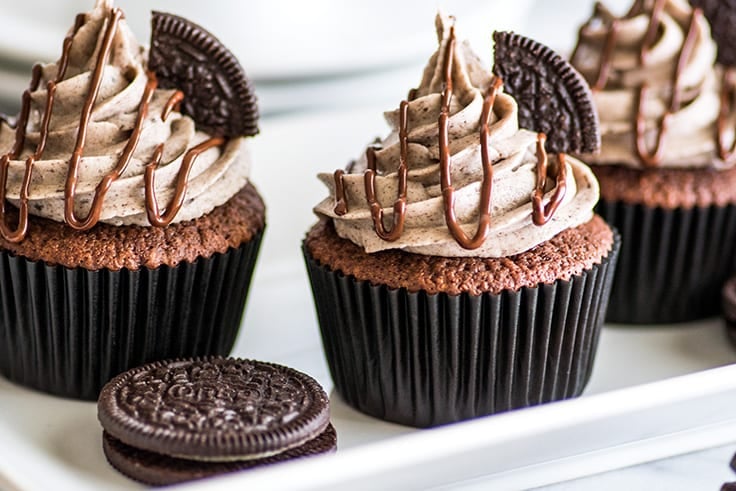 This small-batch cupcake recipe makes four cupcakes, and best of all, it uses exactly six Oreos (okay, technically five and a half), so if you don't usually buy/eat Oreos, you don't have to buy a big container of them. Just grab one of those little six packs from the checkout aisle.
Or, pro tip, if you're like me and bake often with Oreos, buy a box of snack packs. That way you always have Oreos on hand, but you don't have to worry about them getting stale in your cupboard!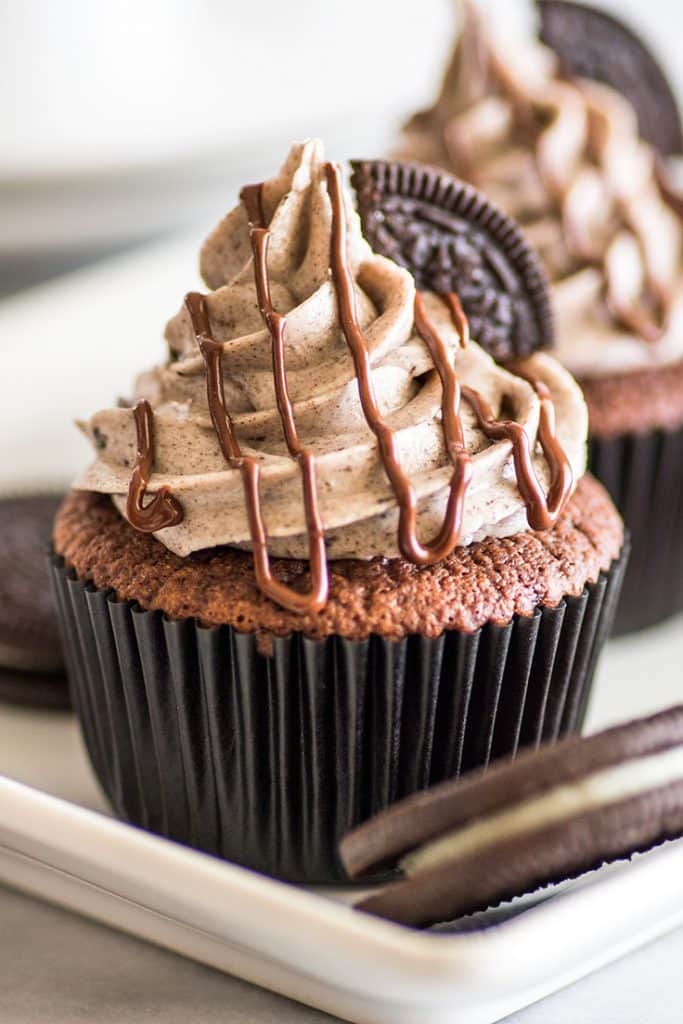 Tell me, are you an Oreo fan? What's your favorite way to eat them?
This recipe uses just one egg yolk. Check out these Egg White Recipes for ideas on what to do with the leftover egg white.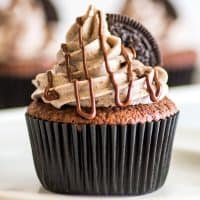 Small-batch Oreo Cupcakes
Small-batch Oreo Cupcakes, moist chocolate cupcakes with an Oreo baked right into them, and the best Oreo frosting on top!

Print
Servings (Hover or Click to Change Yield):
4
cupcakes
Ingredients
Cupcakes
6

Oreos

divided

2

tablespoons

(

1oz

) unsalted butter

2

tablespoons

(

21g

) chopped semi-sweet chocolate

good quality chips are fine

1 1/2

teaspoons

vegetable oil

1/4

cup

(

30g

) all-purpose flour

2

tablespoons

(

11g

) cocoa powder

sifted if lumpy

1/2

teaspoon

baking powder

1/8

teaspoon

salt

1/4

cup

(

50g

) granulated sugar

1

large egg yolk

1/4

teaspoon

vanilla extract

2

tablespoons

milk

any percentage

2

tablespoons

hot coffee

or water
Oreo Frosting
2

tablespoons

(

1oz

) unsalted butter

softened

1

ounce

cream cheese

softened

1

cup

(

120g

) powdered sugar

sifted

1

teaspoon

to

1

tablespoon milk or cream
Topping
3

tablespoons

chopped chocolate

good quality chips are fine
Instructions
Cupcakes
Preheat your oven to 350°F and line your cupcake pan with

4

liners. Place 1 full Oreo in each of the cupcake cups.

In a small, microwave-safe bowl, combine butter, chocolate, and vegetable oil. Microwave for 15 seconds and stir. Repeat until mixture is completely melted and smooth. Set aside to cool slightly.

In a small bowl, whisk together flour, cocoa powder, baking powder, and salt. Set aside.

In a medium bowl, whisk together sugar, egg yolk, and vanilla until well-combined. Whisk in cooled chocolate mixture until smooth. Whisk in flour mixture until just mixed. Add milk and coffee and whisk until smooth. (Batter will be quite thin.)

Spoon or pour batter into your prepared cupcake cups, filling 2/3 of the way full. Discard any excess batter.

Bake for 16 to 19 minutes, until a toothpick inserted into the center of the cupcakes comes out clean or with just a few crumbs. Once the cupcakes are cool enough to handle, transfer to a cooling rack to cool completely before frosting, 15 to 20 minutes.
Frosting
Separate

1

Oreo and scrape filling into small bowl. Place both sides of the cookie into a small plastic bag and crush into a fine crumb.

To the bowl with the Oreo center, add softened butter and cream cheese. Beat until smooth. Add powdered sugar and cookie crumbs and

1

teaspoon of milk or cream. Beat until sugar is completely incorporated and frosting is fluffy. Add up to

2

teaspoons more of milk or cream if necessary until frosting reaches your desired consistency.

Transfer frosting to a piping bag and pipe onto cupcakes.
Chocolate Topping
Place chocolate in a small, microwave-safe bowl and microwave in 15-second increments, stirring in between, until smooth. Use a spoon to drizzle over cupcakes or transfer to a small plastic bag and snip off one corner to "pipe" chocolate on.

Divide final remaining Oreo in two and quarter one half of the cookie. Garnish each cupcake with one of the quarters and eat the remaining Oreo half.
This post may contain affiliate links, which means I receive a small commission if you make a purchase using them. There is absolutely no additional cost to you.