These small-batch Shortbread Pumpkin Pie Bars are everything you love about pumpkin pie, but with an easy shortbread base, crunchy streusel topping, and sweet cream drizzle!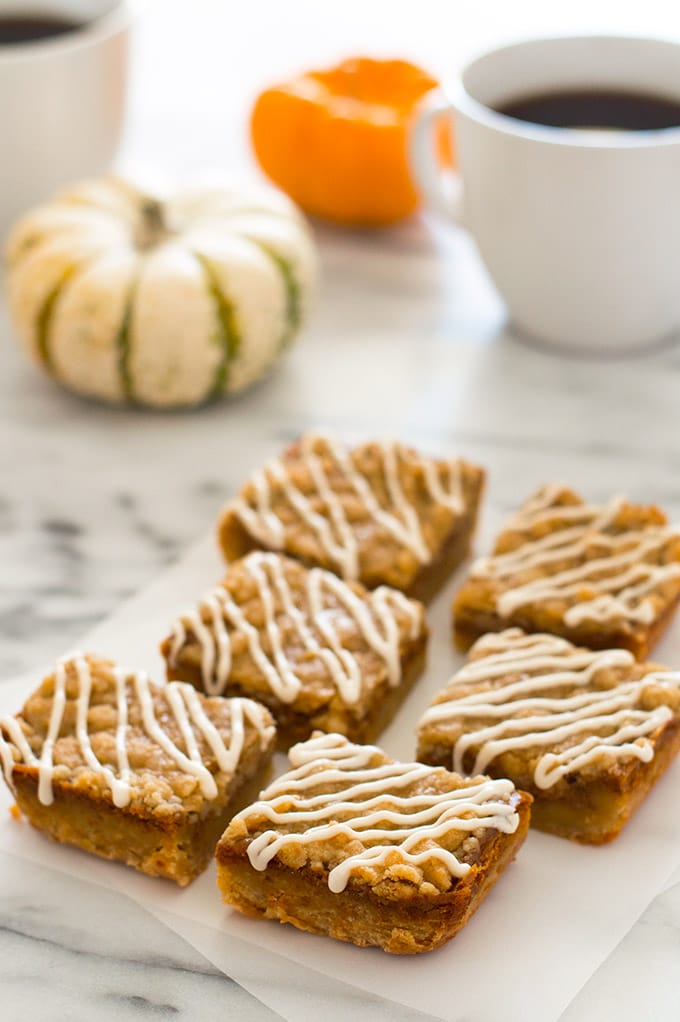 We'll get to today's recipe in a second, but first, I must know: What are you doing to get in to the Halloween spirit?
Have you watched any good scary movies lately, read any terrifying books? I've been listening to My Favorite Murder pretty much non-stop (it is a gruesome delight) this month, but I'm almost through the episodes and need some more creepy to get me through October. Do you have any Halloween watch/read/listens for me??
Okay, plea for media recommendations over. On to the recipe…
Pumpkin Pumpkin Pumpkin. Are you sick of pumpkin yet? I'm not, and I've been testing pumpkin recipes since August. TBH, I spend most of the year just waiting for October in all its pumpkin-flavored glory to roll around, so I'll happily stay here eating Pumpkin Donuts with Maple Glaze, Pumpkin Shortbread Cookies, and Pumpkin Eclairs as long as the air is cold and crisp and the leaves are red and gold.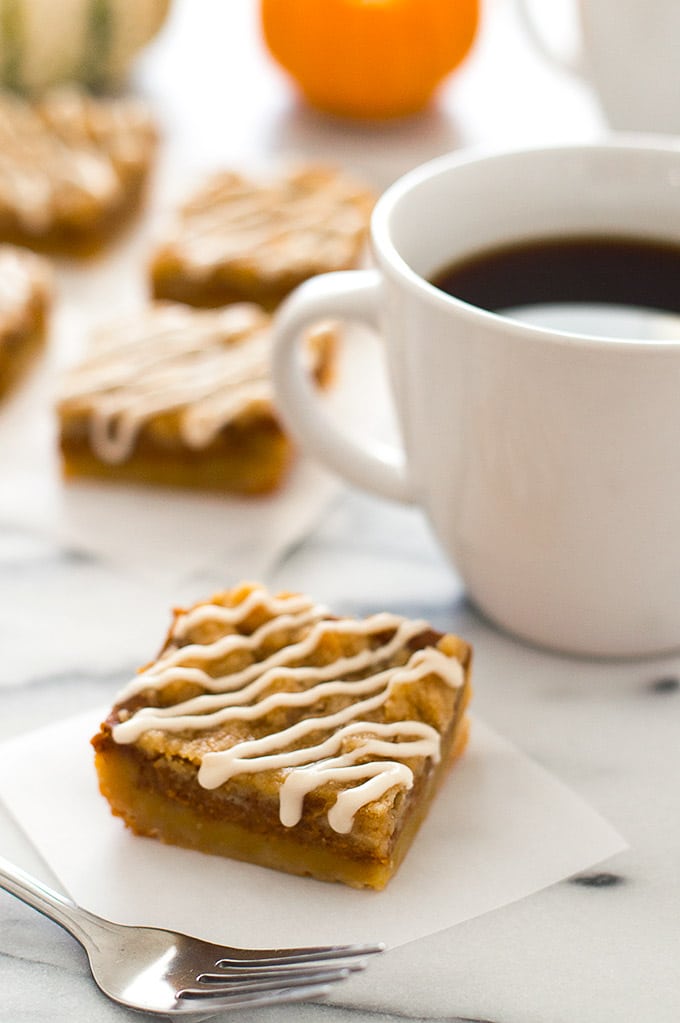 The one thing I don't do is break out pumpkin pie until November. Why? I don't know. Prob for the same reason I only watch Christmas movies between December 1st and the 25th. But, if you are craving pumpkin pie, minus the pie, you're going to love this recipe: Shortbread Pumpkin Pie Bars with Brown Sugar Streusel and Sweet Cream Drizzle.
This recipe is a totally gaming the no pumpkin pie until November system, because it's technically a bar, with a killer shortbread base, but the pumpkin layer is literally exactly the same as pumpkin pie. And, on top of it all is a brown sugar streusel, because as I already established with my Cinnamon Apple Crumb Muffins and Dutch Apple Galette, streusel is one of the greatest things in the world. Finally, there's a cute little sweet cream drizzle, because it looks pretty and tastes even better. 😉
Best thing about these Shortbread Pumpkin Pie Bars is that they freeze super well, so you can enjoy one, share one, and pop the rest in the freezer to enjoy when you feel like something pumpkiny and delicious. I have one left from this batch and it's been calling to me all morning…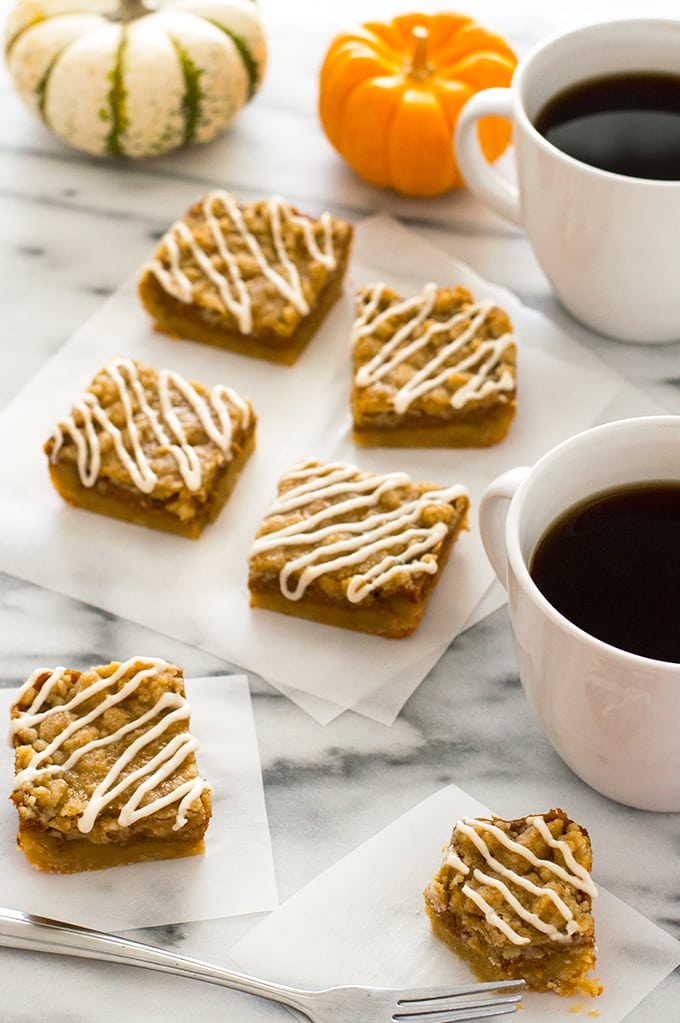 Shortbread Pumpkin Pie Bars Recipe Tips
Since this is a small-batch recipe, you'll need a 5×7-inch baking dish or something with approximately 35 square inches of surface area. I like these Pyrex containers* for all my small-batch baking because they're handy, dishwasher safe, and come with a lid for easy storage.
These bars freeze very well. To freeze, freeze solid on a plate and then store in a freezer bag for up to 2 months. To eat, allow bars to sit at room temperature for about 20 minutes.
For the easiest removal and prettiest looking bars, use parchment paper in your baking pan. To line your pan, fold a sheet of parchment paper in half and cut it down so it will fit lengthwise in your greased pan. Press the parchment down over the greased surface and fold the curly ends over the long sides (the short sides will be bare). Trim if necessary. When the bars are done and cooled, you should be able to loosen the short sides with a thin knife and lift the bars right out by the sides of the paper.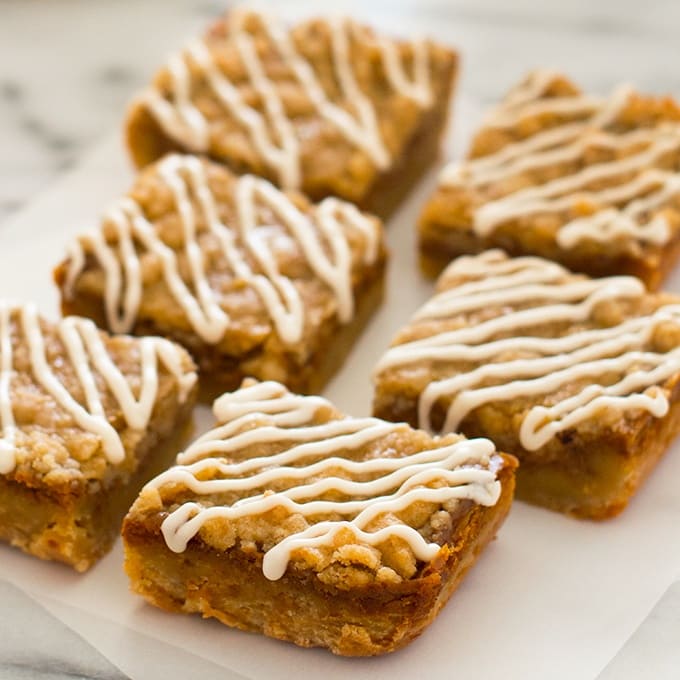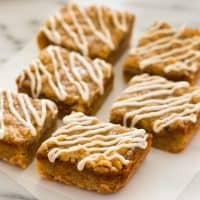 Small-batch Shortbread Pumpkin Pie Bars
These small-batch Shortbread Pumpkin Pie Bars are everything you love about pumpkin pie, but with an easy shortbread base, crunchy streusel topping, and sweet cream drizzle!

Ingredients
Shortbread Base
1/4

cup

(

2oz

) unsalted butter

room temperature

1/4

cup

(

30

g) powdered sugar

1

tablespoon

+

1

teaspoon (

17

g) granulated sugar

2

teaspoons

vanilla extract

1/2

cup

(

60g

) all-purpose flour

1/4

teaspoon

salt
Pumpkin Pie Layer
1/2

cup

milk

any percentage

1/2

cup

(

122

g) canned pumpkin puree

1/4

cup

(

50

g) packed brown sugar

1

large egg yolk

1/2

teaspoon

ground cinnamon

1/4

teaspoon

salt

1/8

teaspoon

ground ginger

1/8

teaspoon

ground nutmeg

Pinch ground cloves
Brown Sugar Streusel
1/4

cup

(

30

g) all-purpose flour

3

tablespoons

(

38

g) packed brown sugar

2

tablespoons

(

1

oz) unsalted butter

room temperature
Sweet Cream Drizzle
1/4

cup

(

30

g) powdered sugar

2-3

teaspoons

heavy cream

or milk

1/4

teaspoon

vanilla extract
Instructions
Shortbread Base
Preheat your oven to 350°F. Lightly grease a 5x7-inch baking dish and line with parchment paper.

In a medium bowl, cream together butter, powdered sugar, and granulated sugar until light and fluffy, 1 to 2 minutes. Beat in vanilla until well-mixed.

Stir in flour and salt until mixed. Scrape dough into your prepared baking dish and press it out into an even layer over the bottom. Bake for 18 to 21 minutes, until lightly browned.

In a medium bowl, whisk together milk, pumpkin puree, brown sugar, egg yolk, cinnamon, salt, ginger, nutmeg, and cloves.

Pour over baked shortbread base and bake for 15 minutes.
Streusel
While your pumpkin pie layer is baking, in a small bowl, stir together flour and brown sugar. Use your fingers or a fork to mix softened butter into the dry ingredients until crumbs form. Place streusel in the refrigerator until you are ready to use it.

Once the timer goes off, drop streusel in crumbles over the pumpkin pie surface. Bake for an additional 10 to 15 minutes, until a knife inserted into the center comes out clean.

Cool completely before adding the glaze.
Glaze
In a small bowl, whisk together powdered sugar, cream, and vanilla until smooth. Drizzle over the surface of the bars. Cut into 6 to 8 bars. For the cleanest cuts, cool in the refrigerator for at least 2 hours before cutting. Bars are delicious at room temperature or chilled.
Recipe Notes
Store covered in the refrigerator.
Nutritional Information
*Links marked with an asterisk are affiliate links, which means I receive small commission if you make a purchase using them. There is absolutely no additional cost to you and it helps keep the lights on around here/pay my student loans.