These cute and delicious Mini Pumpkin Eclairs are topped with chocolate glaze and filled with rich pumpkin pastry cream.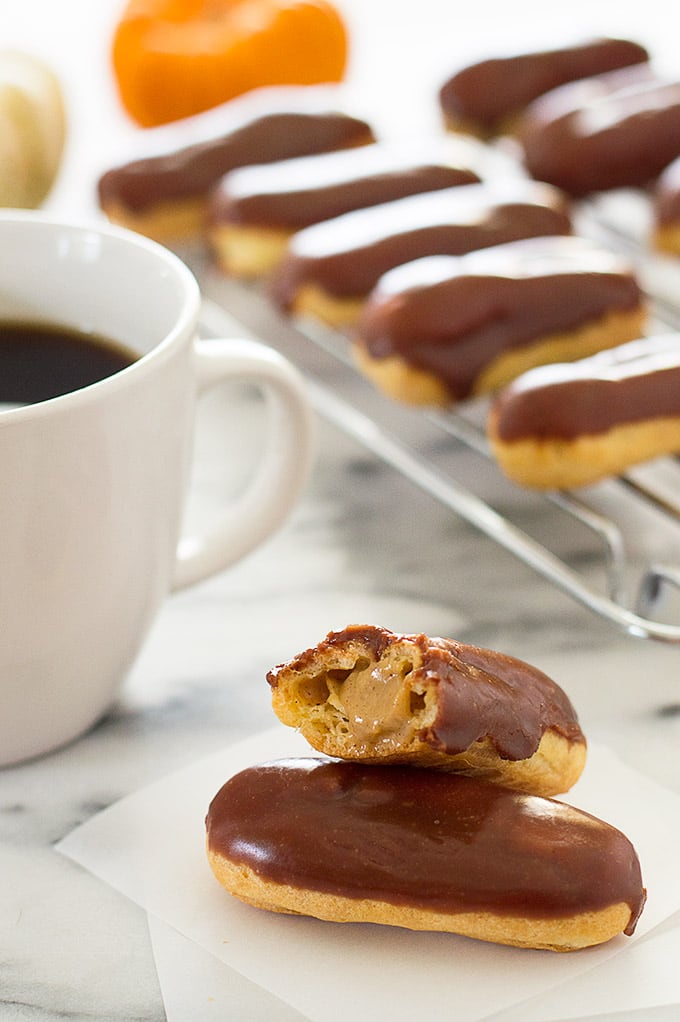 You might remember that a few weeks ago I made these super cute Jigglypuff Pink Cream Puffs and had way too much fun making pâte à choux.
Pâte à choux is the base for a ton of French pastries, so while I was testing the cream puff recipe, I couldn't help but fantasize over all the other delicious things I could do with this dough. And thus, today's recipe was born, Mini Pumpkin Eclairs.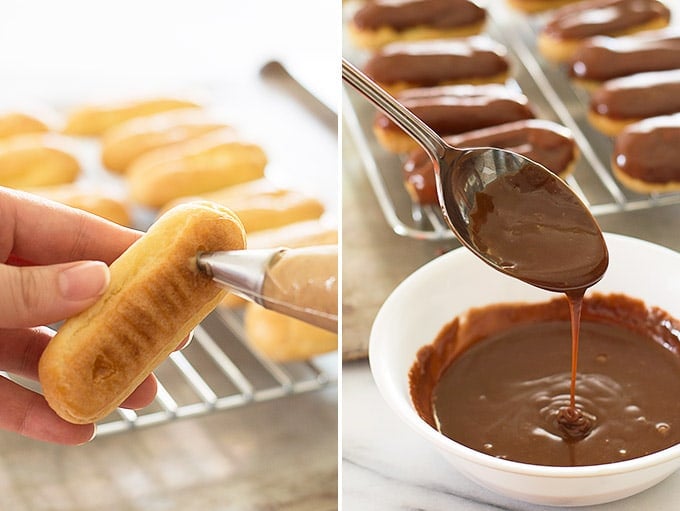 Tell me they're not adorable! You can eat them in about three perfect bites and they taste just as good as they look. That perfect puffy choux pastry is filled with a killer pumpkin pastry cream and then they are dipped in my very favorite chocolate glaze (also seen on my Brooklyn Blackout Cupcakes), which instantly adds about a million delicious points to any recipe.
I couldn't have these sitting around my kitchen, so I shared them around with family and everyone loved them, especially the pumpkin take on pastry cream. The pumpkin pastry cream is rich, but not too sweet and made with pumpkin puree and all the usual pumpkin spices.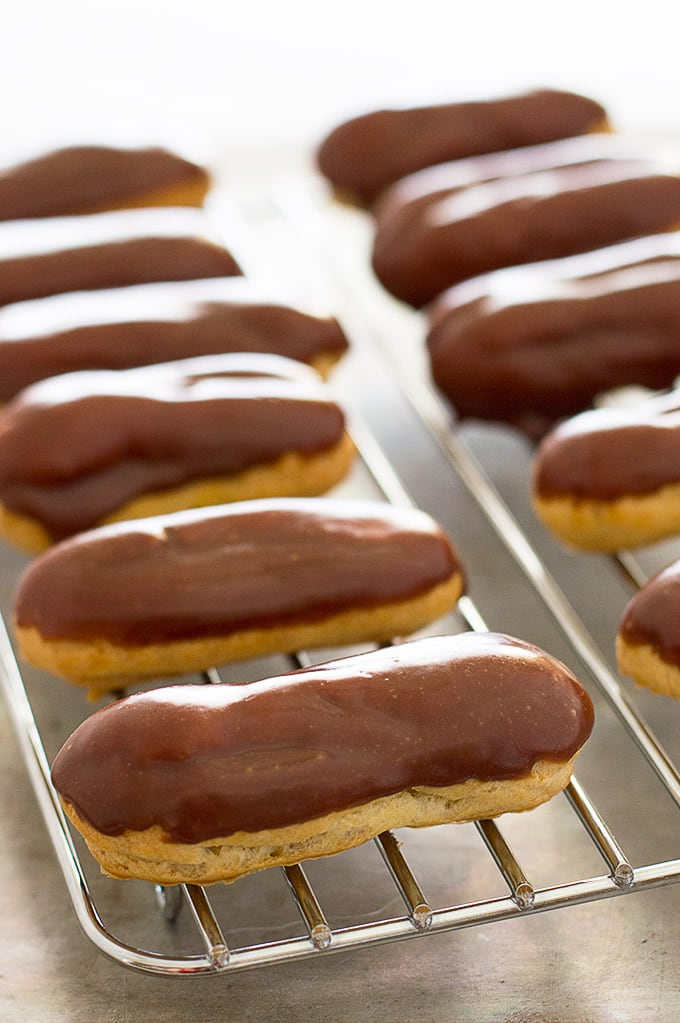 This is totally a recipe I would make just for kicks on a rainy day, but it's also a fun one to make if you have a friend or two coming over, because when was the last time someone served you a homemade eclair? How fancy and together do you look when you can hand them one of these? And they're not even just plain old eclairs. They are PUMPKIN eclairs.
Like hey, I just made a fancy fall-themed French pastry from scratch. What did you do today?  …On second thought, maybe don't make pumpkin eclairs to play psychological games with your friends. That's probably a great way to lose them all.
Save them for your competitive siblings. Siblings have to love you. 😉
This is the same pâte à choux recipe I used for my cream puffs, so I'm including the same tips from that recipe. If you've never made pâte à choux before, read them over before you begin. I think you will find them helpful!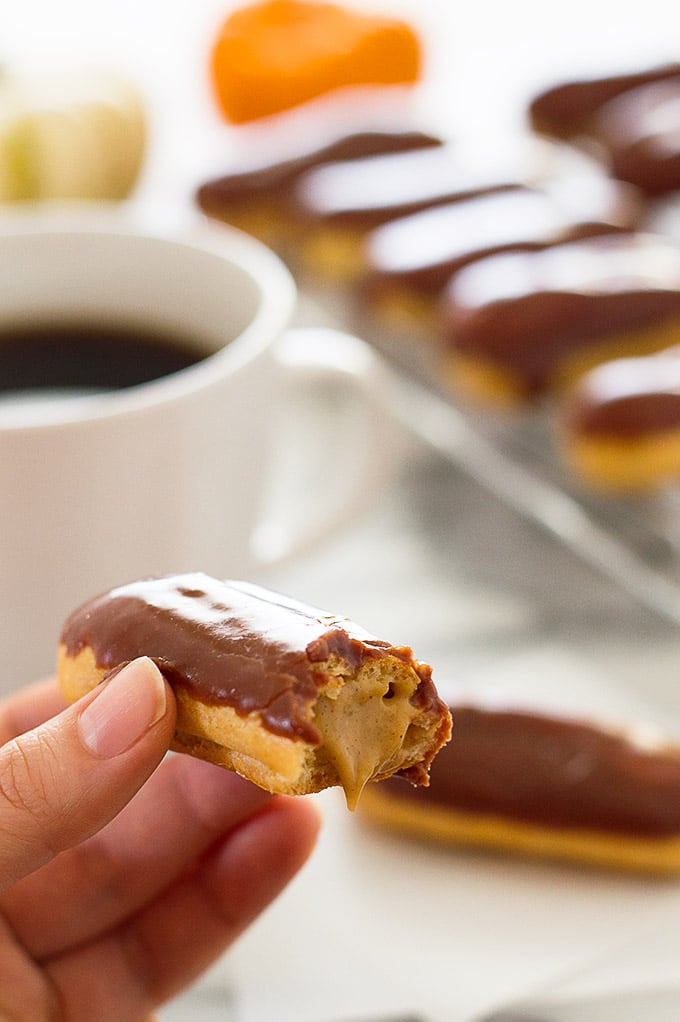 More Perfect Fall Recipes
Pumpkin Eclairs Recipe Tips
This pâte à choux recipe is simple and easy, but it's not necessarily forgiving. Make sure to follow the instructions as written and measure your flour correctly, preferably with a scale. If you don't have a scale, use the spoon and sweep method. (Use a scoop to drop flour into your measuring cup and then the flat side of a butter knife to sweep off the excess. This way your flour won't become compressed and you won't end up with too much.)
You will also need a couple tools. Both the pâte à choux and pastry cream need to be piped. The former works best using a 5/8-inch plain tip*, but you get away with using a large plastic bag with the corner snipped off. For the pastry cream, you *need* a piping bag with about a 1/8-inch plain tip*. Filling the cream puffs requires you to make a small hole in the bottom and pipe cream in. Without a sturdy tip, filling them is going to be difficult.
The final thing you need is a fine mesh strainer. While making the custard for the pastry cream, sometimes bits of egg get overcooked and running the cream through the strainer will make sure that you don't get solid eggy bits in your pastry cream. They are super cheap on Amazon*, but you can also find them in the baking aisle in most grocery stores.
Have some leftover pumpkin puree after making this recipe? Check out my post What to Do With Leftover Pumpkin Puree for some ideas on what to do with the rest of the can.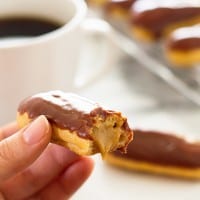 Small-batch Mini Pumpkin Eclairs
These cute and delicious Mini Pumpkin Eclairs are topped with chocolate glaze and filled with rich pumpkin pastry cream.
Print
Pin
Servings (Hover or Click to Change Yield):
10
Ingredients
Pumpkin Pastry Cream
1

cup

milk

any percentage, preferably whole

3

large egg yolks

1/4

cup

(

61

g) pumpkin puree

1/3

cup

(

66

g) granulated sugar

2

tablespoons

(

15

g) all-purpose flour

2

tablespoons

(

14

g) cornstarch

1/2

teaspoon

ground cinnamon

Pinch ground nutmeg

Pinch ground cloves

1

teaspoon

vanilla extract
Pate a Choux
1/2

cup

water

1/4

cup

(

2

oz) unsalted butter

diced

1

teaspoon

sugar

1/4

teaspoon

salt

1/2

cup

(

60

g) all-purpose flour

2

large eggs
Egg Wash
1

large egg

1

tablespoon

water
Chocolate Glaze*
4

tablespoons

(

2

oz) unsalted butter

2

tablespoons

milk

1 1/2

teaspoons

light corn syrup

1

teaspoon

vanilla extract

1/3

cup

(

2

oz) chopped semisweet chocolate

chips are fine

1

cup

(

120

g) powdered sugar

sifted
Instructions
Pumpkin Pastry Cream
In a medium saucepan, heat milk until milk begins to steam but is not boiling. Remove from heat and set aside.

In a medium bowl, whisk together egg yolks, pumpkin puree, sugar, flour, cornstarch, cinnamon, nutmeg, and cloves. SLOWLY drizzle in hot milk, whisking constantly so you don't scramble your eggs.

Continue whisking and pouring until all of the liquid is incorporated. You can speed up the pouring as you go and the temperature of your eggs is brought up.

Transfer mixture back to your saucepan and cook over medium heat, whisking constantly. Continue to cook until mixture thickens and begins to bubble, about 3 to 6 minutes. It's ready when it is the consistency of a thick pudding. Whisk vigorously until smooth, remove from heat, and stir in vanilla.

Place your strainer over a medium bowl and strain pastry cream, using your whisk to push the mixture through.

Place a piece of plastic wrap directly over the pastry cream to prevent a skin from forming and place in the refrigerator to chill completely, at least an hour.
Pate a Choux
Preheat the oven to 375°F. Line your baking sheet with parchment paper or a silicone baking mat.

Have your flour measured out and ready to go. In a medium saucepan, combine water, butter, sugar, and salt. Bring to a boil over medium-high heat. As soon as the butter is melted and the mixture reaches a boil, stir in the flour with a wooden spoon. Stir until flour is incorporated and the mixture pulls away from the sides and forms a thin film over the bottom of the pan.

Transfer dough to a large bowl and allow to cool for about 4 minutes, until no longer hot to the touch. Add one egg and use your wooden spoon to work the egg into the dough until completely mixed. It will seem slow going at first, but it will come together. Repeat with the second egg.

Transfer mixture to a pastry bag fitted with a 5/8-inch tip. Pipe

10

to

11

3-inch lines, at least 2 inches apart. Once finished, use a little water on your fingertip to pat down any tips that are sticking up from piping so you have smooth tops (otherwise the tips sticking up will burn).

In a small bowl whisk together egg and water and brush gently over the pate a choux.

Bake for 28 minutes. Do not open the oven. At 28 minutes, check the eclairs. They should be lightly browned. If not, cook for an additional 2 to 5 minutes. Remove from the oven and cool completely before filling.
Filling the Eclairs
Use a chop stick or small, sharp knife to poke 2 small holes in the bottom of each eclair. Transfer your cooled pastry cream to a piping bag fitted with a 1/8-inch round tip (if the cream has firmed up too much in the fridge, you can whisk it for about 30 seconds until it is smooth and the right consistency for piping.

Fill each of the eclairs with a generous amount of pastry cream.
Glaze
In a small saucepan, combine butter, milk, corn syrup, and vanilla. Whisk over medium heat until butter is melted. Add chocolate and stir until smooth. Remove from heat and add the sifted powdered sugar. Whisk until smooth.

Transfer glaze to a small bowl wide enough for dipping and immediately dip filled eclairs. Allow glaze to set for 5 minutes before eating.
Notes
*This recipe makes about twice the amount of glaze that will actually end up on the eclairs (to ensure you have enough to get a smooth finish when dipping). The approximate nutritional information reflects this.
Pate a choux Adapted From Martha Stewart
Pumpkin Pastry Cream Adapted From About
Chocolate Glaze Adapted From Handle The Heat
This post may contain affiliate links, which means I receive small commission if you make a purchase using them. There is absolutely no additional cost to you.