The best way to cook asparagus in the oven for a quick and easy side dish.
Hey, friends, popping in today with a super quick and simple vegetable side dish for you. Asparagus in the oven AKA roasted asparagus.
This is one of my favorite easy, no-fuss side dishes, AND it's the first vegetable I ever learned to cook as a kid. Now that it's asparagus season here in California, it seemed like the perfect time to post this recipe.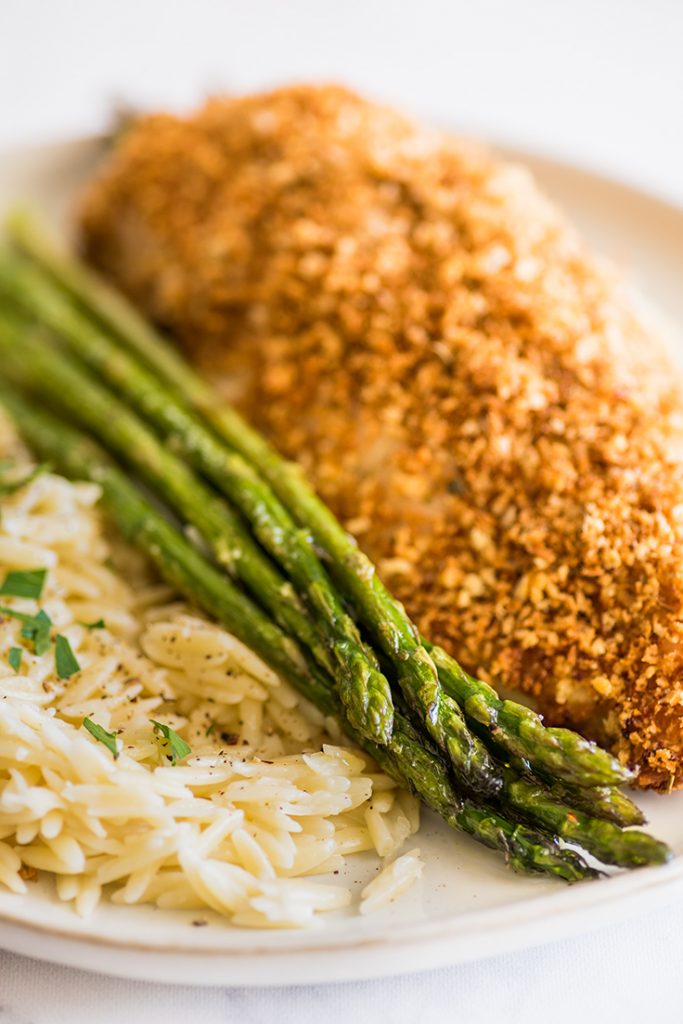 Ingredients
Olive oil: Good quality olive oil will help enhance the flavor of the asparagus and keep it from sticking to the roasting pan as it cooks.
Asparagus: Choose asparagus with tightly closed tips that have a bright, vibrant color not faded or dull. Spear size is a matter of preference, but keep in mind that it will affect cooking time quite a lot.
Salt and pepper: Salt and pepper are all you really need for excellent roasted asparagus, but you can add powdered garlic, onion powder, or whatever spices you prefer.
How to Prep Asparagus
Start with washed and dried asparagus and trim off the tough woody end of the stem, usually a couple inches from the bottom.
How to Trim Asparagus
If you've never worked with asparagus before, and you're not sure how to far up the stalk to trim, take a single spear, and bend the bottom third until it snaps. The place where it snaps should be just above the woody end.
Find that place on the rest of the bunch, line up a handful of them, and use a sharp knife to slice off the ends.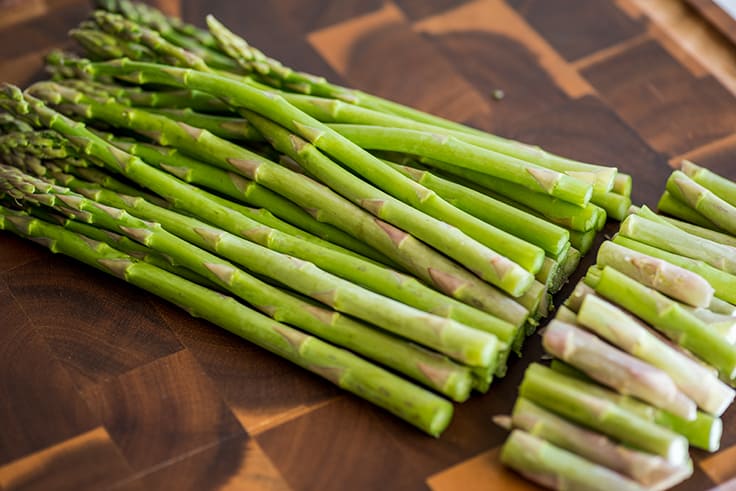 How to Cook Asparagus in the Oven
1. Place asparagus on a baking sheet in a single layer and drizzle with olive oil. Shake the pan a few times so the asparagus rolls around and gets coated on all sides.
2. Sprinkle with salt and pepper.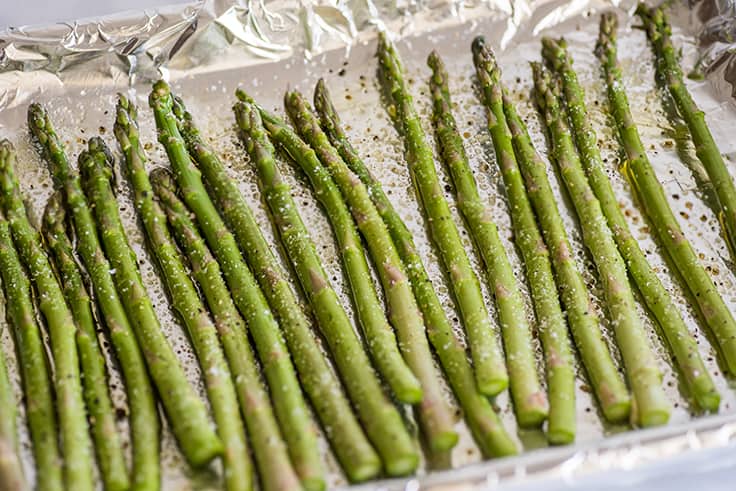 3. Bake at 425°F for 8 to 15 minutes (cooking time can differ quite a bit depending on asparagus size), until asparagus is tender but not mushy.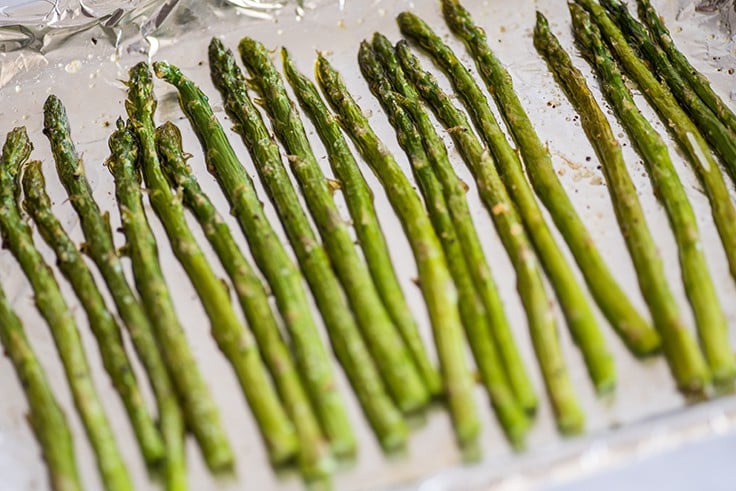 4. Serve and enjoy!
Variations
Want to switch things up? Try one of these flavor variations:
Lemon Asparagus: Add 1 tablespoon of (preferable freshly squeezed) lemon juice per pound of asparagus at the same time that you add the olive oil. Toss to coat.
Garlic Asparagus: Mince 3 cloves of garlic and stir them together with the olive oil before pouring it over the asparagus and roasting.
Cheesy Asparagus: After tossing with olive oil, line the asparagus spears up and sprinkle with 3/4 cup of shredded mozzarella and 1/4 cup of shredded parmesan.
FAQ
How to Store Asparagus
Right when you get home from the grocery store, trim about a half inch off the very bottom of the asparagus spears like you would a bouquet of flowers.
In a heavy cup, liquid measuring cup or wide-mouth mason jar, add about an inch of water.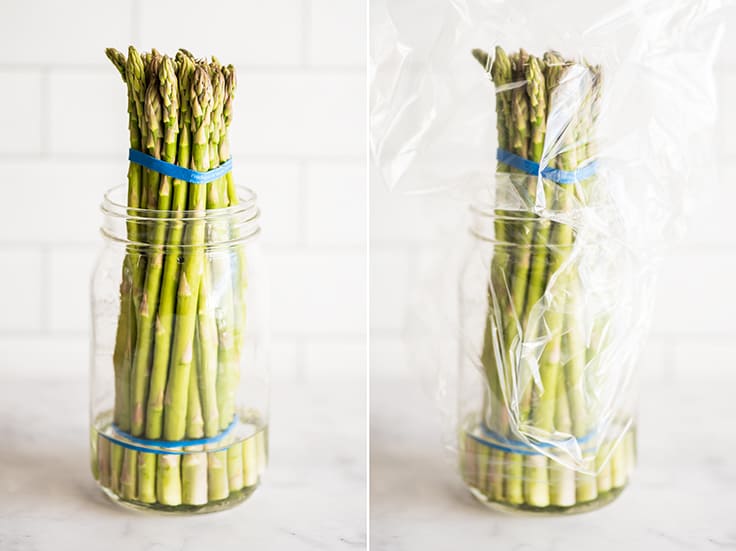 Place spears in the water and loosely cover the top of the asparagus with a bread bag. You can also use the produce bag you brought the asparagus home in (if it's damp, turn it inside out). Store in the refrigerator.
Asparagus will stay fresh for 3 to 4 days, 5 if it was really fresh when you bought it.
What to Serve With Roasted Asparagus
Oven-baked asparagus goes extremely well with meaty mains because it has such a light, clean flavor. Try serving it with Tri-tip, Country-style Pork Ribs, and Chicken Francaise.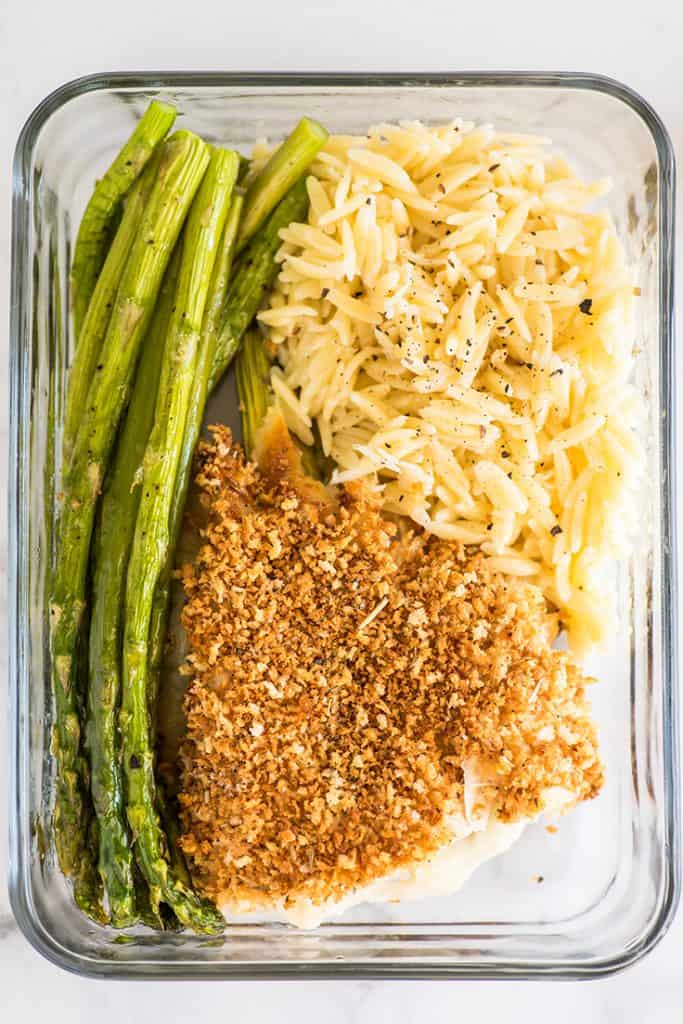 More Fool-proof Vegetable Sides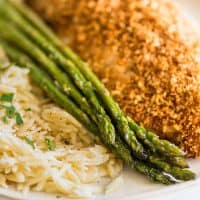 Asparagus in the Oven (Roasted Asparagus)
How to cook Asparagus in the Oven, one of my favorite quick and easy dinner side dishes.

Print
Pin
Servings (Hover or Click to Change Yield):
4
servings
Ingredients
1

bunch

(

about 1 pound

) asparagus

washed and dried

1

tablespoon

olive oil

Salt and pepper
Instructions
Preheat your oven to 425°F. Trim or snap woody ends from asparagus spears and dry well. Place in a single layer on your baking sheet.

Drizzle with olive oil and shake the tray a couple times to coat the asparagus.

Sprinkle with salt and pepper.

Bake for 8 to 15 minutes, until asparagus is tender crisp. Serve and enjoy.
This post may contain affiliate links, which means I receive a small commission if you make a purchase using them. There is absolutely no additional cost to you.