This easy homemade barbacoa recipe makes fall-apart tender beef that's perfect for tacos, burritos, and sandwiches.
Today's recipe is my favorite sort of recipe to share because like my carne asada and carnitas recipes, it's endlessly useful. You make a big batch of barbacoa at the beginning of the week, and you can eat it a million delicious ways.
Its smokey, tangy flavor only gets better as it sits in your fridge, so it's ideal for leftovers. And if you're cooking for a smaller household, it freezes amazingly well. Stock your freezer and enjoy barbacoa for weeks to come.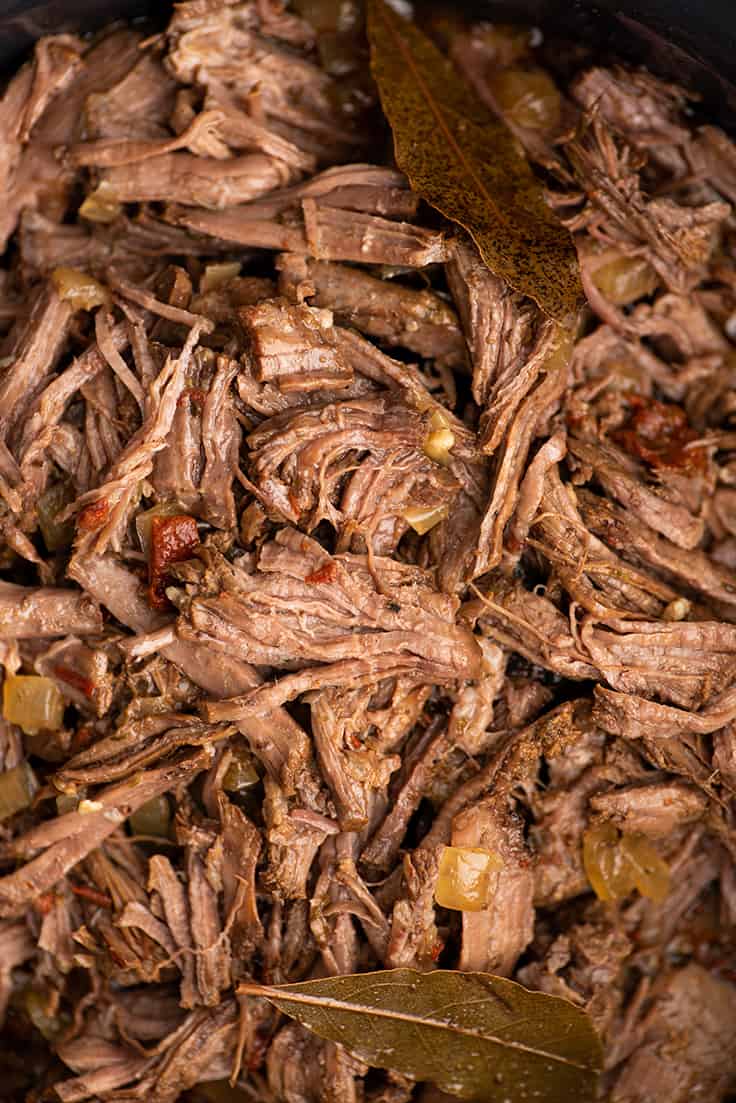 What is barbacoa?
Barbacoa refers to the method of cooking meat low and slow. Traditionally this was done either over an open flame or fire pit. The method is believed to have originated in the Caribbean and then made its way to Mexico and much later, the Southwestern United States.
Ingredients
Chuck roast: Chuck roast is a perfect cut of meat for homemade barbacoa because it's easy to find and is well-marbled with fat, which means it cooks up meltingly tender after a long braise.
Onion: You can use a white or yellow onion here.
Beef or chicken broth: Using broth as our braising liquid adds an extra boost of flavor to the meat.
Lime juice and apple cider vinegar: Lime juice and apple cider vinegar give the barbacoa a deliciously tangy flavor.
Canned chipotle peppers: Chipotle peppers add a bit of heat and smokiness to the beef. You can omit the peppers or cut the amount in half if you're worried about spiciness, but as-written, this dish is only slightly spicy.
Fresh garlic, ground cumin, oregano, and bay leaves: Garlic and a handful of pantry-staple spices add a ton of additional flavor.
Ground cloves: Cloves are a common ingredient in many barbacoa recipes. They have a pungent, slightly bitter flavor that some people love and others *really* don't. Feel free to leave them out if you're not a fan of cloves in savory recipes.
A Note on Chuck Roasts: Chuck is a pretty fatty cut of meat, so this recipe calls for it to be trimmed before cooking. When trimming the roast, cut away the large bits of fat and silver skin (the thin silvery membrane that sticks tightly to the meat), but don't spend too much time worrying about any hard-to-trim pieces throughout the meat. You can just pick out any remaining fat while shredding the meat after braising.
How to Make Barbacoa on the Stove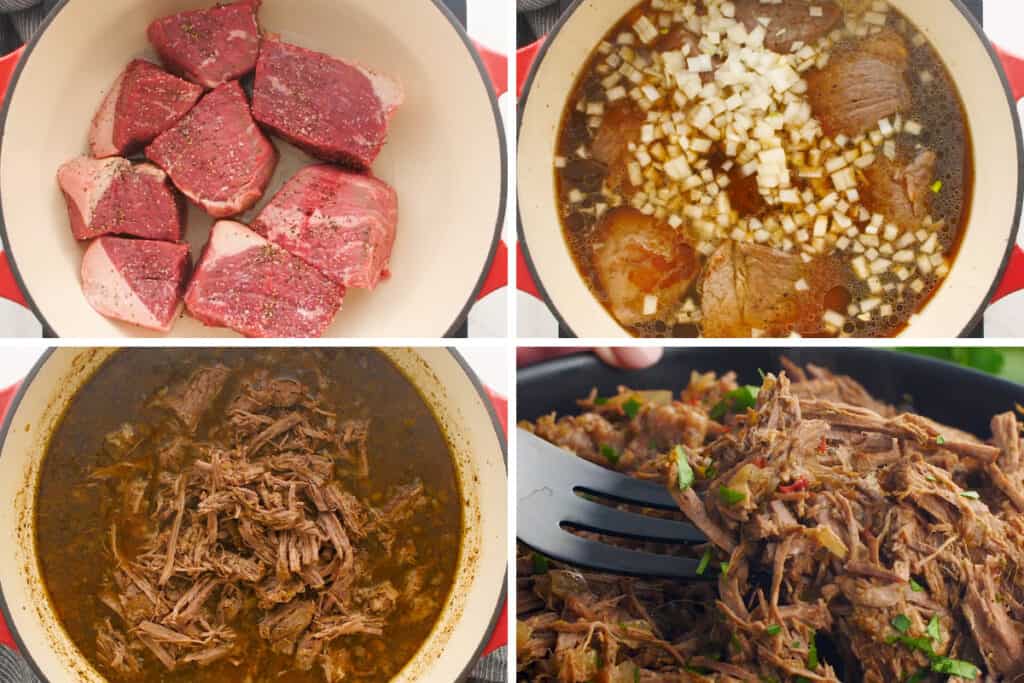 Salt and pepper the meat and then brown it in a large pot. All those little brown bits in the pan from browning the meat are going to add a ton of flavor to the beef.
Add remaining ingredients and just enough broth to mostly submerge the meat. Bring to a simmer.
Simmer covered for 2 1/2 to 3 hours, stirring occasionally, until meat can be pulled apart with a fork.
Once the meat is cooked, use a slotted spoon to transfer the barbacoa to a cutting board and use two forks to shred it into pieces, discarding any remaining fat as you go. Return meat to juices.
How to Make Barbacoa in the Slow Cooker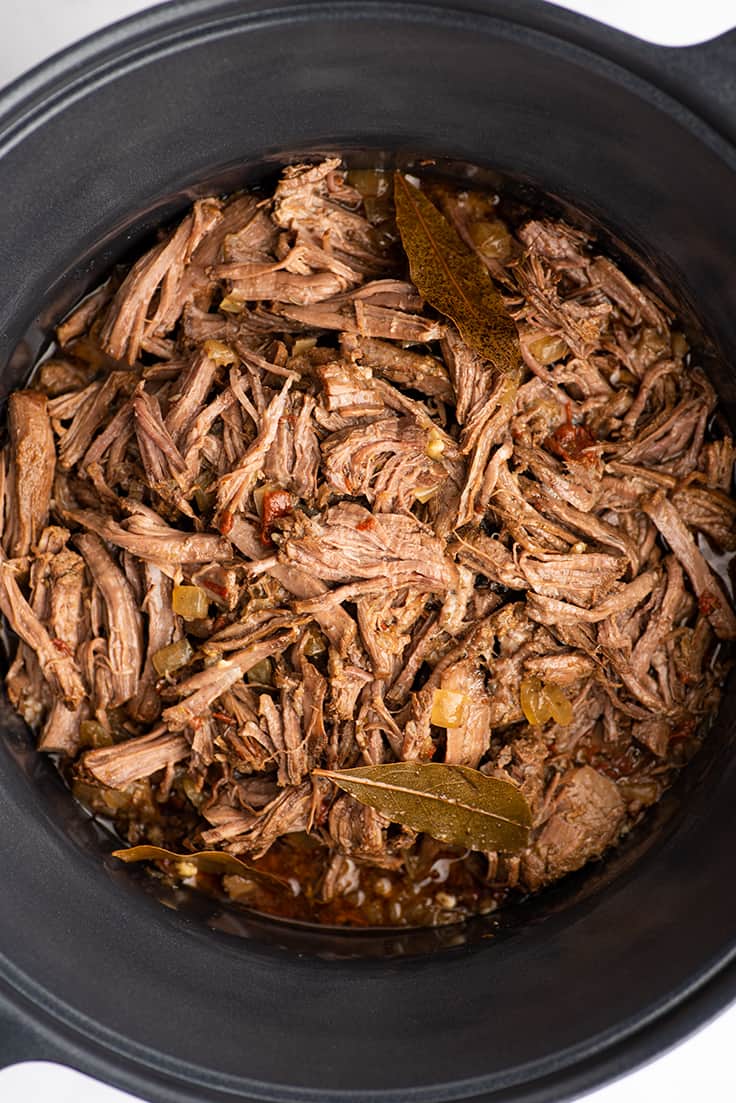 Brown the meat in a large skillet and then transfer the meat and all pan juices to your slow cooker.
Add the rest of the ingredients and cook for 3-4 hours on high, 7-8 hours on low.
Shred meat and enjoy!
How to Use Barbacoa
Barbacoa can be used in so many different ways, but here are a few to get you started:
Barbacoa Tacos – Pile meat over warm tortillas (corn or flour) and top with diced onion, cilantro, and sliced radishes.
Burritos – Combine cilantro lime rice, beans, and your favorite burrito fillings and wrap it all up in a flour tortilla.
Quesadillas – On the stove, layer cheese and barbacoa between two flour tortillas and cook in butter until cheese is melted and tortillas are golden and crispy.
Burrito Bowls – Take all your favorite burrito ingredients and pop them in a bowl instead of a tortilla. Top with spoonfuls of sour cream and guacamole.
Nachos – Layer tortilla chips (or fries!!) with barbacoa, beans, pico de gallo, and nacho cheese sauce.

FAQ
Can you freeze barbacoa?
Yes! Barbacoa freezes extremely well.
To freeze: Freeze barbacoa with some of its juices in a freezer bag, and it will keep in the freezer for up to 3 months.
To reheat: Defrost meat in the refrigerator and reheat in the microwave.
How to store leftovers?
Store leftover meat in its juices in an airtight container in the refrigerator for two to three days.
What kind of meat is barbacoa?
Traditionally barbacoa was made with a variety of meats, including poultry, fish, beef, pork, and goat. In the US, you'll typically find it made with cheaper cuts of beef (and sometimes pork) that do well with a long, slow cooking time. In the Southwestern United States, it's often made with fatty beef cheeks or sometimes the meat from an entire head of the cow, which cooks down extremely rich and tender.
For today's recipe, we're using beef chuck roast, which comes from the shoulder of the cow. It's easier to get a hold of in most of the US than beef cheeks but still has plenty of beautiful fat marbling that creates tender and delicious barbacoa.

What to serve with barbacoa beef?
Since barbacoa is so rich, it pairs well with simple vegetable sides. Try roasted zucchini or broccoli. For that restaurant experience, add a side of warm tortilla chips (spread them on a cookie sheet and bake them at 350°F for 5 minutes) topped with a squeeze of lime juice.
You Might Also Enjoy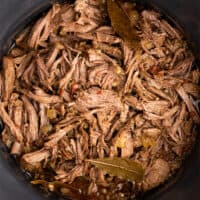 Easy Barbacoa
This easy homemade barbacoa recipe makes fall-apart tender beef that's perfect for tacos, burritos, and sandwiches.
Print
Pin
Servings (Hover or Click to Change Yield):
6
to 8 servings
Ingredients
1

boneless 3-4 pound chuck roast

trimmed and cut into fist-size chunks

Salt and pepper

3

tablespoons

vegetable oil

1

medium white or yellow onion

diced

1-6

cups

beef or chicken broth

1/4

cup

lime juice

1/4

cup

apple cider vinegar

2

chipotle peppers in adobo sauce

minced, optional

4

cloves

garlic

pressed or minced

1

tablespoon

ground cumin

1

tablespoon

dried oregano

1/4

teaspoon

ground cloves

optional

3/4

teaspoon

salt

3

bay leaves
Instructions
Prepare the Meat
Generously salt and pepper meat on all sides.

In a large dutch oven with a lid (or skillet if you'll be using a slow cooker), heat oil over medium-high heat. Brown meat on all sides, in batches if necessary. This may take up to 15 minutes.
On the Stovetop
Add onion and just enough chicken or beef broth to mostly submerge the meat. Stir, scraping the bottom of the pan to remove any stuck-on bits. Stir in remaining ingredients and bring mixture to a low simmer. Cover and cook, stirring occasionally for 2 1/2 to 3 hours, until meat is very tender and can be pulled apart with a fork.
In the Slow Cooker
Transfer meat and any drippings remaining in the pan to the slow cooker. Return the pan to medium-high heat and add a splash of chicken broth or water to deglaze the pan. Scrape off any cooked-on bits in the pan and then pour the liquid over the meat in the slow cooker.

To the slow cooker, add onions, 1 cup of broth and remaining ingredients. Cook on high for 3 to 4 hours, low for 7 to 8 hours, until the beef is tender and can be easily shredded with a fork.
Shred
Once meat is done, use a slotted spoon to transfer the pieces to a cutting board. Use two forks to shred the meat, discarding any large pieces of fat as you go.

Return shredded meat to the cooking liquid. Add more salt and pepper to taste, serve and enjoy.
Notes
Approximate nutritional information is for 8 servings (approximately 1/2 cup meat) and assumes 25% braising liquid consumption.
This post may contain affiliate links, which means I receive a small commission if you make a purchase using them. There is absolutely no additional cost to you.