These Smashed Red Potatoes have creamy centers and crispy, almost potato-chip-like edges. They're easy make and completely addicting.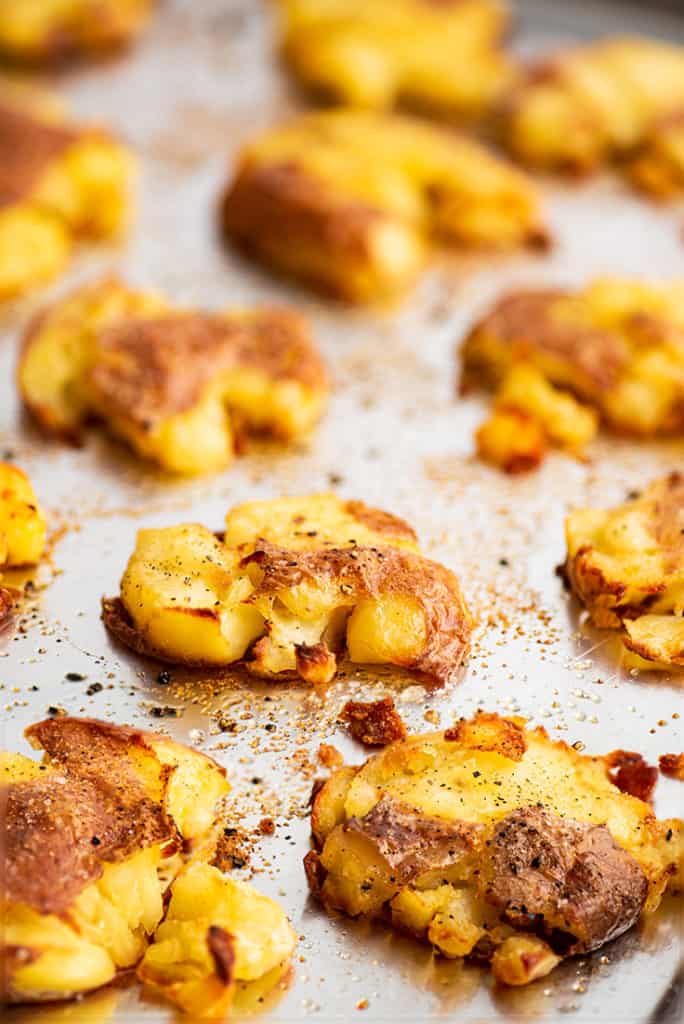 Over the summer I shared my favorite crispy Oven-roasted Potatoes with you, and I have another favorite potato side dish for you today, one that's EVEN CRISPIER: Smashed Red Potatoes.
Have you ever had smashed potatoes before? Friend, they are sooooo good, and I'm genuinely SO excited for you to try them.
They have these fabulous creamy centers and crispy, almost potato-chip-like edges. You make them once, and you'll probably end up a little obsessed and find yourself making them constantly because they are *addicting*.
How to Make Smashed Potatoes
Smashed potatoes take a little while to make, about 45 to 55 minutes, but all the steps are super easy, and 95% of that cooking time is hands-off.
1. Start with cleaned and dried potatoes and use a knife or potato peeler to scrape away any bad spots.
2. Simmer in generously salted water until fork tender.
3. Smash on a baking sheet, drizzle with olive oil, and bake until suuuuuuper crispy.
4. Eat. 😉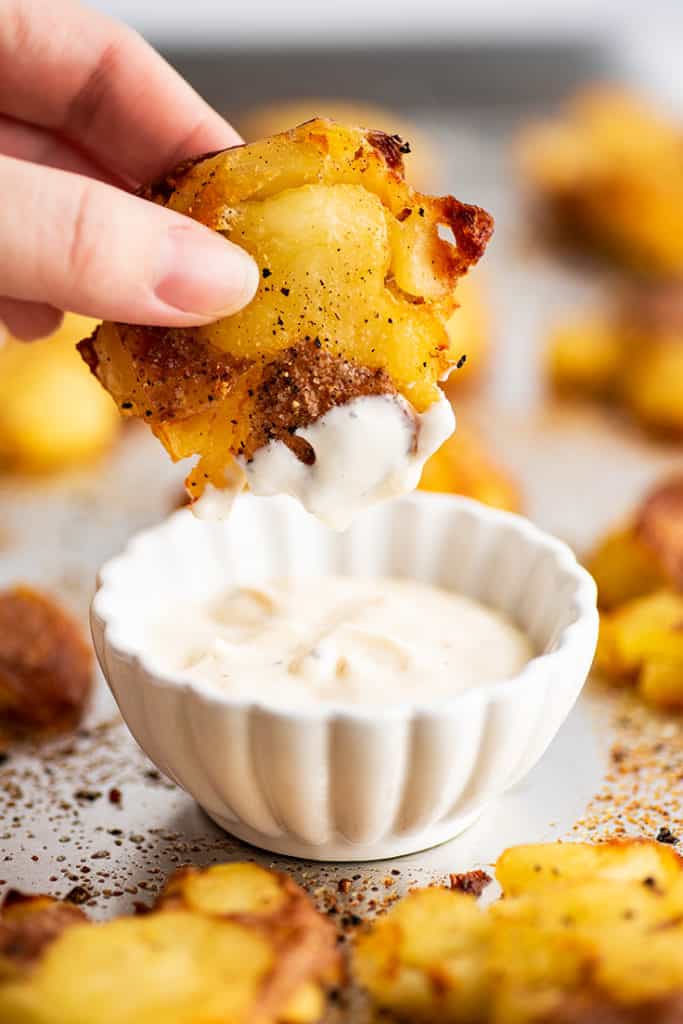 A Note on Potato Size
Most smashed potato recipes will call for small/new potatoes. This is because larger potatoes are too big to cook evenly all the way through when boiling, so you end up with overcooked outsides that will not hold together after smashing.
You *can* make smashed potatoes with medium-to-large red potatoes, but they're not going to be pretty individual potato bites that hold together like the ones in these photos.
To make this recipe with larger red potatoes, after smashing (you might want to use the bottom of a small pot to smash them), you'll have a giant mass of smashed potatoes. Separate the mass into smaller sections on the tray so there are plenty of edges (the edges are what become crispy) and then cook according to the recipe instructions.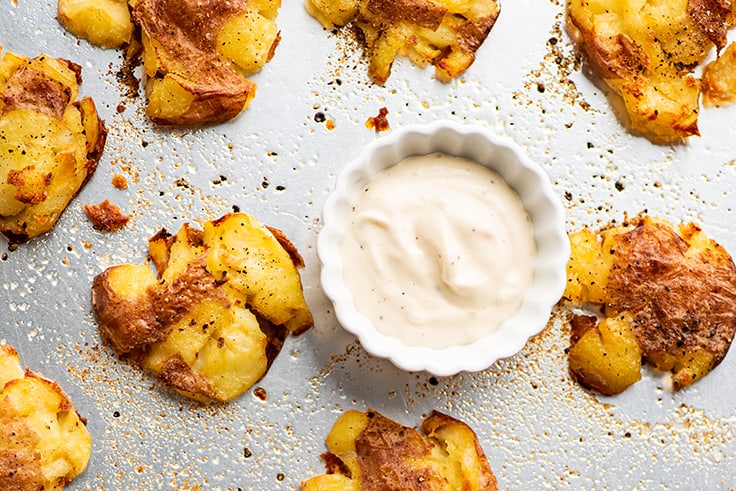 Garlic Aioli
Smashed potatoes are fabulous on their own, but they are even better when dipped in tangy garlic aioli. This aioli can be made with either mayonnaise or plain, unsweetened yogurt, and really just takes the potatoes to a whole new level of amazing.
What to Serve With Smashed Potatoes
Smashed potatoes make a pretty great side for most proteins, but since they're going to occupy your oven for upwards of half an hour, I like to serve them with grilled or pan-cooked mains like a Marinated Steak or Panini and a side of corn or broccoli.
Recipe Notes
If you're having trouble finding small (or new) red potatoes, they're often sold in bags rather than as loose individual potatoes the way larger potatoes are.
These potatoes are best when eaten immediately (reheated leftovers become a little chewy), so this recipe is written to serve 2-3. If you're feeding a larger number of people, the recipe doubles with no adjustments needed. To change the recipe yield, hover over the serving size or click if you're on mobile, and slide the slider.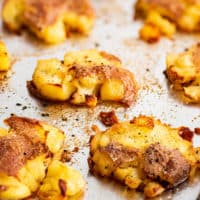 Crispy Smashed Red Potatoes
These Smashed Red Potatoes have creamy centers and crispy, almost potato-chip-like edges. They're easy make and completely addicting.
Print
Pin
Servings (Hover or Click to Change Yield):
2
to 3 servings
Ingredients
Smashed Potatoes
1

pound

small red potatoes

scrubbed clean and trimmed of any imperfections

1

tablespoon

salt

plus more

3

tablespoons

olive oil

Pepper
Aioli
1/4

cup

plain yogurt OR mayonnaise

*

1

garlic clove

pressed

1

teaspoon

lemon juice

fresh or bottled is fine

1/8

teaspoon

salt

1/8

teaspoon

pepper
Instructions
Grease a large, rimmed baking sheet with cooking spray and set aside. Preheat oven to 450°F.

In a medium pot, cover clean potatoes with cold water and add salt. Bring to a simmer and cook until potatoes are just fork tender, 10 to 15 minutes.

Drain and leave potatoes in the sink to cool for 5 minutes.

Drizzle

1

tablespoon of the oil over the prepared baking sheet. Add potatoes to the tray and shake it so the potatoes are coated in oil. Use a potato masher or flat-bottomed glass sprayed with cooking spray to smash each potato. Drizzle remaining oil over the top so potatoes are well-coated.

Sprinkle with salt and pepper and bake until golden and crispy, about 30 to 40 minutes.

While your potatoes are baking, stir together yogurt or mayonnaise, lemon juice, garlic, salt, and pepper.

Serve potatoes with aioli and enjoy!
Notes
*You can also use a 50/50 combo of mayonnaise and yogurt, which will cut calories but also maintain the richness that mayonnaise adds.
Approximate nutritional information is for 3 servings and aioli made with yogurt.
This post may contain affiliate links, which means I receive a small commission if you make a purchase using them. There is absolutely no additional cost to you.