These easy Chocolate Souffles for Two drizzled with homemade creme anglaise are a perfect make-ahead date night dessert.
Hey, do you need a recipe to impress? I have just the thing for you: chocolate souffles!!
Here's the thing about souffles: They sound fancy. They look and taste amazing. People think they're hard to make. You are 100 percent capable of making one and winning at hosting forever and ever.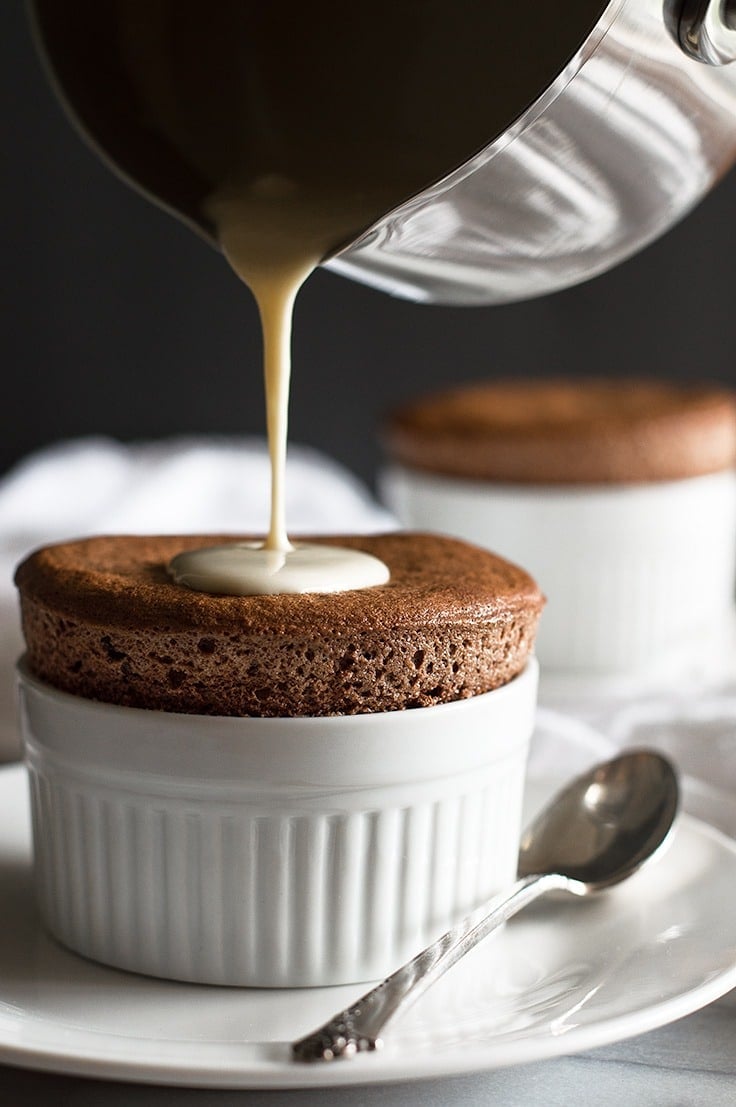 Souffles get a bad rap but they are really not that difficult. If you follow the instructions, you'll do great.
I've literally never had one fail on me, and I don't think I can say that about any other dessert category under the sun (oh, the fallen cupcake stories I could tell…).
What is a chocolate soufflé?
Chocolate souffles are a French dessert made primarily with eggs and chocolate. Whipped egg whites are folded into a mixture of melted chocolate, butter, and egg yolks and then baked. As it bakes, the mixture puffs up and rises tall and beautiful above the rim of the baking dish.
The tricky thing about souffles is that what goes up must come down. Once removed from the oven, the souffle will begin to sink within minutes, so they're meant to be served immediately after baking.
And when not mixed properly or treated too roughly, they can sink prematurely which is what gives people such anxiety about making them.
What does a chocolate souffle taste like?
A good chocolate souffle will have a rich chocolate flavor with a light and airy outer texture that practically melts in your mouth. As you get closer to the center of the souffle, the texture becomes creamier and more custardy.
It's absolutely delicious and an incredibly fun dessert when you're craving something a little different and special feeling.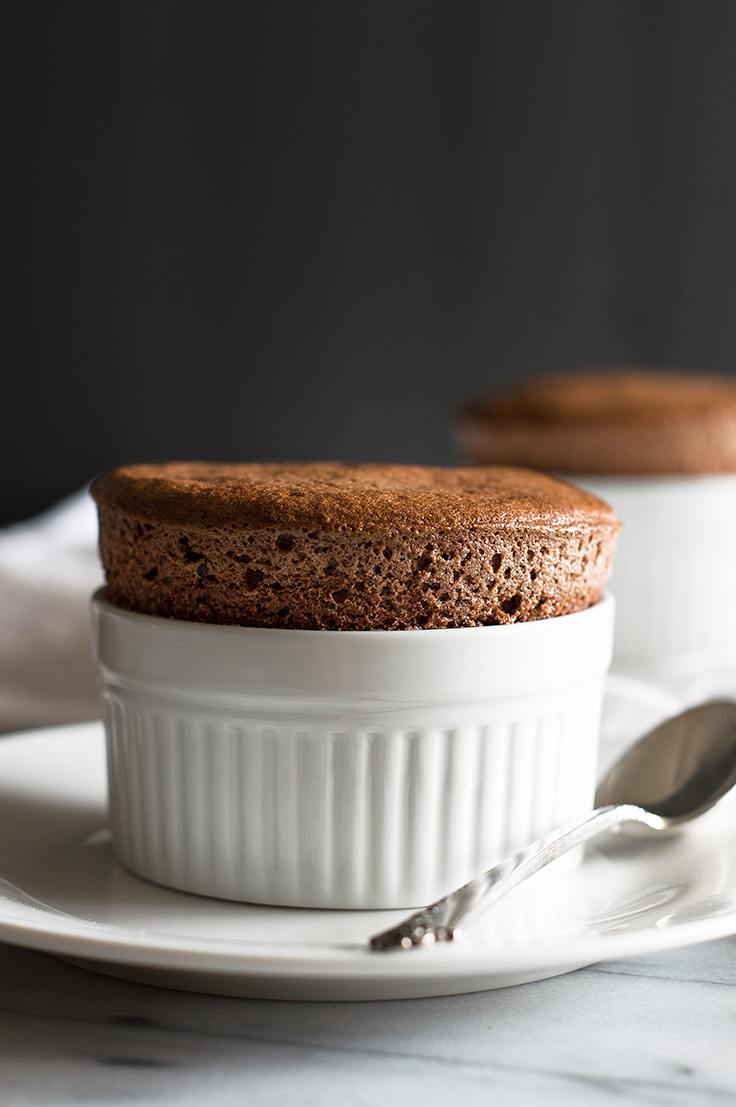 Ingredient Notes
Semi-sweet chocolate: I recommend using good-quality chopped chocolate in this recipe, but high-quality chips like Ghirardelli or Guittard will work.
Room temperature eggs and butter: It's very important that the eggs and butter are room temperature because they won't whip up/incorporate well with the other ingredients if they are cold.
Cream of tartar: Cream of tartar helps stabilize the egg whites and make them easier to whip up. If you don't keep it stocked, it's a handy ingredient to keep around (especially if you're a fan of snickerdoodles). You can order it online or find it in the spice aisle at your local grocery store.
How to Make Chocolate Souffles
Brush ramekins with softened butter and coat with sugar. This gives the souffles something to grasp as they rise (as opposed to smooth, slippery ramekin walls) and helps make taller, more stable souffles.
Melt chocolate and stir in room temperature butter before setting aside.
Combine egg whites and cream of tartar and beat until stiff peaks form.
Whisk egg yolks into the chocolate mixture and then fold whites into the chocolate in four parts.
Transfer to prepared ramekins, clean up the edges, and bake until tall and beautiful.
Serve immediately and enjoy!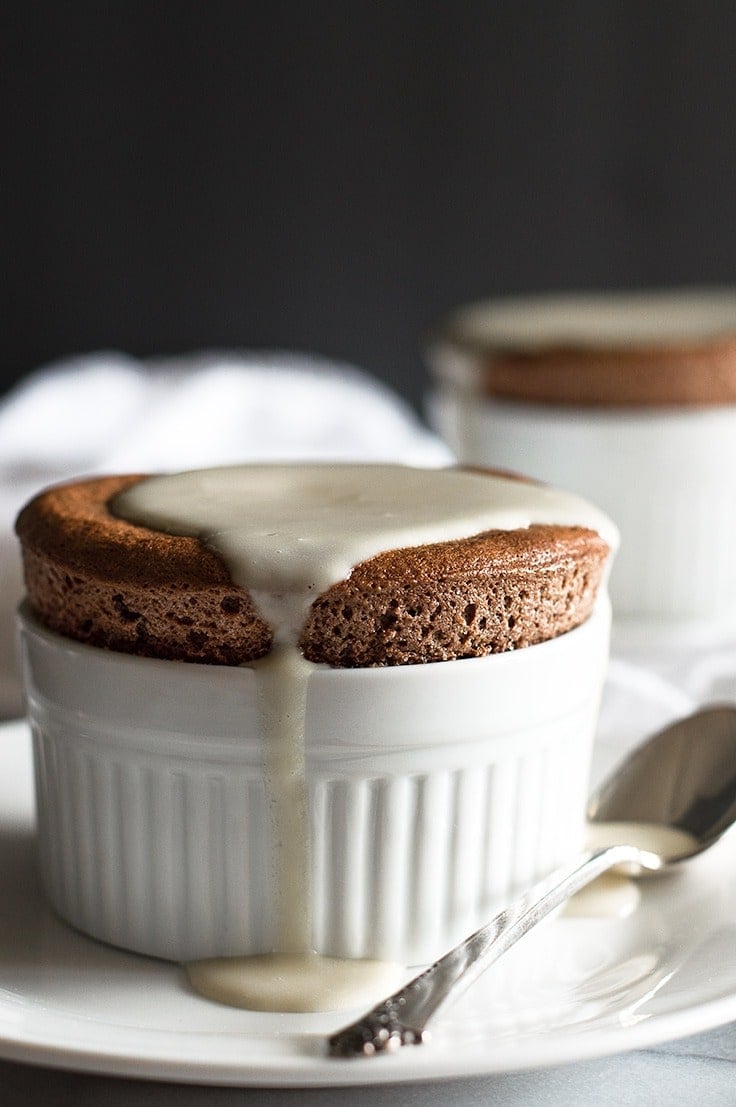 Creme Anglaise Sauce for Souffles
You can serve the chocolate souffles on their own or dusted with powdered sugar and chopped strawberries, but if you really want to take these to the next level, add creme anglaise.
Creme anglaise is a sweet, creamy custard sauce–basically vanilla ice cream minus the ice. It is one of my favorite dessert sauces because it is lovely and rich, but not too sweet and adds a simple sophistication to anything you serve it over.
When you pair it with a chocolate souffle, it makes for a toe-curlingly good dessert. Plus making the souffles will leave you with one extra egg yolk, and this sauce just happens to use one egg yolk. 😉
FAQ
Can I make a soufflé ahead of time?
Yes, but you must bake them just before serving. These souffles can be assembled up to 24 hours in advance and stored in the refrigerator.
Simply bake according to recipe instructions just before you're ready to enjoy them. (There are more detailed make-ahead instructions in the note section of the recipe.)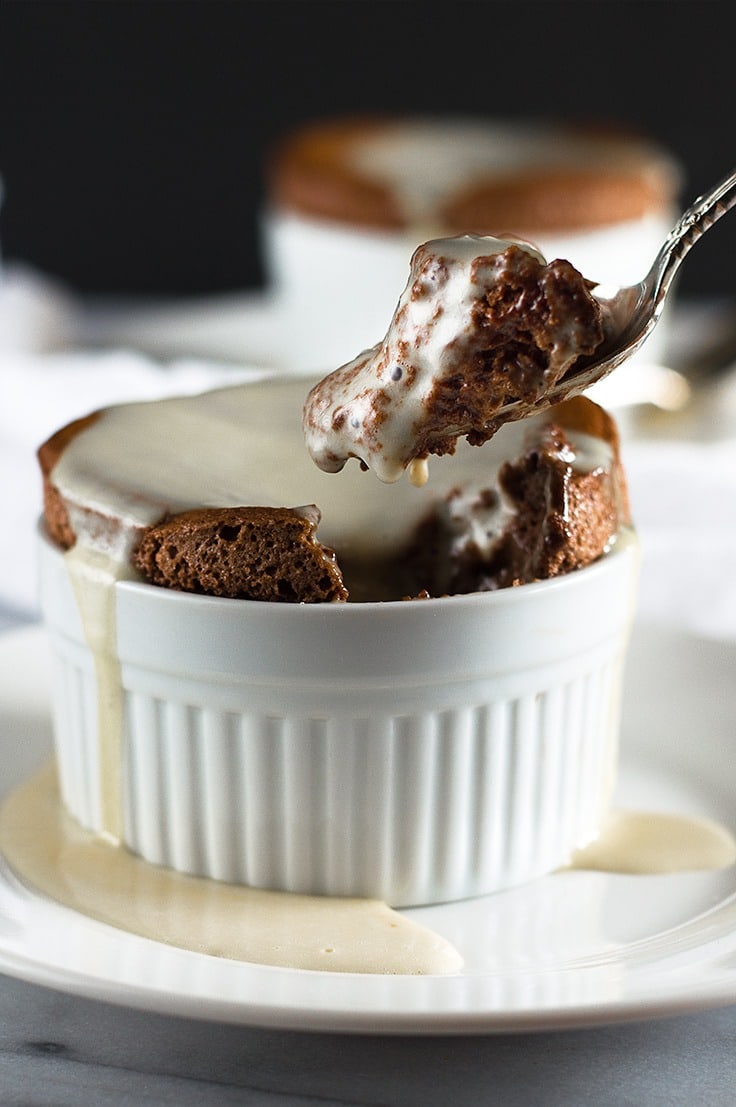 What causes a souffle to collapse?
All souffles will fall eventually. Once removed from the oven, the souffle will begin to sink within minutes. But if your souffle collapsed before it was done baking it might have been:
Your egg whites were not whipped long enough. Your egg whites need to be whipped to stiff peaks (when you lift the beaters out, the whites should form peaks that stand straight up and don't curl at the tips). Under-beaten eggs might not provide enough structure and the souffle can collapse.
The ingredients weren't properly mixed. There is a fine line between over-mixing which can deflate your egg whites and under-mixing which can leave pockets of dense chocolate. Since these pockets of chocolate don't have enough egg whites in them, they will not rise with the rest of the souffle creating weak spots that can collapse and take the rest of the souffle with it. To avoid this, you want to make sure to mix the souffles well enough that there are no very distinct streaks of egg whites or chocolate remaining before spooning it into your ramekins.
You opened the oven too soon/your oven runs cold. If you open your oven door or try to move a souffle before it's set, the cold air/movement can make it collapse. To avoid this, don't open the door to check on your souffle until the timer goes off. If you do this and you find that the souffle is still falling when you open the oven door, check your oven temperature with an oven thermometer. Oven temps can often be off by quite a bit, so if your souffle is baking at a lower temperature, it won't cook as quickly and be ready to come out even if the timer says it should be.
Is a chocolate souffle hard to make?
Not really. Chocolate souffles are easy to make, they're just also easy to mess up.
If you read the recipe and follow the steps carefully, you'll do great. The steps themselves are all simple and overall, souffles are about the same amount of work as making a batch of chocolate chip cookies. They are simply less forgiving of mistakes and improvisation.
More Recipes to Impress
More Desserts for Two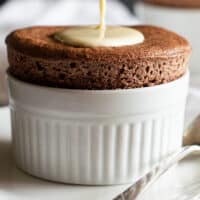 Chocolate Souffles for Two With Creme Anglaise
These decadent Chocolate Souffles for Two drizzled with homemade Creme Anglaise are a perfect make-ahead date night dessert.

Print
Servings (Hover or Click to Change Yield):
2
Ingredients
Creme Anglaise
3

tablespoons

heavy cream

2

tablespoons

milk

1

large egg yolk

you can reserve the white for the souffle*

1

tablespoon

granulated sugar

½

teaspoon

vanilla
For the Ramekins
1

tablespoon

(

14

g) unsalted butter

room temperature

1

tablespoon

(

12

g) granulated sugar
Souffles
1

cup

(

6

oz) chopped semi-sweet chocolate

high-quality chips are fine

1

tablespoon

(

14

g) diced unsalted butter

room temperature

3

large egg whites

room temperature

2

large egg yolks

room temperature

⅛

teaspoon

cream of tartar
Instructions
Creme Anglaise
In a 1-quart pot, bring heavy cream and milk to a simmer. Remove from heat and transfer mixture to a liquid measuring cup (if you have one) for easy pouring.

In a small bowl, vigorously whisk together egg yolk, sugar, and vanilla for 30 seconds. Whisking continuously, very slowly drizzle in hot cream mixture, being careful not to go too fast and scramble the egg.

Once cream is completely incorporated, wipe out your 1-quart pot and pour in egg and cream mixture. Heat over medium heat, stirring constantly until thickened and custard coats the back of your spoon, 1 to 2 minutes. Do not simmer. Set aside or store covered in the refrigerator if making in advance.
Souffles
Remove the top rack from your oven so your souffles can sit on the bottom rack and rise unobstructed. Preheat your oven to 400°F.

Use a pastry brush and softened butter to grease the entire inside of the ramekins. Coat the sides in long brush strokes from the bottom up to the top all the way around. Add 1/2 tablespoon of the sugar to each ramekin and shake so that all of the butter is coated. Discard any loose sugar. Place the ramekins in the fridge.

Place chocolate in your double boiler* and melt over barely simmering water. Remove from heat and stir in diced, room-temperature butter. Set aside.

In a medium bowl, combine egg whites and cream of tartar.

With a handheld electric mixer, beat whites until stiff peaks form--eggs should be glossy and when beaters are lifted straight out, peaks should stand straight up and not flop over at the tip. Place bowl in the refrigerator.

Whisk the egg yolks into the chocolate mixture until smooth. Remove egg whites from the refrigerator and use a silicone spatula to fold about 1/4 of the whites into the chocolate mixture. Continue to fold the rest of the whites in in thirds until mixed. The mixture will not be completely uniform in color, but there should be no very distinct streaks of white. Divide the mixture between

2

ramekins, filling to the very top. Discard any extra. (If making ahead, skip to the notes.)

Use a knife or dough scraper to scrape excess off the top for a perfectly flat top, then run the very tip of your index finger all the way around the inside of the ramekin, making a small channel between the souffle and the edge of the dish. Wipe edges and outsides of the ramekins with a clean kitchen towel and place on a baking sheet.

Bake on the bottom rack of your oven for 11 to 13 minutes, until lifted nicely. Do not open your oven before the timer goes off as the cold air could affect the souffles' rise. Souffles will begin to slowly drop just a couple minutes after they come out of the oven, so serve immediately. At the table, top with creme anglaise and enjoy.
Notes
If making ahead: Cover tightly with plastic wrap and refrigerate for up to 24 hours. When you are ready to bake, remove plastic wrap and use a knife to smooth out the top of the souffle. Run the tip of your index finger all the way around the inside of the ramekin, making a small channel between the soufflé and the edge of the dish. Wipe edges and outsides of ramekins with a clean kitchen towel and place on a baking sheet. Bake on the bottom rack of your oven for 13 to 15 minutes, until lifted nicely. 
*This entire recipe calls for 3 whole eggs. 1 egg yolk for the creme anglaise and 2 yolks and 3 whites for the souffles. It's best to separate your eggs over a separate small bowl because any yolk in the whites will prevent them from whipping up into stiff peaks.
*If you don't have a double boiler, you can use a glass bowl set over a pot filled with 1-inch of barely simmering water. Just make sure that the bottom of the bowl is not touching the water or it could cause your chocolate to overheat.
The creme anglaise will speed up the rate at which the souffles drop, so wait until you are at the table to add the sauce. Creme anglaise can be served warm or cold.
This post contains affiliate links, which means I receive a small commission if you make a purchase using them. There is absolutely no additional cost to you.