This Chocolate Pudding for Two is absolutely indulgent and decadent and one of the easiest things in the world to make.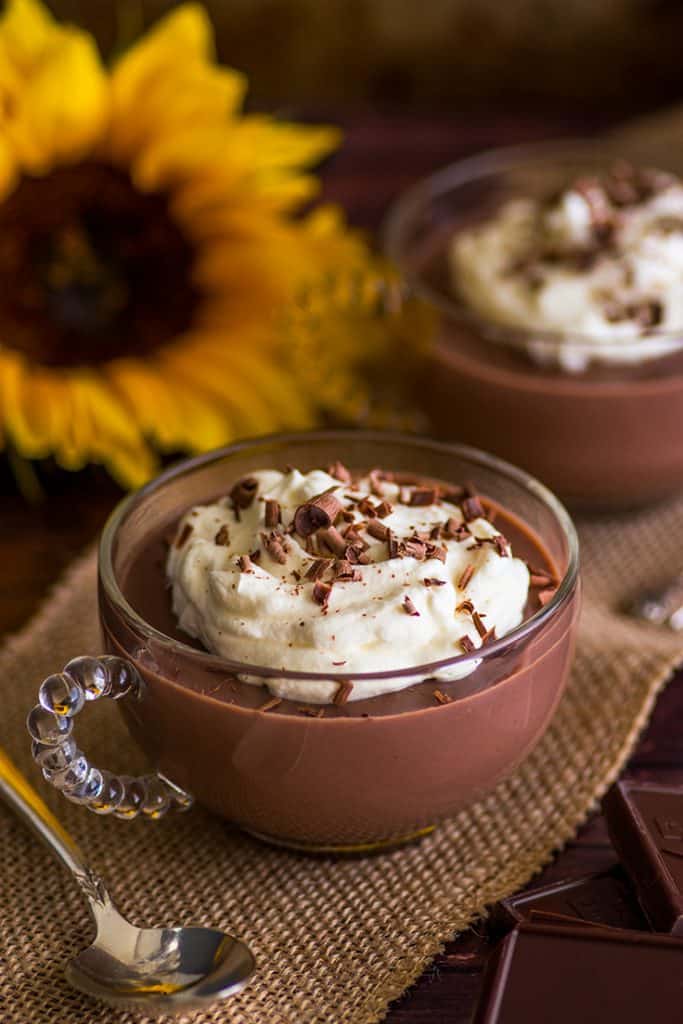 Good morning! How are you on this fine Friday? Feeling a little harried from the holidays? Run down by the work week? If that's the case, I have a little weekend pick-me-up for you today: the best, easiest, most amazing Chocolate Pudding for Two.
And if you're sitting there, nose crinkled, remembering bland pudding eaten in school cafeterias out of little plastic cups, thinking you outgrew chocolate pudding years ago, friend, I have great news for you. You're never too old for good chocolate pudding (and this is Good Chocolate Pudding TM).
Chocolate pudding is the perfect grown-up dessert because it feels absolutely indulgent and decadent, but it's low-stress to make, and the active cooking time is short. So you can throw together a fabulous pudding dessert quickly and get right back to whatever important grownup things you were doing like, I don't know, chopping down trees or taxes.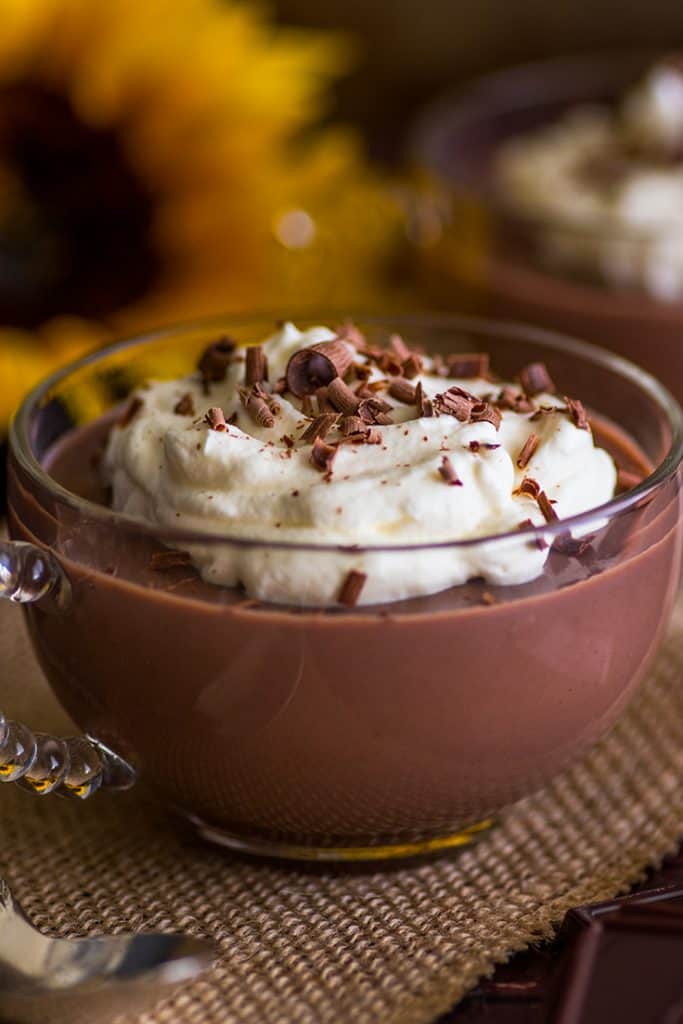 I love this particular pudding recipe so much that it has actually appeared on the site twice before. Once as filling in my Brooklyn Blackout Cupcakes (if you like chocolate, you must go try those) and this summer as the base of my Homemade Pudding Pops, but today it's time to let the pudding be pudding.
And letting this pudding be the star of the show is never a bad thing. Deeply chocolatey and creamy, rich, and not too sweet, it's a dessert to linger over. Just add good company, and you have the makings of a perfect evening.
How to Make Chocolate Pudding
Chocolate pudding really is one of the easiest desserts in existence. If you can hold a whisk, you can make this pudding. You just take said whisk and mix together sugar, cornstarch, salt, and milk over low heat until thickened, melt in some semisweet chocolate, drizzle in a few drops of vanilla, and refrigerate until set. About twelve minutes of active cooking time and two to three hours of agonizing waiting for your pudding to set, and you can grab a spoon, pile on the whipped cream, and enjoy.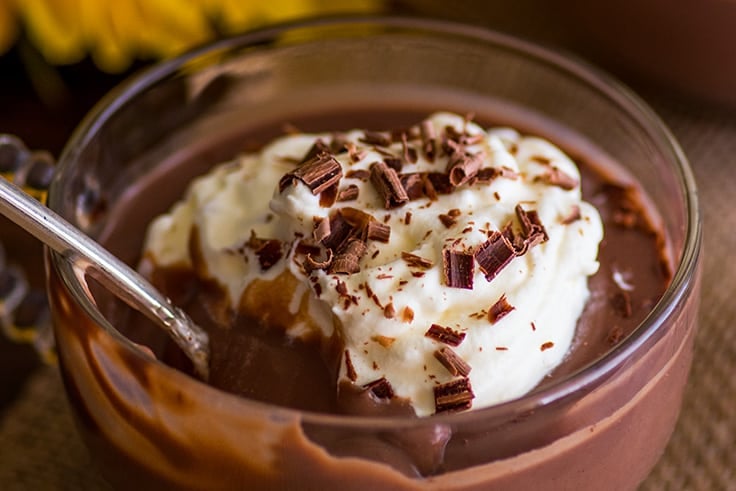 This post may contain affiliate links, which means I receive a small commission if you make a purchase using them. There is absolutely no additional cost to you.
Chocolate Pudding for Two Recipe Notes
This pudding can be made with any percentage milk, but the higher-fat the milk, the richer (and tastier) the pudding will be. If you only have low-fat milk, you can replace a bit of it with heavy cream or half and half for a richer finished product.
With homemade puddings, it's completely normal to have some cornstarch lumps. You can strain them out with a fine-mesh strainer (if you don't own one, they're cheap on Amazon and also available in the baking aisle at most large grocery stores) or just leave them. They won't hurt anything.
To make chocolate shavings for topping, run a vegetable peeler down the short edge of a chocolate bar.
Looking for more chocolate desserts for two? Try these Chocolate Souffles for Two, Peanut Butter Brownies for Two, and Small-batch Chocolate Cupcakes.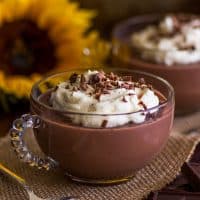 Easy Chocolate Pudding for Two
This Chocolate Pudding for Two is absolutely indulgent and decadent and one of the easiest things in the world to make.
Print
Servings (Hover or Click to Change Yield):
2
to 3 servings
Ingredients
Special Equipment
Chocolate Pudding for Two
1/4

cup

(

50g

) granulated sugar

2

tablespoons

(

15g

) cornstarch

1/8

teaspoon

salt

1 1/2

cups

milk

whole preferred, but any percentage is fine

1/2

cup

(

3oz

) semisweet chocolate

chopped (good-quality chocolate chips are fine)

1/2

teaspoon

vanilla extract
Instructions
In a 2-quart (small) saucepan, whisk together sugar, cornstarch, and salt. Slowly whisk in milk, whisking out any lumps as they form.

Heat over medium-low heat, whisking every other minute or so, until mixture is thick enough to coat the back of a spoon, 8 to 12 minutes. If the mixture begins to simmer before thickened, turn down the heat slightly.

Add chocolate and whisk until completely incorporated, 1 to 2 minutes. Whisk in vanilla.

Strain pudding through a fine mesh strainer to remove any lumps. Pour into individual serving cups or single container and allow to cool at room temperature for at least 15 minutes. Cover with plastic wrap--if you are worried about pudding skin, place wrap directly on pudding surface--and refrigerate for 2 to 3 hours, until set.

Top with whipped cream and chocolate shavings if desired and enjoy!
Notes
Approximate nutritional information is for 3 servings.
Adapted from Smitten Kitchen