Small luxuries for the kitchen, the perfect gifts for friends and family who love to cook.
It's my favorite time of year again, gift guide season! There's nothing I love better than reading through prettily arranged lists of items recommended by my favorite bloggers, trying to match presents to people on my list and secretly just making an extra long list for myself. And as is tradition around here, I'm back this year with another incredibly specific gift guide of my own. (I know, I'm excited about it too!! 😉 ) Last year, it was Nerdy Mugs, and this year, it's Small Luxuries for the Kitchen.
What are small luxuries? They are the little items that might never quite make their way into someone's budget, but that would make their time in the kitchen just a little easier or more enjoyable. Every single item on this list falls into the category of I didn't think I needed this, but now I don't know how I ever lived without it. And I think that's the very best category to gift from.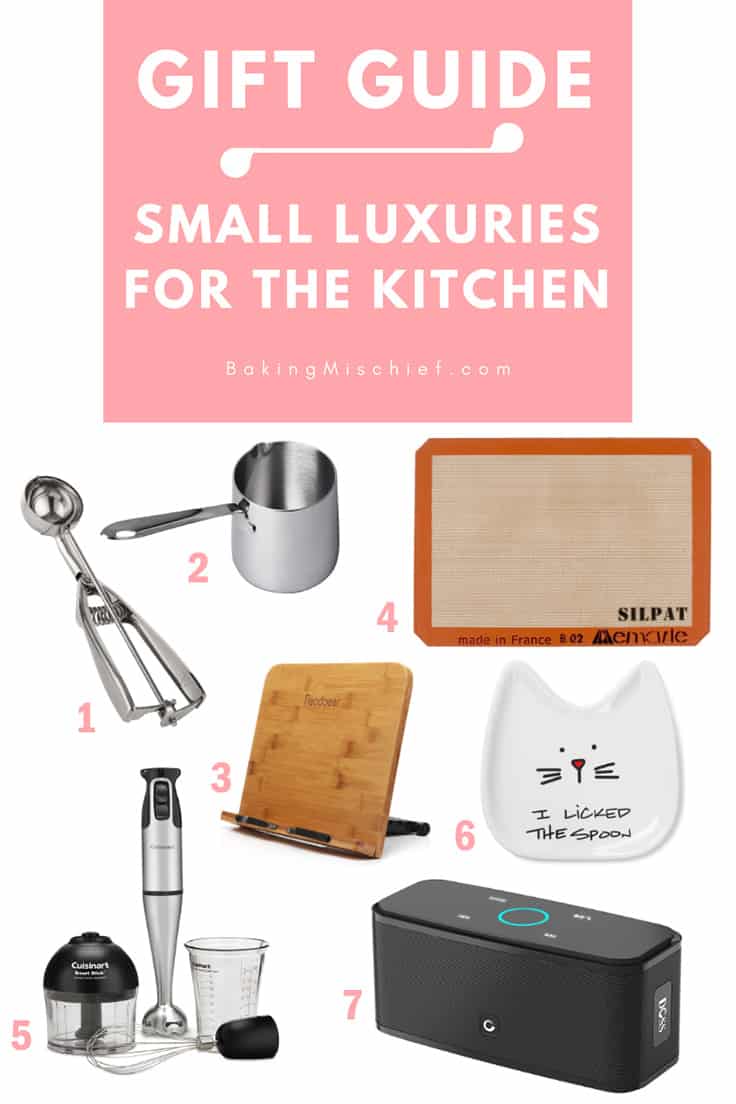 This post contains affiliate links, which means I receive a small commission if you make a purchase using them. There is absolutely no additional cost to you.
1. Cookie Scoops // Because perfectly even, perfectly shaped cookies are a luxury everyone deserves.
2. Butter Warmer // What's the point of a tiny, tiny pot? To make hot chocolate of course, and lattes and cheese sauce and everything else good in this world.
3. Cookbook/iPad Stand // Keep your cookbooks and tablets safe from spills and easily accessible.
4. Silicon Baking Mats // Be kind to the planet (no more parchment paper!) and never burn the bottoms of your cookies again.
5. Immersion Blender // You don't think you need an immersion blender until own one, and then you won't know how you ever got by without it.
6. Spoon Rest // Put my cooking spoon on a plate? What am I, a peasant? Give me a dedicated spoon rest or nothing.
7. Kitchen Speaker // Phone speakers are good, but a Bluetooth kitchen speaker is better. Jam out or play your favorite podcasts while you make something delicious.
What's on your Christmas list this year?