Easy Broccoli Chowder made with sharp and delicious cheddar cheese and ham. A perfect and easy weeknight dinner for those nights when cheese is a necessity.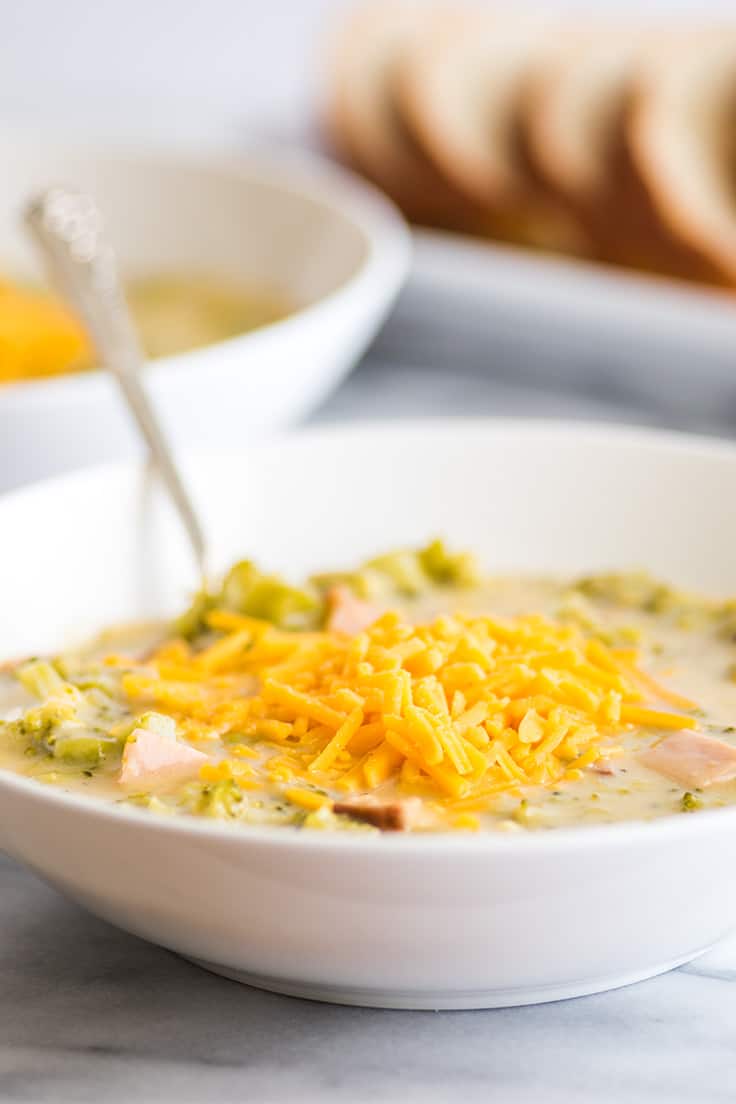 This post and images have been updated. Don't worry. You're in the right place. 😉
We are in week three of our February soup series. So far, we've had the World's Easiest Chicken Taco Soup and Easy and Comforting Ham and Potato Soup. This week, we're moving onto something a little heavier and A LOT cheesier, Easy Cheesy Broccoli Chowder.
Proving that good recipes come from all over the place, the original version of this one came out of a recycling bin. A couple of years ago, I used up the last stick of butter in a Danish Creamery Butter box, broke the box down, and threw it in my kitchen recycling bin. Just as I was walking away, the recipe printed on the inside caught my eye. I fished it out, gave it a shot, and I've never looked back.
Of all the soup recipes floating around the interwebs, aside from your classic chicken noodle, broccoli chowder is the one I see with the most variations. I think that's because everyone likes something a little different from their broccoli chowder. Are you there for the slightly sweet, earthy broccoli? Is it all about the salty ham? Do you like the rich creaminess of the broth with just a hint of cheddar?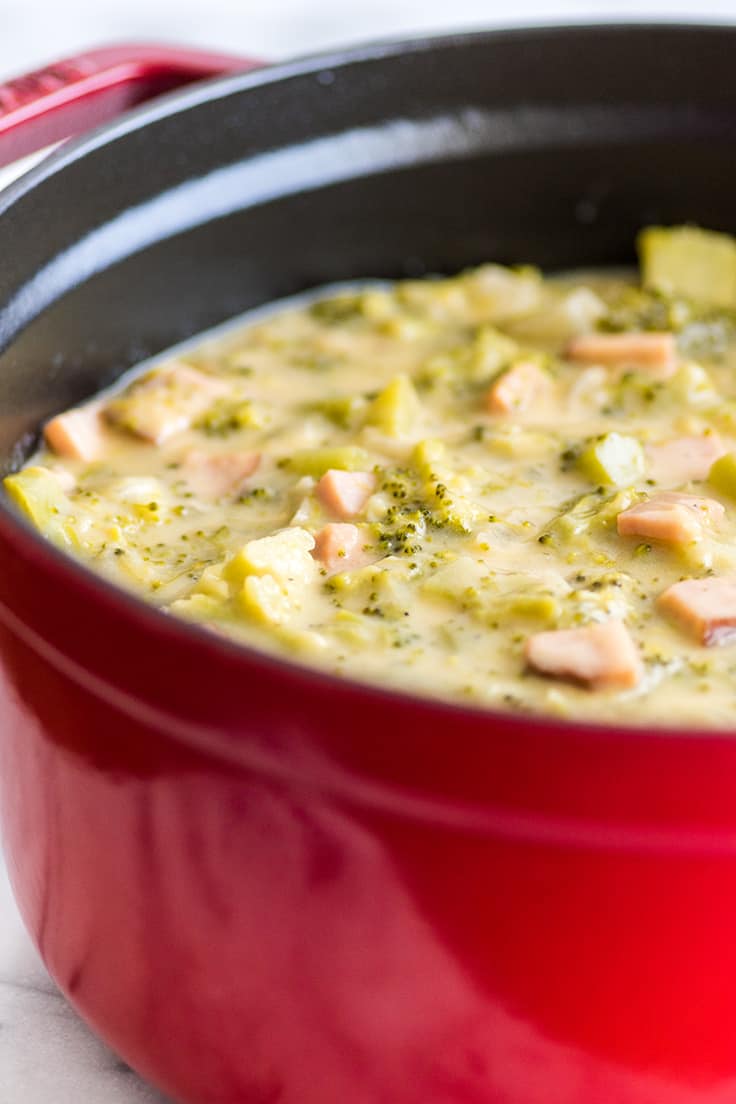 This particular broccoli chowder is all about the cheese. And not just any cheese. This is sharp, tangy cheddar in a broth so thick, you could practically stand a spoon up in it. If you don't like sharp cheese, that's okay, there are a million other broccoli chowders out there for you. If you do, oh, my friend, you are in for a treat.
This soup is fast and easy, and you can do all the prep work a couple of days in advance. It's absolutely gorgeous when it's done and is so rich and delicious, you'll feel like it should be eaten curled up by a roaring fire under a giant fluffy throw.

More Easy Weeknight Meals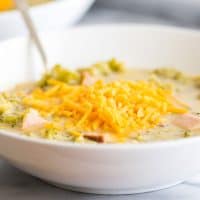 Easy Cheesy Broccoli Chowder With Ham
Easy Broccoli Chowder made with sharp and delicious cheddar cheese and ham. A perfect and easy weeknight dinner for those nights when cheese is a necessity.

Print
Pin
Servings (Hover or Click to Change Yield):
4
to 5 servings
Ingredients
1 1/2

pounds

broccoli

cut into bite-sized pieces

3

cups

chicken broth

4

tablespoons

(

2

oz) butter

1

cup

diced onion

1/4

cup

(

30

g) all-purpose flour

1 1/2

cup

milk

any percentage

1 1/2

cup

(

6

oz) sharp cheddar cheese

cubed or shredded

1

cup

(

6

oz) fully-cooked ham

diced

1/2

teaspoon

black pepper

Salt
Instructions
In a medium pot, combine broccoli and chicken broth. Cover and simmer until tender, about 10 minutes. Drain the chicken broth into a separate container to use later and set broccoli and broth aside.

In a large pot, over medium heat, melt butter and add onions, cooking until translucent.

Add flour and cook, whisking continuously for about 2 minutes, until the flour is just golden.

Continue to stir and slowly pour in chicken broth and milk. Simmer, stirring occasionally, for about 5 minutes, until the broth has thickened.

Stir in cheese, ham, broccoli, pepper, and salt generously to taste. Heat until cheese is melted and soup is warmed through.
Notes
Approximate nutritional information is for five servings.
Nutritional Information
Recipe Adapted From: Challenge Dairy
Low-yield Instructions: This recipe halves cleanly.
Make-ahead Instructions: Broccoli, ham, onions, and cheese can be cut up to two days in advance and stored in an airtight container. Make sure your broccoli is dry when you store it.
Freezer Instructions: This soup will keep in the freezer for up to four months in an airtight container. It must be defrosted in the refrigerator. If you try to defrost it in the microwave, the broccoli will turn to mush.
This post may contain affiliate links, which means I receive a small commission if you make a purchase using them. There is absolutely no additional cost to you.