This easy Chocolate Milkshake made with homemade chocolate syrup is thick and creamy with a killer chocolate flavor.
Hey, friends, it's Thursday, and that means it's time for another milkshake recipe in my summer milkshake series. Today we're tackling the classic Chocolate Milkshake.
The Secret to the Best Chocolate Milkshake
I'm pretty picky about my chocolate milkshakes. They must be thick, they must be creamy, and the must have a killer chocolate flavor. This chocolate shake absolutely fits all those bills, and might just be my favorite chocolate shake in all the world.
And want to know the secret to making the best chocolate milkshake?
Start with vanilla ice cream.
I know, I know. It sounds counterintuitive, but the best chocolate shakes are made with a combo of vanilla ice cream and chocolate sauce.
Why You Should Use Chocolate Sauce to Make a Chocolate Shake
The best chocolate shakes are made with vanilla ice cream and chocolate syrup because that allows you to control the level of chocolate flavor and make sure your shake is packed with it.
Blending chocolate ice cream with milk creates a good shake, but the milk is going to dilute the chocolate flavor, and it's just not going to pack the same chocolate punch as a shake made with plenty of chocolate sauce.
This recipe includes my favorite fudge sauce recipe, so you can make a chocolate shake even if you don't have any chocolate syrup in your fridge, but if you do have some, feel free to use the sauce you have on hand.
How to Make a Chocolate Milkshake
1. Start by making your chocolate syrup, simmering together butter, milk, cocoa powder, and sugar.
2. Once the sauce is complete, combine ice cream, milk, and some of the sauce and blend until smooth.
3. Pour into a chilled glass, top with whipped cream, and drizzle with remaining fudge sauce.
See Also: How to Make a Milkshake
How to Make a Chocolate Shake Without a Blender
No blender? That's not a problem. Make the chocolate sauce as described in the recipe and then scoop your ice cream into a mason jar (preferably a quart-size jar). Microwave ice cream for 15 to 30 seconds, until the ice cream begins to melt, but don't melt it all the way.
Add milk and chocolate syrup, put a lid on the jar, and shake until blended. If you have any stubborn ice cream lumps at the bottom, use a spoon to help them mix.
Then pour into a glass and drink! If you want to see a more in-depth post on this, go check out my post How to Make a Milkshake Without a Blender.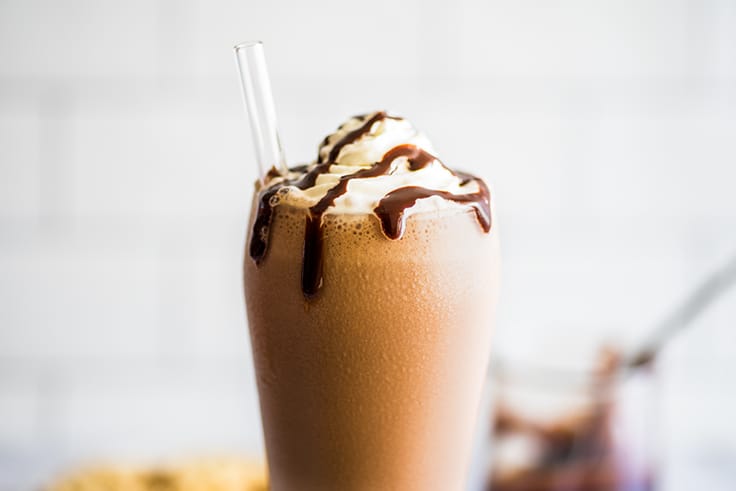 More Chocolate Milkshake Recipes
Want some more Chocolate Shake combos? Add some of these mix-ins to the base chocolate shake recipe to make something new.
Chocolate Peanut Butter Shake: Add 1 slightly heaping tablespoon of peanut butter before blending.
Chocolate Oreo Shake: Blend in 3 Oreos. Break an additional Oreo into pieces and drop crumbs over the top of the finished shake.
Chocolate Banana Shake: Add 1/2 to a whole banana, broken into pieces, to the shake before blending. Using frozen bananas will create an extra creamy shake.
Chocolate Milkshake Recipe Notes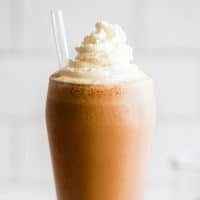 The Best Chocolate Milkshake
This easy Chocolate Milkshake made with homemade chocolate syrup is thick and creamy with a killer chocolate flavor.
Print
Pin
Servings (Hover or Click to Change Yield):
1
serving
Ingredients
Fudge Sauce
2

tablespoons

(

25g

) granulated sugar

1

heaping tablespoon (

8g

) cocoa powder

1

tablespoon

(

14g

) butter

2

tablespoons

milk any percentage

1/8

teaspoon

vanilla extract

optional
Chocolate Milkshake
1 1/2

cup

vanilla ice cream*

about

3

scoops

1/2 to 3/4

cup

milk

any percentage

Whipped cream

optional
Instructions
Fudge Sauce
In a small bowl, combine sugar and cocoa powder. Stir together and set aside.

In a small saucepan, over medium heat, melt butter. Whisk in milk followed by the sugar and cocoa powder mixture. Whisk continuously, beating out any lumps as they form, until mixture begins to thicken and bubble 1-3 minutes.

Remove from heat and whisk for 30 seconds to whisk some of the heat out of the sauce. Stir in optional vanilla and allow sauce to sit at room temperature to continue to cool slightly as you assemble the rest of your ingredients.
Chocolate Milkshake
Combine ice cream, milk, and

3

tablespoons* of the sauce in your blender and blend until well-mixed and pourable.

Pour into a glass, top with optional whipped cream and drizzle the remaining fudge sauce over the top. Enjoy!
Notes
*If using cold or room temperature (store-bought or homemade) fudge sauce, allow your ice cream to sit at room temperature for 5 to 10 minutes before using so it's easier to blend everything together.
*If you find your sauce has simmered down to make less than or exactly 3 tablespoons, don't worry. All the chocolate flavor is still there, there's just less sauce because liquid has evaporated as the sauce thickened. Just reserve a little bit for drizzling (if desired) and blend the rest of it into the shake.
This post may contain affiliate links, which means I receive a small commission if you make a purchase using them. There is absolutely no additional cost to you.