This Easy Chicken Cacciatore is boneless, skinless chicken thighs and mushrooms simmered in a rich tomato sauce and served over a bed of egg noodles for a fabulous weeknight meal.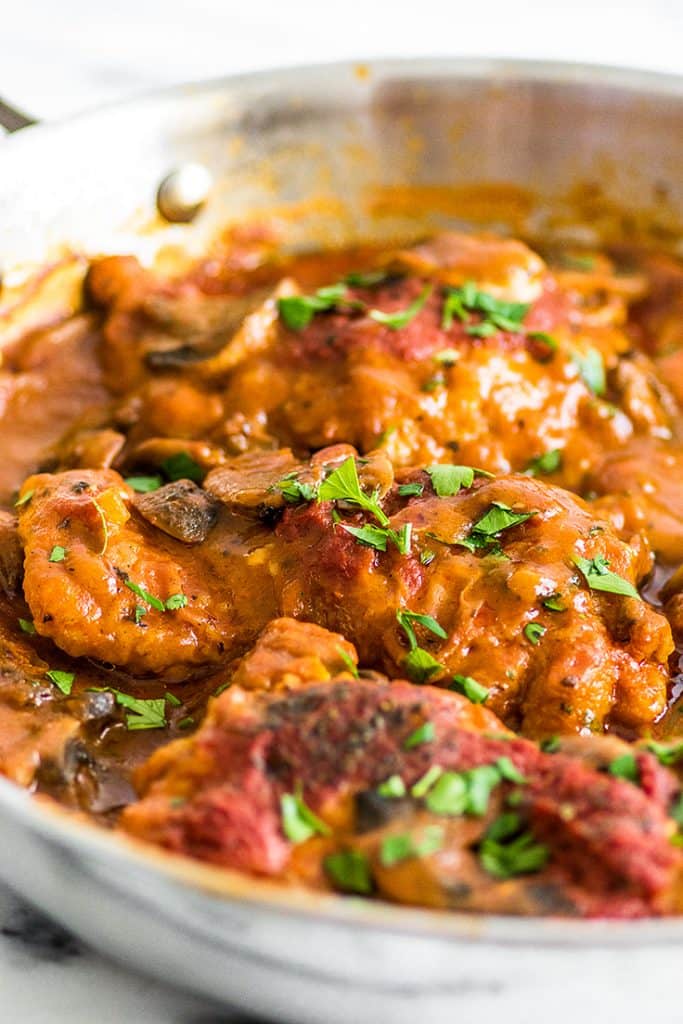 Looking for more easy pasta dishes? Try my Creamy Chicken Pasta With Bell Peppers and Chicken Asparagus Pasta for Two.
Chicken cacciatore is one of my mom's best dishes (her Carrot Cake is another of them). Growing up, nights when we got to have it for dinner were a big deal. We were a busy family, and her recipe involved digging out the giant electric skillet, cutting up an entire chicken, and waiting for what seemed like hours for that to cook.
So between all the soccer games, play rehearsals, lessons, etc. of my childhood, we didn't often have time for homemade chicken cacciatore, but when we did, it was happy times for all!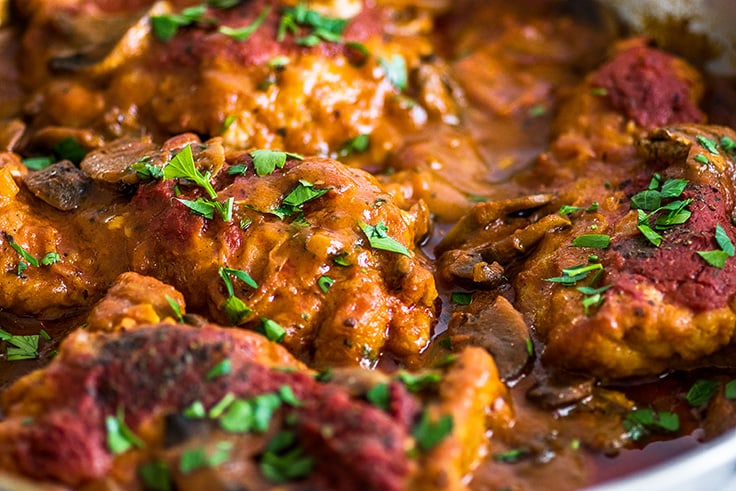 When I moved away to go to college, I think I tried the original recipe twice before I declared it too much work for one person. It took too long, and it never tasted quite like Mom's. But a while back, I had a hankering to give this childhood favorite another try.
After a little tinkering, not only did I take most of the work out of the recipe, but I think I've managed to improve on the original (sorry, Mom!). This Easy Chicken Cacciatore has gone from a weekend-only meal involving the dismembering of a dead animal to a quick and simple-to-prepare dinner, perfect for busy weeknights.
No longer must you cut up an entire chicken or dig out a giant electric skillet to cook it all in! This version uses boneless skinless chicken thighs, which means no cutting, the meat all fits in one pan, AND it lightens up the dish considerably. The prep takes all of 15 minutes and once you get the sauce simmering, it's almost completely hands off until it's time to eat.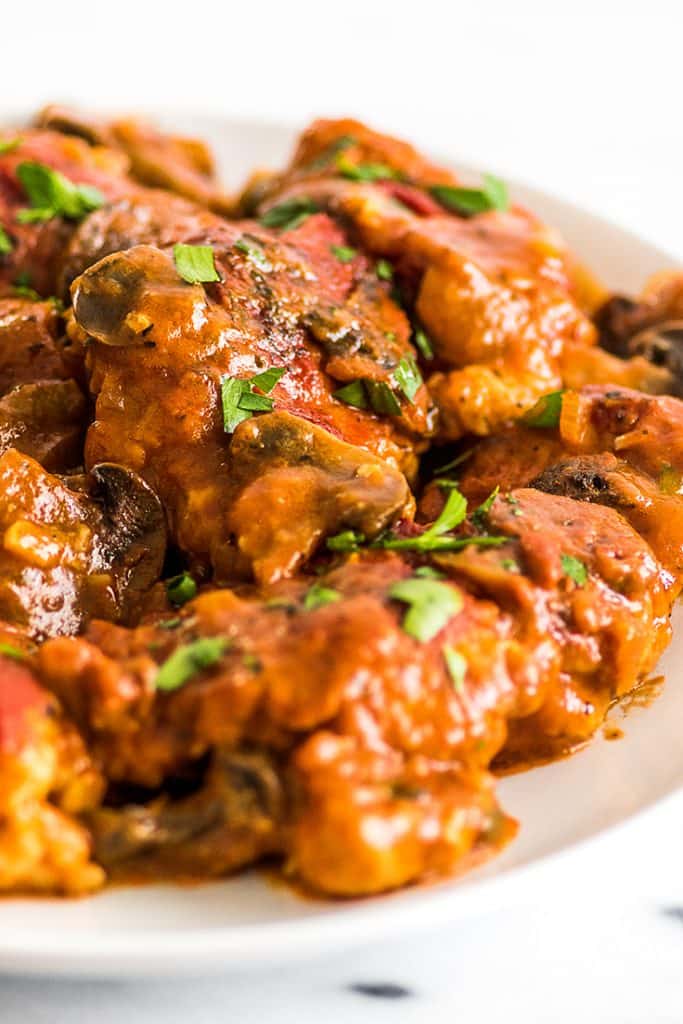 If you've never had chicken cacciatore before, you're in for a treat. The long (but not too long!) low simmer with the white wine and brandy (optional if you don't have it around) makes the chicken thighs fall-apart tender and gives the entire dish a deep and wonderful richness you wouldn't expect from something that contains no heavy cream or cheese.
And bonus, this is one healthy meal. Serve with a side of steamed broccoli and you have an entire dinner for under 500 calories.
I make this all the time on weeknights, but it's also really fabulous if you have guests coming over. This dish is practically full-proof since it's simmered in liquid for a set time (you'd have to try real hard to burn/over/under cook this chicken), and like with my Bacon and Feta Stuffed Chicken, your house will smell soooooooooooo good while it's cooking.
Accompany it with some nice crusty bread and hearty vegetable side, and I guarantee you will have happy guests who are begging you for this Easy Chicken Cacciatore recipe when the night is over.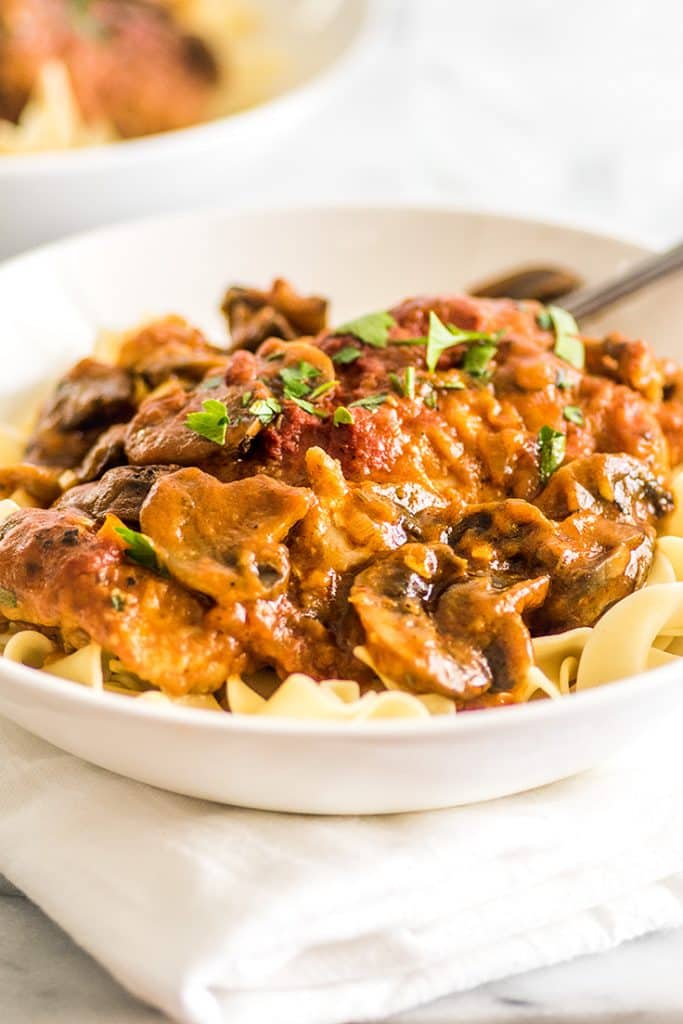 More Easy Pasta Dishes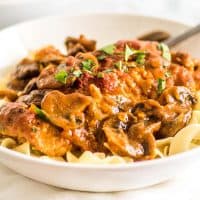 Weeknight Easy Chicken Cacciatore
This Easy Chicken Cacciatore is boneless, skinless chicken thighs and mushrooms simmered in a rich tomato sauce and served over a bed of egg noodles for a fabulous weeknight meal.
Print
Servings (Hover or Click to Change Yield):
4
Ingredients
Dredge
4

large boneless skinless chicken thighs

*

1/2

cup

(

60g

) all-purpose flour

mixed with 1/4 teaspoon salt and 1/4 teaspoon pepper
Brown
1

tablespoon

olive oil

2

tablespoons

diced green onions

shallot or onion may also be used

3

cloves

garlic

minced
Simmer
1

6-ounce can tomato paste

2

cups

(

1

14.5-ounce can) chicken broth

2

cups

(

8

oz) mushrooms

sliced

1/2

cup

dry white wine*

2

tablespoons

brandy or 1/4 cup Muscatel

optional
Sprinkle
1

bay leaf

1/2

teaspoon

salt

1/2

teaspoon

basil

1/4

teaspoon

thyme

1/4

teaspoon

pepper
Instructions
Dredge the chicken in the flour mixture, coating completely.

Heat oil in a large skillet (with a lid) over medium-high heat.

Once the oil is hot, add the chicken. Brown the first side and flip. After you have flipped the chicken, add the green onions and garlic to the pan between the thighs and brown, being careful not to let the garlic burn (if it starts to burn, add a little of the chicken broth to the pan right away).

While the chicken and garlic are browning, spread a large dollop of tomato paste over each of the thighs, using the entire can. Once everything is browned, pour the chicken broth over the top, and add mushrooms, white wine, brandy, bay leaf, salt, basil, thyme, and pepper. When you add the spices, try to sprinkle them as evenly over the whole dish as possible.

Bring to a low simmer, cover, and cook for 25 minutes, stirring occasionally to make sure all of the mushrooms are cooking in the sauce and nothing is sticking to the bottom of the pan. If the cooking liquid is still very soupy after 15 minutes, simmer uncovered for the remaining time. The dish is done when chicken is tender and sauce is thickened.

While chicken cooks, bring a pot of lightly salted water to boil and cook pasta according to package instructions. I usually start boiling water once the chicken begins to simmer and dump the pasta in when there are 7 minutes or so left on the timer.

Divide pasta and cover with chicken and sauce. Enjoy!
Notes
*The rule of thumb is usually two thighs per person, but since this is served over noodles, I find one to be plenty unless you have big eaters or are cooking with very small thighs.
*Chardonnay, Pinot Grigio & Sauvignon Blanc are all good options.
Small-yield Instructions: No cooking or preparation changes needed to cut the recipe in half or quarters. This recipe halves cleanly. You can freeze the extra chicken broth and tomato paste in an ice cube tray to use at a later date.
Make-ahead Instructions: This dish has very little prep, but the mushrooms, onions, and garlic can be cut and stored in an air-tight container up to two days in advance. (Your mushrooms might look a little wilted but they cook down in the sauce, so you won't be able to tell after cooking.)
Freezer Instructions: The chicken and sauce can be frozen in an air-tight container or freezer bag for up to four months. I prefer not to freeze pasta when I don't have to. For this dish, it's best to just make a new pot of noodles when you are ready to eat them.
Nutritional Information 
Adapted from: Joy of Cooking
*This post may contain affiliate links, which means I receive a small commission if you make a purchase using them. There is absolutely no additional cost to you.