This easy baked ziti recipe is a fabulous no-stress, no-fail dinner recipe that tastes great, looks beautiful, and couldn't be simpler to throw together.
Hello, lovely friends, I've got another cheesy pasta recipe for you today, baked ziti!
And not just any ziti: super easy, super delish, made with SAUSAGE, crushed tomatoes, and just a hint of cream, ziti.
You're going to love it.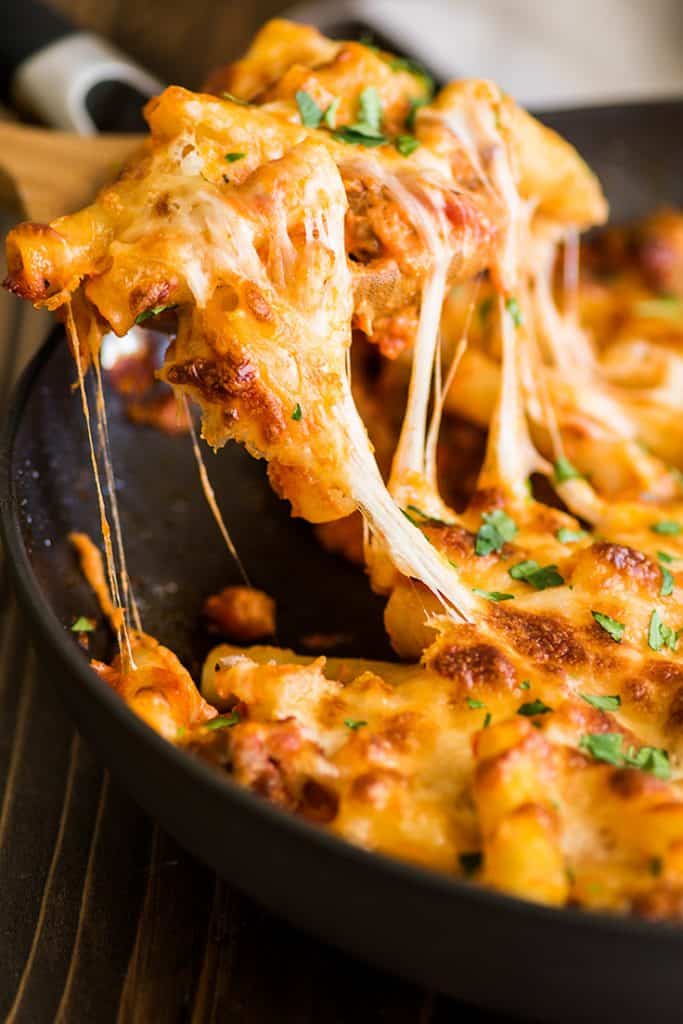 Why You Should Make This Baked Ziti Immediately
First, because this is an A++ pasta experience from beginning to end. You'll feel like an absolute kitchen rockstar when you pull the ziti out of the oven with the skillet sizzling and the cheese browned and beautiful.
And you're going to feel like an even bigger rockstar when you try the first bite because this is some real good cheesy, meaty pasta. Using Italian sausage instead of hamburger gives the dish tons of extra flavor, and a couple tablespoons of cream in the sauce add just a slightly creamy, rich base note that makes *such* a difference.
Reason two is that this is one of the easiest dinners you'll ever make. Seriously, if you can open a can of tomatoes and operate a kitchen timer, you've got this with your eyes closed.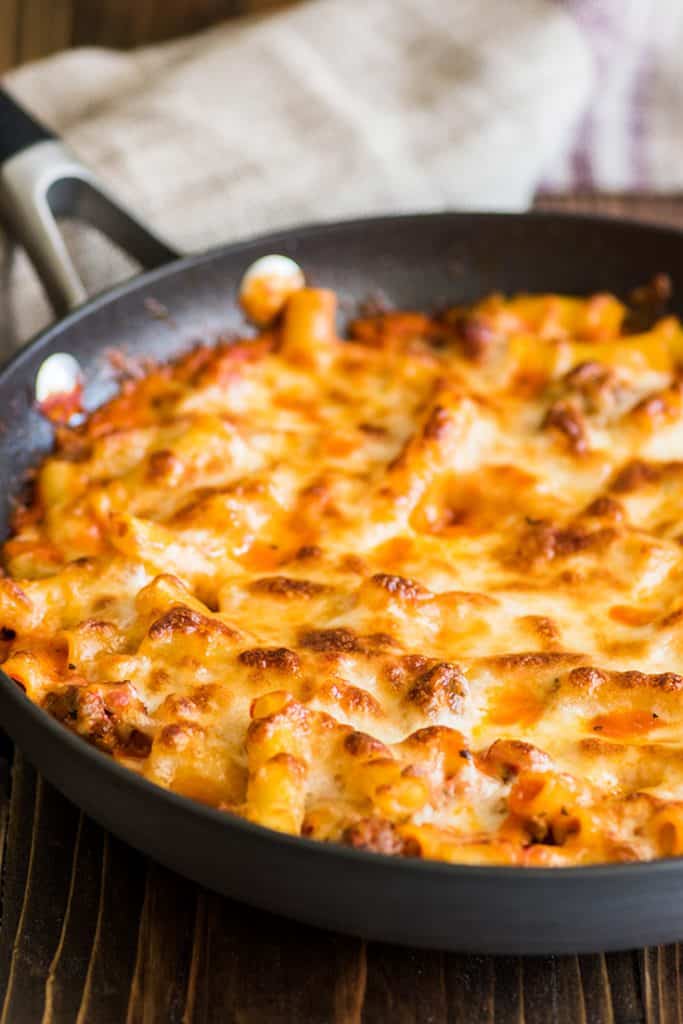 Ingredient and Tools Notes
Italian sausage: Hot, mild, or sweet Italian sausage will all work in this dish. If you don't usually cook with/buy Italian sausage, you can generally find packages of it near the hamburger in the meat department. If your sausage came in links, you'll want to remove the casings before cooking. To remove sausage casings, you can make a shallow slice down the sausage lengthwise and peel it off, or just squeeze the sausage until it bursts out the top or bottom and squeeze the meat into a bowl.
Pasta: Obviously, ziti is traditional here, but penne or rigatoni work great as well.
Heavy cream: This recipe won't use up an entire carton of heavy cream. If you need some ideas to use up the leftovers, check out my post on What to Do With Leftover Heavy Cream.
An oven-safe skillet with a lid: This recipe is designed to go from stovetop to oven. If you don't own an oven-safe skillet, you can make the sauce in a regular skillet and then transfer it to a baking dish before baking. And if your oven-safe skillet doesn't have a lid, you can cook the sauce uncovered. Just add ¼ cup of water along with the tomatoes and add another tablespoon or two of liquid towards the end of the cooking time if it seems like too much liquid has evaporated. I also recommend using a splatter screen if you own one because the sauce will pop and make a bit of a mess on the stovetop.
How to Make Baked Ziti
1. To make this baked ziti, all you have to do is cook some pasta, ziti if you've got it, penne or rigatoni if you don't, farfalle or rotini if you're feeling like a rebel. While that cooks, you'll brown some sausage and then a bit of garlic and red pepper flakes.
2. In goes a can of crushed tomatoes and a bit of salt and pepper. You let that simmer for 15 minutes, stir in the cooked pasta, cream, Parmesan, and basil, top with mozzarella, and then bake.
3. 10 minutes later you pull that beautiful, bubbly pan of ziti out of the oven.
4. Stop for a moment and appreciate the sizzle.
5. Then serve with a delicious veggie side (butter and garlic green beans, roasted zucchini, or oven-roasted broccoli are, as always, HIGHLY recommended) and dig in.
FAQ
Can you freeze baked ziti?
You *can* freeze baked ziti, but the pasta will have a slightly softer texture after being frozen and reheated and the cheese texture will suffer slightly.
My prefered way to freeze ziti is to just freeze the sauce. Cook the sauce as instructed in the recipe and then transfer half of it (or whatever portion you're not going to eat) to a freezer bag and freeze for up to 3 months.
When you're ready for more ziti, defrost the sauce, mix it with freshly cooked pasta and cheese, and bake. There's zero loss in quality, and it takes almost no effort to throw together once the sauce is defrosted.
Can I make this baked ziti for two?
Absolutely. This recipe was originally written for two, and you can find that smaller version here, but I found that I and most readers were doubling the recipe when we made it, so I scaled it back up.
While you can make the original smaller version, even if you're cooking for one or two, I actually recommend just making a full batch of the sauce and freezing half of it following the instructions above. It works super well, and even if you don't want to use the sauce for baked ziti in the future, you can toss reheated sauce with any pasta for a quick creamy sausage pasta.
I don't like/have sausage. Can I use hamburger/ground turkey instead?
You can, but the dish won't have quite as much flavor. Make sure to salt the meat generously while it's cooking, and I'd add a teaspoon of Italian seasoning as well.
Can I leave out the heavy cream?
You can, but the cream adds a really spectacular richness to the dish. I don't recommend omitting it.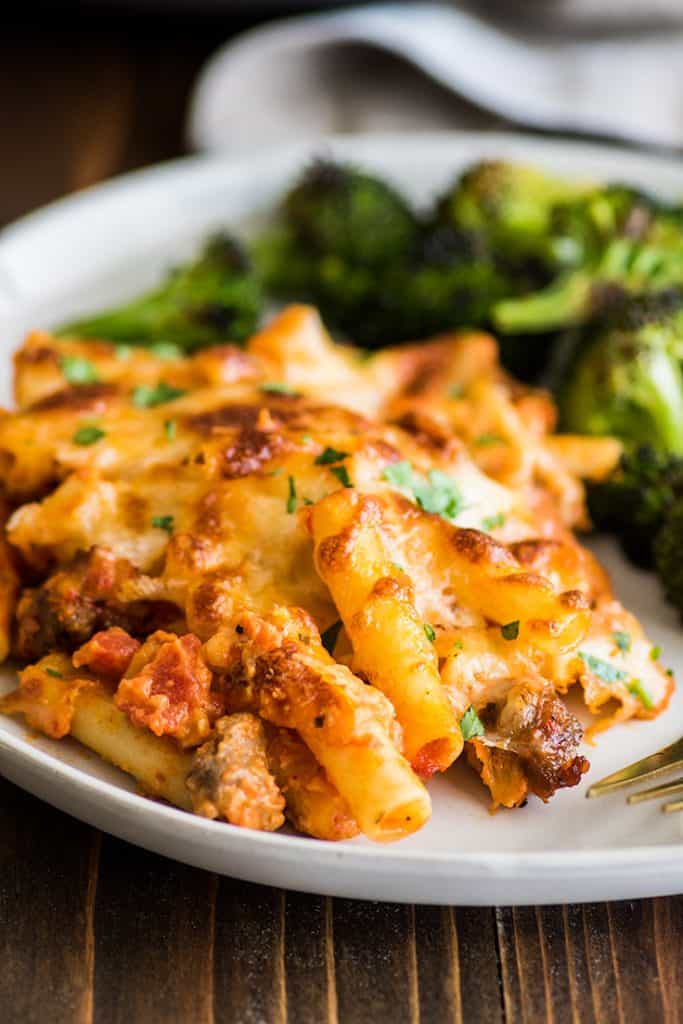 Easy Baked Ziti Recipe Notes
As written, this recipe will make four huge servings or six smaller ones.
More Easy Pasta Dishes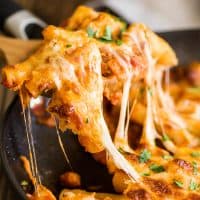 Easy Baked Ziti Recipe
This easy baked ziti recipe is a fabulous no-stress, no-fail dinner recipe that tastes great, looks beautiful, and couldn't be simpler to throw together.
Print
Pin
Servings (Hover or Click to Change Yield):
4
to 6 servings
Ingredients
Special Equipment
Large oven-safe skillet with a lid
Baked Ziti
1

tablespoon

olive oil

8

ounces

(about

2⅔ cups

) uncooked ziti

penne, or rigatoni

1

pound

Italian sausage

mild or hot, casings removed

6

cloves

garlic

pressed or minced

Pinch

red pepper flakes

2

14-ounce cans crushed tomatoes

Salt and pepper

⅓

cup

heavy cream

½

cup

(

2oz

) shredded Parmesan

1

teaspoon

dried basil

1½

cup

(

6oz

) shredded mozzarella
Instructions
Start Pasta
Preheat oven to 475°F.

Bring a medium pot of lightly salted water to a boil and cook ziti according to package instructions until just barely al dente. Don't overcook the pasta as it will become too soft after baking. Drain and set aside.
Sauce
While your water boils and pasta cooks, in a large, oven-safe skillet with a lid, heat oil over medium heat. Brown sausage, breaking it into crumbles as it cooks. If there is a lot of grease in the pan, drain sausage or use a paper towel to absorb some of the grease.

Stir in garlic and red pepper flakes and cook for 30 seconds. Add tomatoes and a sprinkle of salt and pepper. Turn heat up to medium-high and bring to a simmer. Once simmering, reduce heat to medium-low and cover. Simmer, covered, for 15 minutes, stirring occasionally.

Stir in cooked pasta, cream, Parmesan, and basil. Add more salt and pepper to taste.
Bake
Sprinkle mozzarella over the top and bake for 10 to 15 minutes until cheese is melted and bubbly. Serve and enjoy!
Notes
Approximate nutritional information is for 6 servings.
This post may contain affiliate links, which means I receive a small commission if you make a purchase using them. There is absolutely no additional cost to you.