Strawberry Mimosas make brunch even better with a simple but beautiful upgrade to your classic mimosa recipe.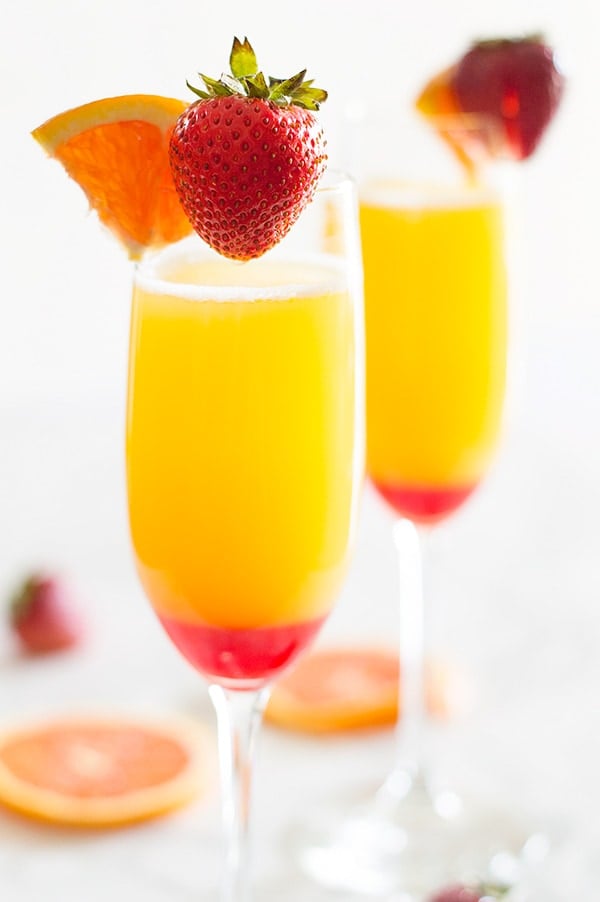 Three weeks into Nerd Month (read more about Nerd Month here) and we've done recipes for (among others) a darkly beautiful  murder drama, hardcore AI sci-fi, and multiple tales of epic mythological battles. Today we're changing gears and going with a comedy, Happy Endings!
Did you watch Happy Endings while it was on? I was such a massive fan of this show. It was the best of the Friends-style comedies that everyone was making a few years ago and so packed full of jokes that you could watch each episode twenty times and still find new things to laugh at. If you haven't seen it, all three seasons are available on Hulu.
This recipe is actually part one of a two-part recipe pairing (come back Friday for part two) from one of my favorite Happy Endings episodes, in which characters, Penny and Alex, both drink about a million mimosas with very different results.
You'll see what happens to Alex on Friday (or watch that clip, it's very funny), but Penny finds she can speak fluent Italian when she's drunk.
And guys, this is legit. I may have consumed these photo shoot mimosas, and let's just say, my Italian, post-mimosas was great.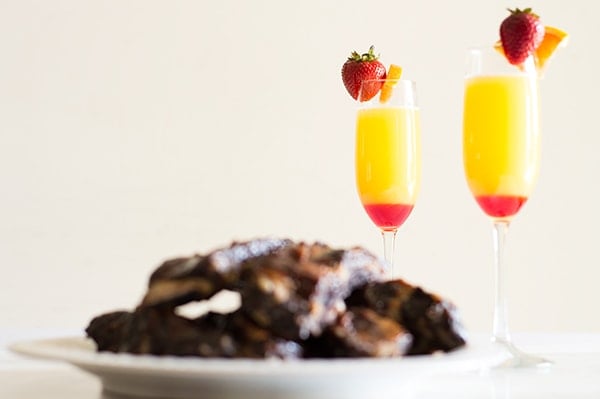 To be honest, I don't actually love straight mimosas because I'm not a huge orange juice fan, but I desperately wanted to do this recipe pairing, so I got creative.
I added a simple homemade strawberry syrup to the mix to give it a slightly tarter, sharper sweetness and oh man, that little upgrade made all the difference. I could drink so many of these.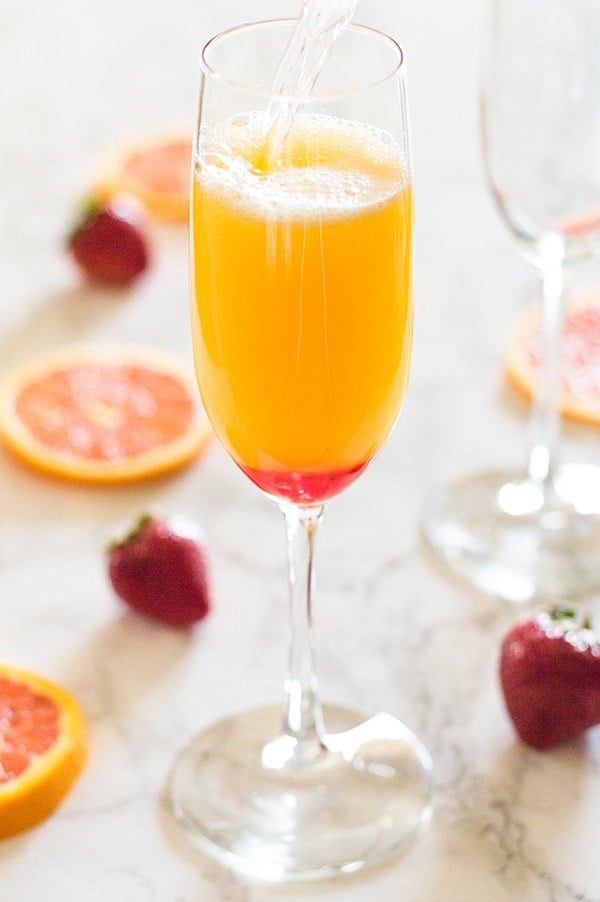 They are also just straight up beautiful. I mean, look at them. Don't you want to invite all of your friends over and let them admire your handiwork while you drink sparkling wine and speak terrible Italian together? Don't you!?
Usually mimosas are made with Champagne. I used prosecco because of the Italian theme and because it's what the internet tells me all the cool kids are doing now. You can also use cava or whatever dry sparkling wine you have on hand. If you don't do alcohol, I also heartily recommend using seltzer or club soda to make mocktails.
How ever you enjoy them, these will make for a lovely addition to any brunch.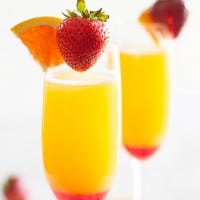 Strawberry Mimosas
Strawberry Mimosas make brunch even better with a simple but beautiful upgrade to your classic mimosa recipe.
Print
Servings (Hover or Click to Change Yield):
6
to 8 Mimosas
Ingredients
Strawberry Syrup
1/2

cup

(

100

g) granulated sugar

1/2

cup

water

1

cup

(

6

oz) sliced strawberries

1

teaspoon

lemon juice
Mimosas
Orange Juice

chilled

1

bottle

Champagne, prosecco, or cava

chilled

Strawberries and orange slices

for garnish
Instructions
Strawberry Syrup
In a small sauce pan, combine sugar and water. Heat over medium until sugar dissolves completely.

Add strawberries and lemon juice and bring to a boil. Turn down to a simmer and cook for 15 to 17 minutes, stirring occasionally, until mixture is thickened and syrupy.

Strain through a fine-mesh strainer and transfer to a jar. Store in the refrigerator and allow to cool before using in drinks.
Assemble
Add 1 tablespoon of strawberry syrup to the bottom of your glass. Fill glass 1/3* of the way full with orange juice. Fill the rest of the way with champagne.

Stir, garnish, and enjoy.
Notes
*The strawberry syrup adds a lot of sweetness to this drink, so if you usually go heavier on the orange juice to alcohol ratio, taste test first to make sure you don't end up with a drink that is too sweet! Use club soda or seltzer water for "mocktails." It's really tasty!
This post may contain affiliate links, which means I receive a small commission if you make a purchase using them. There is absolutely no additional cost to you.