Adorable buttermilk jam scones baked with your favorite jam inside and brushed with a buttery vanilla glaze.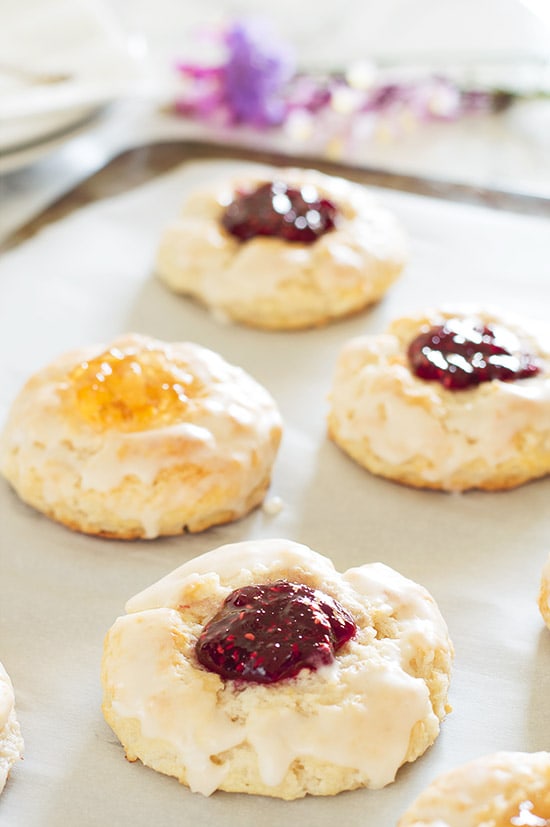 You might also like my Cheddar Cheese Scones, Small-batch Bacon Scones with Maple Glaze and Small-batch Maple Scones.
I realized today as I was putting this post together, that for a blog that's barely four months old, Baking Mischief sure does have a lot of tea-party ready recipes. There are my Perfectly Pretty Lemon Bars, my Sherlock Tea Bag Cookies, Victoria Sponge Cupcakes, etc.
Am I subconsciously trying to tell myself something? Am I as an adult trying to create on the blog, the perfect tea party I never had as a child? Who knows?
But guess what. I have another perfect tea party recipe for you today. Big shocker, I know.
These Jam Scones are just about the most adorable things to come out of my kitchen in a while and so tasty. They are my favorite basic buttermilk scone base baked up with the jam of your choice (I'm partial to raspberry) with a buttery vanilla glaze.
You Might Also Like: Frosted Brownies
They can be served warm and gooey or cooled, with the glaze crunchy and set.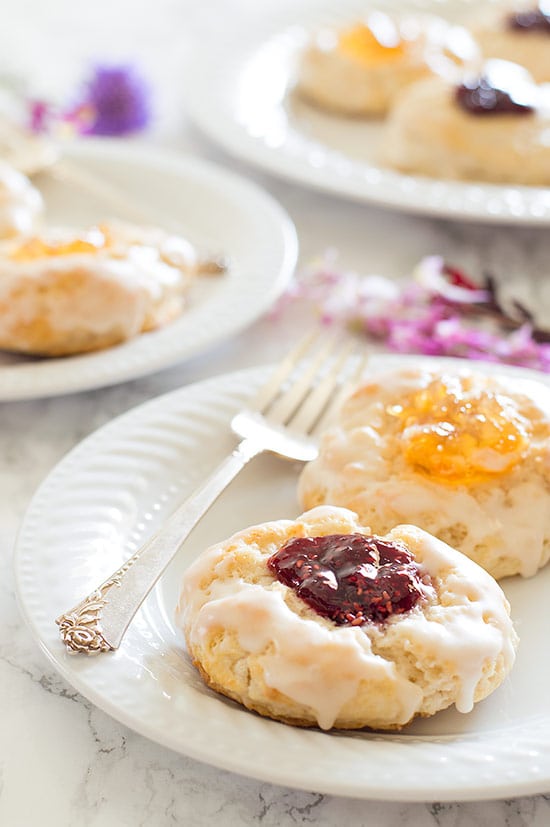 In the oven, the jam cooks down and becomes thick and syrupy and is the perfect complement to the soft, slightly crumbly scone.
I make these whenever I want a dessert that's a little different and distribute the extras to various friends and family members. After the initial WTF is a jam scone response, they are always a hit.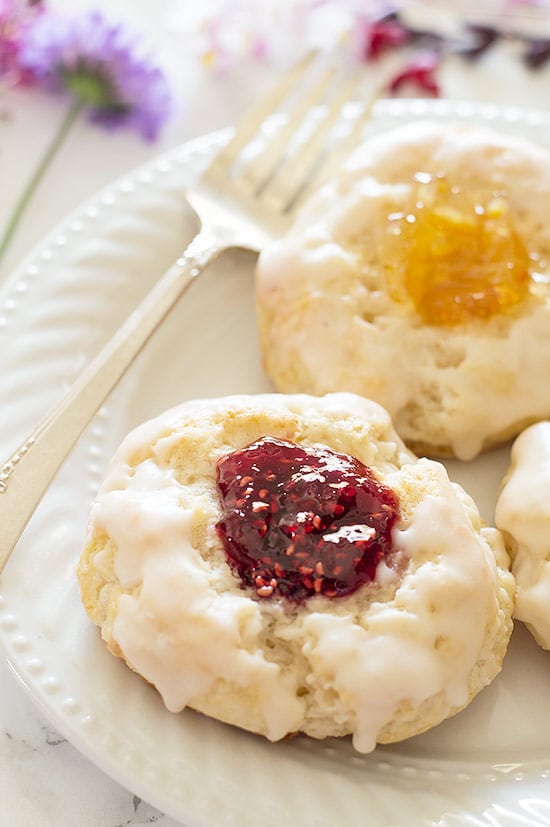 Who knows, maybe someday, I'll throw that tea party of five-year-old me's dreams and serve these Jam Scones (and all those other aforementioned treats) to my guests.
Though to live up to my fantasies, the guest list would have to include at least one Disney princess, a muppet, and Rainbow Brite. So if anyone has any of their contact information, it would be much appreciated…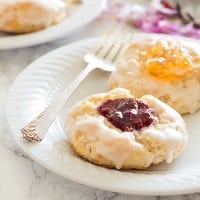 Glazed Jam Scones
Adorable buttermilk scones baked with your favorite jam inside and brushed with a buttery vanilla glaze.
Print
Servings (Hover or Click to Change Yield):
12
to 16
Ingredients
Scones
3 1/2

cups

(

420

g) all-purpose flour

3

tablespoons

(

38

g) sugar

2

tablespoons

baking powder

1/2

teaspoon

salt

3/4

cup

(

6

oz) cold unsalted butter

cut into 1-inch pieces

1 1/4

cup

buttermilk

Jam of choice
Glaze
1

cup

(

120

g) powdered sugar

1

tablespoon

unsalted butter

melted

1

to

3

tablespoons milk

1/4

teaspoon

vanilla extract

1/8

teaspoon

salt
Instructions
Scones
Preheat your oven to 400°F and cover a baking tray with parchment paper.

In your food processor, combine flour, sugar, baking powder, and salt. Add butter and pulse until butter is cut into the flour mixture and no pieces larger than a pea remain.

Add buttermilk and continue to pulse until mixture begins to clump and forms a sticky dough.

Scrape dough onto a well-floured surface. Dust the top of the dough lightly with flour and pat down to about 3/4-inch thick. Using a 2 1/2-inch biscuit cutter or glass, cut out about 16 rounds, squishing the scraps together and re-flattening as needed.

Transfer scones to your baking tray. Use your thumbs to make a deep well in the tops, large enough for about half a tablespoon of jam. Fill with jam just to the top (if you overfill, the jam will run all over the scones).
Egg Wash
Whisk together egg and water and brush the scones with the egg wash. This will help give them a nice golden color.

Bake for 14 to 16 minutes, until lightly golden.
Glaze
In a small bowl, whisk powdered sugar, melted butter, 1 tablespoon of milk, vanilla, and salt together, and whisk until smooth. Add up to 2 more tablespoons of the milk, until glaze reaches your desired consistency, but be careful not to add too much, as the glaze won't set if there is too much liquid. Brush or drizzle over scones.
Notes
You can also make these in a bowl using a pastry cutter. I usually make it this way if I'm halving the recipe or don't feel like cleaning my food processor. The dough might seem a little dry, but just use a baking spatula to stir and make sure to incorporate all the flour. They turn out just as well using this method!
If serving cool, you may need to add an extra scoop of jam to the scones, as the jam settles and begins to look a little sad after sitting for any length of time.
These scones are best eaten the day of, because they loose their slight crunch when stored in an air-tight container. See freezer notes.
Small-batch Instructions: For the butter, 1/2 of 3/4 cup is equal to 6 tablespoons. No prep or baking changes are needed to halve.
Freezer Instructions: This scone dough freezes very well. Freeze cut-out scones (with the well pressed into them, but skip the egg wash) on a plate or tray and then transfer to an freezer bag once frozen solid. Store for up to 3 months. To cook, you don't need to defrost them, just fill with jam and bake at the normal temperature for 2-3 minutes longer than the usual cooking time.
Nutritional Information
Adapted from: The Pioneer Woman