Six of my favorite (non food-related) podcasts to cook to.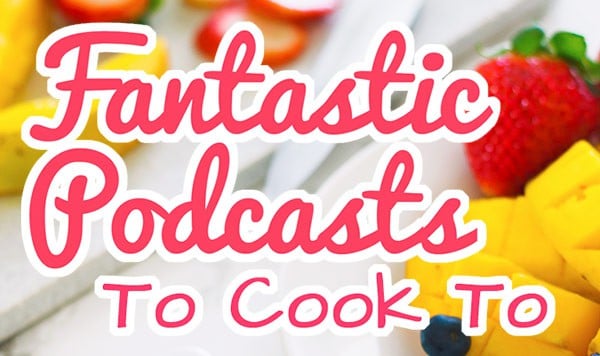 I had a recipe planned for today, but after much fiddling, the thing never quite came together. So rather than share a sub-par recipe on the blog, I'm writing about something else I love, podcasts!
I'm a total podcast and audio book junkie. I listen to them while I work out, while I drive, and thanks so a handy dandy water resistant bluetooth speaker (best Christmas present ever!), I even listen to them in the shower! Since I started Baking Mischief, I spend MANY more hours in the kitchen than I used to, so it was only natural that audio books (more on those another time) and podcasts would become one of my favorite ways to pass the time there too.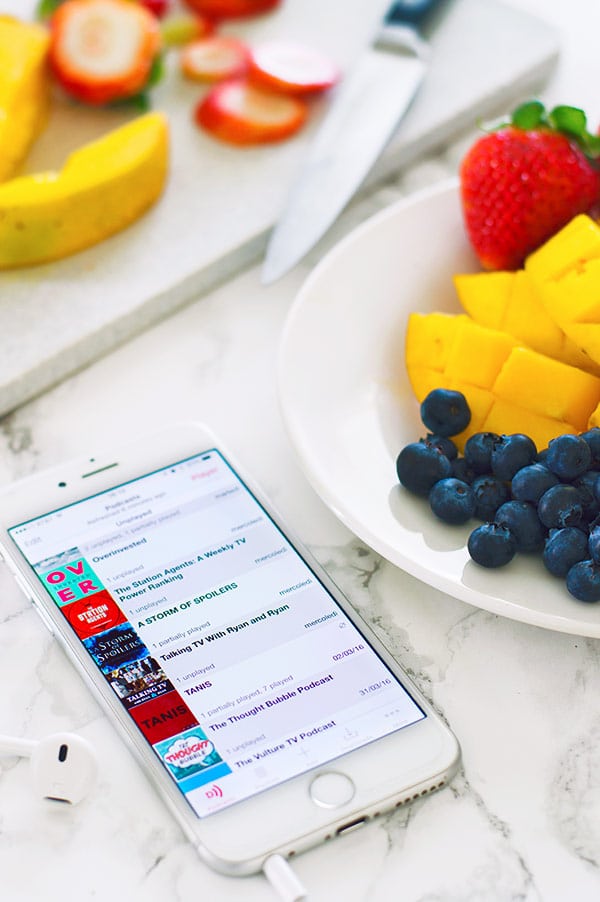 These are my favorite kitchen-listening podcasts. They're mostly pop-culture related. (No political podcasts should be listened to in close proximity to knives, and I can't process science or economics chatter and mentally third a recipe at the same time.)  All are engaging, all come highly recommended, and all will make your time in the kitchen a thousand times more enjoyable!
The Podcasts…
With your pantry doors closed and in full daylight: The Black Tapes Podcast
The Black Tapes podcast is like The X-files meets Serial, a genuinely scary storytelling podcast that explores a series of supernatural events, with a connected central mystery at its core. Episodes run 30-40 minutes, so it's the perfect length for a quick batch of cookies or weeknight dinner.
Also, Tanis (a Black Tapes sister podcast), Welcome To Nightvale, and The No Sleep Podcast
This spring, whilst chopping some sausages: A Cast of Kings & A Storm of Spoilers
Smart insightful commentary on Game of Thrones from people who love the show but are willing to engage with it on a critical level. You'll find great discussion on everything from the nature of adaptation to Jon Snow's hair. Start with A Cast of Kings for non-spoilery discussion and then follow Joanna Robinson on over to A Storm of Spoilers for book/news spoilers and crazy-pants speculation.
Also, every single one of Joanna Robinson's other podcasts, especially The Station Agents (general TV), The Thought Bubble (comics), and both Justified podcasts
When Marathon baking: The /Filmcast
Long-form podcast film reviews. Episodes routinely run close to two hours and go in depth reviewing a single film with a spoiler section at the end. So if you're dying to discuss that twist in the movie none of your friends have seen yet, get it out of your system listening to these guys.
Also, Movie B.S. with Bayer and Snider
Preparing perfectly paired appetizers and mixed drinks:  The Next Picture Show
Some of my favorite critics from the dearly departed Dissolve compare and contrast a recent film release with an older classic. It's a fantastic podcast for people who like smart criticism and maybe have some major holes in their film-related knowledge.
Also, Filmspotting
While making some Sherlock Cookies or BB-8 Cupcakes: Overinvested
This is a new weekly pop-culture podcast and already so great. It's definitely a show for the overinvested among us, so give the Doctor Strange mini episode a listen, and you'll immediately know if you're in or out.
Also, Fansplaining
While making a little bit of everything: Talking TV With Ryan and Ryan
Some of the most thoughtful TV talk out there, on every show under the sun. Keep up with this one and not only will you be entertained, but you'll always find something new to watch, and probably come away from each episode a slightly better person. I know I do.
Also, The Vulture TV Podcast
What are your favorite ways to pass the time while cooking? Are you a podcast listener? What are your favorites?

This post contains affiliate links, which means I receive small commission if you make a purchase using one of the links. There is absolutely no additional cost to you.