These BBQ chicken nachos with shredded bbq chicken, melty cheese, ranch, and cilantro over crispy tortilla chips are a fun and easy twist on traditional nachos.
Last month I shared the recipes for my favorite BBQ shredded chicken, and my favorite meal to make with it, BBQ chicken sandwiches. Today I have another BBQ chicken recipe for you, but something a little more fun and a little less practical, BBQ chicken nachos.
This recipe makes a full half sheet pan, double-layer of homemade nachos that are perfect for sharing. They're super easy to throw together and a very fun twist on traditional nachos.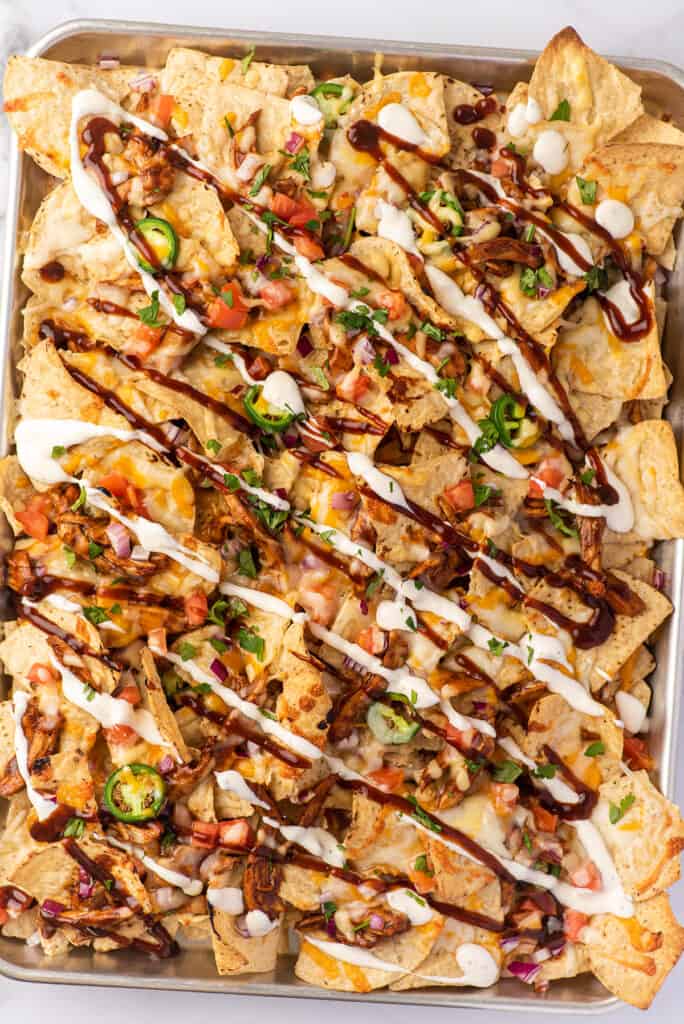 The first time I ever tried BBQ chicken nachos, I was a little hesitant about the flavor combo, but after you take the first bite, it's surprisingly irresistible. The tangy sweetness of the bbq sauce and chicken is just so good with the crunchy, salty chips and melty cheese.
If you like some sweet with your savory, you will love these.
Ingredients
BBQ shredded chicken: I included the recipe for my favorite bbq shredded chicken in the recipe card below, but if you have leftover bbq chicken that will work just fine.
A mix of cheeses: In the recipe, I call for a mixture of Monterey, sharp cheddar, and smoked gouda cheese. I like the way Monterey melts for nachos, the sharp bite of the cheddar, and the smokey flavor of the smoked gouda is *really* delicious paired with the chicken. But you can use whatever melty cheese or cheese combo you'd like here. If you want to keep things simple, a Monterey cheddar blend will work great. I do not recommend using all smoked gouda as it doesn't melt quite as prettily on nachos as the other cheeses.
Onions, tomatoes, and jalapeños: If you're not a fan of heat, the jalapeños are optional. You can also replace the onions, tomatoes, and jalapeños with store-bought pico de gallo if you're in a hurry.
Cilantro: Cilantro looks pretty sprinkled over the top of the nachos, but it also really helps bring all the flavors of the nachos together. Unless you don't like cilantro, don't skip it!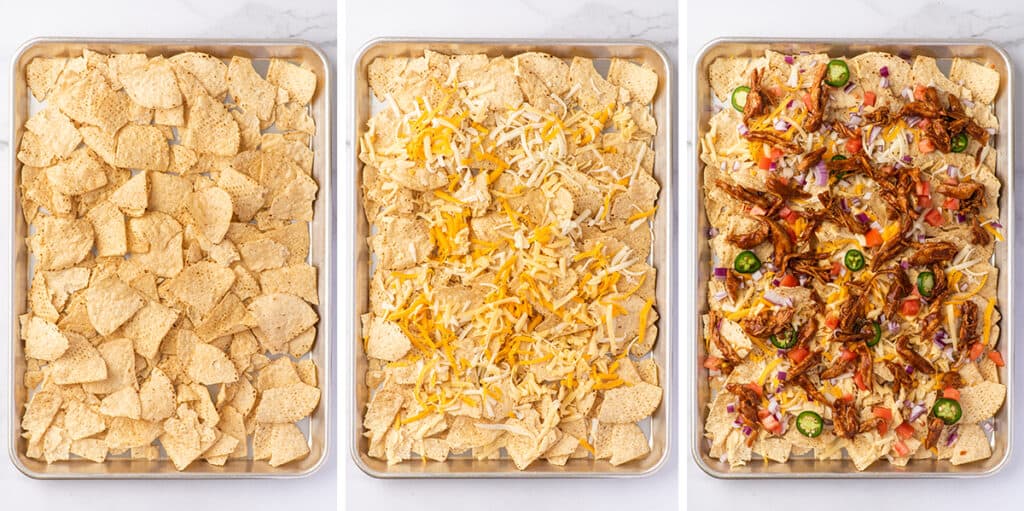 How to Make BBQ Chicken Nachos
Cook the BBQ shredded chicken by lightly browning chicken breasts in butter and then simmering them in BBQ sauce until cooked through. Shred the chicken and set it aside.
Assemble the nachos with two layers of chips and toppings. Do a layer of chips topped with half of the toppings and cheese followed by a second layer of chips and the remaining toppings. Layering the nachos like this means that you will get cheese and chicken in every bite instead of eating a single layer of toppings and having a bunch of dry chips underneath.
Bake until cheese is melted, watching closely as the chip edges can begin to burn if left unattended.
Add toppings: Top with cilantro, more BBQ sauce, and ranch, and enjoy!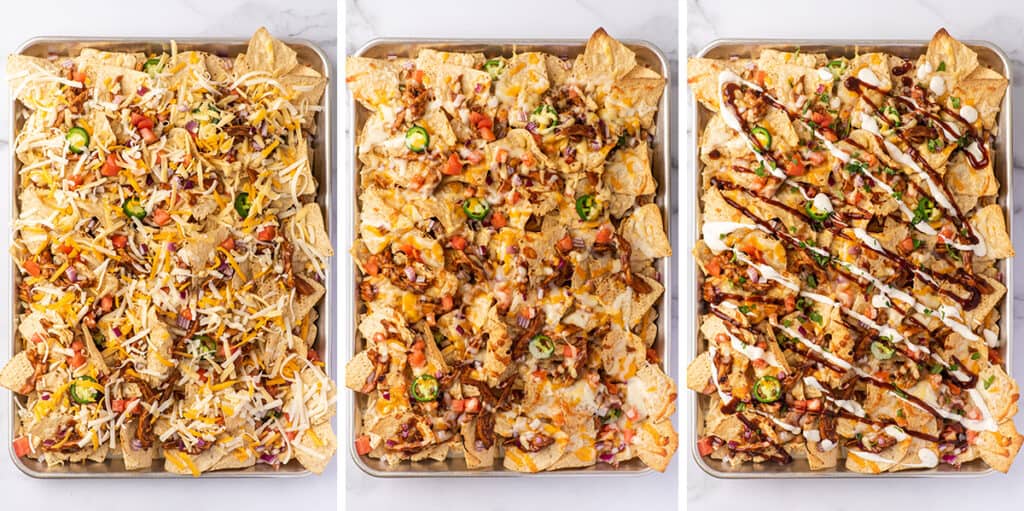 Additional Toppings
You can add any toppings you'd like to these nachos like…
Guacamole
Sour cream
Black beans (warm before adding)
Corn (warm before adding)
Chopped pineapple
Tips and Tricks
Be sure you're using warm chicken when assembling the nachos. They don't cook long enough to reheat cold chicken. If your chicken has begun to cool by the time you're ready to make the nachos, reheat it on the stove or if using leftover chicken, warm it in the microwave before assembling.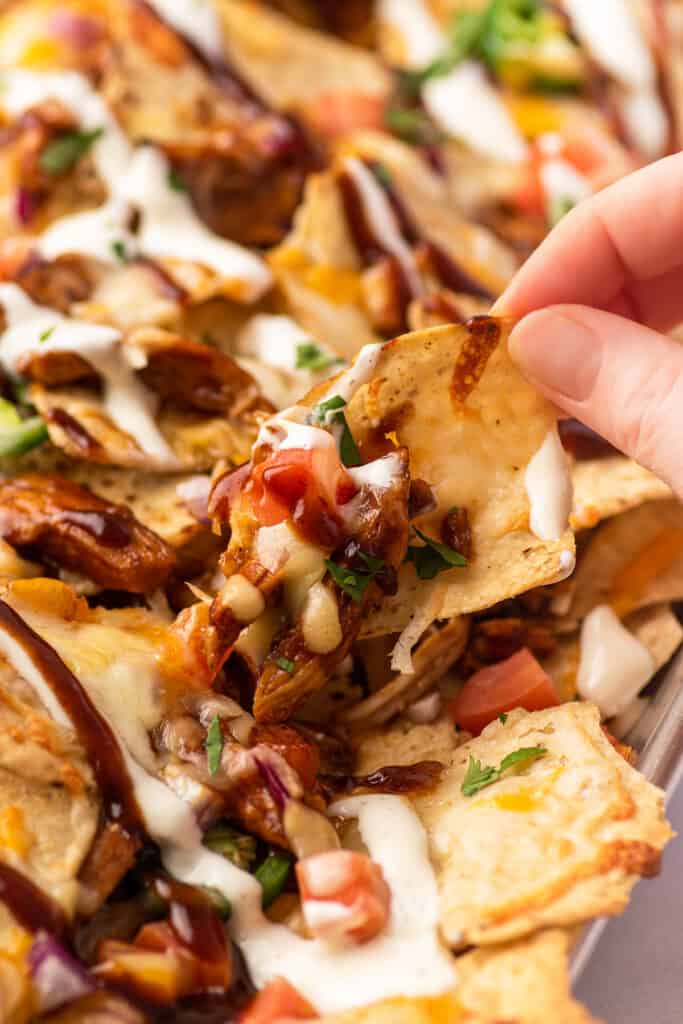 FAQ
Can I make these nachos ahead of time?
I don't recommend it. Nachos are always best right out of the oven. Don't try to bake them in advance. But you can cook the BBQ chicken and cut/shred the rest of your ingredients ahead of time. Assembling the nachos takes less than 5 minutes if the rest of your ingredients are all ready to go.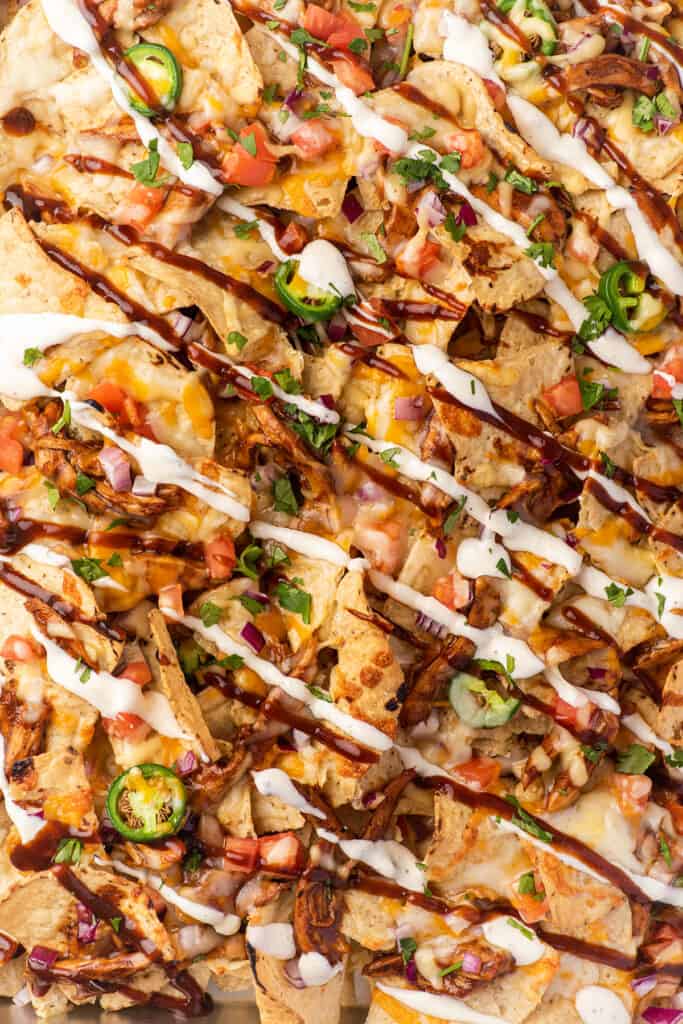 Can I make these nacho fries instead of using chips?
Sure! Like my carne asada fries and carnitas fries, bbq chicken fries are totally irresistible. Use a 28-ounce bag of frozen fries and bake them according to package instructions until they are just done. Add the toppings and continue to bake until the cheese is melted, about 5 minutes.
This makes too many nachos. Can I cut the recipe in half?
Absolutely. This recipe halves with no preparation changes needed. A half batch can be baked on a quarter sheet baking pan or in a 9×13-inch casserole dish.
To change the recipe yield, hover over the serving size in the recipe card below or click if you're on mobile, and slide the slider.
More Favorite Recipes for Sharing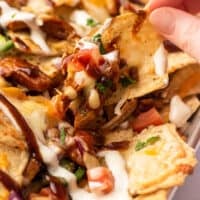 BBQ Chicken Nachos
These BBQ chicken nachos with shredded bbq chicken, melty cheese, ranch, and cilantro over crispy tortilla chips are a fun and easy twist on traditional nachos.
Print
Pin
Servings (Hover or Click to Change Yield):
6
servings
Ingredients
BBQ Shredded Chicken
1

cup

barbecue sauce

¼

cup

apple cider vinegar

¼

cup

water

1½ to 2

pounds

boneless skinless chicken breasts

about

4 small or 2

large*

Salt and pepper

3

tablespoons

(

42g

) butter

salted or unsalted is fine
Nachos
1

13 to 16-ounce bag of tortilla chips

3

cups

(

12oz

) shredded cheese I used

1

cup each of monterey jack, sharp cheddar, and smoked gouda

1 to 2

roma tomatoes

chopped

½

red onion

diced

1 to 2

jalapeños

sliced, optional

Barbecue sauce

for topping

Ranch dressing

for topping

½

cup

chopped, loosely packed cilantro

for topping
Instructions
BBQ Shredded Chicken
Preheat oven to 425°F. In a medium bowl, whisk together barbecue sauce, apple cider vinegar, and water. Set aside.

Pat chicken breasts dry and lightly salt and pepper both sides. Heat a large skillet with a lid over medium-high heat and melt butter.

Add chicken breasts to the pan and cook until lightly browned. Flip the chicken breasts and pour barbecue sauce mixture over the top.

Bring sauce to a simmer and reduce heat to medium-low, keeping the sauce at just a simmer. Cover and cook for 5 minutes. Flip the chicken, re-cover, and continue to cook until an instant-read thermometer inserted into the thickest part of the meat reads 165°F, usually around 3 to 6 minutes more.

Transfer the chicken to a cutting board, and allow it to rest for 5 to 10 minutes. Allow the sauce to continue simmering uncovered, stirring occasionally, until it thickens.

Shred chicken breasts and return shredded chicken to the pan of sauce. Stir until well-coated.
Nachos
Cover a half sheet baking tray with half of the chips followed by half each of the cheese, shredded BBQ chicken*, tomatoes, onions, and jalapeños. Layer remaining chips over the top followed by remaining chicken, tomatoes, onions, jalapeños, and finishing everything off with the last of the cheese.

Bake for 6 to 8 minutes, until cheese is melted. Drizzle additional BBQ sauce and ranch dressing over the top* and then sprinkle with cilantro. Serve and enjoy!
Notes
*If starting with large chicken breasts, cut each piece of meat into 2 even cutlets by placing your hand on top of the chicken breast and running a sharp knife horizontally through the center of the breast, slicing the top and bottom into two thin, even pieces.
*If for any reason your BBQ chicken has cooled or been refrigerated before you assemble your nachos, reheat it before adding it to the chips. The nachos won't bake long enough to fully reheat cooled chicken. 
*To get perfect drizzle lines for the BBQ sauce and ranch dressing, you can transfer them to a squeeze bottle if you have one, or pour some sauce into plastic zip top bags, snip off an edge and draw your lines that way. 
This post may contain affiliate links, which means I receive a small commission if you make a purchase using them. There is absolutely no additional cost to you.