Cupcake-shaped dog popsicles made with chicken broth and a pureed tuna frosting. Simple to make and your dog is going to LOVE them!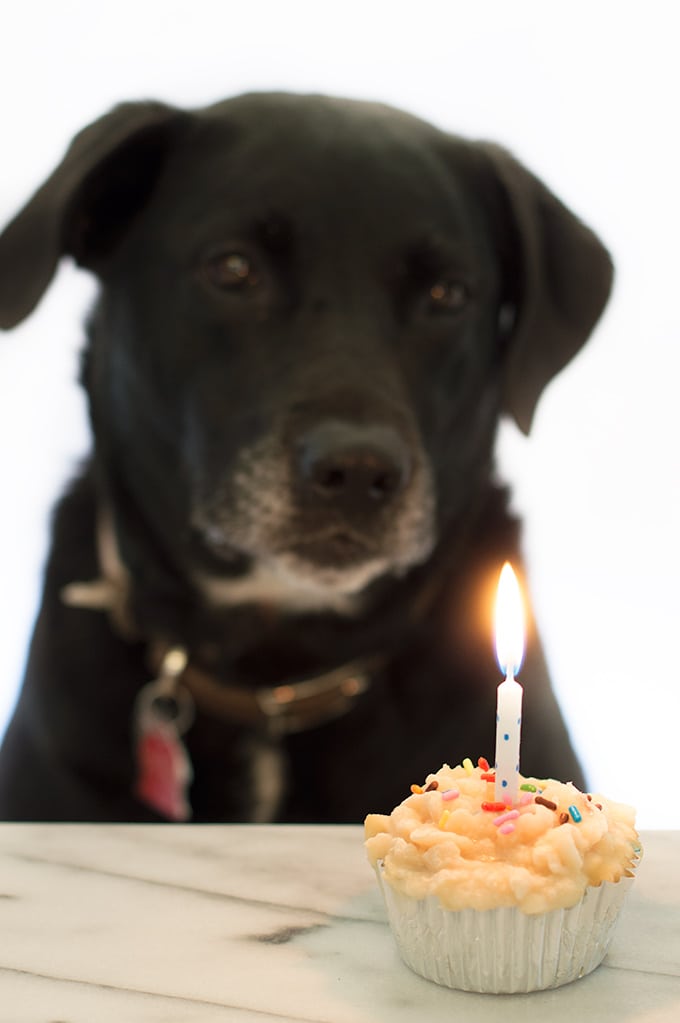 I had two birthdays in my family last week, my sister, Caroline's and my dog, Ella's. Since I like to use real-life events as blog fodder, like when I made Victoria Sponge Cupcakes for my youngest sister's birthday, or my mom's favorite Copycat Carmela's Chicken for hers, I was going to recreate Caroline's favorite champagne cupcakes from one of  our local bakeries and post it to the blog.
But when I asked her what she liked so much about those CHAMPAGNE cupcakes, she told me that she liked that they didn't taste like champagne, which…????? Isn't that just a vanilla cupcake?
That's clearly a mystery and a project for another day, so instead I made some birthday cupcake shaped dog popsicles for Ella!
I love the idea of dog birthday cupcakes, because what better way to celebrate another year with your best friend? But I've never actually made any before because most cupcake-sized treats are way too much treat for a dog Ella's size.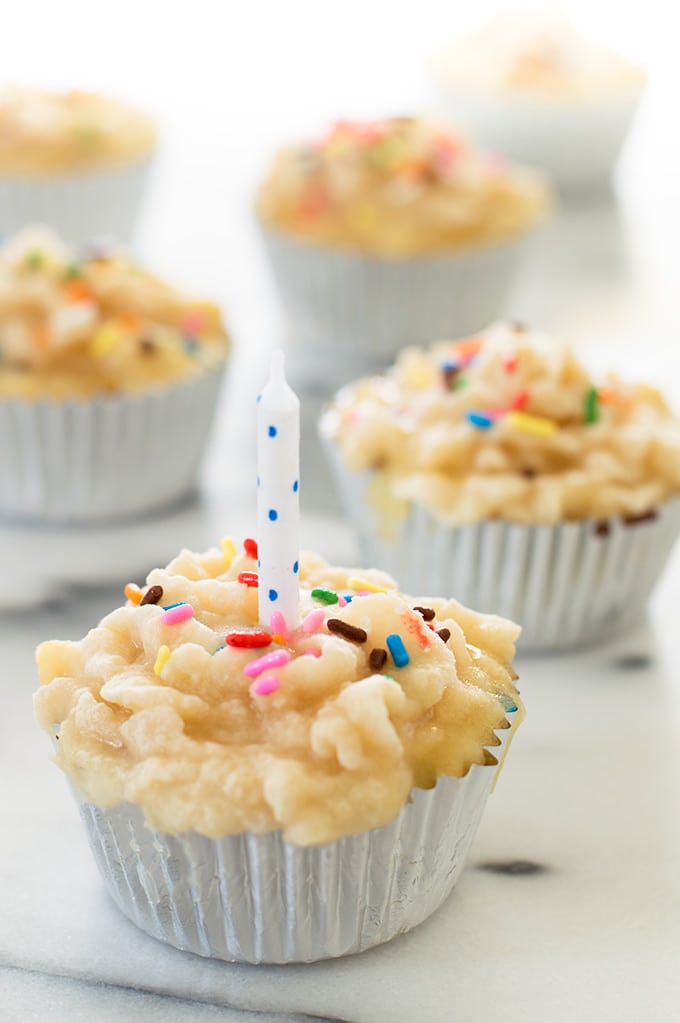 So I thought about ways to get bulk without lots of calories and too-rich things that might cause upset tummies and thought cupcake dog popsicles with a chicken broth base would be the perfect way to go. It's easy. It's healthy. And it's not going to spoil dinner.
We start with a can of chicken broth frozen into cupcake shapes in a cupcake pan. Then the chicken broth gets topped off with a pureed tuna and cauliflower frosting.
I know, it sounds totally disgusting (it is!), but it's simple to make, you can kind of pipe it, and dogs go crazy for it. Ella's been taste testing these things for the last couple weeks and the frosting is definitely her favorite part.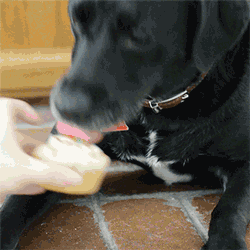 I actually had to end the photo shoot for these early, because my model was literally starting to drool while staring at the cupcakes, and that is so not cute!
But they are definitely dog-tested and approved, so if you want a drool-worthy treat that's also going to help your best friend cool down on a hot day, give these a try!
Some notes before we begin:
You can use any type of broth you like, but use low-sodium if you can.
Cauliflower makes some dogs gassy. There's not much of it here, but heads up if you have a dog with a sensitive stomach.
You can also replace the cauliflower with potatoes for a smoother "frosting," but potatoes must be peeled, as potato sprouts are toxic to dogs.
Always supervise your dog when feeding them frozen treats, and consult your veterinarian if you have any questions or concerns about the ingredients.

More Dog Treat Recipes
Birthday Cupcake Dog Popsicles with Tuna Frosting
Cupcake-shaped dog popsicles made with chicken broth and a pureed tuna frosting. Simple to make and your dog is going to LOVE them!
Ingredients
2

cups

(

1

14.5-ounce can) low-sodium chicken broth

2

cups

(

8

oz) chopped cauliflower

1

5-ounce can tuna in water

do not drain

Sprinkles

optional
Instructions
Line your cupcake pan with 6 foil cupcake liners. Fill liners most of the way full, and freeze solid, at least 2 hours.

Bring a medium saucepan of water to boil. Add chopped cauliflower, and cook until fork tender, about 10 minutes.

Drain and rinse cooked cauliflower with cold water until it is no longer hot to the touch (it can be warm). Transfer cauliflower to your food processor. Add canned tuna, liquid and all, and process until well combined and smooth.

Transfer mixture to to a piping bag and pipe onto your frozen cupcakes. Sprinkle with optional sprinkles, and if you are going to use a birthday candle, make the hole for it, but do not freeze the candle with the cupcakes (you won't be able to get it out once frozen).

Immediately return cupcakes to the freezer and freeze for at least 45 minutes before giving to your dog and two hours before transferring to a freezer bag for storage.

Always supervise your dog when feeding them frozen treats.
Notes
Cupcakes will keep in an air-tight bag in the freezer for up to 2 months.
This post may contain affiliate links, which means I receive a small commission if you make a purchase using them. There is absolutely no additional cost to you.